Breaking News: NFF Sacks Keshi
The Nigeria Football Federation (NFF) has finally fired Nigeria's head coach Stephen Keshi after weeks of his being probed by the commission's disciplinary committee.
The decision was revealed by the NFF's Executive Committee on Saturday, who said the decision was made, "having thoroughly reviewed the reports/findings of the NFF Disciplinary Committee and NFF Technical and Development Committee, as well as having reviewed the actions and inactions of Mr. Stephen Keshi, in the performance of his duties as Super Eagles' Head Coach."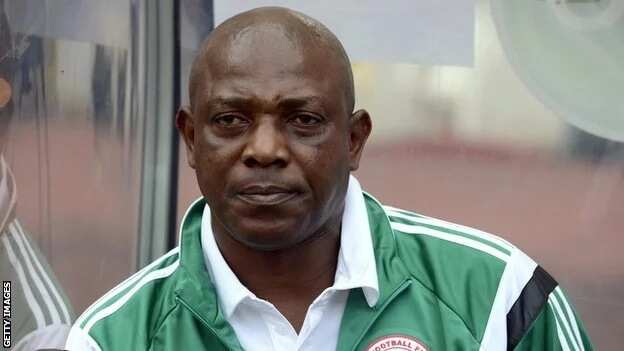 The Federation noted Keshi "lacked the required commitment to achieve the Federation's objectives as set out in the Coach's employment contract."
READ ALSO: BREATHTAKING: World News In Pictures
" To this end and pursuant to the provisions of Clause 4.3 of the Employment Contract between Mr. Stephen Keshi and the NFF (The Contract) and the various clauses therein, the Nigeria Football Federation has decided to exercise its option to summarily terminate the employment contract of Mr. Stephen Keshi with the Federation with immediate effect."
It added that the termination was "without prejudice to the settlement of any existing and due financial obligations between the NFF and Mr. Keshi."
READ ALSO: Why Ivory Coast Ignored Keshi
Speaking on behalf of the entire Executive Committee of the NFF, the NFF's first vice president, Barrister Seyi Akinwunmi assured Nigerians that the decision was made in the interests of Nigerian football.
He then thanked Keshi for his services to Nigeria and wished him the very best in his future endeavours.
READ ALSO: Keshi's Destiny Is in His Hands – NFF
"In the interim, the Super Eagles' team affairs will be jointly managed by Assistant Coach, Salisu Yusuf and the Technical Directorate of the NFF headed by Coach Shuaibu Amodu, until the Federation names in due course a new Head Coach, who, along with the NFF will chart a new direction for the Super Eagles to ensure credible participation in international competitions and assist in building a sustainable football culture for the country," said Akinwunmi.
Keshi has for the past few weeks has been under investigation by the NFF disciplinary committee over claims that the Nigerian coach applied for the vacant Ivory Coast position.
The sacking now leaves Nigerians asking what will happen to the Eagles number one and captain, Vincent Enyeama, who is also being investigated by the committee.
Source: Legit.ng