AFCON Qualifier: Nigeria In Winning Start Against Chad
Nigeria's Super Eagles won their first match at the ongoing 2017 Africa Cup Of Nations (AFCON) qualifier in Kaduna, northern Nigeria.
Gbolahan Salami scored in the 63rd minute, while Odion Ighalo's introduction in the second half ensured a comfortable 2-0 win against Chad for Stephen Keshi's boys.
The talking point pf the game was when Ogenyi Onazi was given his marching orders in the 79th minute for needlessly shoving aside a Chadian player after Nigeria had won a penalty against their west African neighbour.
Nigeria's next match is away to Tanzania on September 6, 2015 in the group which also has seven-time African Champions, Egypt.
90'+3 Full Time at the Ahmadu Bello, Kaduna. Gbolahan Salami and Odion Ighalo win it for the west African giants
93'+ Time up here, referee may end the match any moment...
91'+ Nigeria are employing delay tactics here and may eventually add a third despite the numerical disadvantage
90'+ Three minutes of added time here at the Ahmadu Bello stadium, Kaduna
89' Final minute of regulation time here, it seems Nigeria will eventually win this match. Lovely piece of skill by Rabiu Ibrahim. Nigeria's new Jay-Jay Okocha, perhaps
87' Final sub for Chad as the linesman rules another attacker offside. Goal kick to Nigeria
84' Substitution for Nigeria and Chad. John Ogu comes in for Gbolahan Salami while Dany Marl Max in comes for Chad
82' Numerical advantage counting already for the Chadians, who are moving forward in droves as another Chadian gets a booking. Gbolahan falls under a Chadian challenge. Corner kick to Nigeria, played over
80' GOALLL! Ighalo scores from the spot for Nigeria
79' RED CARD! Absurdity here as Ogenyi Onazi gets his marching orders for needlessly shoving a Chadian player off. Ighalo takes the penalty...
77' Nigeria dominating possession here, building up gradually from midfield... and there's a PENALTY for Nigeria!
74' BOOKING Kevin Nicaise booked for bringing down Ighalo and Rabiu Ibrahim's curling free-kick was almost in for the Nigerian team
72' Gbolahan Salami's second step over in this match almost resulted in a brace for the Warri Wolves point man, but the Chadian goalkeeper saves
70' Supporters inside the stadium cheering the players to victory here and the Eagles are rewarding them with a good display "Losing to Nigeria is never a shame," says the commentator. Reckless challenge by Omeruo, and he goes into the referee's bad book. Free-kick played, cleared!
66' Nigeria seriously pressing for a second goal here as they grow in confidence. Ighalo and Rabiu Ibrahim's introduction seem to have sparked the Eagles to life
63' Gbolahan Salami balloons the ball into the net for Nigeria as Eagles take the lead and the Nigerian almost doubled their effort
63' GOAL!!!
58' BOOKING! Chadian attacker booked for a harsh challenge on Leon Balogun and double substitution for Nigeria. Rabiu Ibrahim comes in for Babatunde Michael, Chad also makes a substitution; Mahamat Labbo comes in for 10 Shirt player
57' Great job by the Eagles defence to keep Chad at bay but the resultant effort goes out of play
55' ALMOST! The free-kick hits the upright and the Chadians clear
54' An incursion by Gbolahan Salami earns the Nigerians a free kick just outside the eighteen-yard box, free kick taken...
52' Referee wrongly rules Gbolahan Salami offside
50' Nice build-up play by the Eagles, but all that ended up in a clearance by the Chadians
48' Two quick chances by the Nigerians as they go out in search of an early goal in the second half but both chances were well covered by the Chadians
46' Chad make the first foray forward and the shot at goal was saved by Enyeama again in the first kick of the second half
Note that the highest ranking of the Chadian national team is 133rd while Nigeria was once ranked 5th in the world as the second half kicks off
Mallam Nasir El-Rufai speaking to Super Sport here: "It should be the new home of the Super Eagles. The Super Eagles should fully relocate to Kaduna because we have a good atmosphere here."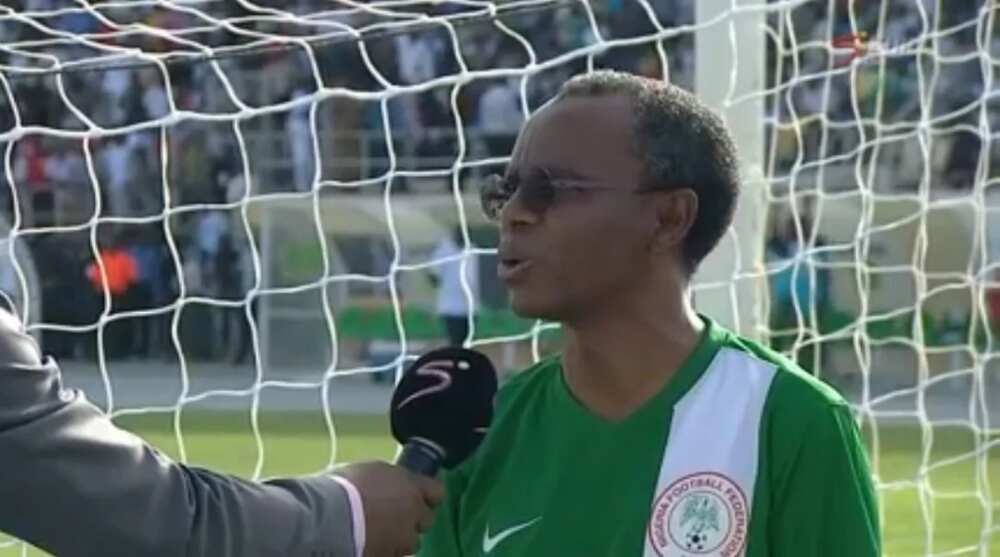 The Chadians grew in confidence at a point in the match and almost took the lead. The Nigerians allowed the Chadians too much chance in the first half and save some moments of ingenuity by Ahmed Musa and Babatunde Michael as well as the predatory instincts of Gbolahan Salami, the Nigerian team played a second fiddle to the neighbours
This is the first time that Nigeria is playing Chad in a competitive match at the senior level and the very first time that the new jersey is being worn by the senior national team after the Flying Eagles and Super Falcons
45'+1 Half Time here at the Ahmadu Bello stadium, Kaduna. Goalless it ended as there was no clear cut chance in the first half
45'+ One minute added here after the first 45 minutes and here we go...
42' Babatunde being treated as play commences here. Governor Mallam El-Rufai of Kaduna state and Amanju Pinnick, the NFF President are both here at the Ahmadu Bello stadium in Kaduna.
41' Leon Balogun has been Nigeria's best defender all evening. Babatunde brought down a gain and Nigeria's free-kick brought a collision between Babatunde Michael and the Chadian goalkeeper
40' Babatunde fouled close to Chad's eighteen-yard box and the resultant free kick goes into touch for a throw-in to the Super Eagles
38' SAVE Incredible save by Enyeama there, absolutely world class as Nigeria clears for a throw in
36' Ninga Casimir of Chad booked for deliberately handling the ball. History is being made here today...
35' Humidity here in Kaduna is high and the players quickly go for a water break for a minute... action resumes
33' Nigeria dominating possession here despite the draw. Aaron Samuel tries a delightful effort. Gbolahan Salami almost opens the account for Nigeria but the goal keeper saves and the resultant effort goes off the post
32' Chad playing really defensively here and conceded a corner kick off a Babatunde cross. Ahmed Musa takes the corner kick and Leon Balogun gets his head on the ball, but it goes off target
30' Fifteen minutes before half time, no goal yet from either side at the Ahmadu Bello Stadium in Kaduna
28' Gbolahan Salami does a step over and goes down under a challenge but the referee says play on
26' Free-kick conceded by Chad. Gbolahan kicks, nothing comes out of it
25' Leon Balogun fouled close to Nigeria's eight yard box and fee kick goes to Nigeria
22' Ahmed Musa's free-kick almost went in and the corner by the Russia-based player's corner kick was well wasted. Chadians go for a counter and the tame effort is saved by Enyeama
21' Michael Babatunde's trickish effort goes off the goal mark. Gbolahan Salami fouled for the third time and Marius Mbaiam gets the first yellow card in this match
19' Skillful display by Ahmed Musa, his effort was cleared by the Chadians as Nigeria tries to find an early goal
17' A major scare here for the Eagles as the Chadians try to get one past Enyeama and the Nigerians concede a corner kick. Kick taken, another scare, but... the defenders clear.
15' Freekick to Chad from their half as they try to come at the Eagles, but it amounts to nothing. Fifteen minutes gone here and there has not been any particular pattern of play from either side
11' No clear cut chance here all evening as the players are still trying to create meaningful chances.
9' Gbolahan Salami proving to be a thorn in the flesh of the Chadians as he goes down under another challenge.
7' Chad take a free-kick into Nigeria's half but it was of no effect. A shot goals swinging but it was well off target
5' The pitch looks bumpy, but both sides are coping fine. Vincent Enyeama, Nigeria's captain and goalie, is oozing with confidence as always. as Nigerians try incursions into the Chadians' half
3' Gbolahan Salami brought down, Onazi protested, but there was no booking
2' Both sides sizing each other here as the Nigerians try to penetrate the Chadians early on in the game
1' Kick off, Nigeria starts the match, playing from left to right.
Source: Legit.ng