Why I Always Act Rich - Actor, Akin Lewis
Popular Nollywood actor, Akin Lewis, is no doubt a force to reckon with when the Nigerian acting industry is pointed at.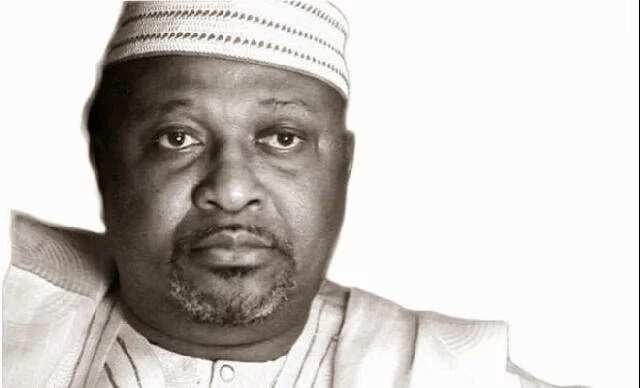 The actor, who has been in the movie industry for 42 years running became well known when he played the lead role in Madam Dearest, in 2005. He has also featured in several films, including Tinsel, one of Nigeria's most popular soap opera on satellite TV.
In a new interview with The Nation, the appointed Rector of Graig-Phillips College of Technology, spoke on so many things bothering on his family, career and why he mostly acts the role of a rich man in movies. Read excerpts below:
You seem to be more frequent in home movies these days?
It is not that I prefer one to the other. It is the one that comes first that I go for.
How do you balance your acting career with your corporate job?
I have retired from the corporate now. So it is not like I have any job that I am running back to.
What was the reason for leaving the corporate world?
Well, it is high time I retired from the corporate world, because I have spent a long time there. Then it was a 360 degree job. But now, it is different.
Was your job affecting your acting career?
No, I was able to separate the two. It took a lot of hard work, but one did not disturb the other in any way.
So what is it like working on other people's project, having been your own boss for long?
There is no problem, working on other people's project. What we do is the most centralised work in the world. So everybody have their own position. I love working with people, I will say it is not a big deal at all.
When are you likely to come out with your own production?
For me, it is not all about producing. I enjoy what I do: I just go there, do my thing and get the money paid into the bank, which is good for me. It is easier for me now. Maybe in the near future, I can think of that. I will let you know.
Are you also of the opinion that the young actors are not well trained?
I believe everyone has to be well trained before going into any profession. Even mechanics get trained. What they don't understand is that, when you get trained, you can get better even if you are talented. There are lots of schools open for such training, so I will advices that all those who believe that they are talented, should go to school to be well learned.
As a father, how do you balance your role at home with your busy schedule?
Well, my kids are all grown up now, so it makes it easier for me. I have two of them studying abroad. So taking care of them is not a problem for me and I still manage to perform my role as their father.
Why is it that you don't take up any other roles except the rich man?
Well, I might have accepted such role a long time ago. But now I look rich and I am rich. So I guess that is the reason I cannot be given any other role to play. Professionally, I can act any role, but also in the professional point of view, it is hard for me to be seen or cast me as a poor man. Usually I get millionaire and billionaire roles.
READ ALSO: SAD! Popular Actress Dies After Failed Liposuction Surgery
Don't you feel you are being stereotyped?
No it is not stereotype for me to have money or not to have money. You can have money and be a bad person. There are several other ways, that I can be rich, but in different character.
Your acted the big boss in the Career24 advert, what caught your attention about the project?
I saw it as a positive advert that was one of the reasons I accepted to play the big boss. It is not my first advert, I have done many, but I also select those that I accept. But this particular one, they sourced for me, and what caught my attention, was the crew was foreign and they were very professional in their work. And we worked like we had been together for years. That is what professionalism does.
Others would have seen it a grace, why do you select adverts, when it is not a movie role?
Just like I do with my acting career as well, its not like I do everything too, I select the ones that I see will impact positively. So that is what I also apply when I am being contacted for adverts. That is one of the reasons I don't appear on every movie production you see. I look for the right script and role, and if you do that, or apply it in your profession, the right money will come.
Have you been approached to act for free?
No, I am a premium actor, I have never been asked to do such thing. People don't see me just anywhere. And it also depends on who you are, and the way people see you.
Why do you always refer to yourself as a premium actor?
Why I say that is because I am informed, and sought after in this profession that I have been doing for more than four decades now: 42 years to be precise. And everybody knows where I stand, and I am one of the well trained actors in this profession. So people look for and they pay the price.
Talking about price, is your fee that high that make few people approach you?
No, I have done some jobs, where they just fuel my car and my hospitality. It is not that my fee is high, it is because I am the one they need and I have been able to establish that relationship with everyone that needs me. Even If they don't have money, but the production is a good one, there are ways that it can be done.
There have been insinuations that some producers make use of actors' pictures to sell movies, without featuring the actor. Have you experienced such?
No, nobody wants to do that with me, because they know they will pay a lot for taking such risk. Somewhere in Asaba, we learnt that is the way they do it, but here; you can't just use the picture of an established actor and get away with it. I think it is a simple way of being famous for those who do it, that pay for that. I don't really need my face to be on any poster, except for the works that I have done.
How does your wife react when she sees you doing some stuff on TV?
For me, it is just my job. (Laughs) but you know women, she can never get used to it. I have had cause to take her on locations to show her the way, this things are done and all that. She has seen behind the camera, so she is a bit confident.
Like you said, she is yet to get used to your acting, how have you managed so far?
I have managed to separate the two; my marriage and my career. If I take my work home, how many characters do I take home? I will be like a mad man. So I separate my work from my family. My script is my working tool, but I don't take the character home. My children help with my scripts too. It is just like when you are in the corporate world; you don't take your work home.
You see couples have to come together and work things out. It is part of the pressure of being famous, so you need to understand each other, and be able to put things together and sort them out, in order not to get them camped together.
Are any of your children taking after you?
Yes, one of them is, I didn't force her into it. But I try to encourage my children to be who they want to be. They know that, and they decide what they want to be. So they get my support. There is nothing wrong with the movie industry. It depends on how you train your children, when they grow up, they will give you peace. They can be in other profession and be worse off. It is because we are in the public eye and that is why people write and say all sorts of things.
How have you been able to manage fame till present?
(Laughs) well, I think it has to do with experience. You know when you start out, you won't know how to manage it, but as times goes on, you just want to think of the people around you and how it will affect them. I do solid interviews; I don't run after interviews for interview sake. Yes, we have been through a lot, but we have been able to manage it.
READ ALSO: I Don't Have HIV/AIDS – Ailing Yoruba Actress Cries Out
Is it because you have being in the corporate world in the past, that you have been able to avoid bad press?
Well, I don't have any scandals or anything to hide. So I guess that is the reason some people stay away from me. And that is the way I want to live my life; scandal free, and neat. But for actors that live on scandals, I believe it is because they are still young. By the time they get it right, they will know that it does not pay.
How do you find time to relax?
Like I am having this interview with you, you have persuaded me to relax. Some people are waiting for me. But in between jobs, I find out time to relax. I may be famous, but I am not the outgoing type. I love to stay at home, watch movies and maybe find time to be with my friends. My wife has her business that she attends to everyday, so she as busy as I am. But we have the weekends to catch up.
With the both of you busy, how do you guide them?
My children still relate with us. My first daughter is 27 years, I have given her the training she needs, she has gone into the world and I pray that God be with her. So, she is an adult and prays that life treats her well, and pray she remembers all the training that we have given her too.
What do actors watch out for in scripts?
There are good and bad scripts, and I am well trained, remember I said that. And I recognise a good script; which must have a beginning, middle and an end. It must be well defined and must have a very challenging role for me. When all those are there, it will be acceptable to me. This comes with my training and should apply to all actors.
Source: Legit.ng