Buhari Plans To Cut His Own Salary And Allowances
There are signs that President Muhammadu Buhari may have concluded plans to cut his own salary and reduce his personal allowances in fulfilment of his promise to reduce cost of governance.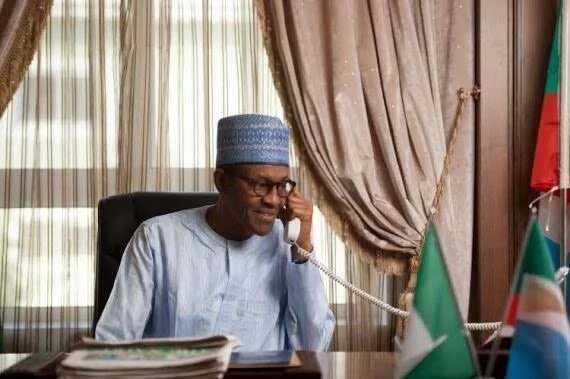 It was gathered that the president expects his vice and all other political appointees to do like wise.
According to Punch, the president would have made his decision public but chose to consult with his close associates on how best to approach the issue without being seen as dictatorial.
The Revenue Mobilisation Allocation and Fiscal Commission informs that President Buhari  will earn a monthly salary of N3, 514, 705, his allowance N1,757,350.50( 50% of his salary).
There is no information yet as to what percentage of the president's salary will be reduced. But sources say that the president will reduce the State House budget.
READ ALSO: Nigerian Lawmakers Earn Twice As Much As Buhari
The president also plans to slash the appointment of aides and possibly implement the report of the Stephen Oronsaye-led Presidential Committee on the Rationalisation and Restructuring of Federal Government Parastatals, Commissions and Agencies.
President Buhari who in his inaugural speech, said that Nigeria's economy was in deep trouble, might not increase the number of special advisers from 15 as part of the measures he his taking to cut down the cost of governance.
A top chieftain of the All Progressive Congress (APC), said that the president had concluded plans to submit some bills to the National Assembly for the implementation of some cost-saving measures.
READ ALSO: National Assembly Slashes Budget By 25%
Mr. Rotimi Fashakin, a polical associate of the president told Punch that an area likely to be affected is the Presidential Air fleet which is said to have about 10 air crafts. He said the cost of maintaining these air crafts may get the president's attention.
Adding that President Buhari who has experienced governance is not one to do things without consultation.
It will be recalled that former President Goodluck Jonathan's administration made a provision of N348, 342,741 as honorarium and sitting allowance for the State House in the 2015 budget.
The provision made for travel and transport showed that the president will be spending N1, 306,834,350 on local travels and transport and N621, 067,913 on international travel and transport.
In 2014 the travel bill of the president was higher than the provision made. The budget made a provision of N2, 378,862,017 for the office of the president for local and international travels.
For food supplies, a provision of N142, 472,537 was made for the office of the president.
The State House received a lesser provision of N122, 855,267 for fuel and lubricants.
READ ALSO: See The Salaries And Allowances Of National Assembly Members
The 2015 budget proposal included a provision of N131, 911,315 for fuel and lubricants for the State House. The breakdown showed that plant/generator fuel will consume N35, 344,855; motor vehicle fuel will consume N85, 843,802 while cooking gas/fuel will consume N10, 102,858.
In 2014 the provision of N60, 847,647 was made for the office of the president for advertisement and publicity.
For the State House, N287,514,283 provision was made for welfare packages; N174,537,975 for refreshment and meals; N215, 635,715 for food stuff and catering services; N31,582,475 for medical expenses; and N35,495,233 for publicity and advertisement. These provisions are likely to be reduced.
Kaduna State Governor, Malam Nasir El-Rufai, a close associate of the president in his inaugural speech, announced a fifty per cent cut in his salary and that of his deputy till when the economy of the state was better.
Source: Legit.ng