Six Bars To Chill Out In Lagos This Weekend
Editor's note: The hectic streets of Lagos can be very stressful with long hours in traffic. But thank God it's Friday. The Legit.ng guest columnist, Dami Ajayi, brings to your weekend delight some downtown bars in Yaba known for its Brazilian style buildings where you can also chill out with ice-cold beer, spicy 'point and kill pepper soup',  and delicious pots of isiewu and Nkwobi.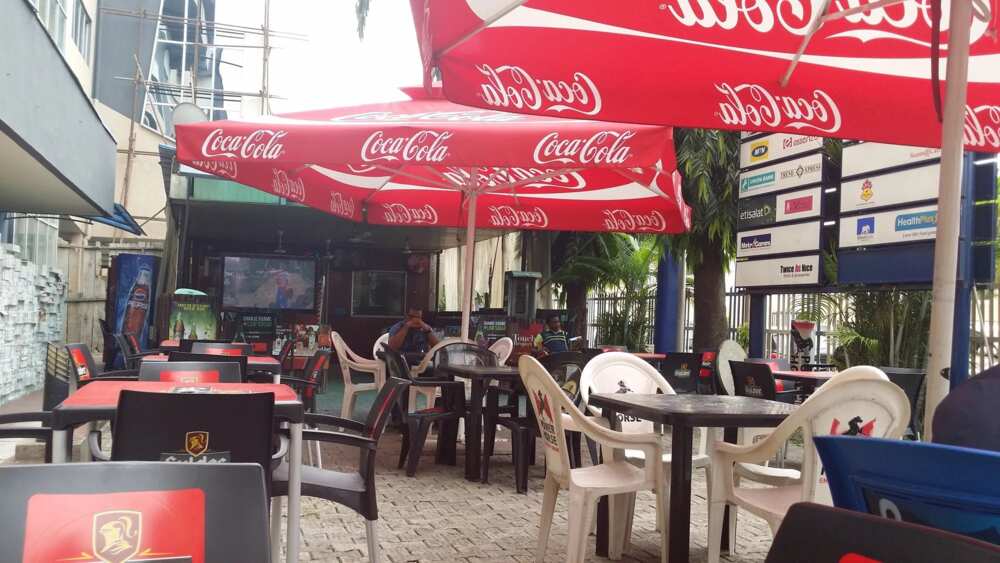 Yaba is a long way from the Island. No, that is not accurate, except we go back in time to the early 1900s when Lagos was circumscribed to just the Island and environs; Yaba was on the outskirt of town.
Fast forward one hundred years and Yaba is not a long way from the Island. There is the Third Mainland Bridge. There is also the rush of IT entrepreneurs into Yaba. Consequently, Yaba is a very aware space populated by a certain breed of professionals of a certain age.
The strip of the commercial avenue is a good place to bump into old friends. It is also a place to watch movies (Ozone Cinemas at E-Center), eat an appealing plate of Amala and Abula with stewed goat-meat selected from seething tureens (WhiteHouse). It is also a place to have a beer at any time of the day. There is a Taxi Rank working 24 hours so that one can commute swimmingly. Are you convinced that Yaba is the place to be yet?
About bars, Yaba has quite a decent number of them. Here are a few good ones.
Dominoes Bar:
This snack bar recently celebrated its golden jubilee. I once met a fellow who sits in the same spot where his late father used to occupy in the 70s. Dominoes Bar, directly opposite Custodian House, is owned by that family that owns the better parts of Commercial Avenue and, undoubtedly, this is one of their oldest running businesses.
The bar looks modest with wooden benches and tables affixed to the ground. Drinks as well as pastries are sold from behind the counter with a strict pay before service policy. The bar opens for business at 9 a.m with working sockets to charge your appliances and a good view of Yaba in motion.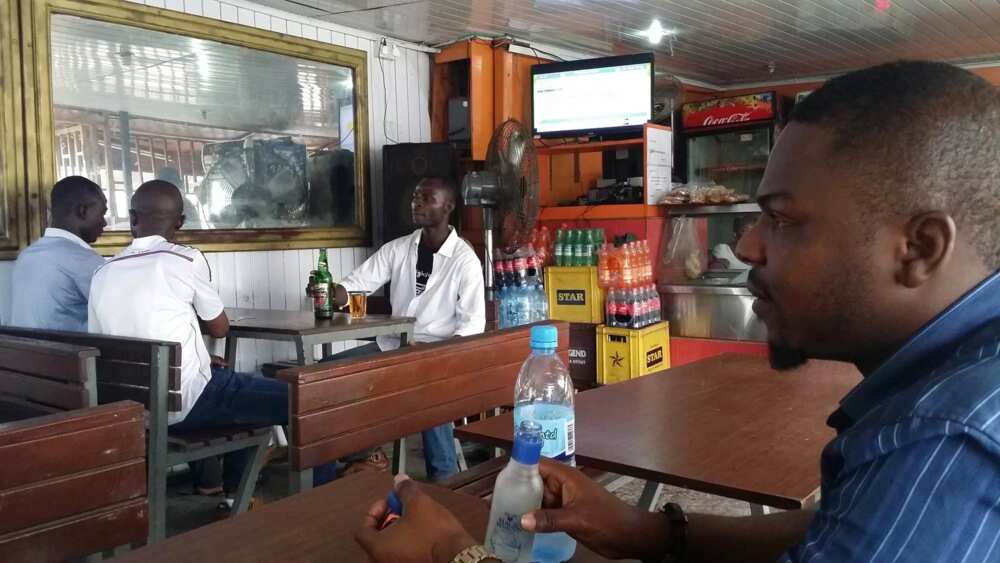 Banilux Bar
An event centre as well as a lodging inn, Banilux is an open-air sports bar that opens to customers in the evening. With a decent array of finger food options, peppersoup as well as  noodles, Banilux Bar offers a variety of edibles to go well with the wine. There is a modest parking space for cars as well and league matches are projected on screens. Drinks are slightly more expensive than Dominoes but Banilux offers the privacy that the former lacks.
It is tucked away on Chapel Street, down the road from the popular WhiteHouse.
 E-Center Bar
Beautiful ladies milling to the movies. Sounds like a great view, eh? Yes. That is what this bar is good for. Known for opening early for business, it is located within the premises 3 storey E-center. Impeccable customer service and premium priced, this bar sits on a designated smoking area. They offer a short menu of finger foods and close a tad too early.
And then, there is a perennial parking space problem.
Psychiatry Hospital Social Center
Yes, the psychiatry hospital also runs a bar. Located within the hospital confines, this open air bar is fenced in by barricades and flowers. It opens for business after working hours from about 4 pm and a decent array of finger foods, proper meals as well as suya. They are best known for their fish and chips.
With an expansive parking space that humbles Banilux's and a decidedly cheaper price list, the Social Center has its crop of loyalists who often enjoy big football league matches from the modest sized plasma screens on the wall.
Beyond the apprehension of being in a psychiatric hospital and the occasional languid service, Social Centre is a place for two to look two, like Robert Frost prescribes.
The Village
Fancy drinking in a wood house? Then Village is the place for you. Styled like a Francophone café, Village, located on Industrial Avenue, does not open for business until after working hours. It does not offer coffee either; it offers beers chilled to mortuary standard. There is a rather slim menu but a richly eclectic array of music makes up for this. Densely populated by men, Village is hardly suitable for the drinking lady.
The beers and food are also priced like Banilux perhaps because it offers about the same quantum of seclusion; parking space is the only constraint.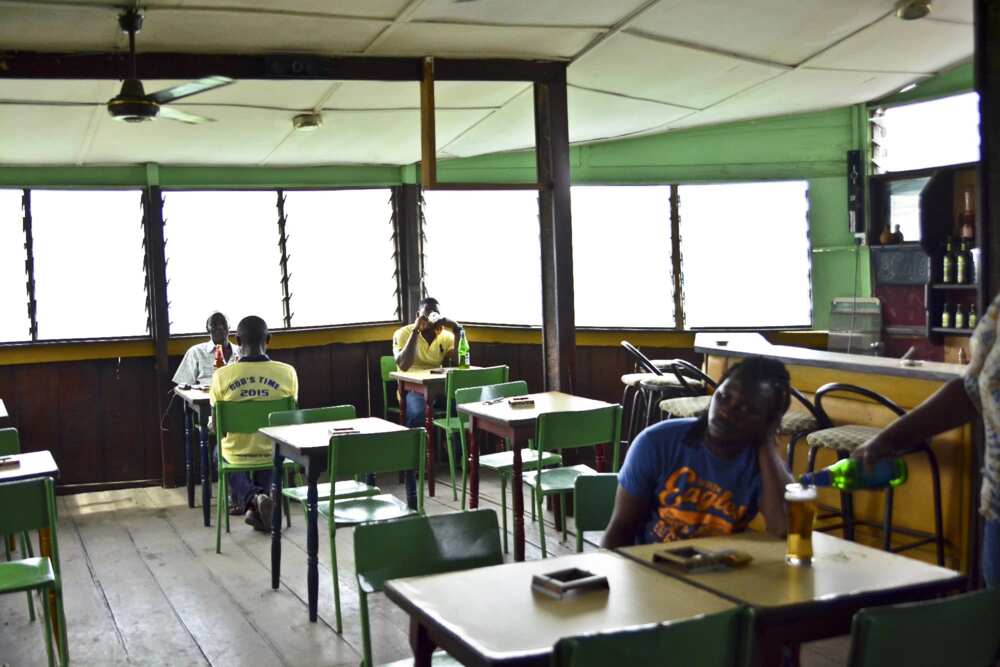 Panda Bar
Located within Oyadiran Estate, Panda Bar is situated on the grounds of Panda Events Center like Banilux. With a vast parking space and a canal passing through it, the gurgling sound of either running water or beer is assured. There is a considerable risk of flooding during the rains however.
Panda opens to customers after working hours and they also show football on weekends. Finger foods, Suya as well as peppersoup are readily available for sale but the quality often fluctuates. There is a resident DJ who plays really great music and the beer is moderately priced even if it is not always chilled to mortuary standard.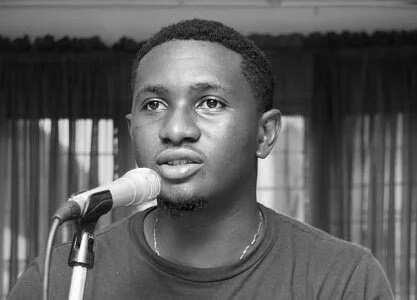 Source: Legit.ng