Senate Imposes Weighty Penalty On Rapists
Rapists and those who engage in other related sexual offences will henceforth not have things go as usual. The senate,yesterday passed the Sexual Offences Bill, 2015.
The bill imposes life imprisonment for rapists and those who have sexual intercourse with children less than 11 years.
Umaru Dahiru, Chairman, Committee on Judiciary, Human Rights and Legal Matters explained the bill gives legal backing for the prosecution of sexual offenders.
David Mark, Senate President, applauded efforts of the committee to evolve a stronger law against sexual violations.
Mrs. Anyanwu (APGA Imo East) sees the passage of the bill as a parting gift from her to the public "It is indeed a fulfillment of my mission in the Upper Chamber," she said
The bill make provisions for sex related offences which include gang rape, lacing drinks with drugs with intent to sexually abuse, deliberately infecting partner with HIV and other diseases.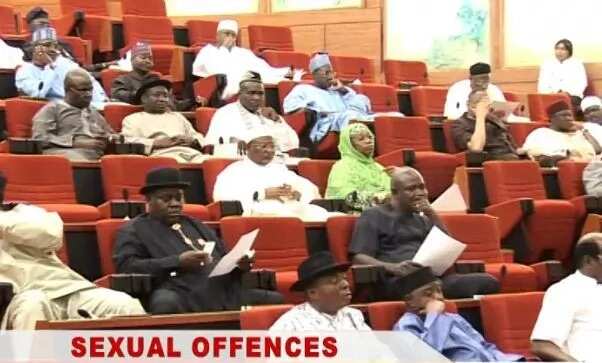 Others are child sex tourism, sexual harassment and prostitution of persons with mental disabilities.
As spelt out in the bill, names of sexual offenders will also be input in a database for institutional and social discrimination "Culprits would never be employed in any institution where they may pose a risk to unsuspecting persons. You can see that the penalties are weighty," she said.
READ ALSO: See The List Of 46 Bills Hurriedly Passed By Senate
Anyanwu added that offenders will be subjected to compulsory medical examination while those who bring false sexual allegations are also liable to punishment.
Senate President, David Mark, expressed delight on the efforts of the committee to evolve a stronger law against sexual violations, "I want to particularly thank and congratulate Chris Anyanwu, the sponsor of the bill for the passage for initiating the process of this amendment,'' Mark said.
Source: Legit.ng