Breaking: Prophet TB Joshua Dies Few Days to His 58th Birthday
- The death of renowned gospel preacher Prophet TB Joshua has been confirmed by TB Joshua ministries
- The man of God who would have clocked 58 years on June 12 died on Saturday, June 5, after taking part in a church programme
- One of his close friends, Femi Fani-Kayode, a former Nigerian minister, has expressed sadness over the cleric's death
PAY ATTENTION: Join Legit.ng Telegram channel! Never miss important updates!
Lagos State - Multiple unconfirmed reports surfaced on the night of Saturday, June 5, claiming the founder of the Synagogue Church of All Nations (SCOAN), Temitope Joshua, better known as Prophet TB Joshua, is dead.
The church has now confirmed the death of the televangelist who was said to have died suddenly on Saturday night in Lagos after concluding a programme.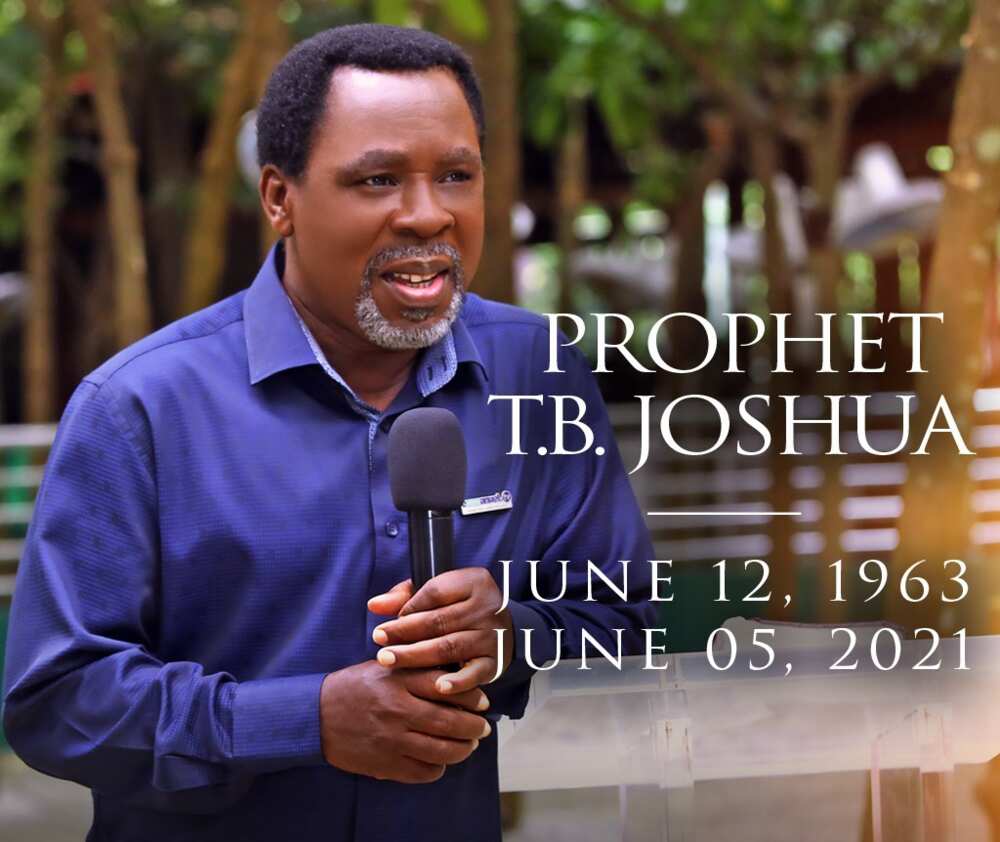 In a post on the Facebook page of TB Joshua ministries, the church said the cleric spoke during the Emmanuel TV Partners Meeting.
The statement read in part:
"God has taken His servant Prophet TB Joshua home – as it should be by divine will. His last moments on earth were spent in the service of God. This is what he was born for, lived for and died for."
His last words were: "Watch and pray."
I am in pain, Fani-Kayode
His friend, former aviation minister, Femi Fani-Kayode also confirmed the news of his death in social media post.
Expressing deep sadness over the death of his friend, Fani-Kayode said the news has caused him pain.
He wrote:
"The passing of my brother TB Joshua saddens me deeply. At 3.00am this morning I was told by one of his daughters that this was fake news & I tweeted as much. Sadly I was misled. 5 minutes ago the same person called me & confirmed the story.
@GazetteNGR was right & I am in pain."
Early birthday message to the world
TB Joshua would be 58 in six days time. He was born on June 12, 1963, in Arigidi-Akoko, in Ondo state.
In a Facebook post on June 3 on his TB Joshua Ministries account, he told his followers he would not be able to mark his 58th birthday.
In a special birthday message, he wrote:
"Happy Birthday to you! Viewers all over the world, June 12th is around the corner. As you know, I am a man of the people. So, the wound of one is the wound of all.
"As things stand, you may have realised it will not be easy for me to celebrate my birthday under the present circumstances. Some of the people who want to come are troubled by the situation all over the world. We see their fear and their worry. I feel their pain; I feel their worry."
According to him, the day should be dedicated to prayer and fasting.
What he said about coronavirus vaccine
The renowned gospel preacher is known globally for his prophecies and healing of the sick as well as casting out of demons.
On Wednesday, January 20, the Nigerian televangelist said there were "many conspiracy theories surrounding the COVID-19 vaccine" as he has been receiving many "negative reactions" from people who have been vaccinated.
In a video posted on his Twitter handle, he stated that though the government's efforts on getting the vaccine is a "way out", there is "bad faith" in many quarters.
Source: Legit.ng