Tales About Osinbajo Regarding IPOB, Others Debunked by Spokesman
- Mr. Laolu Akande has dismissed some comments on social media attributed to his boss, Vice President Yemi Osinbajo
- The vice president's spokesman says the comments are false and should be disregarded by Nigerians
- Mr. Akande, a veteran journalist, made the clarifications when he featured on a radio programme on Thursday, June 3
PAY ATTENTION: Join Legit.ng Telegram channel! Never miss important updates!
FCT, Abuja - Mr. Laolu Akande, spokesman to Vice President Yemi Osinbajo has debunked comments attributed to his boss regarding a certain southeast group and another on Fulani herdsmen/farmers, calling them a deliberate falsehood.
Akande, who was featured on a weekly FRCN network radio show monitored by Legit.ng on Thursday, June 3 said there was never a time the VP said the Federal Executive Council must "crush" any group with "by fire by thunder."
He also said it's fake news that Osinbajo asked Nigerians to pray for any group of people perpetrating violence instead of melting out justice to them.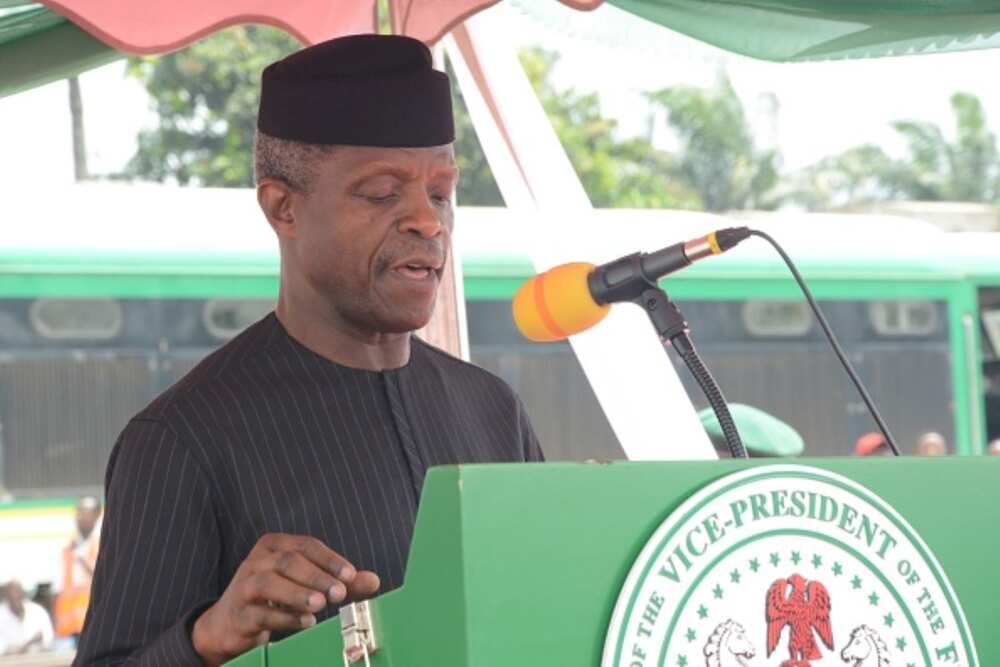 PAY ATTENTION: Install our latest app for Android, read the best news on Nigeria's #1 news app
He said:
"These are fake news and deliberate deployment of falsehood. The VP's voice on matters of justice in and out of government is always loud and clear."
According to him, the vice president never uses those kinds of language at all, adding that such comments attributed to the vice president in that regard should be ignored.
He added:
"For quite a long time, there has been the deliberate deployment of falsehood against the vice president.
"I have seen, a number of times they put out stuff on WhatsApp, Facebook that says the vice president has said something to attack a particular group in the southeast, and that this and that is what he said about the farmers-herders conflict, all of it untrue.
"What the vice president said about our people in the southeast is that they are people of industry and that though there may be issues from different parts of the country, the whole essence of a union is to find very transparent, open ways to resolve the differences.
"And that he knows that people and leaders across the country whether from the southeast, south-south, southwest, northeast, north-central, all support the unity of this country."
On the issue of justice, Akande said that the vice president, just like the president, had said very clearly that anybody that violated the law or engaged in violent conduct must face the law.
According to him, justice is an important requirement for humanity.
His words:
"The vice president is someone whose voice is very clear about the issues of justice, he makes this very clear in his actions and deeds, just check some of these things out independently, you will see those attributed fake comments are complete bunkum.
" So, when you read that hogwash about what he is falsely reported to have said about the herders-farmers clashes and all that, just know that it is just a lie, a big one for that matter.
"He is the one that said there must be justice and that we can all live together, and that there is strength in our unity, there is value in our diversity.
"If you read anything that runs contrary to the virtues the VP is well known to espouse, just know straight away that it is not true, it is fake news and doesn't pay any attention to it.''
He said Osinbajo was focused on supporting President Muhammadu Buhari in creating opportunities for young Nigerians.
Legit.ng had earlier reported that Osinbajo recently announced that the Nigeria Jubilee Fellows Programme will soon be inaugurated.
The fellowship is expected to create 20,000 jobs yearly with a collaboration with the United Nations Development Programme, the European Union, Dangote Group, Visa, BUA, Lafarge, Microsoft, and others.
Meanwhile, the Progressive Consolidation Group has urged Osinbajo to consider joining the 2023 presidential race.
While calling for Osinbajo to declare interest in the 2023 race, the All Progressives Congress support group, appealed to all other presidential aspirants to withdraw for the vice president.
Source: Legit.ng