Woman Carries Twin Sister's Baby for her Because the Lady's Womb Cannot Carry an Embryo
- Identical twins Amy Fuggiti and Courtney Essenpreis were diagnosed with glaucoma when they were 12
- Since the identical twins risked carrying the condition into their children, they opted for genetic testing where an embryo is tested and only the healthy one is implanted
- Amy's womb, however, refused to accept the embryos, forcing her twin sister to come in as a surrogate
PAY ATTENTION: Legit.ng is on a mission to support vulnerable children of Calabar – join the initiative on Patreon, let's change more lives together!
Identical twins Amy Fuggiti and Courtney Essenpreis may have shared quite a lot having grown up together, but one carrying the other's baby in her womb beats them all.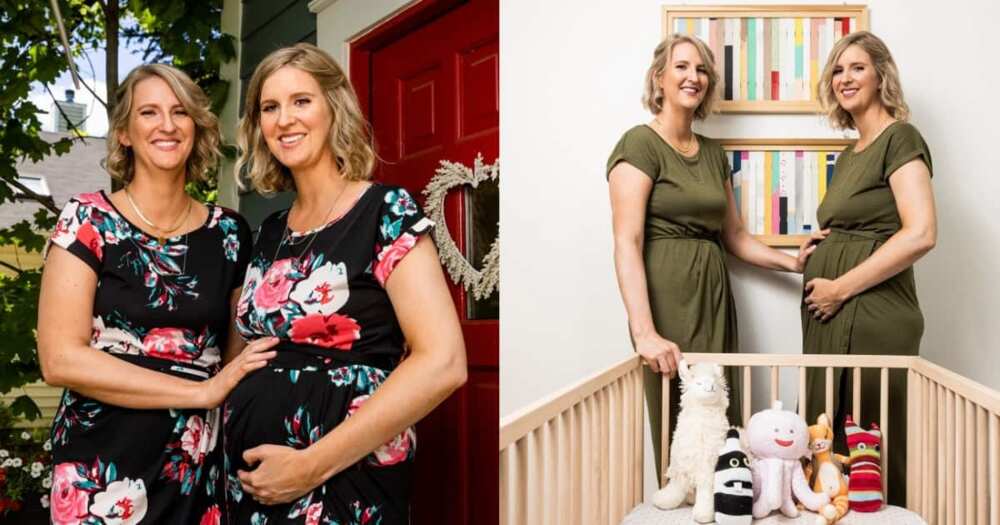 The path to the surrogacy idea started when they were diagnosed with the chromosomal disorder, Axenfeld-Rieger syndrome, while still aged 12.
Known as the mirror twins because one is right-handed and the other left-handed with matching freckles on opposite sides of their faces, the diagnosis meant that they had glaucoma.
Glaucoma is an eye condition that ruptures the optic nerve, leading to blindness and, sometimes, heart abnormalities.
As they grew up and decided to start families, it emerged that they carried the risk of bringing forth children with the same genetic condition.
With genetic testing their only hope, they underwent screening of embryos in the laboratory and transferring those who were free of the disorder, but then, Amy's uterus had a history of rejecting healthy embryos.
That is when the idea of her twin sister Courtney being the surrogate seemed like the last option.
This was based on the idea that Courtney had previously carried three pregnancies of her own through IVF and given birth twice.
Amy told The Post:
"I didn't even have to ask her to be our surrogate. We're so intrinsically tied, it felt like something that was supposed to happen."
In February, the 36-year-old twins from Chicago crossed fingers as Amy's frozen 5-day-old blastocyst was implanted into Courtney.
Amy, however, adds that with benefit of hindsight, they did not expect too much from the procedure.
"We didn't want to get our hopes up too much after all the disappointments."
Amy makes surprising confirmation
It was not long before Amy got a confirmation from her sister that she was indeed pregnant with her baby.
As the baby continues to grow inside Courtney, their bond has been further strengthened as they admit they feel the little one belongs to both Amy, her husband Anthony, and the surrogate mother herself.
"The fact I'm pregnant with my sister's baby feels entirely normal. It's a means of getting from point A to B without much fanfare," Courtney expressed.
"When I say 'We're pregnant,' I mean myself, my husband and my sister. It's a beautiful celebration of life, because all three of us did this together," concluded Amy.
PAY ATTENTION: Click "See First" under the "Following" tab to see Legit.ng News on your Facebook News Feed!
Another helps her sister with surrogacy
Meanwhile, Legit.ng previously reported that a woman was celebrated for helping her sister carry a pregnancy.
Rebekah Bragdon Adamson had had surgery which resulted in her being unable to carry a baby to full term. Rebekah, 34 and her husband Bobby's, 38, hopes were shattered when they heard the news.
She recalled how she could not stop tears flowing from her eyes for three days after she found out she no longer had the capacity of becoming pregnant.
Emphasizing how devastated she was at that time, she added nobody told her during the surgery that it could result in her inability to bear a child or children.
Source: Legit