Opinion: Even at 64, Aregbesola Remains a Troubled Architect of Modern Osun by Lawal Adewale
Disclaimer: The views expressed in this interview/article are the author's own and do not necessarily represent the editorial policy of Legit.ng.
Your own opinion articles are welcome at info@corp.legit.ng — drop an email telling us what you want to write about and why. Contact us if you have any feedback, suggestions, complaints or compliments. We are also available on Facebook and Twitter.
Editor's note: In this piece, a social commentator and journalist, Lawal Sodiq Adewale, popularly known as Chocomilo, extols the virtue of the minister of interior and immediate past governor of Osun state, Ogbeni Rauf Aregbesola.
He can be reached via: Adewale858@gmail.com
PAY ATTENTION: Join Legit.ng Telegram channel! Never miss important updates!
Just like every Nigerian politician, Ogbeni Rauf Aregbesola is not a saint. But he lived a life of service driven by desperation for success, ambitions, pace-setting and desirability in breaking of yolks in the last 40 years.
Ogbeni Rauf Aregbesola is not strange to leadership positions. It is interesting to note that each time Aregbesola occupied a top position, he never attained such position on a platter of gold but through struggles and sacrifices. He always ended up his days in office fighting battles and struggling to fulfill the mandate of the new office but not always enough.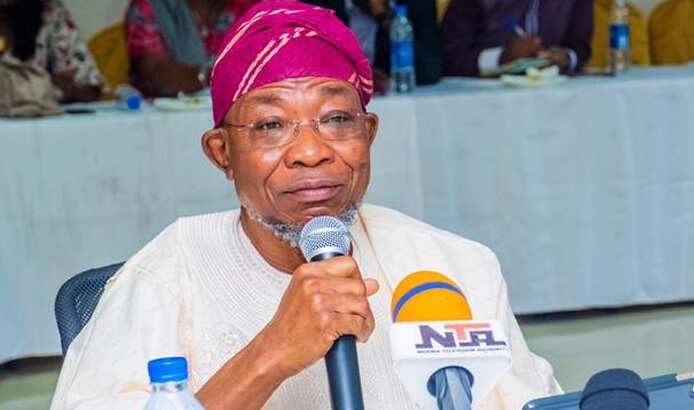 Aregbesola struggled through the hot furnace of student politics to become the speaker of the students' parliament at The Polytechnic, Ibadan in 1977. He did not become the president of Black Nationalist Movement from 1978 to 1980 on the platter of gold. He volunteered to be director of the Bola Ahmed Tinubu Campaign Organisation (BATCO), who drove the electoral victory of Bola Tinubu in 1999.
It would have been easier for Aregbesola to contest and win elective positions in Lagos after straight 8 years as commissioner for works under Asiwaju Bola Tinubu, the then governor of Lagos state but as a man of 'struggle and muscle' he's, Aregbesola left Lagos and came down to his home state to challenge powers that be.
It was not a political battle but a 'war'. Aregbesola took the war to Oyinlola's doorsteps, invaded the state with structures, ideological classes and made the seat of power a 'living hell' for him.
But he did not catch Oyinlola by surprise as the one-time military administrator responded clearly and a supposed political play became a war.
Aregbesola harvested the conscience of progressives and activists in the state, became the 'Robinhood' of Osun politics by tackling state policies and exposing alleged corruption scandals through billboards, leaflets, cassettes and monthly magazines.
Oyinlola was a very difficult political player and a friend of the civil servants while in office. To defeat a 'civil-servant loving governor at the poll, it requires extra efforts and the victory always comes with consequences. Aregbesola, his boys and a lot of progressives paid the price.
In the course of protecting his office, legacy and interests from the 'obstinate and unrelenting' supporters of Aregbesola who were so desperate to send him packing from Abere, the state secretariat, terror was unavoidable and it later became a balanced one.
Many lives lost, several properties were destroyed and the direct victims of this 'political war' are still nursing the wounds and solely addressing the consequences in their abandoned zones as a result of the huge infiltration of political thugs.
In the long run, Prince Oyinlola defeated Aregbesola in the 2007 guber poll but there was a major challenge then. Umaru Musa Yaradua's administration introduced the tribunal for 'aggrieved losers' who want to challenge election results in courts.
Aregbesola became a beneficiary of the new initiative but he was defeated at the tribunal. Months later at the court of appeal sitting in Ibadan, Aregbesola reclaimed his mandate which sent Prince Oyinlola packing from the state secretariat.
Despite the political war and enmity between the two opposing camps, Aregbesola intentionally did not probe Oyinlola, paid off his aides most importantly council chairmen including councilors in the state.
Aregbesola did not abandon his campaign promises to rebuild the state when he resumed into office as a sitting governor and commenced the "rebuilding Osun" project by releasing the six-point integral action plan which is namely; the banishment of hunger, poverty, unemployment and promotion of healthy living, functional education and communal peace.
As a governor of the state, Ogbeni Rauf Aregbesola was not only ambitious but was a courageous developer whose expectations were so damning that they probably raised some doubts in his mind too.
These damning expectations did not only raise the debt profile of the state but also set a new pace of growth and development for the state especially Osogbo. While other sectors were almost abandoned and forgotten, some sectors were active and pushed the state to greater heights.
It would not be a jungle justice to judge Aregbesola's tenure with the six-point integral action plan he presented during campaigns and at the first day in office. Did Aregbesola banish poverty, unemployment, and hunger?
Did he promote functional education, healthy living, peaceful and communal progress? These are questions we should ask ourselves after his eight years as a governor of the state and it is my belief that they remain the best guide to measure his impacts and contributions to the state.
Osun is a civil servant state. They are the drivers of its economy. Any progressive plan without consideration of the workforce would place the people against its executor. In tackling issues he met in the office, Aregbesola became tough, adamant and Persky in decisions.
Yes, only a tough individual could erect beautiful edifices as schools, fix and construct roads across the state. Only a tough individual could conceive progressive ideas and make them come into fruition.
But Aregbesola was carried away by his plans neglecting other essentials including considerations of people's thoughts and criticisms. He was busy struggling to fulfill some points in his integral action plans and ended up messing with the rest. While some programmes were successful, some went down the drain, wasting billions of taxpayers' funds.
Aregbesola was unlucky with some trusted allies he put into offices to run and control these programmes and they ended up ruining his chances to positively touched all his six-point integral plans.
Aregbesola expanded the employment capacity of the state by creating temporal and sustaining agencies to tackle unemployment. Aregbesola did not only build schools with standard laboratories and other necessary equipment that would aid learning, he introduced new concepts to promote functional education.
Aregbesola launched an operation to make Osun clean under which environment sanitation on Thursdays was made compulsory for traders, shop owners and non-residential buildings and Saturdays were made compulsory for residential buildings to promote healthy living.
Calisthenics alongside school meals for young students was also a great and rewarding programme of Aregbesola's administration. These programmes did not only project his administration but beautifully promote healthy living and functional education in the state.
Aregbesola's eight years as a governor was indeed a peaceful one. He reclaimed his stolen mandate at a time political thugs were powerful and dominant in the state. He wore the garment of peace and declared that anybody in possession of dangerous tools should be arrested at a time his supporters were planning revenge.
Every attempt to frustrate communal peace and progress was exclusively tackled. He formed state boys, a group of able, young and aggressive ones to curb crimes or easy identification of penetrators.
Aregbesola is not a saint. In his pursuit to achieve the six-point integral action plans, he borrowed heavily and ran an opaque financial status. The sudden drop in oil price, low IGR and the servicing of these loans made it so difficult for him to fully achieve his desires.
But Aregbesola is a stubborn and desperate developer. He reduced his aides' salaries, introduced half-salary to the civil service and new taxes to boost the IGR. Alas, he lost the civil servants.
Despite the political fights and banters by the 'political warlords' of the duo, I have stated clearly in many fora that Oyetola has not deviated from the six-point integral action plan. No plan is perfect and it can be subjected to slight changes to fit in new narrations and developments.
Aregbesola built new schools, Oyetola introduced service to schools by employing teachers and reviewing some policies the people detest. Oyetola renovated primary health centres to consolidate Aregbesola's efforts in the promotion of healthy living.
Oyetola is completing two major roads Aregbesola commissioned while in office namely; Bisi Akande Interchange and Osogbo East By-Pass.
PAY ATTENTION: Install our latest app for Android, read the best news on Nigeria's #1 news app
Oyetola has reconciled civil servants with the state through regular payment of salaries which I personally believed has reduced the poverty index of the state. Some programmes such as OYES, O'MEAL, O'REAP and others Aregbesola initiated are still active and in progress.
It is very loud and clear that the six-point integral action plan is the legacy of Rauf Aregbesola. Your hatred for him can not take that away.
Indeed, Aregbesola made a lot of mistakes, he was wrong in some decisions and acted selfishly in some areas. He trusted people with state funds and abandoned them to implement his programs.
In fine-tuning the plans and fixing perceived excesses by successive administrations, it must not be tagged as witch-hunting because the overall success of the plan glorifies the architect of the plan. Despite all, Aregbesola remains the game changer and the new face of the modern Osun.
Source: Legit.ng