Pro-Buhari group lists 14 ways Osinbajo has contributed positively to Nigeria's growth
- More accolades for Vice President Professor Yemi Osinbajo as he marks his 64th birthday
- A group has listed the contributions of the vice president to national growth
- The list also includes VP Osinbajo's achievements as the Attorney-General of Lagos state
PAY ATTENTION: Join Legit.ng Telegram channel! Never miss important updates!
To mark his 64th birthday, a pro-Buhari group, Buhari Osinbajo Solidarity Front, BOSF, has listed 14 key contributions of the vice president to the growth of Nigeria.
The group argued that Professor Yemi Osinbajo, SAN, is the country's most loved number two citizen and most hardworking vice president in the nation's history.
The group further stated that VP Osinbajo is different and a breath of fresh air in Nigeria's politics, adding that he embodies what the role of a public officer and politician should be.
The list focused on VP Osinbajo'ss contributions to some major issues in Nigeria since his time as Attorney-General of Lagos state.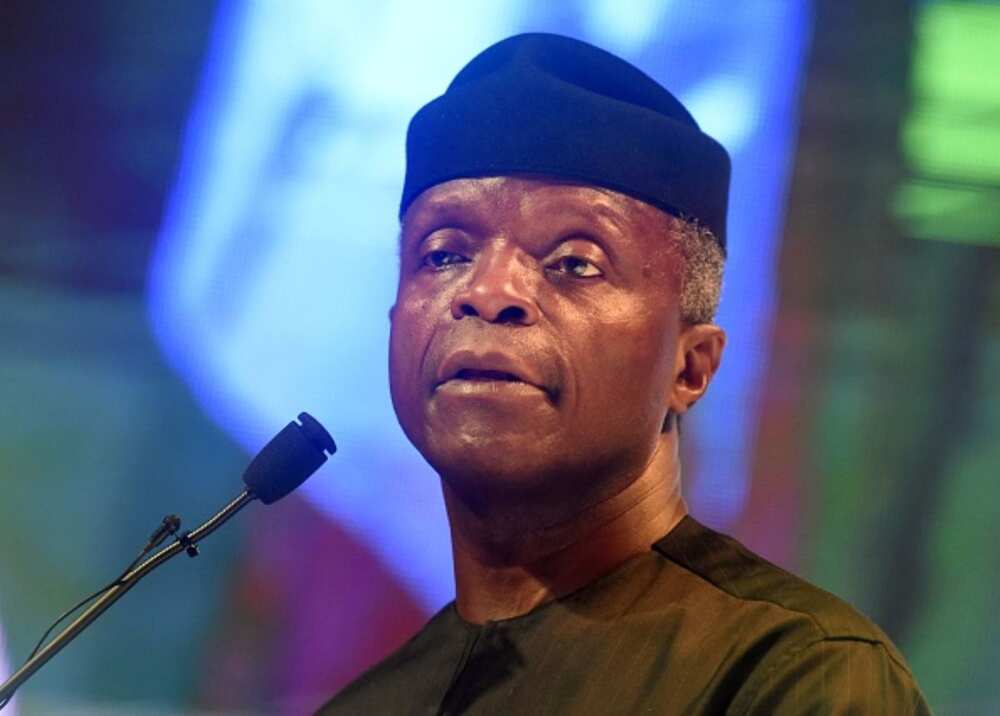 PAY ATTENTION: Сheck out news that is picked exactly for YOU ➡️ find the "Recommended for you" block on the home page and enjoy!
PAY ATTENTION: Install our latest app for Android, read the best news on Nigeria's #1 news app
They are
1. Institutional Reforms
When he served as Attorney General of Lagos state, Osinbajo is credited with undertaking far-reaching significant judicial reforms, addressing critical areas as judges' recruitment, remuneration, training, and discipline.
To address the problem of slow justice delivery at the courts especially for poor people, he established appropriate institutions in the Office of the Public Defender (OPD) and the Citizens Mediation Centre (CMC) to give free legal advice and aid to the poor.
2. Contribution to Federalism
When Osinbajo was Attorney-General, he took the Obasanjo-led federal government to the Supreme Court over the withholding of funds belonging to the Lagos state government in 2002. The Osinbajo-led legal team won the case against the federal government, but Obasanjo still went ahead to withhold the state's local government monthly allocations.
Following the bold initiative led by Osinbajo, several other states like Osun, Oyo, and others began the process of creating more local government areas to bring government closer to the people.
3. Contribution to Party System and Democratic Development
After the formation of the All Progressives Congress (APC), Osinbajo was called upon, alongside other notable Nigerians in the party, to draft the manifesto for the new political party. This culminated in the presentation of the "Roadmap to a New Nigeria", a document published by APC as its manifesto in 2013.
4. Education for All Projects
Outside political offices, Osinbajo has launched several initiatives to help the poor and downtrodden get access to education. To do this, he launched the Liberty Schools Project that provides free education for poor and needy children in poor communities in Obanikoro, Ikota, and Makoko areas in Lagos state.
The project has been appraised by several international organisations as effective and efficient. Osinbajo spearheaded other initiatives that focused on free health care facilities, free legal services, social rehabilitation, and skills acquisition for the poor.
5. Made In Nigeria Project
In 2018, due to his strong belief in locally made products and local contents, Osinbajo initiated the Project MINE (Made in Nigeria for Export), a presidential priority intervention project aimed at increasing manufacturing sectors contribution to the economy and creating new jobs in the export-oriented manufacturing value chain.
6. Actions Against Police Brutality and Commitment to Human Rights
Osinbajo has shown his commitment to upholding the rule of law and human rights for all Nigerians. In several ways, he has also shown he is against impunity and police brutality in the country.
As Acting President, Osinbajo terminated the appointment of Mallam Lawal Daura as director-general of the Department of State Security over operatives unauthorized and unconstitutional invasion of the National Assembly in 2018.
Secondly, Osinbajo, as Acting President in 2018, ordered the overhaul of the Special Anti-Robbery Squad (SARS), a police unit, to make it more efficient and commit to respecting human rights for all Nigerians.
7. Largest Social Investment Programme in Africa
As vice president, Osinbajo initiated the Buhari administration's Social Investment Programmes (SIPs), regarded as the largest social welfare scheme in Africa. The office of the vice president successfully coordinated the SIPs between 2016 and October 2019
8. COVID-19: Osinbajo's Interventions and Economic Recovery
As directed by President Muhammadu Buhari, the Osinbajo-led committee drafted the Economic Sustainability Plan (ESP) where Nigerians are to benefit from several packages.
The ESP is a N2.3 trillion stimulus plan by the federal government as part of measures for post-COVID-19 economic recovery.
9. Osinbajo and Niger-Delta Development and Peace
The erstwhile volatile Niger-Delta has achieved much peace since 2016. This is thanks to the Niger Delta New Vision, which is the blueprint of the Buhari administration to develop the Niger Delta. This initiative was spearheaded by the Vice President on behalf of President Buhari when the VP went on a tour of the region in 2017 and meetings with Niger Delta elders.
10. Osinbajo and Ease of Doing Business
On May 18, 2016, As Acting President, Osinbajo signed the Presidential Executive Order on Ease of Doing Business. This order was aimed at improving businesses in the country and attracting foreign direct investments (FDI) to Nigeria. Since 2016, Nigeria has risen by an aggregate of 39 places on the World Banks Ease of Doing Business rankings.
11. Osinbajo's involvement in TECH brought about the following:
a. Google Inc. in July 2020 announced plans to establish its first Google Launchpad Space outside the United States in Lagos.
b. Facebook, in September 2020 made public its decision to open an office in Lagos as part of its planned expansion in Sub-Saharan Africa.
c. HUAWEI in November 2020, promised the Vice President that the company will position Nigeria as a technology centre for the African continent and give more jobs to young Nigerians.
12. MSMEs
Osinbajo has driven the growth and empowerment of MSMEs in the country through his involvement in MSME Clinics which have held in 26 States, twice in Ebonyi and then across the country including the FCT. 7 One-Stop-Shops for MSMES - Cross River, Kwara, FCT, Abia, Bauchi, Osun, Plateau.
13. National Livestock Transformation Plan
The NLTP is a creation of NEC, chaired by VP Osinbajo and state governors, and is completely distinct from the now-suspended RUGA.
Osinbajo had publicly rejected RUGA and instead articulated the NLTP which has six pillars through which it aims to transform the livestock production system in Nigeria, including through ranching along a market-oriented value chain while ensuring an atmosphere of peace and justice.
14. Energizing Economies and Energizing Education
Osinbajo supervised the provision of solar power to markets around the country such as Ariaria in Aba, Sabon Gari in Kano, Sura in Lagos, etc., as part of the energizing economies initiative of the Rural Electrification Agency.
Meanwhile, renowned Nigerian economist, Bismarck Rewane, has declared that having a public office holder with intellectual depth like Nigeria's vice president, Professor Yemi Osinbajo, SAN, is refreshing.
Rewane, the managing director of Financial Derivatives Co. Ltd, made the comment on Monday, March 8 at a special public lecture in commemoration of Professor Osinbajo's 64th birthday in Abuja, the Nigerian capital.
The economist who shared his various interactions with VP Osinbajo noted that the Nigerian number 2 citizen has, and continues to distinguish himself as a reformer in public office.
In a related development, VP Osinbajo's spokesperson, Laolu Akande, has shared insights into his leadership qualities in a statement on Sunday, March 7, seen by Legit.ng.
Akande said with the kind of relationship that exists between President Muhammadu Buhari and Osinbajo, the vice president has demonstrated that good leaders are first good followers.
Jerrywright Ukwu is a senior political/defence correspondent at Legit.ng based in Abuja. He is a graduate of the Nigerian Institute of Journalism, Lagos and the International Institute of Journalism in Abuja. He is also an active member of the Nigeria Union of Journalists. He spends his leisure-time reading history books.
Source: Legit.ng