Inspiring Prince quotes and lyrics about love, life and music
Prince was more than just an icon. The American singer-songwriter and multi-instrumentalist inspired, and still continues to inspire, millions with his music. Through Prince quotes, we are reminded to always be ourselves, to take pride in our work, and to always keep smiling.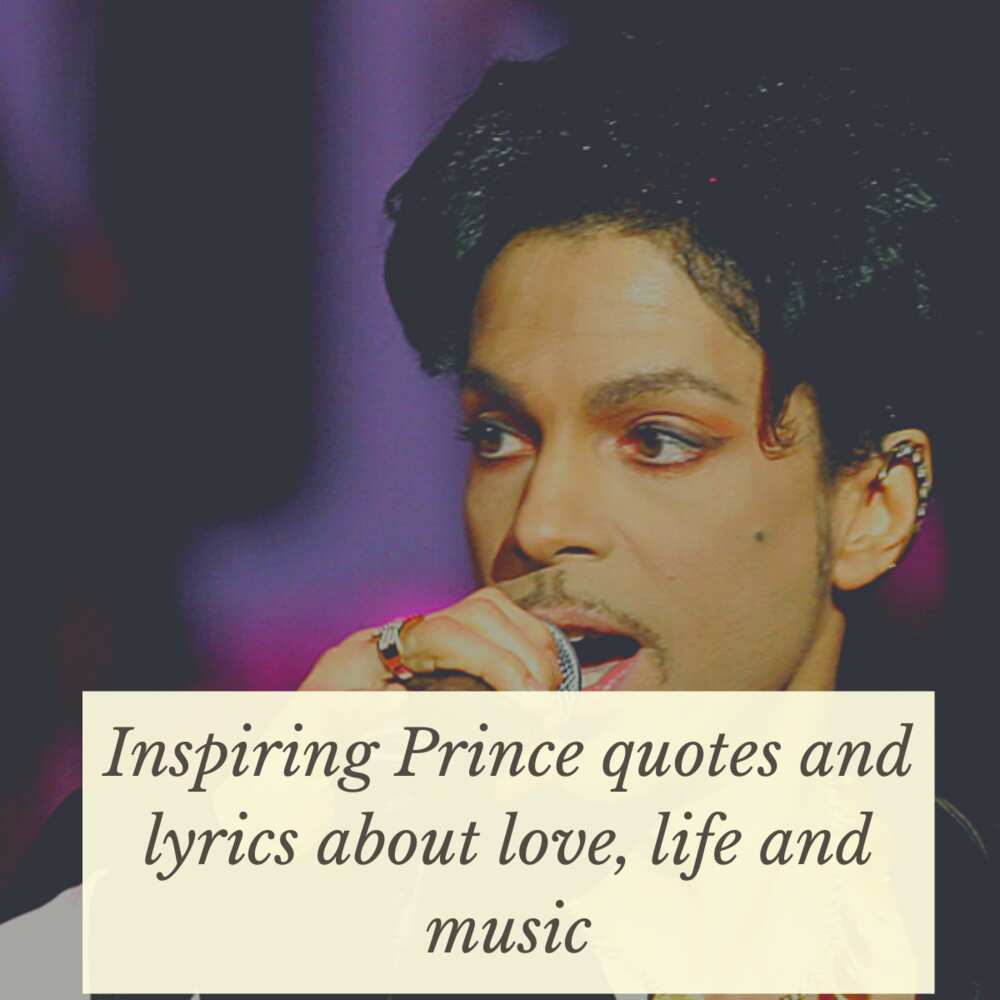 Have you been looking for quotes from Prince that can inspire you to be your best? Then, you have landed on the right page, as we have a collection of Prince musician quotes that will remind you of the great mark the man left behind.
Famous Prince quotes about love, life, and music
Check out these famous quotes by the musician. Some of these quotes are actually Prince quotes lyrics, and some are words that he said during interviews and such.
Like books and black lives, albums still matter.
A strong spirit transcends rules.
Dearly beloved, we are gathered here today to get through this thing called life.
Despite everything, no one can dictate who you are to other people.
Instead of hate, celebrate.
I don't really care so much what people say about me because it usually is a reflection of who they are. For example, if people wish I would sound like I used to sound, then it says more about them than it does me.
I've grown up, everyone's got to grow up. But there's something inside me, I'm always going to have that little sort of – how do you say? – child streak.
To create something from nothing is one of the greatest feelings, and I would - I don't know, I wish it upon everybody. It's heaven.
It's a hurtful place, the world, in and of itself. We don't need to add to it. And we're in a place now where we all need one another, and it's going to get rougher.
Time is a mind construct. It's not real.
There are people who are unhappy with everything
Every day I feel is a blessing from God. And I consider it a new beginning. Yeah, everything is beautiful.
I've always understood the two to be intertwined: sexuality and spirituality. That never changed.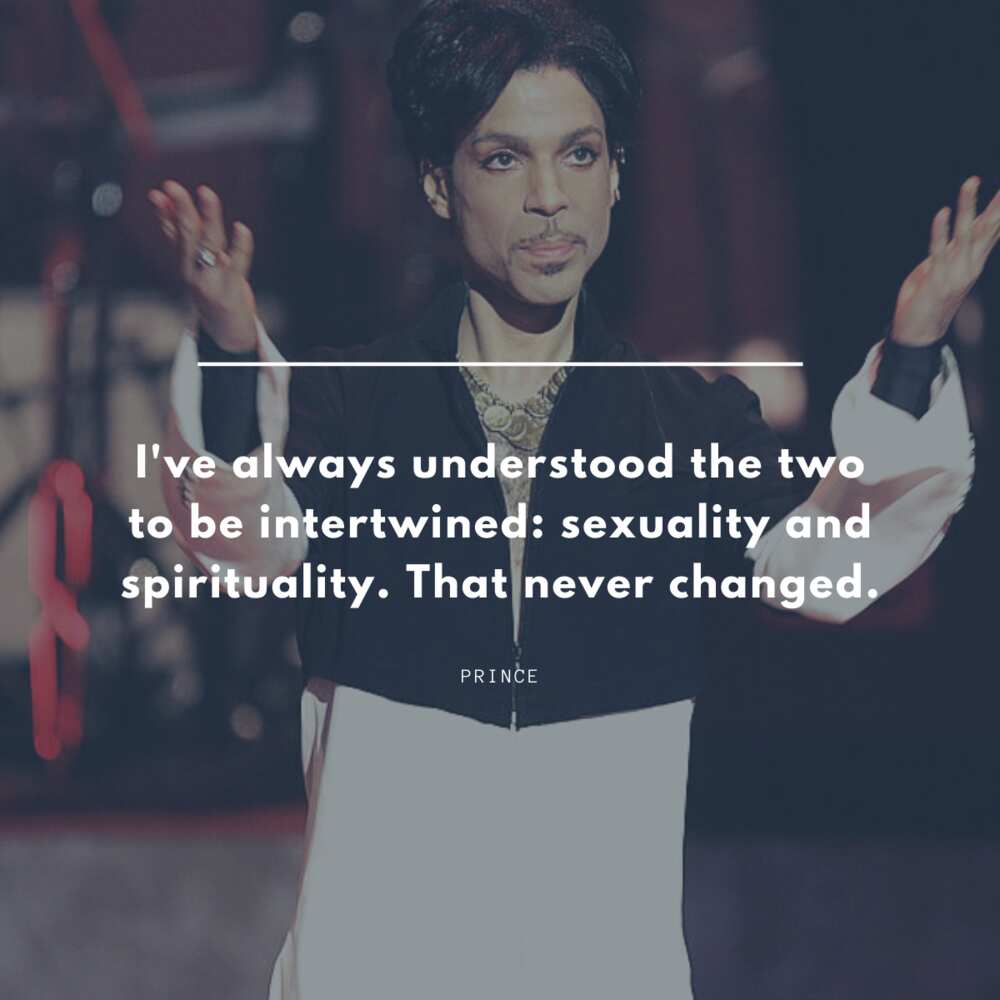 Everyone has a rock bottom.
I like constructive criticism from smart people.
When I found out that there was eight Presidents before George Washington, I wanted to smack somebody.
My fans bring their sons and daughters to my shows now. That's how I grew up. I hope to be an inspiration to those people.
The music industry is a matrix that is counter to what is natural and right.
Technology is cool, but you've got to use it as opposed to letting it use you.
Art is about building a new foundation, not just laying something on top of what's already there.
I want to make heart decisions in business. If you can't do that, you're not free. I want to be able to dictate which way I'm going to go.
Cool means being able to hang with yourself. All you have to ask yourself is 'Is there anybody I'm afraid of? Is there anybody who if I walked into a room and saw, I'd get nervous?' If not, then you're cool.
The key to longevity is to learn every aspect of music that you can.
There's a dark side to everything.
Everyone has their own experience. That's why we are here, to go through our experience, to learn, to go down those paths and eventually you may have gone down so many paths and learned so much that you don't have to come back again.
People say I'm wearing heels because I'm short. I wear heels because the women like 'em.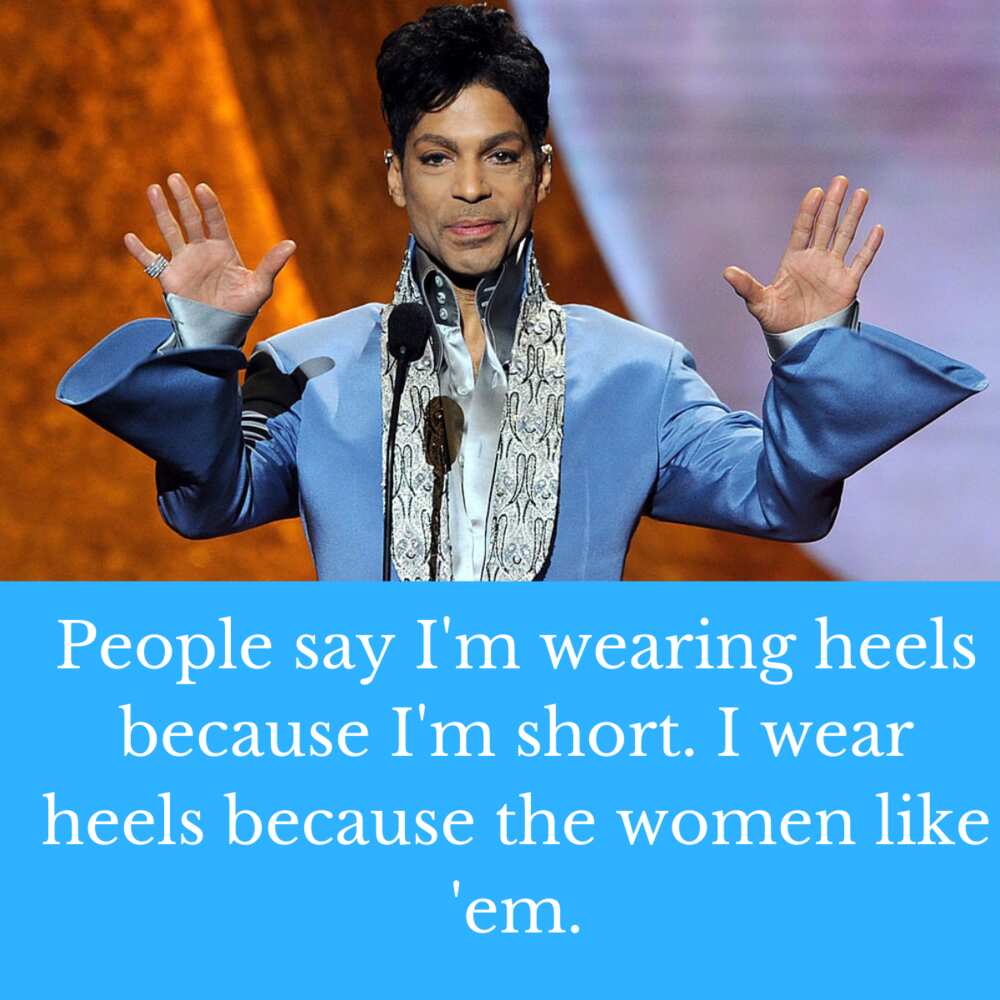 One thing I'd like to say is that I don't live in a prison. I am not afraid of anything. I haven't built any walls around myself, and I am just like anyone else. I need love and water.
If you lend your consciousness to someone else, you're a robot.
When you wake up, each day looks the same, so each day should be a new beginning. I don't have an expiration date.
I don't live in the past. I don't play my old records for that reason. I make a statement, then move on to the next.
Sometimes it takes years for a person to become an overnight success.
I don't talk to old people; they try to find ways to stay static. Young folks are the ones with the ideas and constantly moving forward.
When you sit down to write something, there should be no guidelines. The main idea is not supposed to be, 'How many different ways can we sell it?' That's so far away from the true spirit of what music is.
Anyway, all these computers and digital gadgets are no good. They just fill your head with numbers and that can't be good for you.
No one can come and claim ownership of my work. I am the creator of it, and it lives within me.
Yeah, everybody's got a bomb, we could all die any day. But before I'll let that happen, I'll dance my life away.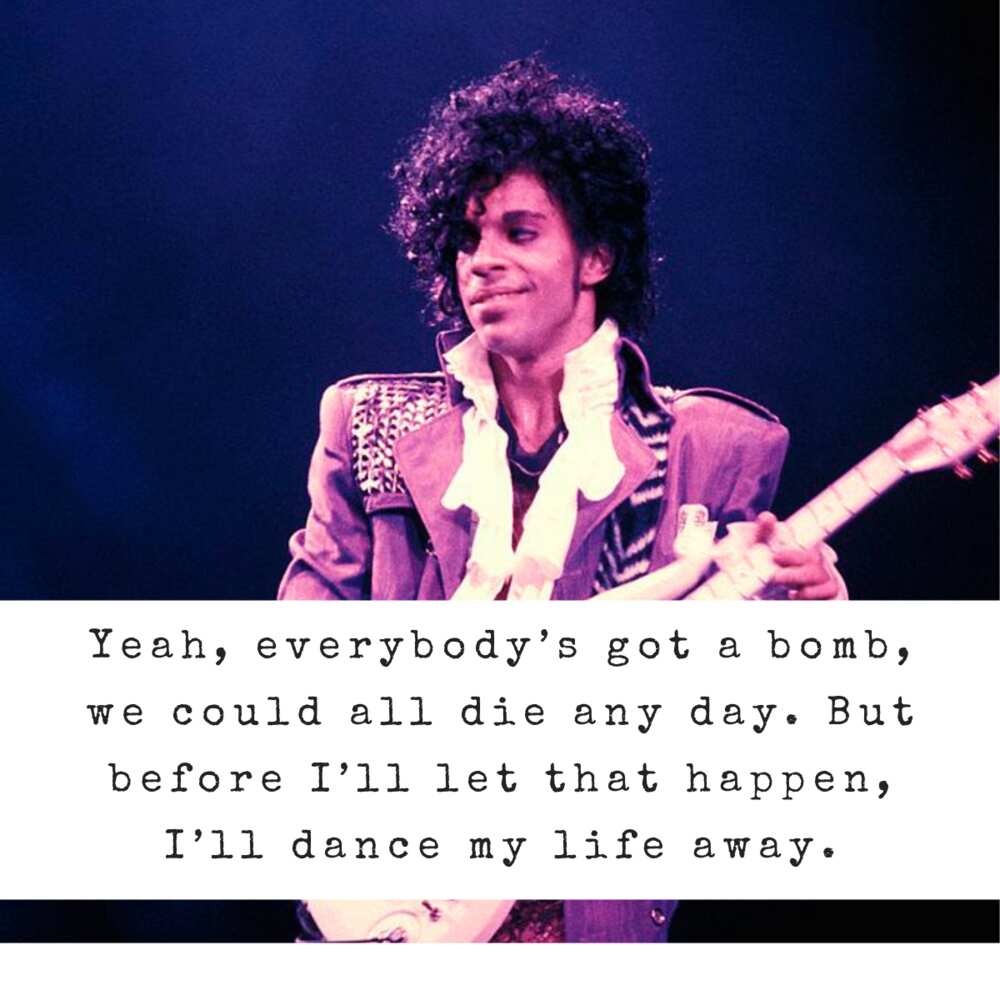 I learned from Jimi Hendrix. They all wanted him to do the tricks, and at the end of his career, he just wanted to play. I lived longer than he did, and I can see how those pressures can really play with your head.
All these non-singing, non-dancing, wish-I-had-me-some-clothes fools who tell me my albums s*ck. Why should I pay any attention to them?
Too much freedom can lead to the soul's decay.
Oh, I love critics. Because they love me. It's not a joke. They care.
It gets embarrassing to say something untrue because you put it online and everyone knows about it, so it's better to tell the truth.
There's not a lot of pop music in the mainstream that makes you feel scared, that makes you wonder what's happening.
The Bible is a study guide for social interaction.
I don't want anyone to fail, so if you can make money off music even though you can't sing or dance, that's genius.
No child is bad from the beginning. They just imitate their atmosphere.
If you ever lose someone dear to you, never say the words, 'they're gone.' They'll be back.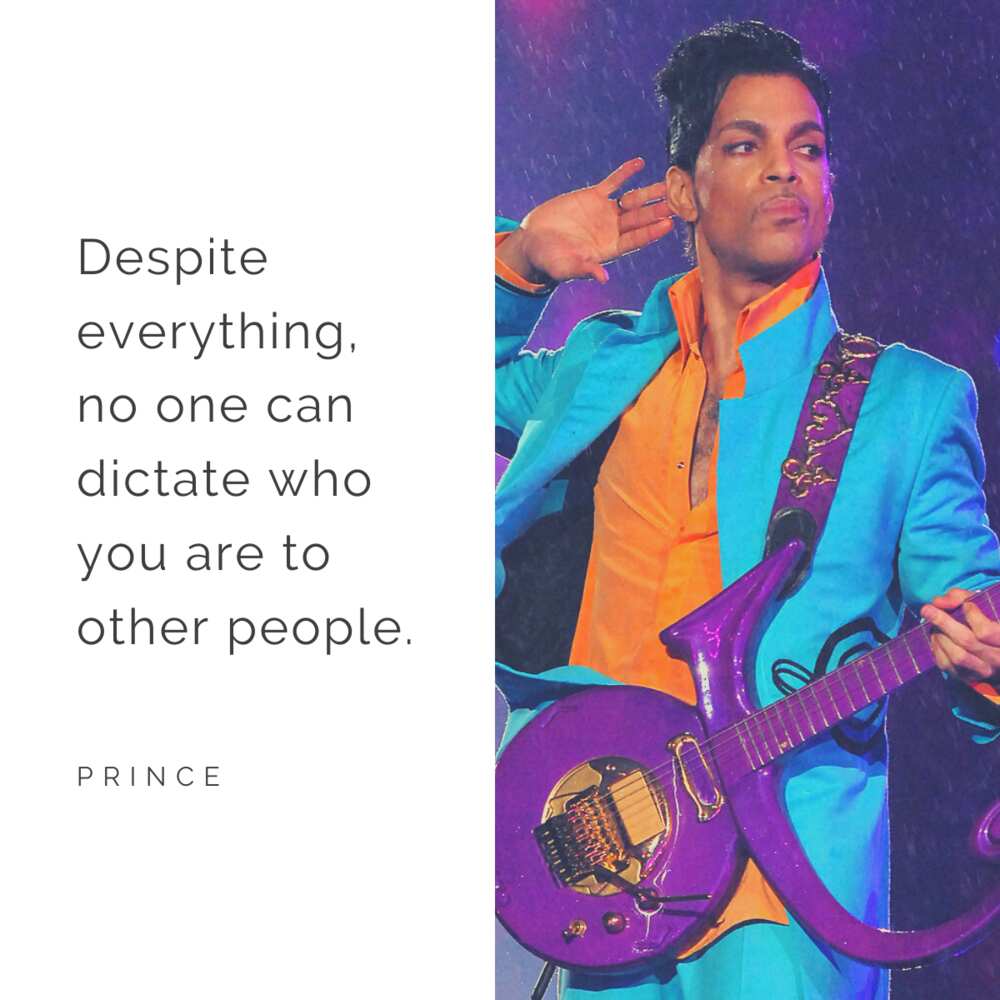 Prince quotes about himself and his life
What did the musician have to say about his life? Take a look:
When I first started out in this music industry, I was most concerned with freedom. Freedom to produce, freedom to play all the instruments on my records, freedom to say anything I wanted to.
My mother told me one day I walked in to her and said, 'Mom, I'm not going to be sick anymore,' and she said 'Why?' and I said 'Because an angel told me so.' Now, I don't remember saying it; that's just what she told me.
I'm not entangled in a bunch of lawsuits and a web that I can't get out of. I can hold my head up... a happily married man who has his head in order. There isn't a bunch of scandal in my life.
People speculate on your personal life all the time anyway. So I just think it's important to keep my private life private and my public persona more into music, you know?
I had a massive ego [at youth]. Massive. But that's not such a bad thing. Because at least you're aspiring to be something, you consider yourself great because you want to be great.
Now, let's have a look at some awesome Prince quotes from songs.
Famous Prince lyrics quotes
Here are some cool Prince famous lyrics that will, undoubtedly, make you listen to these songs again and again. These Prince song quotes will inspire and motivate you to do your best.
I know times are changing. It's time we all reach out for something new. - Purple Rain
Maybe I'm just too demanding. Maybe I'm just like my father too bold. - When Doves Cry
If you don't like the world you're living in take a look around you. At least you got friends. - Let's Go Crazy
Them kind of cars don't pass you every day. - Sometimes It Snows in April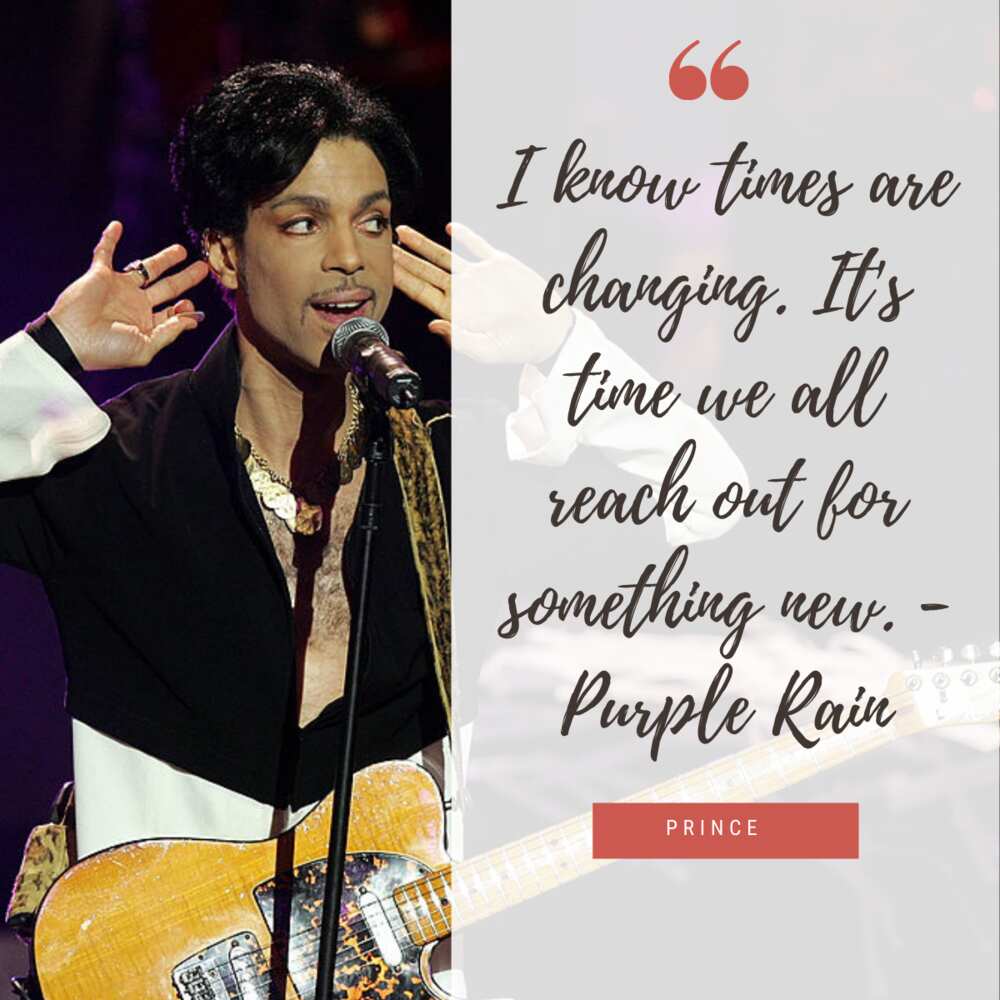 When the day turns into the last day of all time. I can say I hope you are in these arms of mine. - The Most Beautiful Girl in the World
Life is just a party and parties weren't meant to last. - 1999
Tonight I'm gonna party like it's 1999. - 1999
Make the rules, then break them 'cause you are the best. - Cream
I went to the doctor guess what he told me. He said girl you better try to have fun no matter what you do. But he's a fool.'Cause nothing compares to you. - Nothing Compares 2 U
You don't have to be rich to be my girl. You don't have to be cool to rule my world. - Kiss
Act your age, not your shoe size. - Kiss
Women, not girls, rule my world. - Kiss
If the elevator tries to bring you down, go crazy, punch a higher floor. - Let's Go Crazy
We will smoke them all with an intellect and a savoir-faire, no one in the whole universe will ever compare.- Seven
All of these Prince lyric quotes prove one thing - that the musician was indeed one of the greatest musicians of his generation.
Which of these Prince quotes are your absolute favourite? And as a fan of the musician, what do you miss the most about him? Let us know in the comment section below.
READ ALSO: 30+ inspirational recovery quotes to encourage you on your journey
Legit.ng recently published a wonderful list of recovery quotes that will motivate you and remind you why you are on this journey in the first place.
The post contains some of the most uplifting recovery quotes ever uttered, plus some inspirational recovery slogans.
Source: Legit.ng