Memorable Beauty and the Beast quotes from the iconic Disney film
Are you looking for exciting Beauty and the Beast quotes from your favourite Disney movie? These quotes will bring back wonderful childhood memories. Therefore, if you are in the mood to go down memory lane, here are the most memorable sayings from the iconic movie.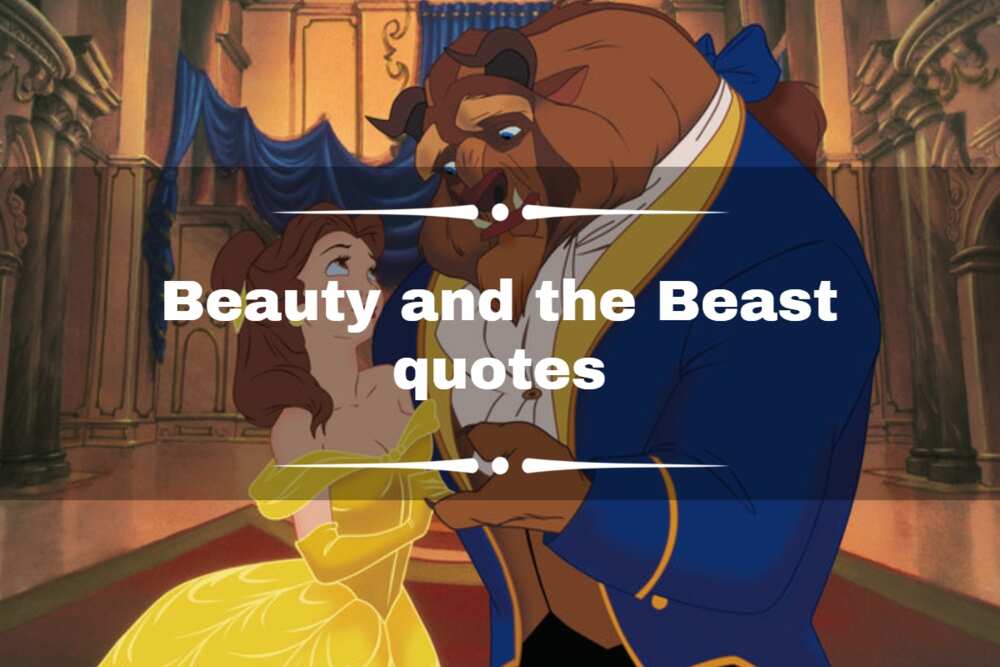 The Disney movie Beauty and the Beast is a masterpiece of world literature. Its adaptations have transformed the classic story into iconic movies. By doing so, the movies have contributed to expanding the legacy of the fairytale.
Beauty and the Beast quotes
Sometimes, people get entangled with the hustles and bustles of daily life to the point where they become overwhelmed and feel weighed down. More often than not, an amazing quote is all it takes to turn things around. Here are some quotes for you.
Think of the one thing that you've always wanted. Now find it in your mind's eye and feel it in your heart - Beast.
She warned him not to be deceived by appearances, for beauty is found within - Narrator.
Master, we all understand how you feel about Christmas. But when a woman gives a man a gift, she's saying, "I care about you." - Lumiere.
The people think I'm odd. So, I know how it feels to be different. And I know how lonely that can be. - Belle.
My father's not crazy, he's a genius! - Belle.
As I have said, you have no reason to trust me and an excellent reason not to. - Beast.
Don't you see? She's the one. The girl we have been waiting for. She has come to break the spell - Lumiere.
Who'd have ever thought that this could be? True that he's no Prince Charming, but there's something in him that I simply didn't see - Belle.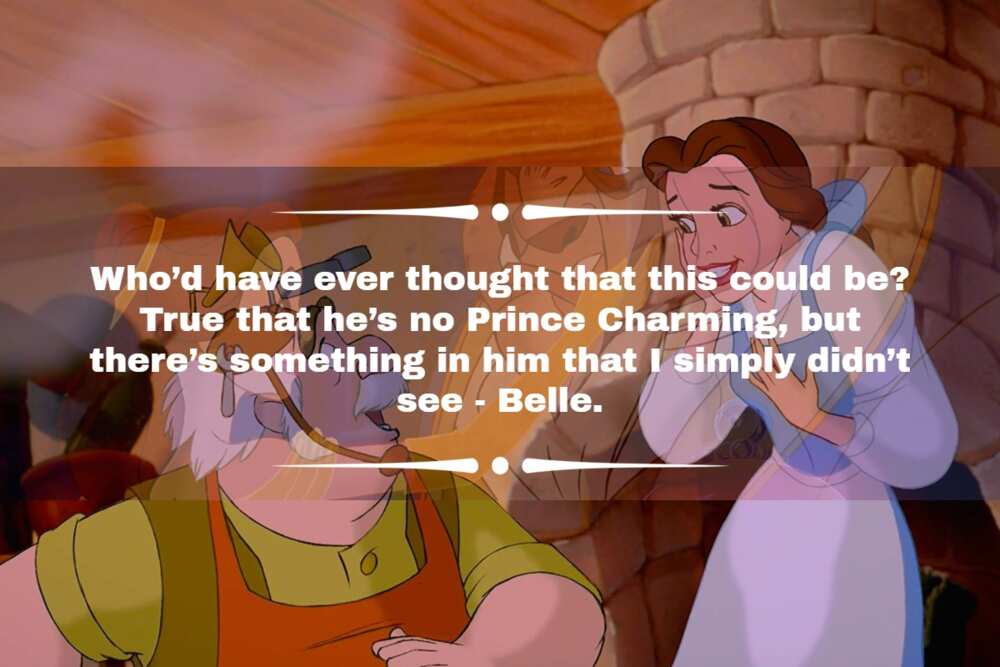 The Beast looked at her with wry amusement. "Since you're the clever one here and haven't come up with a cunning plan, I was going to suggest brute force. Like we're a castle under siege, fighting them off. That's what I know. - Liz Braswell.
Can anybody be happy if they aren't free? - Belle.
And here I was thinking you were an utterly uneducated Beast," Belle said teasingly. "I am a Prince," he responded with hauteur. - Liz Braswell.
The master's not as terrible as he appears! - Mrs Pott.
For the longest time after the curse fell, I did not know if I was a beast who dreamed of being a man or a man who dreamed he was a beast. - Leife Shallcross.
"No. You would never hurt me." The Beast gave a wan smile… and then leaned over and kissed her on the forehead. "I would kill myself first," he whispered. - Liz Braswell.
I want much more than this provincial life. - Belle.
Try the grey stuff. It's delicious! Don't believe me? Ask the dishes! - Lumiere.
Belle: "Where is he?" Gaston: "When we return to the village, you will marry me?" Belle: Never!
If the Beast gave me a library like he gave to Belle, I'd marry him too. - Aya Ling.
My dear Belle, you're so ahead of your time. This is a small village, and it's small-minded, as well. But small also means safe. - Maurice.
Thank you for what you just did. But that doesn't change that you're too cowardly, to be honest with me… - Belle.
The Prince begged her for forgiveness, but it was too late, for she had seen that there was no love in his heart. - Narrator.
"You promised to give me my bookstore back," she said, trying not to cry. "I did promise," he said, his voice growing stronger and more human. And… a king keeps his promises. - Liz Braswell.
Well, of course, he can talk. It's all he ever does. Now, Lumière, as head of the household, I demand that you put her back in her cell at once. - Cogsworth.
We don't like what we don't understand. In fact, it scares us, and this monster's mysterious, at least… - Beauty and the Beast.
Fantastic Beauty and the Beast relationship quotes
Some quotes from Beauty and the Beast could be used in a relationship context. Here are some of the appropriate quotes you can use.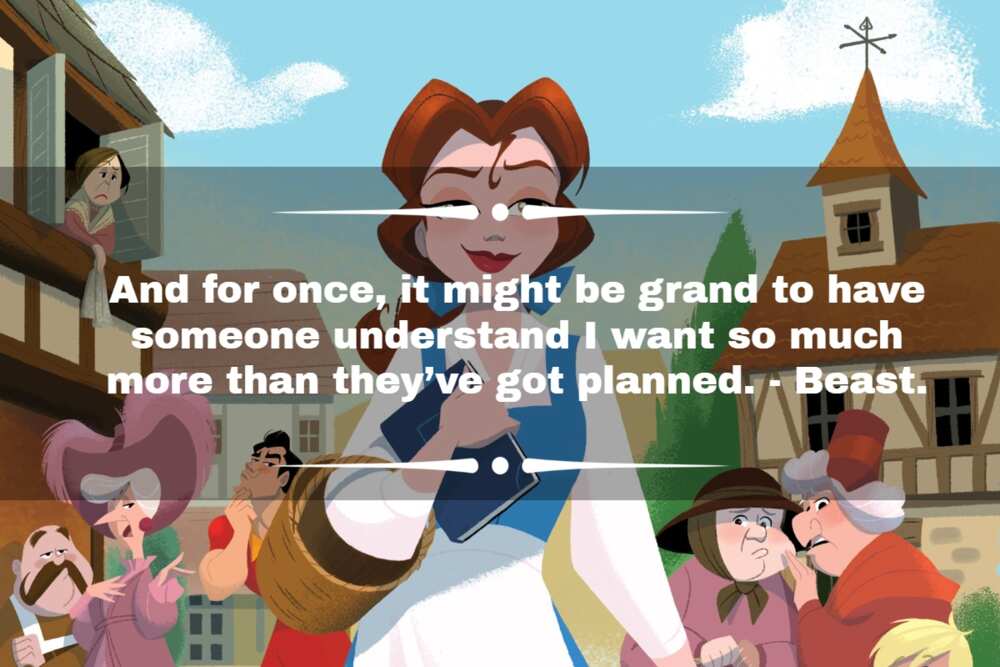 Take it with you so you'll always have a way to look back… and remember me - Beast.
Please… Don't leave me. I love you - Belle.
Since you are so kind as to think of me, be so kind as to bring me a rose, for as none grow hereabouts, they are a kind of rarity. - Jeanne Marie Beaumont.
I'm very sorry, Gaston, but I just don't deserve you. - Belle.
Maybe she needed someone to show her how to live, and he needed someone to show him how to love. - N.R. Hart.
You are the wildest, most gorgeous thing I've ever seen! Nobody deserves you. - Gaston quote.
And for once, it might be grand to have someone understand I want so much more than they've got planned. - Beast.
I want adventure in the great wide somewhere. I wanted more than I can tell… For once, it might be grand to have someone understand. I want so much more than they've got planned! - Belle.
You're in the middle of the woods with a beast as the curse grows stronger. I won't be able to control it forever. - Liz Braswell.
We all know that Beauty grows to love the Beast. She grows to love him, despite what her family might think? for his charm and education, his knowledge of art, and his sensitive heart. - E. Lockhart.
He fell into despair and lost all hope. For who could ever learn to love a beast? - Narrator.
Tale as old as time, tune as old as song, bittersweet and strange, finding you can change, learning you were wrong. - Mrs Potts.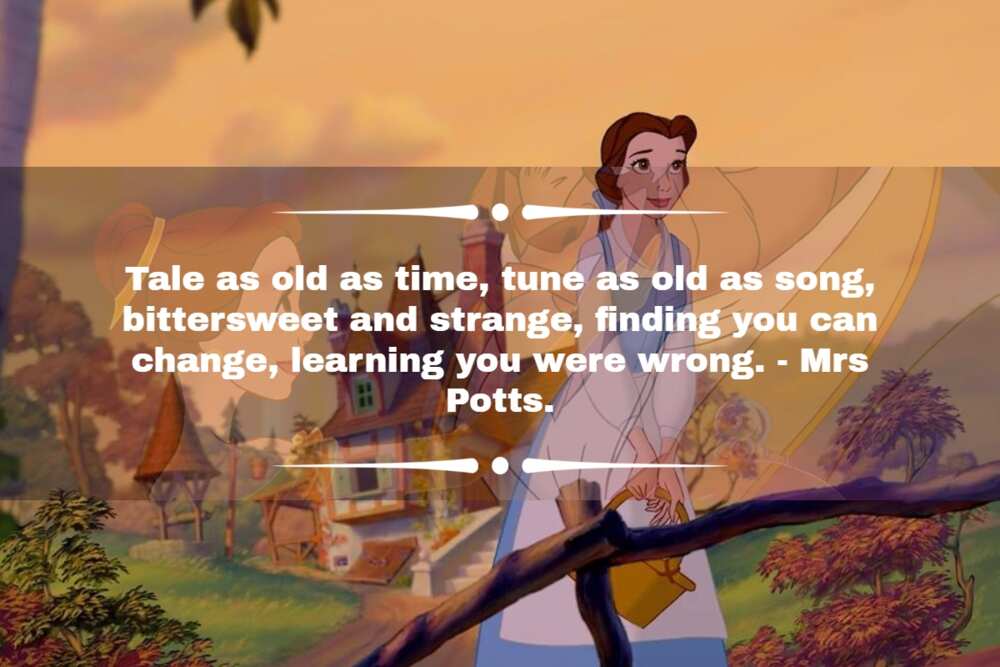 A ferocious growl drew my gaze to the back of the room, where a hairy beast wore a yellow ball gown. I tried to block out the memory of Beauty in that dress earlier this evening. - Betsy Schow.
Did you see her stand up to him? I am telling you, this girl is the one. They must fall in love if we are to be human again, and how can they fall in love if she stays in her room? - Lumiere.
If he could learn to love another and earn her love in return by the last petal fell, then the spell will be broken. - Narrator.
Unique Beauty and the Beast love quotes for wedding
Are you looking for a unique Beauty and the Beast quote? Here are some Beauty and the Beast quotes inspired by the Disney film that you can use in your wedding vows.
Love looks not with the eyes but with the mind. - Belle.
I'd like to thank you all for coming to my wedding. But first I'd better go in there and propose to the girl. - Gaston.
I truly believe that hope is the greatest of the gifts we'll receive. As long as our guiding star shines above. - Angelique.
When I felt lost and lonely, not a dream in my head, your words lifted my spirits high. - Angelique.
There always will be a time when the world is filled with peace and love. - Belle.
After all this time, he's finally learned to love. - Mrs Potts.
Cute Beauty and the Beast Instagram captions
Beast and Belle quotes could be used to caption your posts on social media. Here are some of the quotes you can use.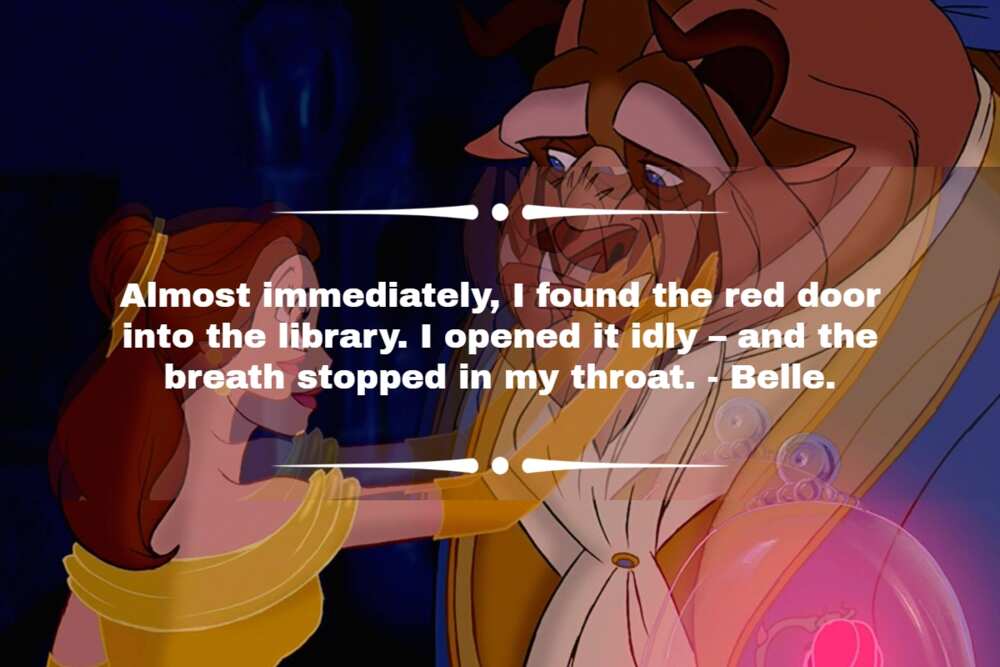 Belle found she could look back. And not blush. And not have to look away. - Liz Braswell.
As the years passed, he fell into despair and lost all hope. For who could ever learn to love a beast? - Beast.
You take me as your prisoner, and now you want to have dinner with me? Are you insane? - Belle.
Almost immediately, I found the red door into the library. I opened it idly – and the breath stopped in my throat. - Belle.
We all have a choice—to be monsters or men. It is not a matter of blood but a condition of the heart. - Elizabeth D. Marie.
Ashamed of his monstrous form, the beast concealed himself inside the castle, with a magic mirror, as his only window to the outside world. - Narrator.
I told you nothing would change. I told you the master would not allow this. I told you Christmas was a hopeless folly. But, I was wrong. - Angelique.
Did you honestly think she'd want someone like you when she had someone like me? - Gaston.
The villagers say that I'm a funny girl. But I'm not sure they mean it as a compliment. - Belle
Although he had everything his heart desired, the Prince was spoiled, selfish, and unkind. - Narrator
And now he's dear and so unsure. I wonder why I didn't see it there before. - Belle.
It's not right for a woman to read. Soon she starts getting ideas… thinking... - Gaston.
They were in love with him because he was a Prince and a faerie and magical, and you were supposed to love Princes and fairies and magic people. They loved him the way they'd loved Beast the first time he swept Belle around the dance floor in her yellow dress. - Holly Black.
There you have them! I hope you enjoyed this collection of Beauty and the Beast quotes. If so, kindly share the article with your friends.
READ ALSO: Top 20 funny gamer memes that were popular in the last decade
Legit.ng recently published an article on funny gamer memes. Memes allow everyone a quick and easy way to express what they feel.
Very little creativity is required to create something awesomely interesting. Here are some picture messages to share with your friends.
Source: Legit.ng