Analysis: 3 reasons why Nigeria is fast becoming the bandits' capital of the world
Motorcycle-riding armed bandits ransacking communities and leaving behind a trail of blood and destruction have become a norm in Nigeria's north-west region.
PAY ATTENTION: Join Legit.ng Telegram channel! Never miss important updates!
These groups of outlaws have become so brazen in their operations that kidnapping for hefty ransoms is becoming a lucrative sinister business to them.
Citizens who fall victim to these organised crime lords are compelled to cough out several thousands to millions of naira to buy back their freedom. Those who are unable to produce ransom money face the prospects of a gruesome death at the hands of these merciless vampires.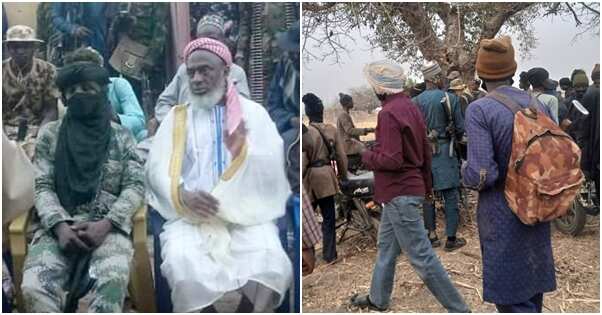 The genesis of banditry began as a farmer/herder conflict but has now escalated to include cattle rustling, kidnapping for ransom, sexual violence, and killings.
Currently, banditry is rife in several states in the north-west region including Zamfara, Kaduna, Niger, Sokoto, Kebbi and Katsina states. In this article, Legit.ng examines 3 factors indicating that the banditry may spread nationwide, making Nigeria one of the most violent places to live in.
1. No one is safe from the widespread bandits' attacks
One fearful dimension to the crime of banditry is that no one is spared from their attacks, irrespective of tribe, religion age, gender, or even profession.
This fact was backed by a report about bandits kidnapping 12 police officers along the Katsina-Zamfara expressway.
The officers were reportedly abducted while on their way to Zamfara from Borno state to carry out a special assignment.
PAY ATTENTION: Install our latest app for Android, read the best news on Nigeria's #1 news app
According to news reports, family members of the victims were asked to pay ransom to secure the release of their loved ones. Although the officers were later reportedly released, the circumstances surrounding their release are shrouded in secrecy as is usually the case in Nigeria when ransom has been paid.
The reported abduction of the policemen proved that even security men are not spared from the daredevil outlaws.
Another incident that points to the fact that no one in Nigeria is safe from bandits is the trend of the mass abduction of students from schools which has occurred in Katsina, Niger, and Zamfara state.
From the above-reported incidents, it is clear that these bandits have no moral compass to dissuade them from kidnapping any citizen, be it an adult or child.
2. Giving ethnic colouration to banditry
Another danger that is escalating the issue of banditry in Nigeria is the act of giving ethnic coloration to banditry, kidnapping, and other criminal activities in the country.
Banditry in Nigeria may escalate further if Nigerians do not stop blaming a particular ethnic group for kidnapping and other violent crimes.
This warning was noted by Rauf Aregbesola, minister of interior in a report on The Cable dated February 12.
He said:
"One thing we must all resist is the tendency of seeing crime in relation to one ethnic group or another, a criminal is a criminal no matter the ethnic group he or she belongs to.''
The essence of Aregbesola's warning is that as bad as banditry is, ascribing the crime to one particular group is already snowballing the issue into a dangerous ethnic trend as was witnessed in shasha violence in Oyo state.
Another danger about this ethnic coloration is that politicians from different regions now seem to be justifying the lawlessly of their kinsmen instead of outrightly condemning such perpetrators.
A case in question is that of the Bauchi state governor, Bala Mohammed, who recently argued that Fulani herdsmen have no option but to carry arms because of the insecurity they are confronted with in the course of herding their cattle through forests in Nigeria.
Mohammed's retarded statement is evidence that Nigerian politicians are far from providing and implementing practical solutions to the issues of National security.
3. The idea of soft landing or amnesty to bandits
The erroneous thinking that initiating a peace process with bandits could help improve security is another reason why banditry may become a full pledge profession in Nigeria.
Some politicians have advocated initiating peace deals with the marauding bands who have been responsible for killings, rappings, and destructions in parts of the country under the excuse that these bandits have repented.
The chief among those who share this view is Governor Bello Matawalle of Zamfara state who in a report on Daily Trust dated February 11, 2021, claimed dialogue remains the best option to end banditry in the country.
He said:
"I have been always saying, the best solution and option to tackle banditry is to seek for dialogue with the bandits."
"If really we want to end this banditry activity, we have to sit on a round table and negotiate.''
Another individual who appears to be more accommodating of banditry is a popular Islamic scholar, Sheikh Ahmad Gumi.
Gumi has even gone further by making excuses for the killers by claiming that the outlaws are pushed by circumstances and only killed for revenge.
The Punch recently reported him saying:
"When they kill, it is mostly accidental, maybe somebody they took who is sick. But tell me who they have killed? How many? Few."
Similarly, the federal government appears to be treating the bandits with kid gloves.
The minister of information and culture, Lai Mohammed, made the statement on a radio programme on Sunday, February 21 in Lagos, said there is nothing wrong with dialoguing with bandits.
But such views shared by these politicians are capable of further embolden the bandits, knowing that they will never have to answer for their crimes.
The loopholes in the idea of granting amnesty to bandits were pointed out by Archbishop John Onaiyekan who said it is wrong for the government to talk about dialogue with the bandits.
A former minister, Oby Ezekwesili, also warned that the strange incestuous relationship between government and abductors encouraged the industry of kidnapping to flourish.
Conclusion
The aforementioned arguments indicate that Nigeria may soon become synonymous with banditry. Treating these outlaws with kid gloved may is an open invitation to anarchy as pointed out by Ezekwesili.
Many Nigerians especially those who have suffered at the hands of bandits to not support any peace deal with these outlaws.
Businessman Nasif Ahmad, who escaped from the captivity of bandits in Katsina state condemned Governor Aminu Bello Masari for making a deal.
He said:
"How can a state government go into a deal with bandits who have no education, have no sympathy or faith and behave like animals.
The sentiments shared by Ahmad are widespread and Nigerians begin to feel that bandits are being rewarded for criminality, citizens may resort to self-help which could escalate the crisis.
However, the security problem caused by banditry could have a different outcome if the federal and state governments take sincere and practical steps to address the issue.
No society has overcome crime by pardons and amnesty alone, criminals must be subjected to the rule of law if justice is to prevail.
Whenever elected officials begin to apply the rule of law to bandits and other criminals, Nigeria would begin to climb out of the security challenged caused by banditry. But daily news reports suggest that Nigeria is cruising to becoming the headquarters of bandits.
Source: Legit.ng