Until we begin to jail thieves, corruption will continue, says Amaechi
- Transport minister Amaechi has spoken on the menace of corruption among public officials in Nigeria
- According to the minister, corruption has refused to disappear because those guilty are not being jailed or appropriately punished
- Amaechi, however, said the Buhari administration is committed to the war against corruption
PAY ATTENTION: Join Legit.ng Telegram channel! Never miss important updates!
Rotimi Amaechi, Nigeria's minister of transportation, has said corruption persisted in the country because those he described as thieves escape being jailed or severely punished.
The Punch reported that the minister stated this on Monday, February 8, at the 2021 Founders' Lecture at the University of Port Harcourt.
Legit.ng gathers that the minister urged Nigerians to stop celebrating people who enriched themselves by stealing public funds, noting that such actions encouraged corruption.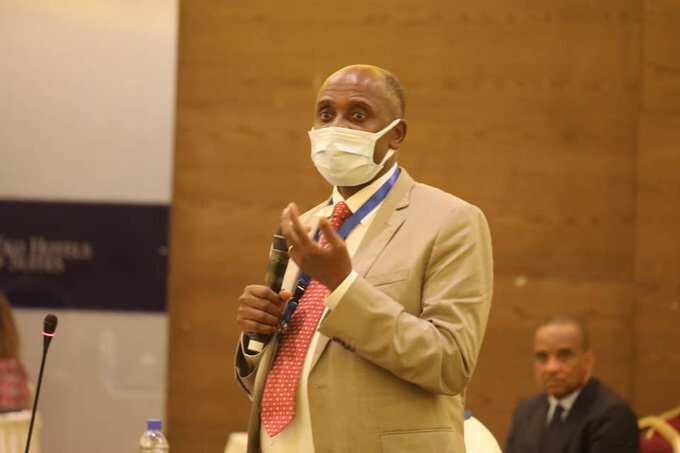 His words:
"Until we begin to jail thieves, corruption will continue; why corruption is on the increase is because the offenders have not been punished, nobody has been jailed."
He, however, said that the Muhammadu Buhari-led government is determined to fight corruption and is doing so frontally.
Nigerians react
Amaechi's statement on corruption has provoked heated reactions from Nigerians on social media.
Godson Amos said on Facebook:
"The Constitution and jail terms are mainly for the poor in Nigeria, of course, offenders have been jailed, #but only the poor Nigerian."
Olodu Onyema Merex said:
"This is the reason I love this guy, even when he's part of them, he's angry with the way looting is going and he spoke the truth"
Augustine Nwogu said:
"Laughable, There is no Nigerian Politicians or leaders who have not stolen or dipped his hands into public fund for his personal use and for the betterment of his family and friends etc.
"Presently fighting corruption is selective and not total, it depends on who is involved-APC/PDP personality."
Ihezie Victor said:
"When politicians talk about "corruption" they think of opposition parties and yahoo boy"
Matthias Aziza Imieh said:
"The offenders are the law makers, our leaders past and present. Round them by them all up in jail. Then pre secure them one after another."
Nigeria drops on TI's corruption index
Meanwhile, Transparency International has released its 2020 Corruption Perception Index, with Nigeria now ranked 149 out of 180 countries analysed.
According to Transparency International (Nigeria), the country's latest position is three steps lower from the rank of 146 in 2019.
It also indicates that Nigeria's latest score declined from 26/100 in 2019 to 25 in 2020.
PAY ATTENTION: Install our latest app for Android, read best news on Nigeria's #1 news app
FG reacts to Transparency International's report
Meanwhile, the Nigerian government has responded to the recent report by Transparency International.
The government, in a statement signed by the information minister, Alhaji Lai Mohammed, said the corruption index by the international organisation is not a true reflection of the efforts of the Muhammadu Buhari administration to tackle the challenge.
The statement made available to Legit.ng on Sunday, January 31, further said the rating of the 2020 Transparency International Corruption Perception Index (TI-CPI) would not discourage the government as it would continue to build integrity.
Source: Legit.ng