Buhari's government tackling corruption the best way possible - FG
- The Nigerian government is not happy with a recent report which puts it as one of the most corrupt nations in the world
- Through Lai Mohammed, the government says the rating did not consider the strong efforts of the current administration in tackling corruption
- Mohammed explains some strategies adopted by the government in the fight against the challenge
The Nigerian government has responded to a recent report putting the country in the position of the second most corrupt in the world.
The government, in a statement signed by the information minister, Alhaji Lai Mohammed, said the corruption index by the Transparency International is not a true reflection of the efforts of the Muhammadu Buhari administration to tackle the challenge.
The statement made available to Legit.ng on Sunday, January 31, further said the rating of the 2020 Transparency International Corruption Perception Index (TI-CPI) would not discourage the government as it would continue to build integrity.
According to the statement, the rating did not put into consideration the various reforms, especially in the Ease of Doing Business, is expected to yield positive outcomes in the country's corruption perception and other relevant assessments.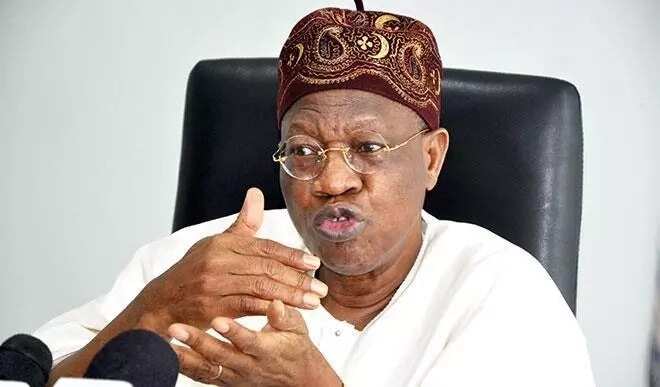 The statement added:
"For instance, following the release of the 2019 TI-Corruption Perception Index, the government initiated reforms to improve on Nigeria's Ease of Doing Business indices.
"This is because we found that up to 40% of the country's corruption perception survey indices relates to business processes and general public service delivery processes.
"Government's swift action has led to major reforms in the processes at our ports and business process points."
The minister noted that the government had also prosecuted high-profile corruption cases.
Mohammed said the government had analysed the corruption rating and found some discrepancies in the process.
Some of these discrepancies, he said, included some data sources in which Nigeria's scores have remained flat over the past 10 years, reflecting no improvement, decline or fluctuation.
The statement said:
"There is a need to understand why scores for this assessment have not been recorded for Nigeria for the past two years, which has had the effect of reducing Nigeria's cumulative score and ranking relative to countries with those scores included in their CPI for both years."
Legit.ng had earlier reported how the presidency rejected the rating which placed Nigeria 149th on the corruption perception index.
Garba Shehu, a spokesperson for the presidency in a statement via Facebook on Thursday, January 28, described the report as inaccurate.
Wayo too much for Nigeria - Corruption in Nigeria must end | Legit TV
Source: Legit.ng