How power changed Buhari: Tunde Bakare slams president for disappointing Nigerians
- Pastor Tunde Bakare says power has changed his former running mate President Muhammadu Buhari
- The popular pastor states that since Buhari ascended the stool of power, ethnic tension is louder than before
- Bakare stresses that there is a "feeling of disappointment" across the country because of Buhari's leadership style
PAY ATTENTION: Join Legit.ng Telegram channel! Never miss important updates!
Tunde Bakare, a founder and presiding pastor of Citadel Global Community Church, has slammed President Muhammadu Buhari, saying he has disappointed Nigerians with his leadership style.
Speaking in an interview with veteran journalist Dele Momodu on Tuesday, February 2, the popular cleric said power has changed the president as he is no more the same Buhari he once served as running mate.
Bakare noted that "things are not together" with the leadership of Buhari further fuelling the inferno of ethnic bias and disintegration, The Cable reports.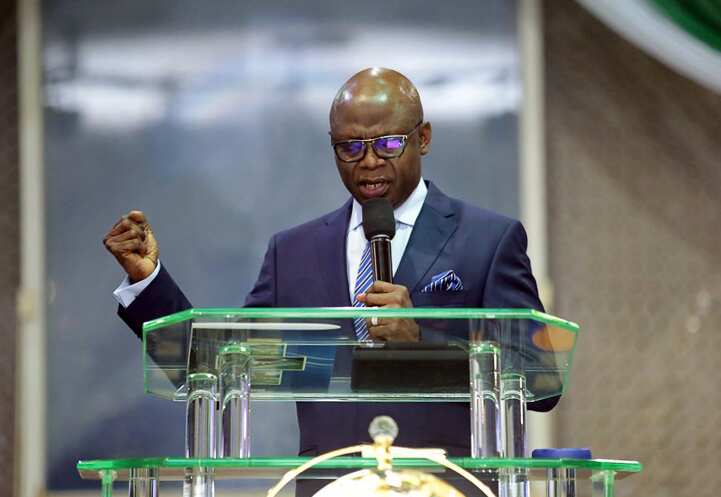 According to him, many Nigerians were disappointed that Buhari could not deliver change which he used as a mantra to ride to power in 2015 when he defeated his predecessor Goodluck Jonathan.
He, however, expressed optimism that things will get back to the right track, but not with the feeling of disappointment and echoes of disintegration.
"The truth of the matter is it is still the same Buhari, in the midst of many competing interests, we respond differently. The President is still himself, some have even asked me if he is not somebody else.
"Power changes people, has power changed him or is he making the best situation of the circumstances? He will be the one to answer it
"The expectations of Nigerians, including everyone who woke up to say we need a breath of fresh air, has not been met. There is a feeling of disappointment."
PAY ATTENTION: Install our latest app for Android, read best news on Nigeria's #1 news app
I hate Buhari's leadership style - Ex-minister Ezekwesili
Meanwhile, Oby Ezekwesili has expressed disgust towards the current government, with the former minister of education saying she "detests everything" in the "leadership style" of President Buhari.
Speaking via a lengthy Twitter rant on Monday, January 25, the former minister, who also doubles as critic-activist, said contrary to what people are made to believe, she does not hate the president.
Ezekwesili said Buhari is running the country with "detestable leadership" and her criticism of the president's government has made it look like she is "bitter towards him" and "hate him so much."
Source: Legit