Meet 12-year old boy who is making waves with his car-detailing business
- There seems to be no slowing down on the emerging trend of kidpreneurs
- Jabre Dutton is the chief executive officer of a US business outfit, Jabre's Car Cleaning Service
- His mother influenced him into starting the business after he cleaned the vehicle of a family friend and got paid N7624
PAY ATTENTION: Join Legit.ng Telegram channel! Never miss important updates!
Boundaries and limitations cannot stand before one who is determined to achieve his goal and Jabre Dutton is one hell of a kid who is breaking limitations and achieving his goal.
The young lad is his own boss, at a period that jobs are fewer than the job seekers. He is the chief executive officer of Jabre's Car Cleaning Service, a Philadelphia-based car-detailing business outfit.
Save that he is an entrepreneur, the 12-year-old is just like any other kid of his age and engages in activities required of that age. He plays video games and watches TV too.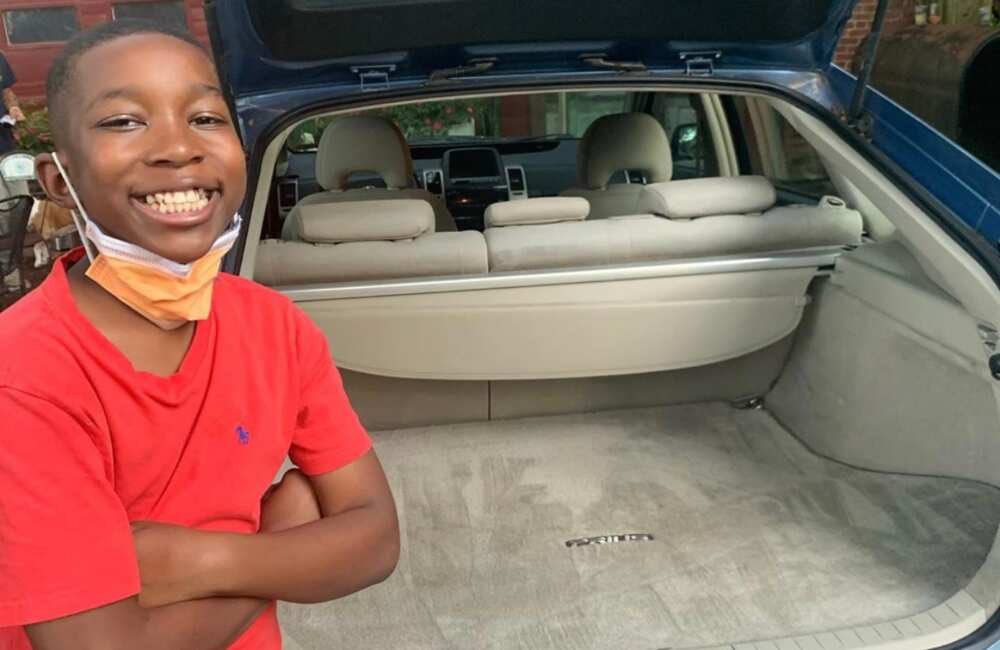 Jabre has described his working experience as 'fun' just as he said his best part of the job his getting to see his customer's reaction after rendering service to them.
He told Shoppe Black in an interview:
"My favourite part about doing this job is getting my customer's reactions out of it. When it's done, when you look at it, they look so happy. I get really excited because they're excited."
During the interview with Shoppe Black, his mum Sabrina Dutton revealed that she was actually the one who convinced her son to start up the business after he cleaned a family friend's car and got over N7000 in return as she felt he could earn an income through it.
The proud mum is also inculcating good financial habits as saving into her young 'businessman'.
She said:
"It's kind of like slowly trying to get him into understanding money and responsibility.
"So with every car, I tell them a percentage goes to savings, a percentage goes into his pockets, and another percentage goes to his supplies."
PAY ATTENTION: Click "See First" under the "Following" tab to see Legit.ng News on your Facebook News Feed!
Meanwhile, Legit.ng earlier reported how 6-year-old Lily Adeleye became the youngest CEO to have her products listed on a top retail outfit in the US.
Unlike every other 6-year-old kid in the world that would probably be in nursery school learning how to read and write and definitely not running a business, Lily is in a class of her own.
Source: Legit.ng News