How I lost my wife, 4 children to flood, 50-year-old man
- Muhammadu Y'au lost his wife and four children in one day after a flood-ravaged his community in Plateau state
- Y'au ordeal describes what many Nigerians suffer in the face of varying environmental challenges across Nigeria
- The Centre for Democracy and Development in collaboration with her partners highlights the effect of the ecological fund diversion on citizens
PAY ATTENTION: Click "See First" under the "Following" tab to see Legit.ng News on your Facebook News Feed!
For 50-years-old butcher, Muhammadu Kabiru Zakari Y'au, the effect of corruption in Nigeria and embezzlement of the Ecological Fund translates to the loss of his entire household.
Y'au, also known as Usama narrating his life-wrenching ordeal in a documentary; Ecological Funds and the Cost of Corruption in Nigeria, virtually screened on Monday, January 25, and watched by a Legit.ng reporter.
The documentary is an initiative of the Centre for Democracy and Development (CDD) in collaboration with Action Aid Nigeria and Centre for Communication and Social Impact (CCSI), supported by Foreign Commonwealth Development Office (FCDO).
Y'au said:
"They tried calling me to no avail, I went home from the mosque and on getting to my neighbourhood, I saw the mishap caused by the rain."
According to him, he had met a neighbour who told him that his wife and four kids had been washed away by the flood.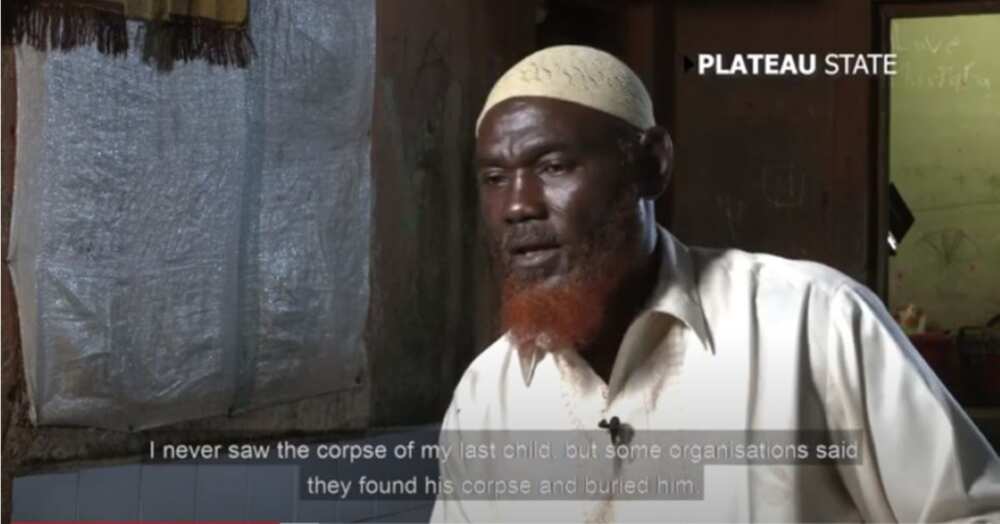 The following day, more bodies were found and Y'au was called to confirm if they were his children.
He got there and recognized his children among the bodies laying on the ground.
His words:
"I never found the corpse of my last child but some organisation said they found his corpse and buried him."
"A day later, I got another call saying they found the dead bodies of my two children. When I lifted the wrapper, I recognized the bodies of Abdulamid and Hauwa'u (his two children)."
In her opening remarks, CDD's director, Idayat Hassan, represented by Shamsudeen Yusuf, the Centre's principal programs officer said the piece is part of the Strengthening Citizens Resistance Against Prevalence of Corruption (SCRAP-C) project implemented by CDD, AAN and CCSI as consortium members, and implementing partners.
Yusuf said the project seeks to address social norms that would usually aid corruption to thrive in Nigeria.
In a related development, the federal government recently commissioned flood control and swamp upgrading/road improvement works at Ibbi road in Wukari, Taraba state.
The projects are among the 18 ecological intervention projects awarded by President Muhammadu Buhari with the aim of controlling the menace of flood and erosion in the state.
Meanwhile, cement manufacturers have reached an agreement with the Buhari administration to charge discounted prices as the federal government commences its plan to build 300,000 houses for low-income Nigerians.
The plan is under the Econ Sustainability Plan of the administration and it is managed by Family Homes Funds Limited.
Victims of Lekki Flood Rendered Homeless, Jobless Speak to Legit TV
Source: Legit Nigeria