NBA invitation: Nigerian man cancels attendance of program because of El-Rufai
- Some Nigerians claim Governor El-Rufai's invitation to NBA program is wrong
- They accused the Kaduna governor of illegally arresting and incarcerating people
- However, some people have backed the governor
PAY ATTENTION: Click "See First" under the "Following" tab to see Legit.ng News on your Facebook News Feed!
The invitation extended to Governor Nasir El-Rufai of Kaduna state by the Nigerian Bar Association (NBA) is generating controversy on social media as a good number of Nigerians on Twitter faulted the invite.
Specifically, Lugar Tare-Otu alleged that El-Rufai has illegally arrested and incarcerated people. He argued that the governor has no business addressing lawyers.
He also said he will not participate in the program because of the governor's presence.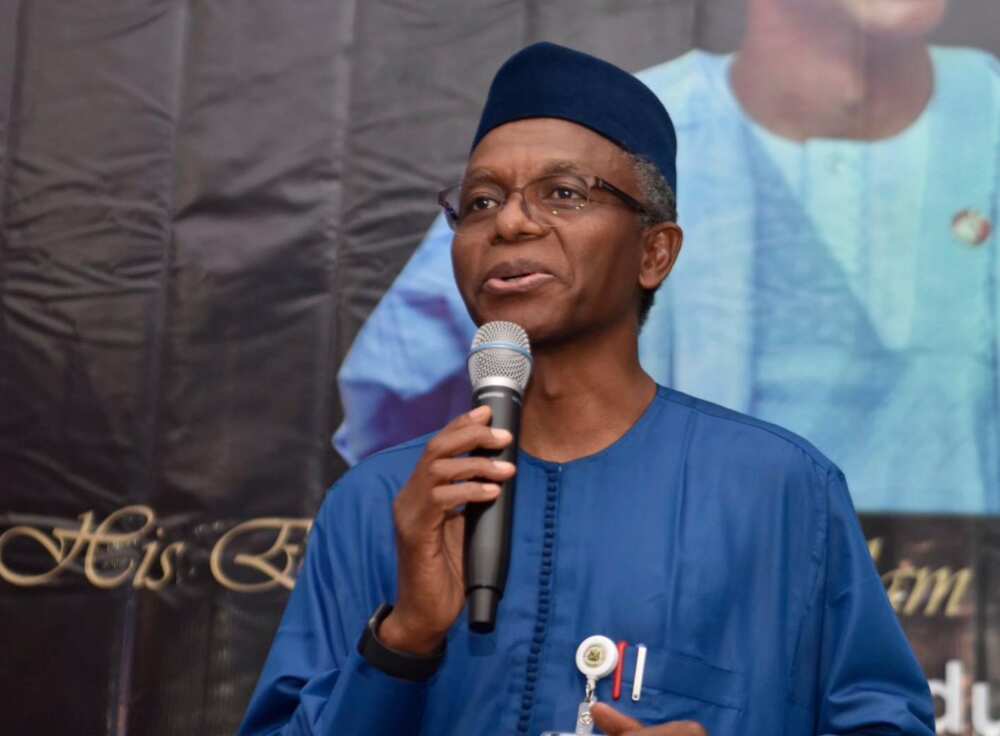 "Governor @elrufai has no business addressing lawyers at the @NigBarAssoc conference. As lawyers, it is our duty to uphold the rule of law. Courts have found that Elrufai's Government has illegally arrested & incarcerated people. I hereby withdraw my attendance from the Conference
"And I call on other well-meaning lawyers to also boycott the conference, except Elrufai is withdrawn from speaking at the event. The Kaduna State Government does not have a track record of respect for the rule of law and protecting the rights to life and property
"Elrufai has no business sitting with and speaking to gentlemen and ladies of the Bar. I, therefore, call on @OlumideAkpata to withdraw Elrufai from speaking at the conference. Retweet this in solidarity with the incarcerated & the people of Southern Kaduna. #Elrufaiiscancelled.
"I am informed that @OlumideAkpata is yet to be sworn-in and yet to resume as President of the Bar. Paul Usoro, SAN is still President of the Bar & is in charge of this year's conference. So let's hold Paul Usoro, SAN responsible for this very insensitive error @PaulUsoroandCo," he wrote.
Also reacting to the governor's invitation, Ijele ji Ọdụ Agụ said the politics to invite El-Rufai is wrong.
"This is part of the reason why I don't take NBA leadership and it's politics seriously. Paul Usoro had a good look at Nigeria and him his committee decided it was a good look to invite El Rufai to speak at the NBA conference. El Rufai!!!!!Smh. He will speak to Paul Usoro alone," he said.
On his part, TOLUwalase wrote: "What if El Rufai is allowed to attend this conference just for someone to ask him 'where is Dadiyata. Let's see the body language on national TV."
Meanwhile, some people have come out in defence of the Kaduna governor. According to Sage, some people are worse than the governor.
"It has become trendy to attack El Rufai on this app sha. Whether you like it or not, he is relatively better than all your governors. A lot of them down there are worse than him. Your states are comatose," he added.
Modibbo also backed the governor, he said the governor is a seasoned public servant and an acclaimed intellectual.
"The NBA and its sensible members would be honored to have him," said.
Meanwhile, recall that Legit.ng had reported that El-Rufai spoke on the crisis rocking a section of the state.
El-Rufai said some Southern Kaduna leaders accused him of taking sides in the crisis.
This is not normal – Vector speaks on ugly incidents in Southern Kaduna | Legit TV
Source: Legit.ng