Legit.ng weekly price check: Prices of goods escalate over Coronavirus lockdown as Easter beckons
- Easter is here but the market situation is telling a different tale entirely
- Following the recent lockdown in Lagos state over fears of Coronavirus spread, traders and buyers at the market visited by Legit.ng were not really in that festive mood because almost every activity characterized by this season was not observed
- At the market, the traders lamented over low patronage, poor sales and hike in the cost price of some goods
- With series of events and happenings around the country and beyond, the Easter celebration is on the low-key as the usual hustle and bustle during celebrations like this in the market is a thing of the past now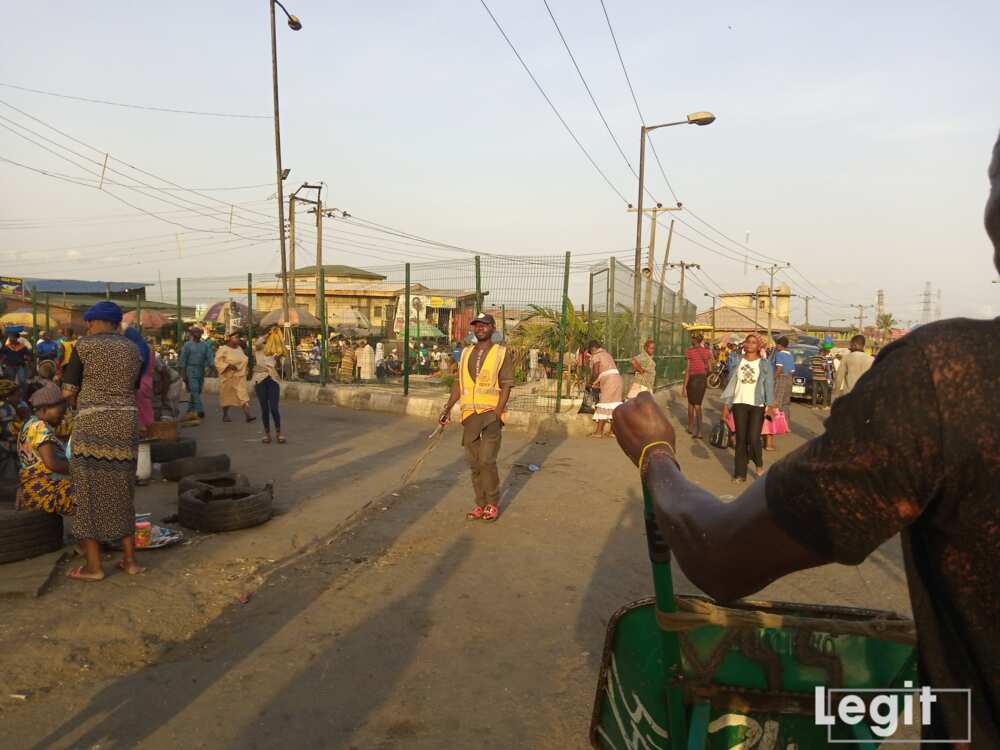 As businesses strive for survival now and Christians all over the world celebrate this year Easter, residents of Lagos state are marking the celebration in a low key.
Following the 14-day lockdown in the state, various activities in the state is on hold as the major roads in the city were deserted and most of the Christians in the state would observe the Easter celebration by staying indoors.
Legit.ng visited a market in Lagos state to inquire about the market situation in relation to the Easter celebration. Investigations by our correspondent revealed some parts of the markets was scanty, shops locked and the shops that were open, some of the traders lament low patronage despite the presence of buyers amidst Easter celebration.
As some traders worry over the hike in the cost price of their goods, most were seen attending to customers, few were concerned about the safety of their goods and others decry poor sales.
They attributed their plight to the coronavirus pandemic in the country which is a global issue and added that the stiffer measures are a good reason to celebrate in a low-key level.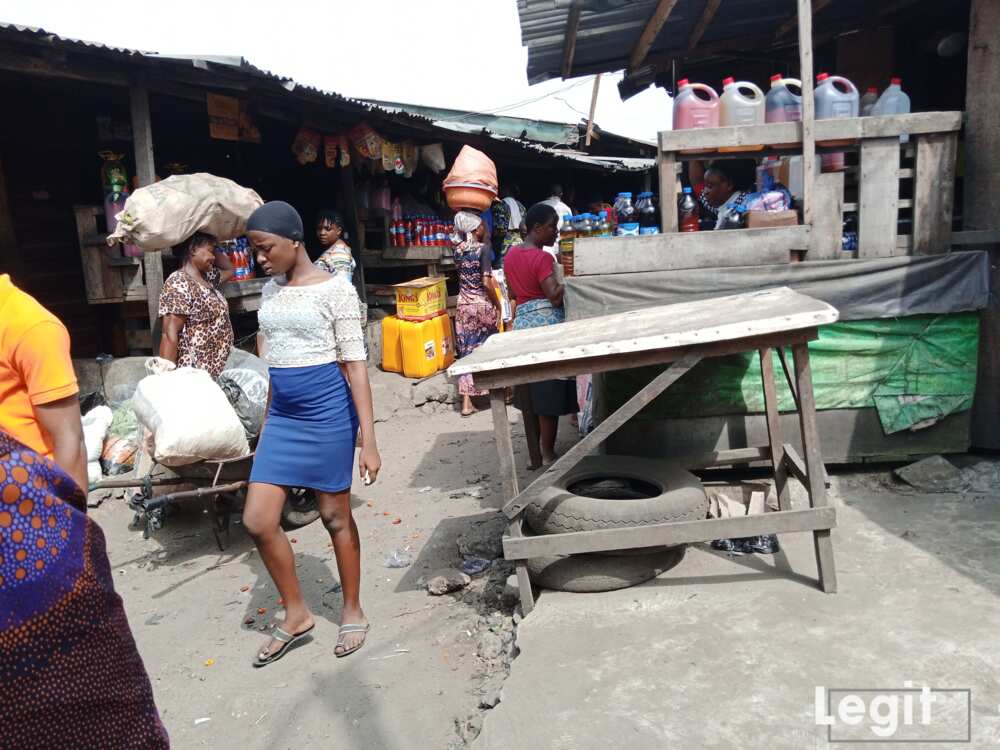 The presence of few buyers becomes the real deal as most goods that were expensive before have now become affordable to an extent due to the strict warnings by the government and others remain very expensive, resulting to a decline in sales.
"Now, you can count the numbers of those coming to patronize us daily because they are not even coming as they are supposed to. There is nothing that shows we are in Easter period because the people are not buying as they ought to.
"Some buyers come to do window shopping and walk out with empty bag at times and the ones buying would buy just few items despite the reduction in their cost price of some goods. A bag of garri now sells from N12,000 as against its old price of N14,000 upwards.
"Rice is still very expensive and beans are sold at a reasonable price but the cost price of rice and beans remain the same. A bag of foreign rice cost N29,000 and N30,000 and a bag of Nigerian rice is sold from N23,000 below. A paint bucket of garri cost N700 or N600 depending on the trader and the market visited; A paint bucket of beans cost N1,000 but a paint bucket of rice goes from N1,600 upwards.
"The market is very open and yet people are not coming to purchase goods as expected; it is so dry that we barely make good sales by the end of the day's activity," A trader who sells food items in the market lament.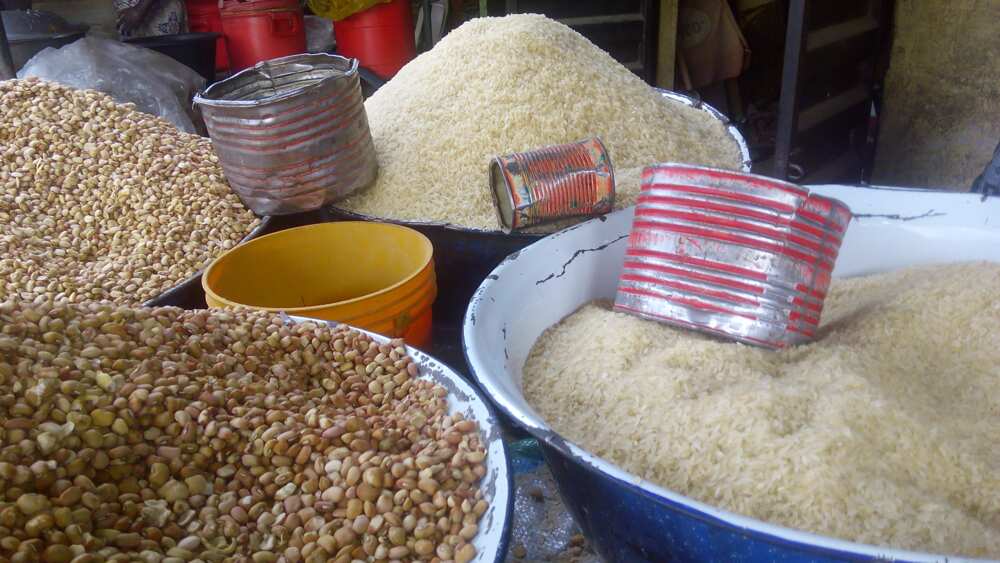 Another trader who sells coconut in the market said the low patronage so far has led to difficulty in survival for traders amidst the Easter celebration.
He said: "As some buyers are stalked in certain places within the country, it has affected sales too. Now due to the directives by the government, others that are around here are not finding it easy to bring out cash to buy goods in the market. In fact, some don't even come to the market as they've already purchased goods that would last them for over two weeks and others complain over the hike in the cost of transportation as only few bus are seen on the road.
"What happen now is that, we buy goods at expensive rate and try to sell the goods below the cost price so as to attract more buyers yet, we record low sales at the end of the day. It is pathetic. We sell coconut from N150 upwards but before we sell as cheap as N50 while a small bag goes from N20, 000 upwards, a big bag goes for N35,000 upwards.
"More reason why the sales drop is because everyone is maintaining low key activities. I have customers of different levels and I can tell you that it's just few that come around to patronize us because some traders who do retailing business are also at home. They cannot come around to get goods in the usual quantity due to the global pandemic; people are not buying, so they keep complaining."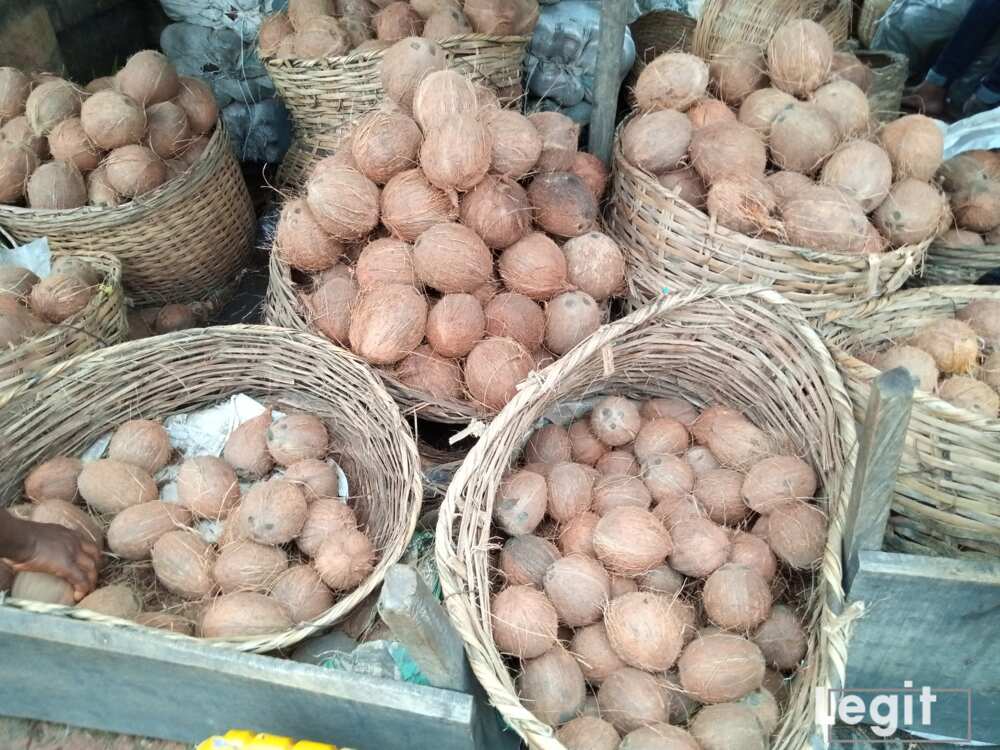 Also, a trader who sells live chicken at the market informed of low purchasing power of the buyers. According to the trader, buyers are not only interested on reduction in the cost price of goods rather they need money to get the want.
"The customers are coming but they are so few compared to other Easter period in the country. This is very unusual, everywhere is just quiet unlike before, where you get to see the buyers trooping in their large numbers and getting items in large quantities.
"We have different types of feeds; we have the local and the agric, and their prices are often influenced by the type and the market visited. They are very expensive now and so is the cost price of frozen feeds like chicken, turkey and fish. Live chicken are sold from N3,000 upwards depending on the type but some traders might sell at a higher rate or lower.
"When some buyers come to patronize us and they are unable to afford the chicken, they opt for fish rather than live chicken or beef because they are very calculative of their spending now as most who are salary earners are at home especially the ones who work for private firm. No work no pay for them now, only the government workers is at an advantage this season; this is what they complain about now. We are having difficulty in selling our goods and if we do not make sales how then are we the traders going to survive this phase?" A livestock dealer questioned.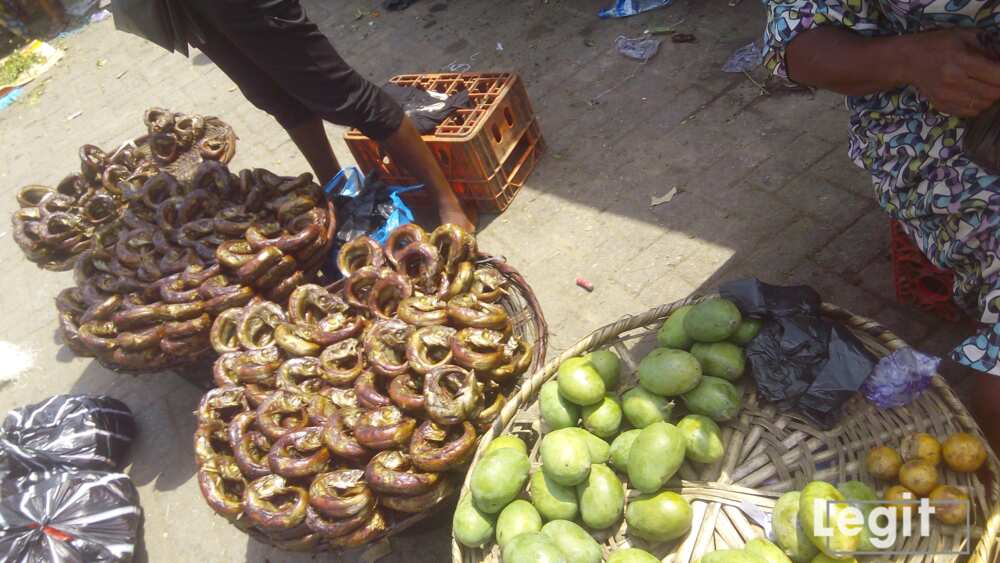 Meanwhile, the poor sales did not only affect some traders in the market but all as most were seen sitting idle and some sleeping in their shops and stalls.
A trader who sells foodstuff items like melon, ogbono, pumpkin leaf, bitter leaf and other soup ingredients complain over the purchasing power of buyers lately despite the celebration.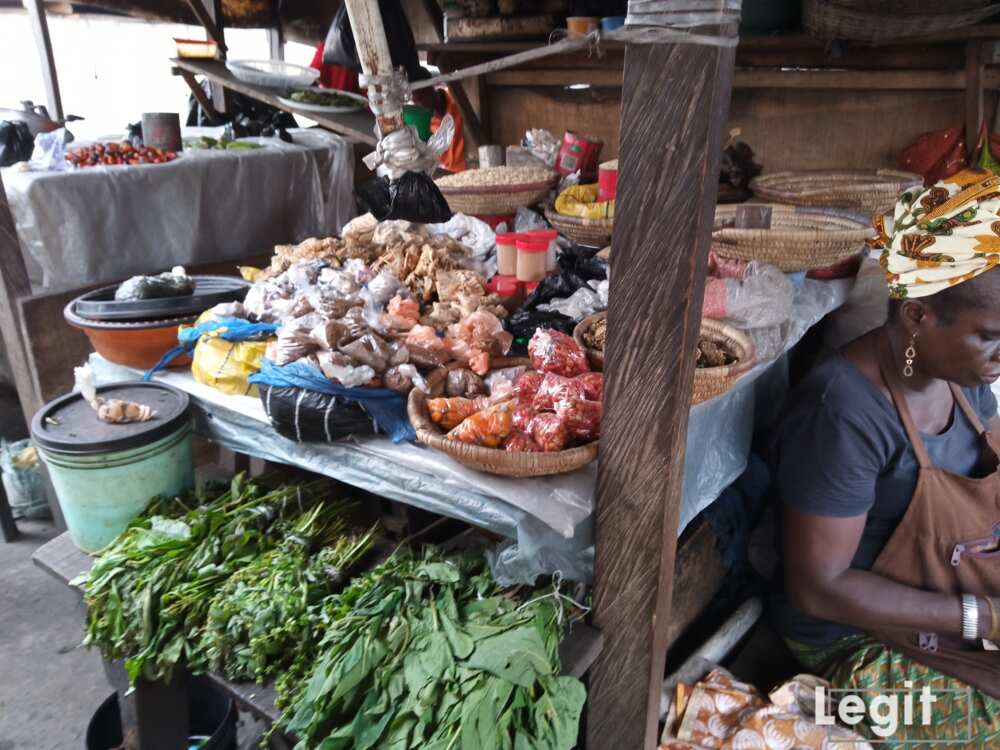 The trader in her opinion informed Legit.ng that: "The cost price of Egusi remains the same while that of ogbono, crayfish and stock fish is very expensive. Now, I purchase goods according to the cash I have with me because getting the goods to resell now is very difficult.
"We are just here in the market; some of us would stand for hours on our feet calling on any buyers we see around to come patronize us. Some would smile at us and walk away and others would go for less expensive ones; the ones they tie in nylon and the ones they've grind that are cheap.
"Foodstuff items are not really affordable and most buyers have stopped buying as they should and they are not coming out as expected due to the situation at hand in the country, they are managing. A bag of ogbono cost N100,000 while a bag of egusi goes from N50,000 upwards. A derica of crayfish cost N800 and stock fish that is meaty cost N1,200 upwards while the smaller ones are sold from N200 upwards.
"Things are hard now and we are suffering so much. There is no market; buyers are not buying despite the Easter celebration that is around the corner. It is as if nothing is happening and we are just attending to few buyers who come to buy things in small quantity. The market is empty because most buyers are celebrating the Easter on a low key and with low cash at hand."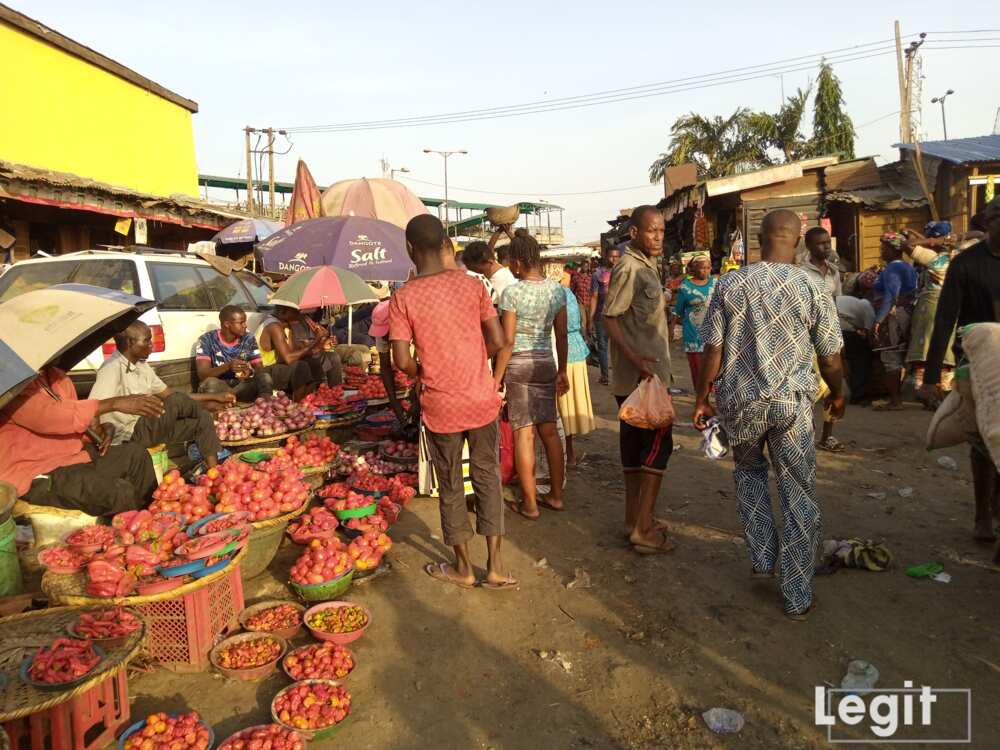 At the market, perishable goods were displayed in large quantity and at affordable prices. A trader at the market who sells perishable goods explained to our correspondent further.
The trader who hails from the northern part of the country opined that: "With the lockdown in place, we have large supply of the goods delivered into the market lately and if not sold on time, they would get rotten. This is one reason why they are sold at affordable prices.
"Now, the buyers who come to patronize complain of high cost of transportation and this is due to the directives by the government and those who have their own private cars are scared of bringing it to the major market due to fear of being robbed. So, this again has affected the sales in the market.
"There is really not much difference with the cost price of the goods except that we struggle to sell them daily now because you find out that most traders are selling perishable goods and buyers continue to lament low cash at hand resulting to low purchasing power. You can get a basket of tomatoes from N8,000 upwards and a small bag of fresh pepper from N4,000. A bag of onions is sold from N15,000 depending on the size of the bag and the type of onion.
"We are making sales but it not enough. For some traders who spend more money to get to the market here so they can purchase and then go resell at retail prices, they sell the goods at exorbitant rates. It is not really their fault we all know they are trying to get more profit this period so they can also meet up with their own family needs as at when due."
A trader who sells yam at the market decries poor patronage following the lockdown. According to her, most traders purchased goods in large quantity before this series of event and now they are in the quest to sell the goods off so they won't run into debt later.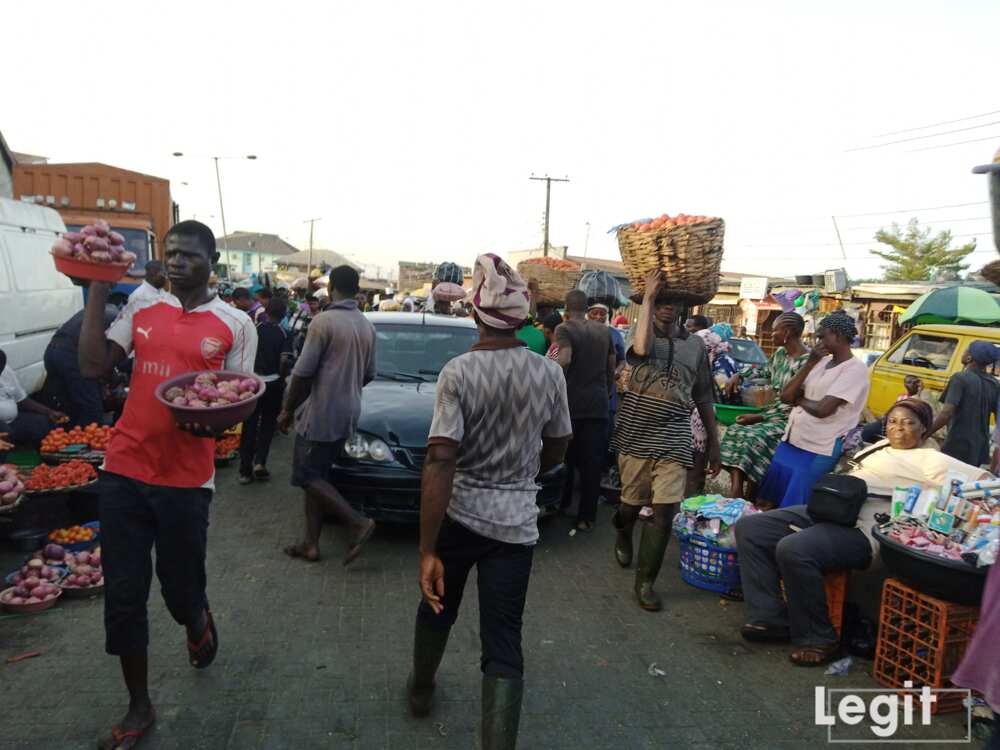 Speaking with Legit.ng, the yam seller worried about survival if things continue in this order.
"Traders are also humans and needs to survive too. We are faced with a lot daily. We find it difficult to get cash to purchase goods and at the end of the day, selling it to make good profit is another huge challenge that we face now as traders.
"Yams are a bit expensive but they are available in the market and sales are very low with the despite the Easter celebration at hand. We are grateful for the change of heart by the government to allow us sell off our goods at the market now but I must tell you that we are not seeing any difference to what we experienced in previous months before the pandemic.
"Only our loyal customers come to patronize us especially those who love to prepare different delicacies with yam still we end up taking most of the goods back into the shop after daily sales. The pandemic has affected our business a lot and with the look of things, the celebration would be a low key one because everyone is careful and cautious of the activities they engage in this period; they are spending less and saving for the aftermath of the pandemic.
"The government should please intervene and let them make things easier for us by fulfilling their promise and assist the people with cash because the fight for survival in the country is getting tougher daily," The yam seller trader told our correspondent.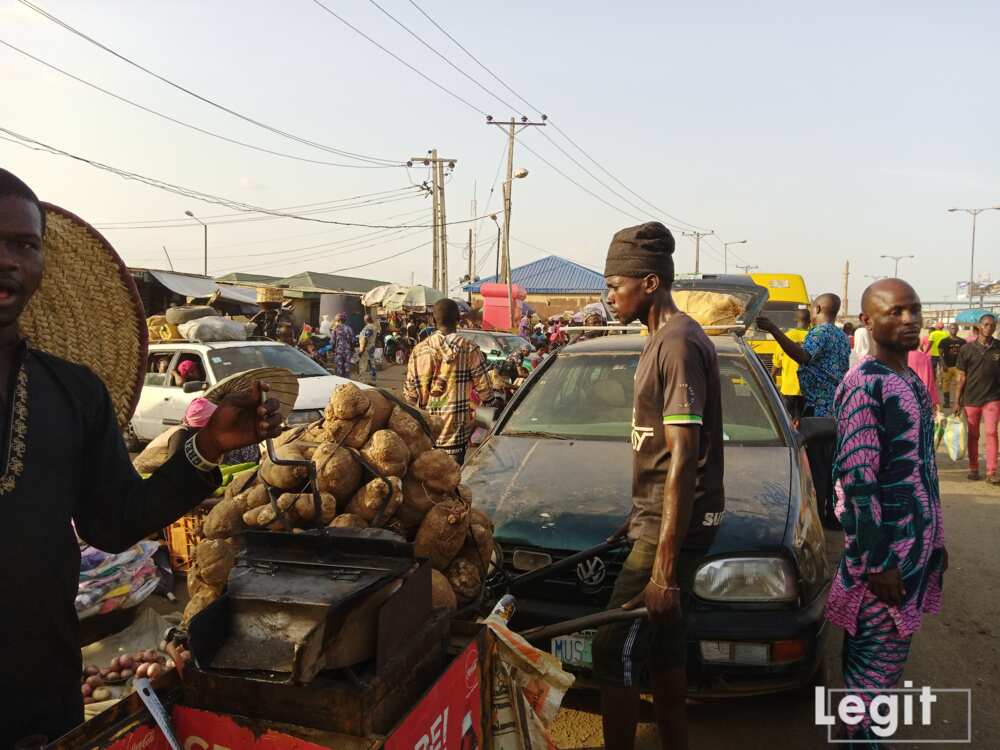 Another trader in the market, who sells food condiment like seasoning and spices is happy with the level of sales lately, said she would appreciate it if the government can render financial support to citizens so they would be able to cope well with the lockdown; adding that some person's source of livelihood has been put on hold following the pandemic.
"Nigerians would always celebrate no matter the situation and this you can see from their level of purchase. The market is a bit full today due to the Easter celebration. Before today, you can easily count the numbers of buyers in the market; today we have reasonable number of buyers in the market and this has resulted to good sales.
"The 14-day lockdown has affected a lot of things in the country especially the cost price of goods but we are certain things would return to normalcy soon because this is a global issue. The price of tomato paste spices, seasoning is still sold at reasonable prices with just a slight increment in the cost price of some but the greatest challenge is low patronage after today because most buyers are waiting for government's package hence they don't come to purchase goods this period at the market.
"A carton of tomato paste sachet ranges from N3,500 upwards and a dozen ranges from N550 upwards. The cartons are very small and the dozen is counted by 10 not by 12 hence the affordability but for seasoning, they are still sold at their old prices except for popular maggi cubes that are a bit expensive now.
"Well, we make sales on a daily basis but it is very low and our fear is that if things continue like this, some traders won't be able to survive after things return to normalcy because of the setback they have experienced with their business lately," The trader stated.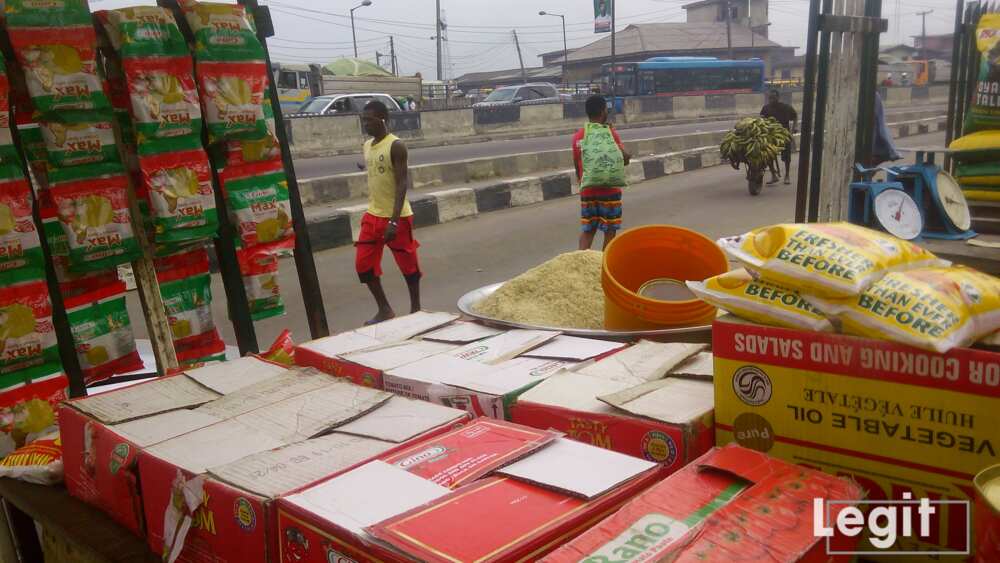 Also, some traders in the market told our correspondent that one difficulty they are facing now is the safety of their goods being questioned. A food items dealer said they pay more to secure their goods.
The young trader explained thus: "The prices of the food items remain the same but we are just few days away and not sure if the lockdown would be extended, we really cannot tell of what will become our fate. We only sell according to the cost price of purchase from the suppliers. If it is cheap, we sell at a cheap rate and if it is expensive, we sell at an expensive rate.
"Easter is here but the market is dull and trust me, some people would celebrate it but it would be in a quiet mode. As you can see, the goods are available but the buyers are scarce, due to the coronavirus pandemic. We as traders would love to stay at home but we have bills to pay and that is why we are out here too.
"People are finding it difficult to feed now, very difficult. And the ones who are not getting money from the usual bus-stop and parks now look for other means of survival. The safety of our goods is questioned and we pay a particular amount of money to protect our shop because of the goods so they won't break in to steal from us. It is not really easy but we are coping."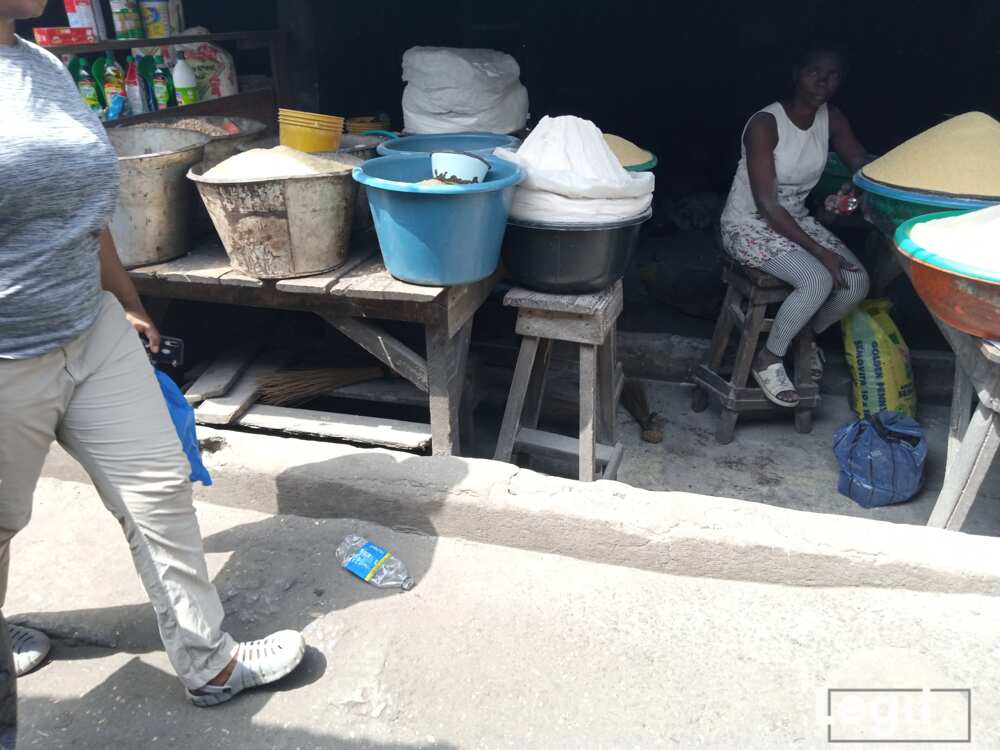 In another development, provisional items like diary milk, sanitary pads and beverages are a bit expensive except for bath soaps, detergents and noodles while palm-oil and groundnut-oil maintained stability in price.
At the market, some shops are under lock and key as the owners are still waiting for the lockdown to be over so they can resume business fully amidst the Easter celebration.
Coronavirus: Where is the N30k the government promised us? - Father of 5 cries out via Legit TV
Source: Legit.ng