How my mom left my dad after 26 years, a civil war and 5 kids - Uju Anya
- Nigerian/Trinidadian professor, Uju Anya recently shared a story of how her mom left her father
- In a Twitter thread, she revealed that her mom had moved to Nigeria after they got married and welcomed their first child in England
- However, her husband's infidelity and subsequent marriage to another woman pushed her out to leave him
- Anya revealed that her mom took two kids and fled to the United States to start afresh
PAY ATTENTION: Click "See First" under the "Following" tab to see Legit.ng News on your Facebook News Feed!
Currently trending on social media is a story shared by Uju Anya about her mother who picked up herself after 5 kids and started afresh.
According to the Nigerian/Trinidadian professor, her parents met in university in England.
They eventually got married and after welcoming their first child, they moved to Enugu, Nigeria, to settle down.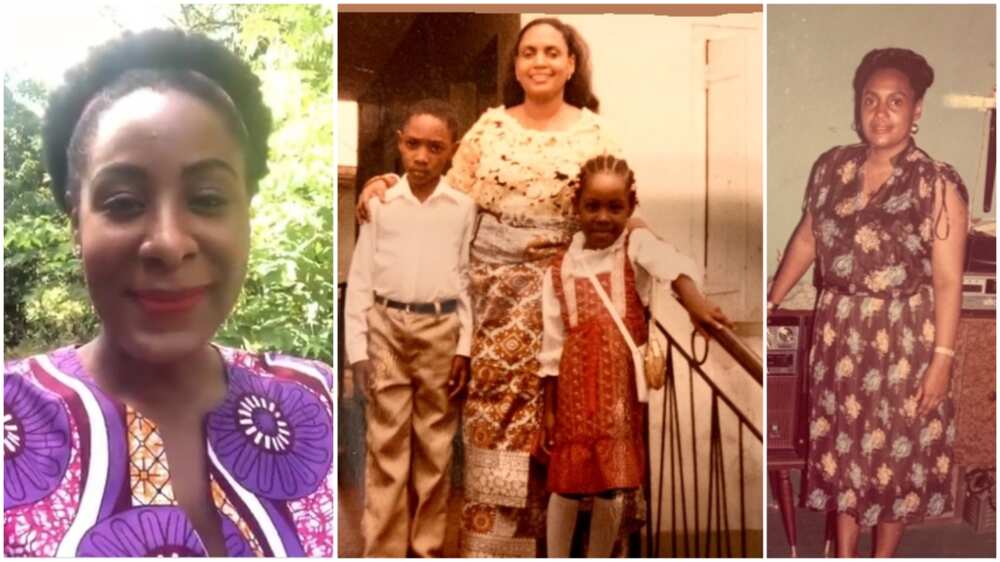 However, during the civil war, her father left her mom with her in-laws, with two kids and another on the way, to spend time with his mistress and side chicks.
According to Anya, her mom had to resort to delivering babies and giving injections to earn money and take care of the children. She also suffered mockery from women who were aware of her husband's infidelity and was also abused by a doctor.
PAY ATTENTION: Do you have news to share? Contact Legit.ng instantly
Anya stated that her father eventually married another wife and brought her into the home he shared with her mother.
Her mother begged that he took her to another house but he refused. She also went to the council of elders to plead her case as her husband who was a rich man could afford to put his new wife in a separate home but it didn't work.
They questioned why she thought she could have such a man to herself alone. Anya says it was at this point her mother began to plan her exit.
"For the last 2 years of her marriage, Mom meticulously prepared to run. She hid cash, sold jewelry. Took a suitcase to her work office, packing little by little. My clothes were disappearing, and I didn't understand. When a bag was full, she hid it at her best friend's home.
Mom's chance came with a wedding invite to Lagos. She first travelled to buy tickets, cuz she couldn't use any agent in town. She sent big suitcases to a friend in Lagos, then left Enugu with her youngest kids (me, 10, brother, 13) with overnight bags to attend the wedding."
PAY ATTENTION: Get the Latest Nigerian News on Legit.ng News App
Anya says they never made it to the wedding as that was just a guise for her to escape with them. They got to Lagos and boarded another plane heading to the United States.
"It was only after we were in the big plane that Mom explained what was going on. She said, I'm leaving your dad, and we're going to live in America. This is your chance to say no. Aunty is in the airport, I can send you back with her. Brother and I said, what?? Let's go!"
Anya wrote: "So, that's how I ended up here. My life changed overnight, and I moved to a new continent with no prior notice. My mother—a rockstar badass—at age 48, decided she was done with her husband's mess, took her kids, and, for the THIRD time, began a new life in a new country."
Also, in most relationships, it is common to see people make sacrifices for the people they love. Well, Nigerian fashion designer, Fisayo Longe, recently shared what she has learned from women before her concerning this topic.
In a recent tweet, she revealed that she has learnt not to make huge sacrifices for men as they do not deserve such loyalty and commitment.
Longe went on to advise women that they could make small compromises but never forget their purpose and the path they want to be on.
Must a woman adopt her husband's name after marriage? | Legit TV
Source: Legit.ng