7 times Davido won people's hearts with humanitarian acts
- Singer Davido has gained a reputation as one of the most charitable celebrities in Nigeria
- Legit.ng has compiled a list of some of his humanitarian acts that touched the hearts of many
PAY ATTENTION: Click "See First" under the "Following" tab to see Legit.ng News on your Facebook News Feed!
Popular singer David Adeleke aka Davido is not just loved by Nigerians because of the sweet music he churns out but also because of how he has made it a duty to help lift up others to the best of his capacity.
Even though the singer has been criticized over time because of his wealthy background, he has never let the criticisms get in his way of doing good deeds and helping to ease the pains of those who are suffering.
There are certain artistes in the industry who are currently enjoying their current status because the singer chose to believe in them when others shut the door against them.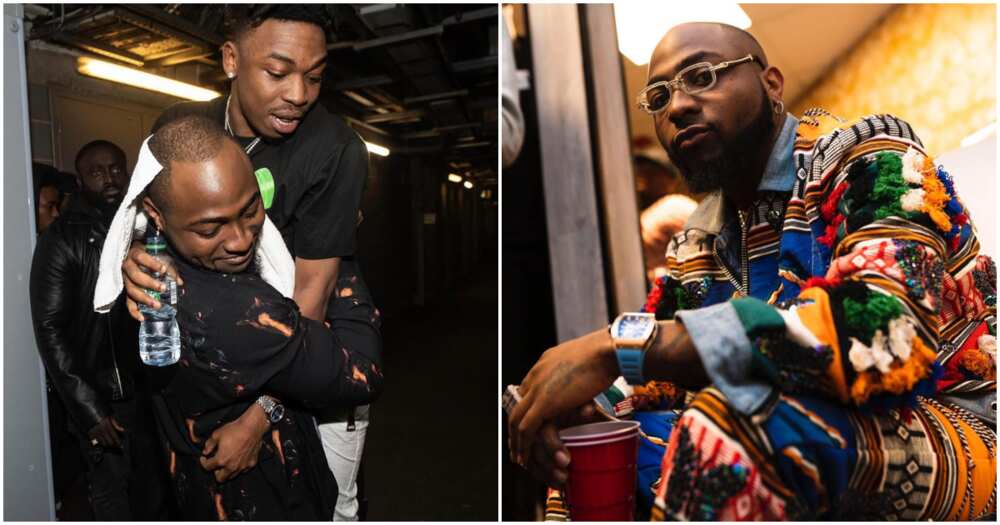 Davido's help also transcends the music industry. On several occasions, he has wielded his music as a tool to drive societal change.
It is also a well-known fact that the singer usually extends a helping hand to his fan base and contributes to helping some of them achieve their dreams.
Davido is currently on a social media hiatus because he stressed the need for him to clean his circle and start putting himself first. In recognition of his humanitarian acts, Legit.ng compiled a list of seven outstanding charitable acts by the singer
1. Signing Mayorkun to DMW
Sensational singer and DMW artiste Mayorkun owes his current status in the industry to Davido. There's just no way one can talk about Mayorkun's fame without Davido prominently featuring in the story.
The singer listened to the outcry of Nigerians by signing Mayorkun after he made a viral cover of The Money, a song which featured Olamide. Ever since, it has been a roller-coaster of success stories for the singer.
2. Donating N15m to staff of MMI Airport
In 2018, Davido played a huge role in saving the life of an ailing airport staff after he made a whopping donation of N15m to help offset her medical bills.
Davido shared a clip on his Instastory channel that captured the moment some airport staff members raised placards and thanked him for the donation.
PAY ATTENTION: Click "See First" under the "Following" tab to see Legit.ng News on your Facebook News Feed!
3. Putting a young kid named Utibe in school and building a house for his family
Again, the singer's attention was caught by a viral clip of a young boy, Utibe, making a rendition of his hit single Fall.
Upon watching the clip, the singer in collaboration with humanitarian, Sham Rock, put the kid in school and also helped his family build a house.
4. Helped a fan loyal fan offset his tuition fees
Known to help his fans when he can, the singer came to the rescue of a Nigerian student identified as Jide Sanyaolu, who was having a hard time paying up his fees at the University of Liverpool.
After Sanyaolu opened a GoFundMe account, Davido made a donation of N1m.
5. MC Galaxy got a boost from Davido at the start of his career
Singer and dancer MC Galaxy is among a few artistes whose careers enjoyed a major boost after Davido came into the picture.
Galaxy participated in a dance competition at Davio's 20th birthday party and he won N500k after emerging as the winner.
Months later, MC Galaxy's music video Nek Unek was blessed with a feature by Davido.
6. Donation of $5000 to Rwanda Music School
The singer visited the Rwanda Music School during his 30 billion tour and while at the school, he pledged the sum of $5000 to the school authority.
Davido also gave an interesting performance to the kids in the school.
7. Donation of proceeds from D&G video to COVID-19 research fund
Amid the coronavirus pandemic, Davido released the music video for his song D & G which featured American singer Summer Walker.
To the surprise of many, the singer disclosed that all proceeds from the project would be donated to a COVID-19 research fund so as to speed up the process of finding a vaccine for the virus.
From Simple Nigerian To Davido's Barber | Legit TV
Source: Legit.ng