Abiola Ajimobi: Ex-governor who wanted to die at 96 but never achieved it
Death is the end of all aspirations, and for Isiaka Abiola Ajimobi, life beyond 70 can only be in next life after the former governor of Oyo state lost the battle to complications from coronavirus on Thursday, June 25.
PAY ATTENTION: Click "See First" under the "Following" tab to see Legit.ng News on your Facebook News Feed!
Coming in at the time when the political fraternity of Oyo state and the national ruling party, All Progressive Congress (APC), needed his elderly wisdom and enviable political experiences, Ajimobi's death broke with shock and silence.
The former governor was said to be hospitalised at First Cardiologist and Cardiovascular Consultants Hospital, Lagos on June 2, but he never recovered from the infection after his health deteriorated.
Constituted Authority and the "70 years" dream
If anything could describe Senator Abiola Ajimobi, it would definitely be his bold ideas, rub-hitting speeches and his dauntless courage - the reason he was adorned with a pseudonym "Constituted Authority" following his viral daredevil response to the protest of students of Ladoke Akintola University (LAUTECH) in 2018.
Gentle and outspoken, in 2019 when he clocked the age of 70, the former governor made stunning disclosures about his family and how no male child from his paternal side reached that milestone including his father.
Ajimobi, who earlier said he would like to die at 70, said as a male child from his paternal side, it is a grace to hit that milestone considering the life span of those before him.
"Almighty for sparing my life to live this long, particularly from my own paternal side; nobody has ever lived to be 70; all male children, including my father and his own father, his brothers," Ajimobi said.
"I believe it is something to be grateful to God for and I must express my profound gratitude to God Almighty for sparing my life this far because I feel very healthy and in happiness and joy."
Ajimobi hoped to live longer but destiny said no. Who are we in the hands of gods who kill us for their sports as Shakespeare said?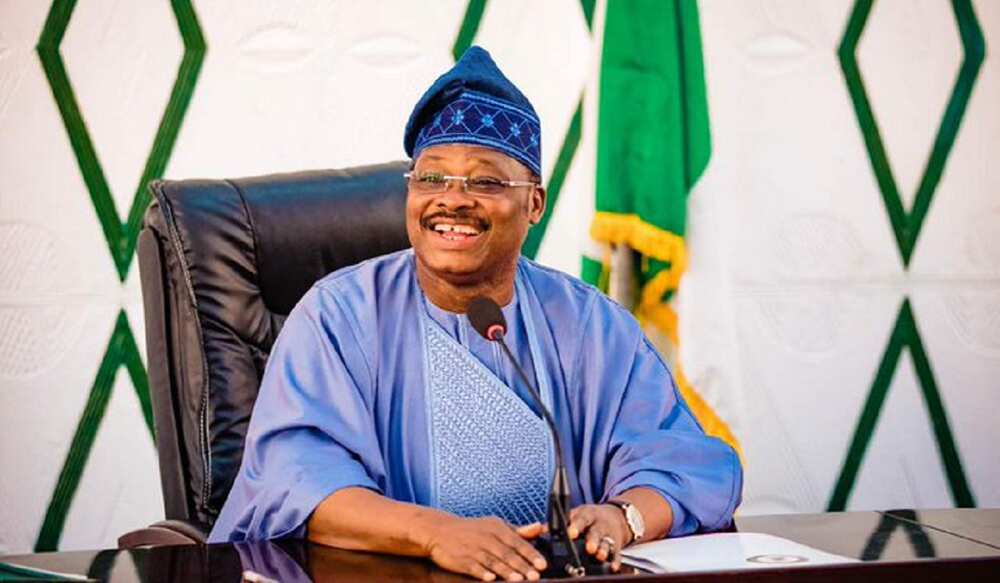 Ajimobi and the 96 that never came
Immediately after celebrating his 70 years on earth, Ajimobi craved for more years to enjoy all that he had laboured for as a former lawmaker, governor and oil mogul. But destiny never allowed him to see that dream.
Like every mortal, Ajimobi hoped he could set a longer age record by reaching 96 when he celebrated 70.
Speaking in an interview with Tribune, the former governor said all his wishes came to pass except that he wanted to die as a nonagenarian.
"I feel very elated. On the other question, I have an inkling I will be 96 up till now. So, I have always believed I will live to be 96.
"It is because virtually everything I've always dreamt of has always come to pass and I dreamt I lived to 96.
"Many Nigerians lived to be 96 and even 100; they go through stress. I believe I will live to be that age. It is just my belief; there is no hard fact about it and what you believe in usually happens," he further submitted.
But alas, that dream will never come to pass. Akanji, as he was fondly called by his lovers, died of multiple organ failure in Lagos according to emerging reports from the media.
Ajimobi and the great legacies
Without any iota of doubt, Senator Ajimobi died leaving his footprints on the sand of time. He was the only governor in Oyo state to be elected twice.
He broke the age-long jinx which his predecessors could not break by mounting the stool of government twice. It has never happened in Oyo state political history!
PAY ATTENTION: Get the Latest Nigerian News Anywhere 24/7. Spend less on the Internet!
Similarly, Ajimobi was the first governor to bring security and moral stability to Oyo state through his Operation Burst Initiative. He tamed the atrocities of hoodlums in the NURTW and sent some high-profiled thugs to their grave and oblivion.
Among other things, he brought a ray of light into the economy of Oyo state and embarked upon massive infrastructural development in what shot the state into the limelight as a pace-setter.
APC sacks NWC, appoints caretaker committee | - on Legit TV
Source: Legit.ng