50+ great goodbye songs that can help you express your feelings
Goodbye songs are great for farewell parties, moving on from broken relationships, and many more situations. These songs make farewells easier, and they come in handy when you need something to push you into moving on after a hurtful breakup.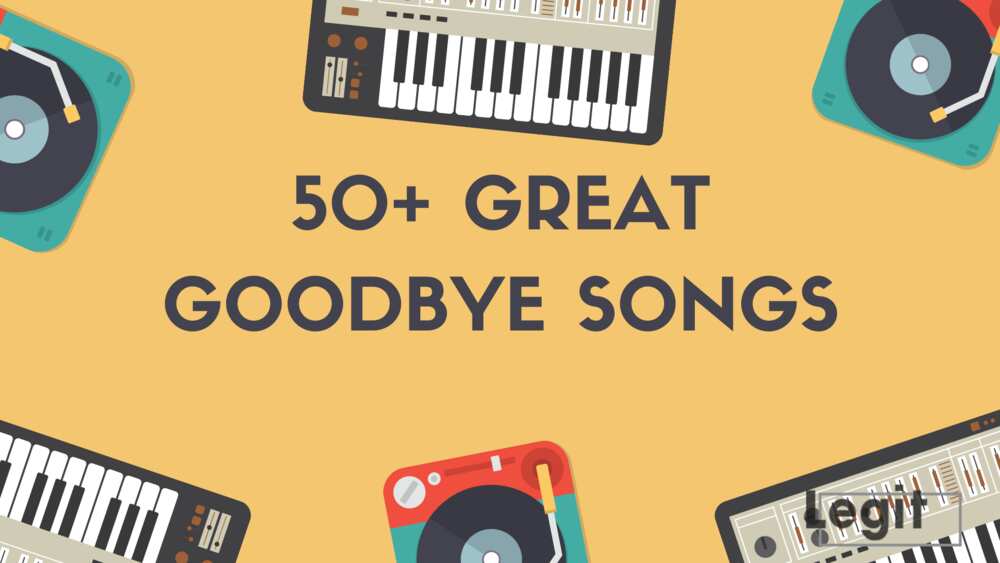 Saying goodbye is never easy, but a great playlist can help you get through the emotional journey that comes with it. Let's begin by listing the best goodbye jams of all time.
The best goodbye songs of all time
Our list of songs about goodbye spans decades. It combines a multitude of tracks that can help you cry and convey your emotions.
1. I Will Remember You - Sarah McLachlan
In this goodbye song, Sarah weeps for the good times and memories that will be forgotten after losing a romance.
2. Let Go - Justin Jay & Friends ft. Josh Taylor
The artists in this track talk about saying farewell to an irrevocably broken love affair.
3. Seasons in the Sun - Westlife
The band covered this tune by Terry Jacks, who reworked the original version of this famous song.
4. Who You'd Be Today - Kenny Chesney
This is a goodbye song that reflects on the death of a friend who died too young.
5. Goodbye My Lover - James Blunt
Of all the songs about goodbye on this list, this track by James Blunt is probably the most famous of them all. It is a beautiful and heartbreaking jam about the ending of a relationship.
6. Shake It Off - Taylor Swift
Not all songs about moving on have to be sad. Shake It Off tell us that we can move on from bad situations and be happy about it.
7. I Will Survive - Gloria Gaynor
This tune is another fantastic example of an empowering goodbye song. No matter how broken you feel, you can pull through and be better.
8. One More Day - Diamond Rio
When relationships break, we always wish for one more chance to feel love and companionship. This tune expresses that but also cautions that one more chance can never be enough.
9. You're Gonna Miss This - Trace Adkins
This country melody is a great time to say goodbye song for anyone leaving high school. It reminds the listener that despite all the exciting adventures ahead, they will always miss home.
10. You'll Think of Me - Keith Urban
Breakups are not always easy, and sometimes we are bitter about it. Keith expresses this perfectly with the earnest lyrics on this track.
11. Blow Me (One Last Kiss) - P!nk
Blow Me is an amazing pop-rock farewell song for anyone glad to be leaving a dysfunctional relationship.
12. Ex - Kiana Lede
If you are not ready to forget your ex and would love a second chance, then this track by Kiana is perfect for you.
13. Why Don't You Love Me - Beyonce
Despite the funny nature of this video, Beyonce sings about feeling unappreciated despite trying to be the perfect woman.
14. Bye Bye - Gryffin ft. Ivy Adara
This tune is a great example of a bye bye song for lovers who know that they are not right for each other.
Songs about moving on after a serious heartbreak
A broken heart is usually not easy to fix. However, goodbye songs can help one heal and process what they are going through. Some fantastic examples of such songs are as follows:
15. We Are Never Getting Back Together - Taylor Swift
When it comes to songs about leaving, there is no better tune than this one. This track spent over 20 weeks on the Billboard chart.
16. Slide Away - Miley Cyrus
Miley released this tune after her breakup with her Australian husband, Liam Hemsworth.
17. Look At Her Now - Selena Gomez
This is a great dance tune for anyone who has finally moved on from a broken heart.
18. Don't Hurt Like It Used To - Grace Carter
Grace sings about how the hurt and lies she endured in a relationship no longer hurt her as badly as they did.
19. Thank you, Next - Ariana Grande
In recent months, this tune has become among the best goodbye songs in everyone's playlist.
20. Since U Been Gone - Kelly Clarkson
This 2010 rock tune should be in every rock lovers playlist of songs about moving on.
21. Irreplaceable - Beyonce
You cannot wonder, 'what are good goodbye songs,' without this jam by Beyonce popping into your mind. It is a fantastic track about saying goodbye to a cheating lover.
22. Someone Like You - Adele
With over 1.5 billion views on YouTube, this is one of the most relatable sad goodbye songs.
23. Call Out My Name - The Weeknd
This jam is among the most sorrowful and best goodbye jams in his 2018 EP, My Dear Melancholy.
24. Stay - Rihanna ft. Mikky Ekko
Rihanna's emotion-filled voice and the sad mood of this video will make you think about your ex and make you cry.
25. Somebody That I Used to Know - Gotye ft. Kimbra
Gotye might have disappeared from the music world after this incredible tune, but now, almost ten years after its release, this jam is among the best songs about goodbye to date.
26. Tears Dry On Their Own - Amy Winehouse
Amy's farewell song expresses how hard it is for her to leave a man who easily walks away from her.
27. Big Girls Don't Cry - Fergie
This track by Fergie is among the top saddest goodbye songs of the 2000s.
28. New Rules - Dua Lipa​
A fantastic tune that will convince you not to go back to your ex
29. Apologize - Timbaland ft. One Republic
Apologize is a great jam about leaving an emotionally abusive relationship.
30. Cry Me A River - Justin Timberlake
This track is among the best-known farewell songs that you can dedicate to someone who cheated on you.
31. Never Forget You - Zara Larsson, MNEK
Zara and MNEK croon about saying a reluctant goodbye to someone they believe is the love of their lives.
32. Stay With Me - Sam Smith
A perfect track about saying goodbye to someone you met and made a connection with during a fun-filled night.
33. Happier - Ed Sheeran
In Happier, Ed expresses his sadness and regret after seeing his ex being seemingly joyful and content in another man's arms.
34. Shout Out to My Ex - Little Mix
This amazing pop melody should be in every girl's playlist of best goodbye songs.
35. Dancing With Your Ghost - Sasha Sloan
In this tune, Sasha expresses her sadness over her boyfriend leaving and her inability to let him and their memories go.
36. Trust My Lonely - Alessia Cara
This track is perfect for anyone who wishes to learn how to be alone after a relationship.
37. None of Your Concern - Jhené Aiko
Jhené wonders whether her relationship will last or if she should be preparing to say farewell to her significant other.
38. Losing You - Solange
Losing You is a fantastic time to say goodbye song. In the tune, Solange wonders if she is about to lose her boyfriend.
39. Yesterday - Toni Braxton ft. Trey Songz
The voices of these two musicians are perfect for this track about leaving a relationship.
Goodbye songs for kids
The following short goodbye songs are perfect for parents and teachers who would like to teach children how to say farewell. They can be used at the end of a school day or a playdate.
40. So Long Now - The Kidboomers
Kids can sing this catchy tune before they head home after a day in school.
41. May There Always Be Sunshine - Bev Bos
This sweet tune can be sung by kids before they go to sleep at night.
42. See You Later, Alligator - Super Simple Songs
This is a fun tune that children can sing at the end of the school day.
43. Time to Say Goodbye - Dr. Jean
This is the perfect upbeat track to end the day.
The best farewell songs from the '90s
While the past 20 years have had some great jams about leaving and heartbreak, 90's goodbye songs bring an unmatched touch of nostalgia to the listener.
44. End of the Road - Boys II Men
Despite being a sad track about saying goodbye, it is one of the band's most beloved tracks.
45. All Cried Out - Allure ft. 112
This is an amazing tune about a girl who finally is over shedding tears over her uncaring boyfriend.
46. Candle in the Wind - Elton John
Elton sang this track in honour of Princess Diana after she passed away.
47. Nothing Compares 2 U - Sinead O'Connor
Sinead's incredible lyrics make this track one of the best goodbye songs of all time.
48. My Heart Will Go On - Celine Dion
Popularized by The Titanic, this famous tune needs no introduction.
49. I Will Always Love You - Whitney Houston
This goodbye song by the late Whitney is one of the best songs about leaving.
What is a good song for someone who passed away?
Some popular tunes that you can play for someone you have recently lost include:
50. Bye Bye - Mariah Carey
Mariah's soft and melodious sad Bye Bye song is enough to bring a tear to anyone's eyes.
51. Wind Beneath My Wings - Bette Midler
This incredibly beautiful and heartbreaking tune has been included in many lists of sad goodbye songs for funerals.
Goodbye songs are relatable to a lot of people. They help us convey our feelings of heartbreak, loss, grief, and more.
Source: Legit.ng