Ed Orgeron bio: nationality, wife, salary, coaching record
Ed Orgeron is a world-renowned American football coach. He is currently the head coach at Louisiana State University (LSU). Ed's decorated collegiate coaching career includes stints at the University of Mississippi, McNeese State University, and the University of Southern California. Besides coaching, Ed was also a football player during his high school and college days.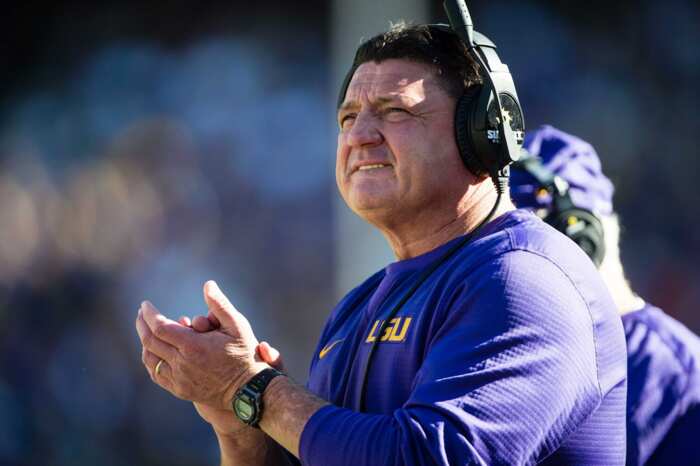 Where is coach Ed Orgeron from? He is from Larose, Louisiana. The renowned coach was born on 27th July 1961 in Larose, Louisiana to Cornelia and Edward Orgeron.
He grew up alongside his brother Steve and attended Lafourche High School. Ed went to school with Bobby Herbert, the renowned quarterback who has played for the Atlanta Falcons, New Orleans Saints and Michigan Panthers.
Profile summary
Full name: Edward James Orgeron Jr.
Date of birth: 27th July 1961
Place of birth: Larose, Louisiana, USA
Ed Orgeron age: 58 years
Profession: Football coach
Nationality: American
Zodiac: Leo
Spouse: Kelly Orgeron
Net worth: $4 million
Ed Orgeron bio
Here is a look at the prolific coach's education, playing career, coaching career, and family life.
Football playing career
Ed was part of the Lafourche High School state championship team in 1977. He then joined the Louisiana State University football team.
Why did Ed Orgeron leave LSU as a player? He left the team after feeling homesick during his freshman year.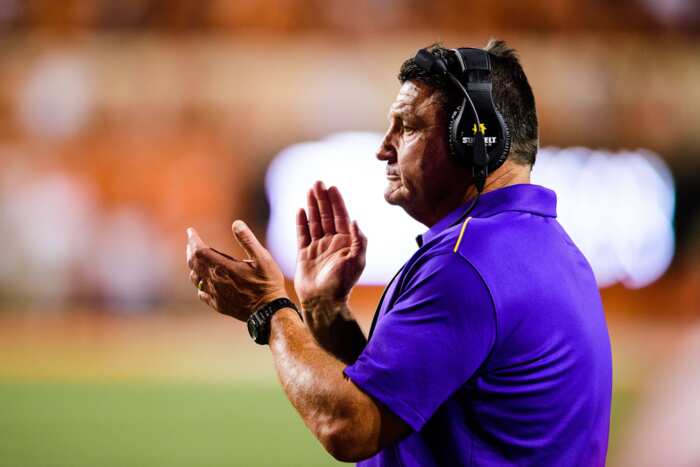 Football coaching career
Ed began his coaching career in 1984 when he was hired as a graduate assistant for the Northwestern State University team. In 1985, he joined the coaching team at the McNeese State University in Lake Charles.
After his stint at McNeese State, he joined the University of Arkansas team as an associate coach under the leadership of Ken Hatfield. This was followed by a stint at the University of Miami under the then-coaches Dennis Erickson and Jimmy Johnson.
Here is a look at a detailed breakdown of the coach's main career highlights.
Ed Orgeron coaching record
Is Ed Orgeron a good coach? He definitely is. His record speaks for him. Here is a look at yearly results from the teams in which he was the head coach or associate coach.
2019 LSU Season: 15-0
2018 LSU Season: 10-3
2017 LSU Season: 9-4
2016 LSU Season: 8-4
2015 LSU Season: 9-3
2014: Out of a coaching position
2013 USC (as Interim Head Coach: 6-2) 10-4
2012 USC (as Defensive Line Coach): 7-6
University of Southern California (USC)
In 1998, Ed was offered a defensive coaching position by Paul Hackett who was, at that time, the new head coach of the University of Southern California. After Hackett was fired in 2000, Ed remained as one of the few coaching staff members retained by the incoming coach, Pete Carroll.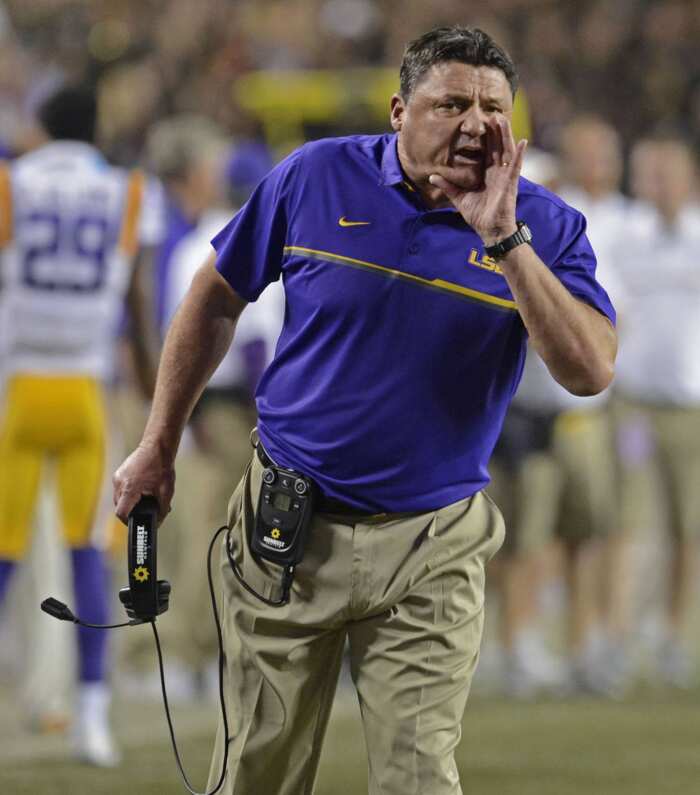 Years later, Ed would return to USC as a member of the assistant coaching staff in 2010. This came after Pete Carroll's exit from the coaching position. During his second stint at USC, Ed was among the highest-paid assistant coaches, with an annual salary of about 650,000 dollars.
University of Mississippi (Ole Miss)
In 2004, Orgeron was hired by the University of Mississippi to replace the outgoing coach, David Cutliffe. Coming into the 2005 college football season, Ed had hoped to implement USC's playing style at Ole Miss but found little success doing so.
The University of Tennessee and New Orleans Saints
In 2008, NFL's New Orleans Saints hired Orgeron as their new defensive line coach. Ed stayed in the position for just under one year and left at the end of December 2008.
On December 31, 2008, Orgeron was hired by the University of Tennessee as an associate coach. He worked under his former USC colleague, Lane Kiffin.
Louisiana State University (LSU)
At the beginning of 2015, Louisiana State University hired Ed as the team's defensive line coach. On September 2016, following head coach's Les Miles' firing, Ed was named the LSU interim head coach.
After his promotion to head coach, Ed made significant changes to the LSU team. He recalled Pete Jenkins to the defensive line coach position and promoted Steve Ensminger to an offensive coordinator.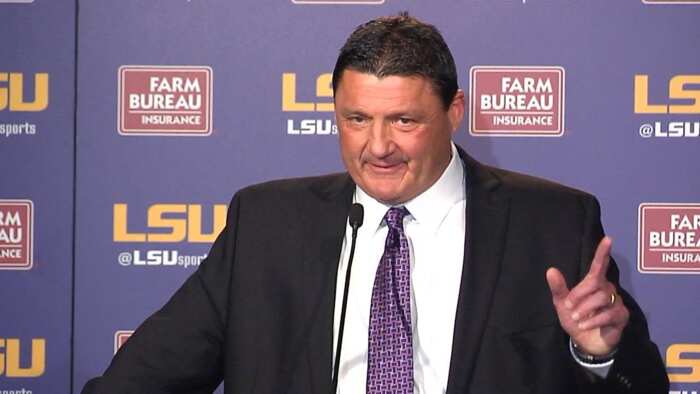 He then increased the time players spent in the film room and reduced practices. He then integrated Pete Carroll's 'theme of daily practices' into the team's plans. The theme has evocative titles for each day.
Ed Orgeron family
Who is Ed Orgeron wife? The renowned coach married Kelly Orgeron in a wedding ceremony held on February 1997. The two had met at a Liberty Bowl in 1996.
Ed and Kelly have three children, namely Cody, Parker, and Tyler. The latter is from Kelly's previous marriage. At the beginning of 2020. Orgeron and Kelly reportedly filed for divorce after more than 20 years of marriage.
The couple's children all share a love for collegiate football. Tyler works as an attacking analyst for the Louisiana State University team, Cody is a quarterback with McNeese State, and Parker previously served as a student assistant at the same institution.
What nationality is Ed Orgeron? Due to his gravelly, accented voice, most people are often interested in the coach's nationality. He is an American from Louisiana, and his voice is a blend of Cajun, Southern English, and French.
What is Ed Orgeron salary?
LSU recently gave coach Orgeron a new six-year contract extension with a hefty salary and allowances. In 2019, the coach made around $4 million per season, a figure which has drastically changed.
The coach's new deal includes a base salary of $6 million in addition to a $5 million split-dollar insurance policy. Combined, Ed's per-season salary is now about $7 million.
The current Ed Orgeron net worth is about $4 million.
Ed Orgeron height
The renowned coach is 1.88 meters (6 feet 2 inches) tall and weighs 108 kilograms (238 pounds).
Ed Orgeron is, without a doubt, one of the finest collegiate football coaches in America. It will be fascinating to see what he adds to his already impressive coaching achievements.
Source: Legit