25 best Michelle Obama quotes on education, feminism and leadership
The former First Lady Michelle Obama stepped into the spotlight over 10 years ago and has been unstoppable ever since. You need to see a few of Michelle Obama quotes to agree that she is not only inspiring but also a powerful speaker whose messages resonate with many of her audiences. She is known to speak incredible words of wisdom every time she takes a podium.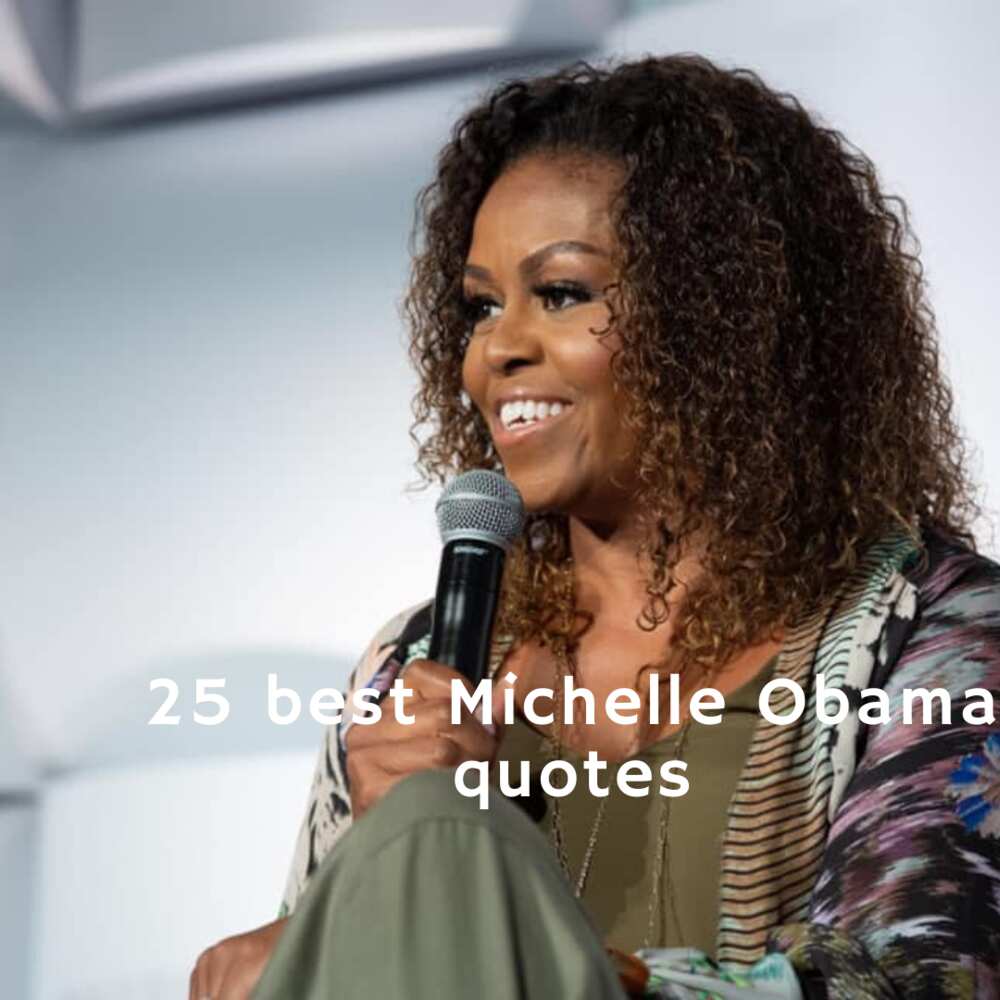 Apart from speech. she has also recorded part of her wisdom in her best-selling memoir, Becoming—which was Oprah's December 2018 book club pick. You probably have a couple of Becoming Michelle Obama quotes that you refer to once in a while. In addition to her speeches and book, she is also known by the striking quotes she has shared on the campaign trail, as well as on her tours. This article rounds up some of the most favorite, and those we found to be most inspiring gems.
Interesting Michelle Obama quotes
You have probably read a few powerful Obama quotes and was mesmerized at how wise the former president of the US was. Well, you need to meet his wife, and probably go through a few of the best Michelle Obama quotes to appreciate that wisdom is a family thing.
From topics on education, success as a black woman, and even never giving up, Michelle's quotes will keep you focused. Whether you want to check out Michelle Obama feminist quotes, or any general sayings and quotes by Michelle Obama, we've got you covered. The following examples will come in handy.
Michelle Obama inspirational quotes on pursuing success
You do not become a leader by chance, especially if you intend to be a great leader. The success quotes are proof of this.
Whether you come from a council estate or a country estate, your success will be determined by your own confidence and fortitude.
Your story is what you have, what you will always have. It is something to own.
You cannot take your freedoms for granted. Just like generations who have come before you, you have to do your part to preserve and protect those freedoms.... you need to be preparing yourself to add your voice to our national conversation.
Success is only meaningful and enjoyable if it feels like your own.
If there's one thing I've learned in life, it's the power of using your voice.
You should never view your challenges as a disadvantage. Instead, it's important for you to understand that your experience facing and overcoming adversity is actually one of your biggest advantages.
You may not always have a comfortable life and you will not always be able to solve all of the world's problems at once. But, don't ever underestimate the importance you can have because history has shown us that courage can be contagious, and hope can take on a life of its own.
Do not bring people in your life who weigh you down. Trust your instincts, good relationships feel good, they feel right, they don't hurt. They're not painful. That's not just with somebody you want to marry, but it's with the friends you choose. It's with the people you surround yourself with.
There is no magic to achievement. It's really about hard work, choices and persistence.
Don't ever make decisions based on fear. Make decisions based on hope and possibility. Make decisions based on what should happen, not what shouldn't.
Michelle Obama leadership quotes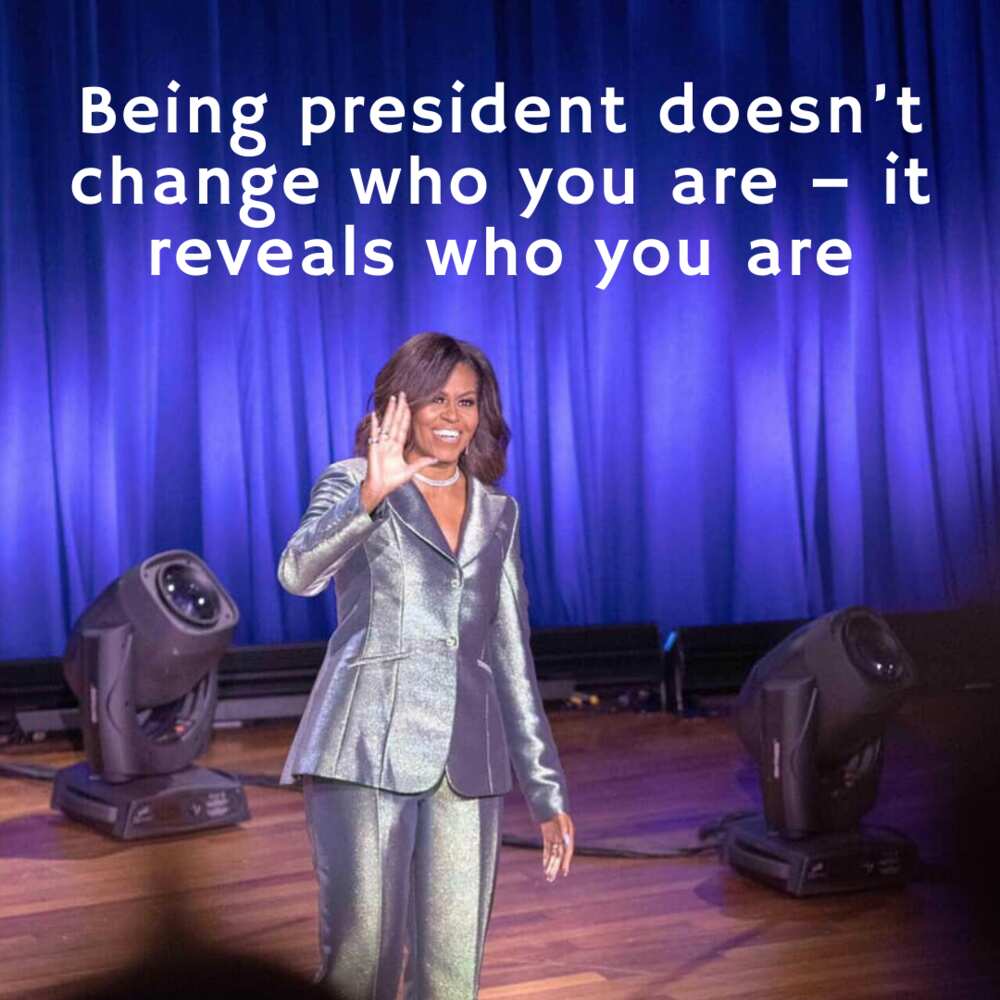 Everyone knows that Michelle is an excellent leader. Even before becoming the first lady of the US, she was a top leader in various capacities in her career. She has always been at the forefront and has commanded a lot of respect along the way. She also has powerful sentiments about what good leadership is. The following quotes capture her thoughts and mind perfectly.
Real men treat the janitor with the same respect as the CEO.
When someone is cruel or acts like a bully, you don't stoop to their level. No, our motto is, when they go low we go high.
Being president doesn't change who you are – it reveals who you are.
We need to fix our souls. Our souls are broken in this nation. We have lost our way. And it begins with inspiration. It begins with leadership
I love that for Barack, there is no such thing as "us" and "them" – he doesn't care whether you're a Democrat, a Republican, or none of the above…he knows that we all love our country…and he's always ready to listen to good ideas…he's always looking for the very best in everyone he meets.
Michelle Obama quotes on women
Michelle is one of the women in history whose passion for women's success is evident. She, like many others, does not shy away from championing the rights of women. She serves as an example of what women can achieve if they are empowered. She is the example of the support every man needs, without necessarily stifling the man. Below are some of the most powerful quotes about women as said by Michelle.
I am an example of what is possible when girls from the very beginning of their lives are loved and nurtured by people around them.
The difference between a broken community and a thriving one is the presence of woman who are valued.
Strong men, strong men, men who are truly role models, don't need to put down women to make themselves feel powerful.
No country can ever truly flourish if it stifles the potential of its women and deprives itself of the contributions of half of its citizens.
Women, in particular, need to keep an eye on their physical and mental health because if we're scurrying to and from appointments and errands, we don't have a lot of time to take care of ourselves. We need to do a better job of putting ourselves higher on our own 'to do' list.
Michelle Obama quotes on education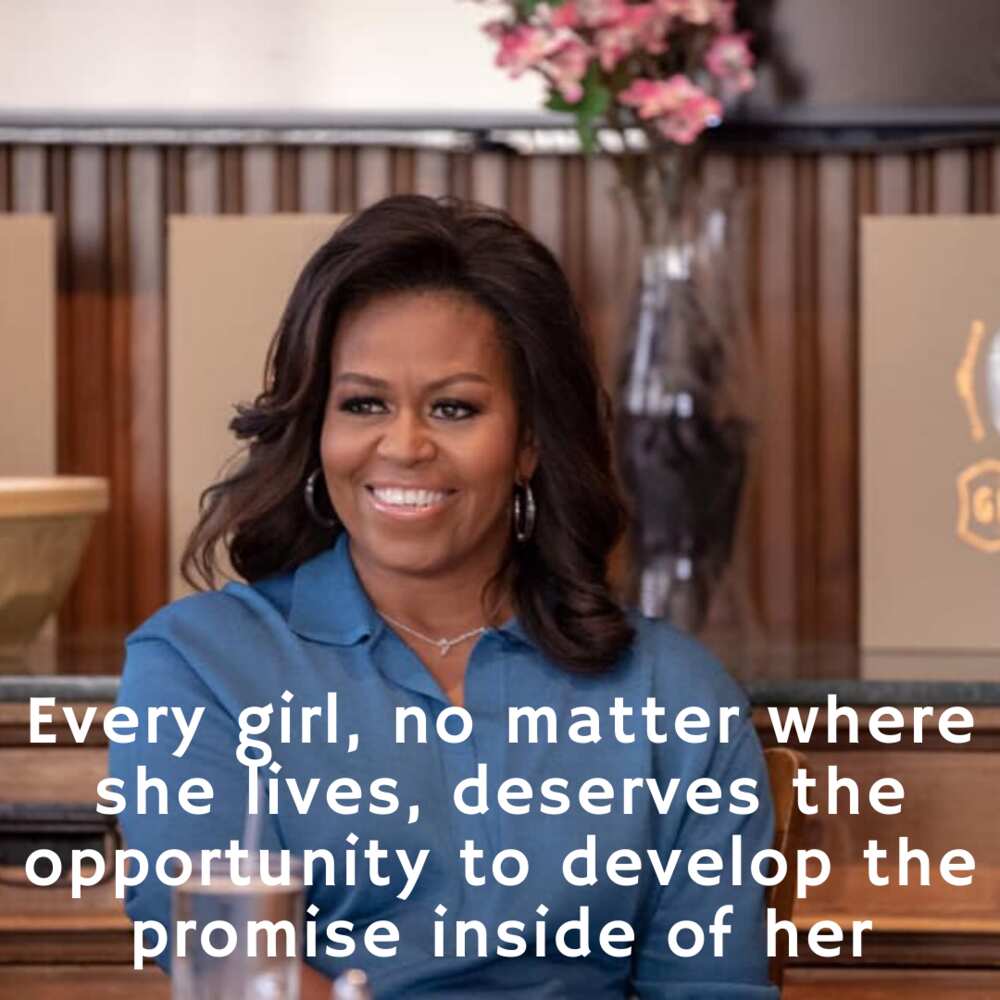 Education was one of the things that the Obama's took to heart. Both the former president and his wife believed that education is the key to success. In fact, some of Michelle Obama famous quotes are on this subject. Like it is with many successful women in the world, she believes that educating a woman benefits the entire society. A good number of Michelle Obama quotes about women encourage and emphasize on the need to educate a girl. Some of Michelle Obama education quotes include:
When girls are educated, their countries become stronger and more prosperous.
Every girl, no matter where she lives, deserves the opportunity to develop the promise inside of her.
Through my education, I didn't just develop skills, I didn't just develop the ability to learn but I developed confidence.
If your family doesn't have much money, I want you to remember that in this country, plenty of folks, including me and my husband. We started out with very little. But with a lot of hard work and a good education, anything is possible – even becoming President. That's what the American Dream is all about
The truth is, in order to get things like universal health care and a revamped education system, then someone is going to have to give up a piece of their pie so that someone else can have more.
You may have heard of Michelle Obama quotes on hating America, but that should not water down the good sayings before. The fact that she has expressed her displeasure on certain things does not mean that all her good work goes down the drain. Most of the quotes from Michelle Obama will inspire people, especially the younger generation, to keep working hard and prioritizing their success. She has strong feelings about education and female empowerment, not forgetting her leadership ideals.
Michelle Obama quotes are some of the most powerful sayings. She speaks of different subject matters with passion and zeal. Many who follow in her footsteps are assured of success.
Source: Legit.ng