Miranda May biography: age, parents, weight loss, acting career
When Bunk'd started, most fans did not notice Miranda May. Her acting skills and good humour were not easily spotted partly due to her physical attributes. Nevertheless, the young American actress had more to offer than just beauties. Today, as Disney Channel's Bunk'd is about to continue for its fourth season, the spotlight has been on the young American actress. Her weight loss has added spice to her acting career as many fans are still wondering: did Miranda May lose weight?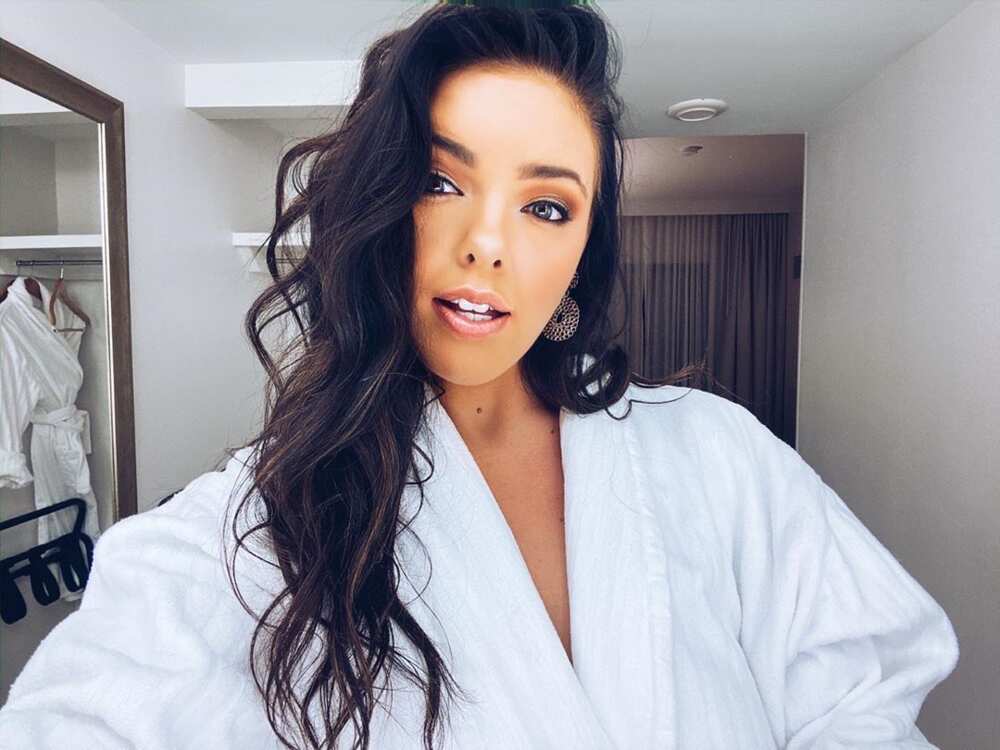 Miranda May is an American actress, comedian and scriptwriter. She started her career at a tender age and made her debut while she was still 11 years of age. May has featured in several movies as well as TV series like E.R, Samantha Who? and Liv and Maddie. She rose to fame for her movie role in Bunk'd. As a stand-up comedian, her love for sharing jokes and making people laugh has brought her to several venues in Las Vegas.
Miranda profile summary
Birth name: Miranda Elizabeth May
Date of birth: 6th of April, 1996
Age: 23 years old
Nationality: American
Birthplace: Bowling Green, Ohio
Profession: Actress and Comedian
Zodiac sign: Aries
Relationship status: Single
Height: 5 feet and 4 inches (1.63 m)
Siblings: Three
About Miranda May
Miranda May was born in Bowling Green, Ohio. She has three siblings and is the youngest in the family. There is no information about her educational background. It is believed that Miranda May parents had homeschooled her. Besides, her acting roles have helped her develop a unique way of connecting with her audience. Consequently, Miranda's fame has soared with every new role she found herself.
Apart from acting, Miranda loves singing and writing scripts. She also loves shopping and hopes to own her clothing line in the future. Interestingly, Miranda May hot pictures is a good indication that she can thrive in the fashion world. She is blessed with a good fashion sense and a lovely face.
Moreover, the singer and actress is also involved in charity services. Together with her sister, Stephanie, she visits hospitals to check up on sick children. With her skills and other supports, she does all she can to put smiles on the faces of the vulnerable kids. The two sisters also take part in fundraisings.
How old is Miranda May?
Currently, Miranda May age is 23 years old. She was born on the 6th of April, 1996.
Miranda May parents
Being the youngest child in the family, Miranda is always seen on social media talking about family love. Some of her recent posts reveal her love for her father. She sees her dad as her superhero and has refused to stop showing him love on Instagram.
On Father's day, she sent adorable wishes to her dad, showing how much she admired him. She did the same on Memorial day. On that day, she posted a throwback picture with a caption revealing that she is her father's 'proud daughter.'
With so much being said about her father, who is Miranda May's mom? Rumours are suggesting that the award-winning actress, Jeannie Berlin May, is the mother of the actress. However, that is still under investigation.
Did Miranda May lose weight?
Miranda May weight loss is a shock to many of her fans who knew her when she started acting as a Bunk'd cast. Back then, she was tall and a little overweight. However, for some time now, the young actress has been busy with fitness routines.
She posts her workouts on social media to inspire others who are on the same path. Today, she appears to be younger than before. Miranda May Bunk'd weight loss is now evident after her workouts.
Her acting career
Unknown to most of her fans, the actress featured in the 2007 romantic comedy, The Heartbreak Kid. That was her first significant entry into Hollywood, even though she was not given credit for it. She was just eleven years at that time, but her acting career had started three years earlier. She got featured in that movie after moving to Los Angeles in 2006. The movie, directed by the Farrelly brothers, had big names like Malin Akerman and Ben Stiller.
One year after her first movie, she was featured in the movie, Lower Learning. Immediately afterwards, she appeared in two series. The first series was a medical drama produced by Michael Crichton. The film, E.R, aired on NBC till 2009. Then, she also appeared on ABC's Samantha Who? In 2015, the actress featured as Spacey Lacey on Disney Channel's series, Liv and Maddie. Show creators, John D. Beck and Ron Hart, gave her the recurring role in season 2.
Additionally, she was introduced in the episode, Rate-A-Rooney, in which young girls were encouraged to embrace positive self-image. That same year, she took up the leading role in Bunk'd, a Disney Channel series. Today, Miranda May Bunk'd role has earned her more fans from around the world. As one of the cast of Bunk'd, she plays the role of Lou Hockhauser.
Her personal life
The actress has not revealed much about her personal life. Also, there is no news about being in any love relationship as most of her posts have been about family. Are Miranda May and Peyton List friends? Yes, they are. In fact, Miranda May Bunk d friend, Peyton List, is always seen on her Instagram post. According to her, her mom is her best friend.
Regardless of her previous physical appearance, Miranda May has always been a positive woman. It is believed that she will maintain such an attitude with her new and amazing look.
Source: Legit.ng