35 beautiful rain quotes for every kind of mood you could be in
The drumming of falling rain has a profound rhythm that is capable of soothing an ailing heart. When it pours, the sound can make you feel so nice and cozy inside. Whatever mood you could be in when it falls, these rain quotes will make you leap for joy.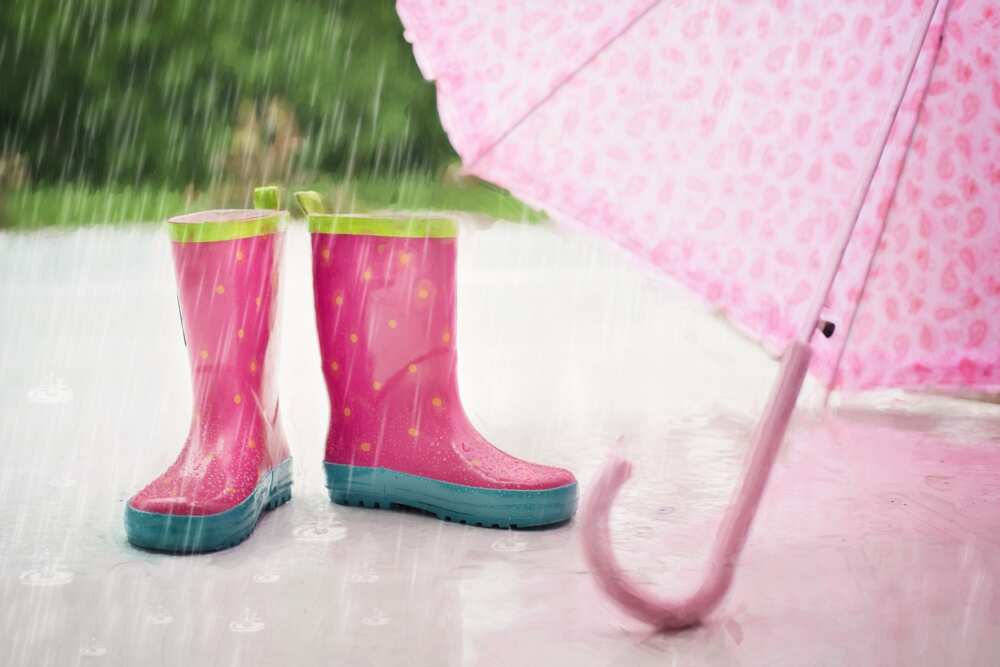 If you ever find yourself asking, why do I love the rain? It could be because different people over time have used different words to symbolise rainfall, and the commonest one is the sweet tears of heaven.
Rain has a magical power that gets the attention of children and adults alike. When the sky empties itself on the earth, it ushers in different memories, either sweet or bad.
The raindrops quotes shared below will help you relate to the feelings unique to rainy days. So, as you enjoy the drizzles, thunders, and breeze that usher in the fall, there are also rain love quotes that you can use to express your feelings.
8 amazing rain quotes
When it showers, different people read different meanings to it. For some, it signifies joy, while for those who seem lonely, it invokes gloom and depression. Whatever definition you read to each time it falls, here are some beautiful quotes about rain that fit into your perspective of the moment.
If you find yourself under a torrential downpour, how do you feel, and what memories does it invoke in you? As much as you want to relate to the feelings of rainy days, we hope you will find these heavy rain quotes captivating enough.
The rain fluctuates between drizzle and torrential. It messes with your mind. It makes you think things will always be like this, never getting better, always letting you down right when you thought the worst was over. - Susane Colasanti
I have always considered the rain to be healing--a blanket--the comfort of a friend. Without at least some rain in any given day, or at least a cloud or two on the horizon, I feel overwhelmed by the information of sunlight and yearn for the vital, muffling gift of falling water. - Douglas Coupland
Not excepting the falling stars--for they are far less sudden--there is nothing in nature that so outstrips our unready eyes as the familiar rain. The rods that thinly stripe our landscape, long shafts from the clouds, if we had but agility to make the arrowy downward journey with them by the glancing of our eyes, would be infinitely separate, units, an innumerable flight of single things, and the simple movement of intricate points. - Alice Meynell
Rain hangs about the place, like a friendly ghost. if it's not coming down in delicate droplets, then it's in buckets; and if neither, it tends to lurk suspiciously in the atmosphere. - Barbara Acton-Bond
The all-night rain puts out summer like a torch. In the heavy, black rain falling straight from invisible, dark sky to invisible, dark earth the heat of summer is annihilated, the splendour is dead, the summer is gone. The midnight rain buries it away where it has buried all sound but its own. I am alone in the dark still night, and my ear listens to the rain piping in the gutters and roaring softly in the trees of the world. - Edward Thomas
Shortly afterwards it started raining, very innocently at first, but the sky was packed tight with cloud and gradually the drops grew bigger and heavier, until it was autumn's dismal rain that was falling--rain that seemed to fill the entire world with its leaden beat, rain suggestive in its dreariness of everlasting waterfalls between the planets, rain that thatched the heavens with drabness and brooded oppressively over the whole countryside, like a disease. - Halldor Laxness
Rain, midnight rain, nothing but the wild rain on this bleak hut, and solitude, and me remembering again that I shall die and neither hear the rain nor give it thanks for washing me cleaner than I have been since I was born into solitude. - Edward Thomas
Trees bear fruits only to be eaten by others; the fields grow grains, but they are consumed by the world. Cows give milk, but she doesn't drink it herself - that is left to others. Clouds send rain only to quench the parched earth. In such giving, there is little space for selfishness. - Munshi Premchand
6 happy rain quotes
Why is rain beautiful? Starting from when the cloud forms in preparation for rainfall until after the downpour, each of the processes is significant in human life. The clear sky symbolises the human mind while the cloudy sky tells of the abounding tensions with a human.
Also, the drizzles and eventual downpour tell of how people start to cry, and when the sky clears, it shows how a person's mind becomes clear. These quotes about the shower are perfect in expressing your joyful mood as you reminisce about the lessons of life that every downpour teaches.
Beloved, let us once more praise the rain. Let us discover some new alphabet, for this, the often praised; and be ourselves. The rain, the chickweed, and the burdock leaf, the green-white privet flower, the spotted stone, and all that welcomes the rain; the sparrow too,— who watches with a hard eye from seclusion beneath the elm-tree bough, till rain is done. - Conrad Potter Aiken
In the truest sense of the word, rain deserves to be called a present from heaven. The blessings which our Heavenly Father pours upon us by this means are equally abundant and necessary for us. As the consequences of a continued draught would be fatal to us, so the advantages are equally precious which the refreshing showers afford. - C. C. Sturm
It's a relief to hear the rain. It's the sound of billions of drops, all equal, all equally committed to falling, like a sudden outbreak of democracy. Water, when it hits the ground, instantly becomes a puddle or rivulet or flood. - Alice Oswald
I'm singing in the rain, just singing in the rain; What a wonderful feeling, I'm happy again. - Arthur Freed
Rain is grace; rain is the sky descending to the earth; without rain, there would be no life. - John Updike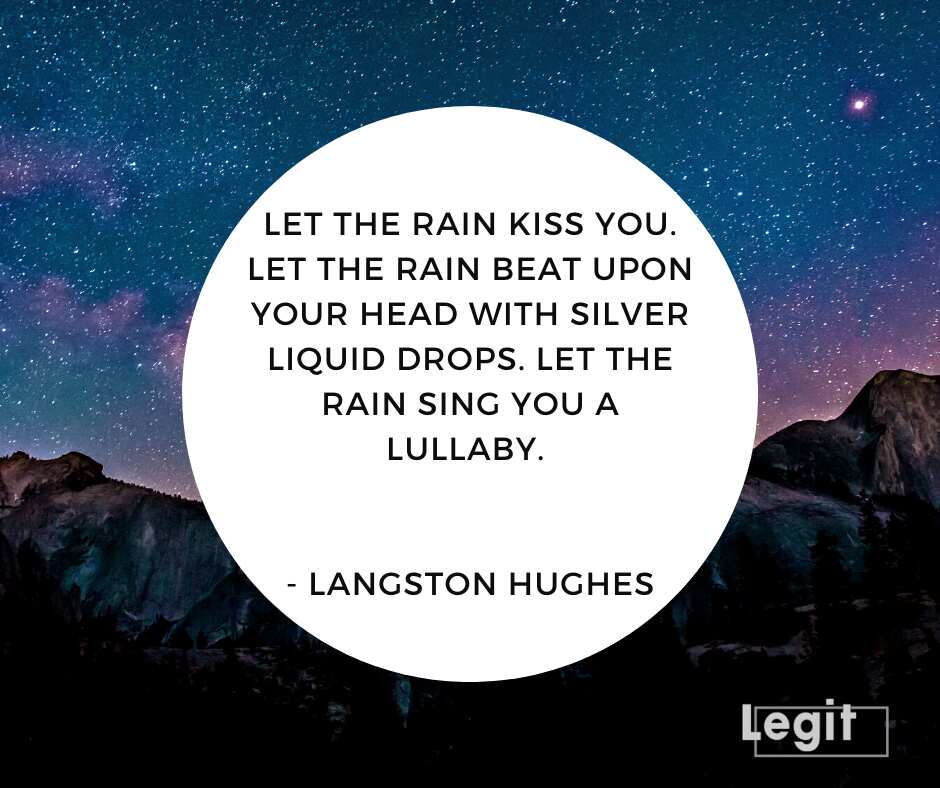 Let the rain kiss you. Let the rain beat upon your head with silver liquid drops. Let the rain sing you a lullaby. - Langston Hughes
When sharing or teaching about life's challenges, beautiful rain quotes are useful in explaining the realities of life.
9 romantic rain quotes
From your perspective, what do you say about rain? The fact is there is a beautiful correlation between rainfall and love, hence the existence of cute rain quotes.
What is good about rain? As you listen to the drumming of falling rain or when you walk in it, it is capable of turning on the romance in your heart. This is why some people find it pleasurable to share love rain quotes with their better half.
When expressing your emotional affection, rain and love quotes are worth sharing. When it starts to fall, and you are away from your partner, here are some quotes about rain and love to make them know how important they are to you.
Love, like rain, can nourish from above, drenching couples with a soaking joy.
You are my love, the one that I want to be with when it is raining, the one I truly desire.
I love the rain as much as I love you. I love the way it always speaks to me, to my soul and all.
You can call me rain for all I seem to do is always fall on you.
I wanted to be with you, on this rainy day, so I can hug you and give you some warmth.
Anyone who says sunshine brings happiness has never danced in the rain.
If I were rain that joins sky and earth that otherwise never touch, could I join two hearts as well?
I love rainstorms, thunder, lightning, wind, all of it. So much going on at once, so many emotions just like me.
A day without you is like looking for the sun on a rainy day.
6 enjoying rain quotes
What do they say about rainy days? Rainfall, sometimes, is seen as a gift from God, which is why every time it falls, we should feel blessed by Him. These are some first rain quotes you can share with others to let them know how well you are enjoying the downpour.
The first drops of rain always bring a smile on our faces. The smell of wet soil, the damp grass, and the slosh of puddles under our feet make us want to dance with wanton joy. Rains make a heart go romantic. - G. K. Chesterton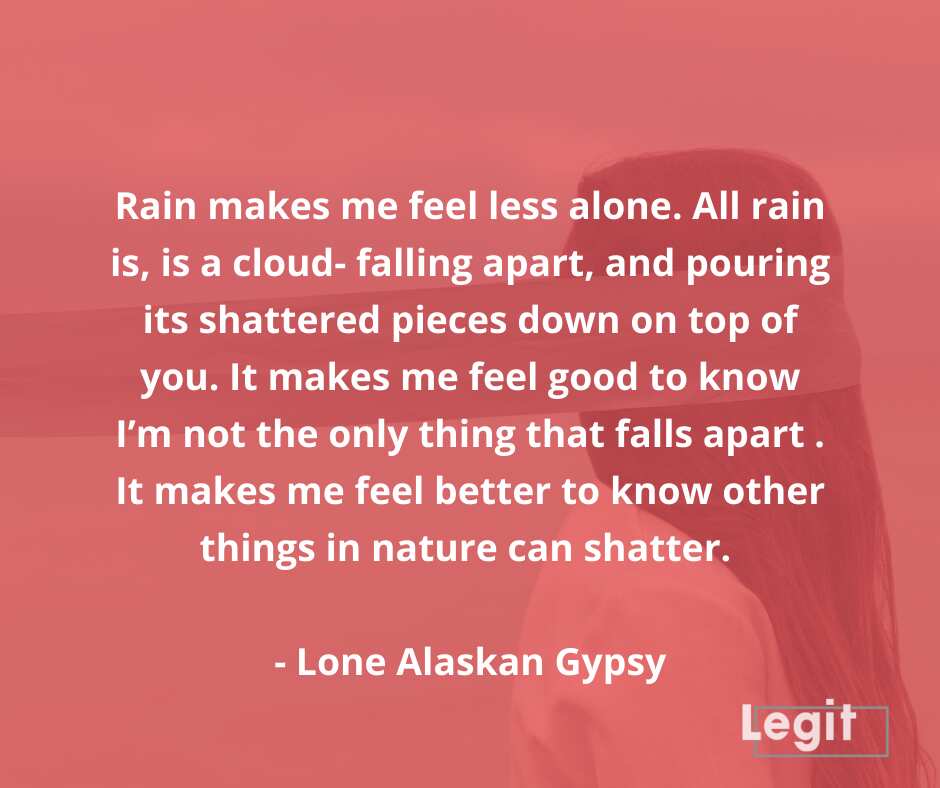 Rain makes me feel less alone. All rain is, is a cloud- falling apart, and pouring its shattered pieces down on top of you. It makes me feel good to know I'm not the only thing that falls apart . It makes me feel better to know other things in nature can shatter. - Lone Alaskan Gypsy
I'm continually inspired by nature, and the rainbow is one of nature's greatest optical phenomenons. The sighting of a rainbow never fails to bring a smile to people's faces. They signify optimism and positivity: with them comes the sunshine after the rain. - Matthew Williamson
The richness of the rain made me feel safe and protected; I have always considered the rain to be healing—a blanket—the comfort of a friend. Without at least some rain in any given day, or at least a cloud or two on the horizon, I feel overwhelmed by the information of sunlight and yearn for the vital, muffling gift of falling water. - Douglas Coupland
If you truly get in touch with a piece of carrot, you get in touch with the soil, the shower, the sunshine. You get in touch with Mother Earth and eating in such a way, you feel in touch with true life, your roots, and that is meditation. If we chew every morsel of our food in that way we become grateful and when you are grateful, you are happy. - Thich Nhat Hanh
I feel like I am the only happiest person when its raining outside. Because every other person is trying to hide under a roof and they miss the happiness which rain is showering on them.
6 sad rain quotes
Apart from the sweet memories that rainfall ushers in, we cannot overrule the fact that it can also invoke a bad mood. But guess what? When you cry and vent out your sadness, you end up becoming a better person. So, check out these quotes on rain.
The rain and the wind, the wind and the rain. They are with us like a disease: They worry the heart, they work the brains, they shoulder and clutch at the shrieking pane, and savage the helpless trees. - William Ernest Henley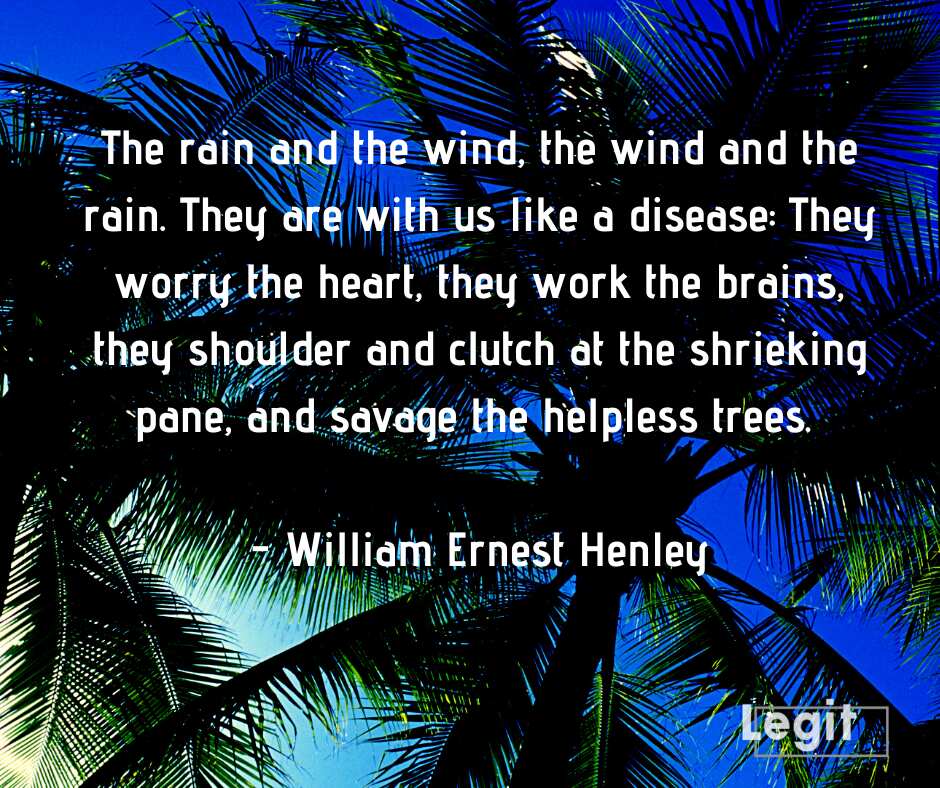 Love like rain can nourish from above, drenching couples with a soaking joy. But sometimes under the angry heat of life, love dries on the surface and must nourish from below, tending to its roots, keeping itself alive. - Paulo Coelho
It is one of the secrets of Nature in its mood of mockery that fine weather lays heavier weight on the mind and hearts of the depressed and the inwardly tormented than does a really bad day with dark shower sniveling continuously and sympathetically from a dirty sky. - Muriel Spark
The rain fluctuates between drizzle and torrential. It messes with your mind. It makes you think things will always be like this, never getting better, always letting you down right when you thought the worst was over.
The rain began again. It fell heavily, easily, with no meaning or intention but the fulfillment of its own nature, which was to fall and fall.
You pray for rain, you have got to deal with the mud too. That's a part of it.
Whether you prefer to dance like a child in the shower, cuddle up with your loved one in bed, or sit with a book by the fireplace when it pours, the rain quotes shared above will help you reflect your inner mood outwardly.
Source: Legit.ng