Italia Ricci bio: age, height, movies and tv shows
Italia Ricci is a beautiful prominent Canadian actress. Her fame significantly grew after appearing in the film, Chasing Life, a family drama series, as April Carver. She is also well recognized for playing a critical role in Comedy Central's Secret Girlfriend as Sasha.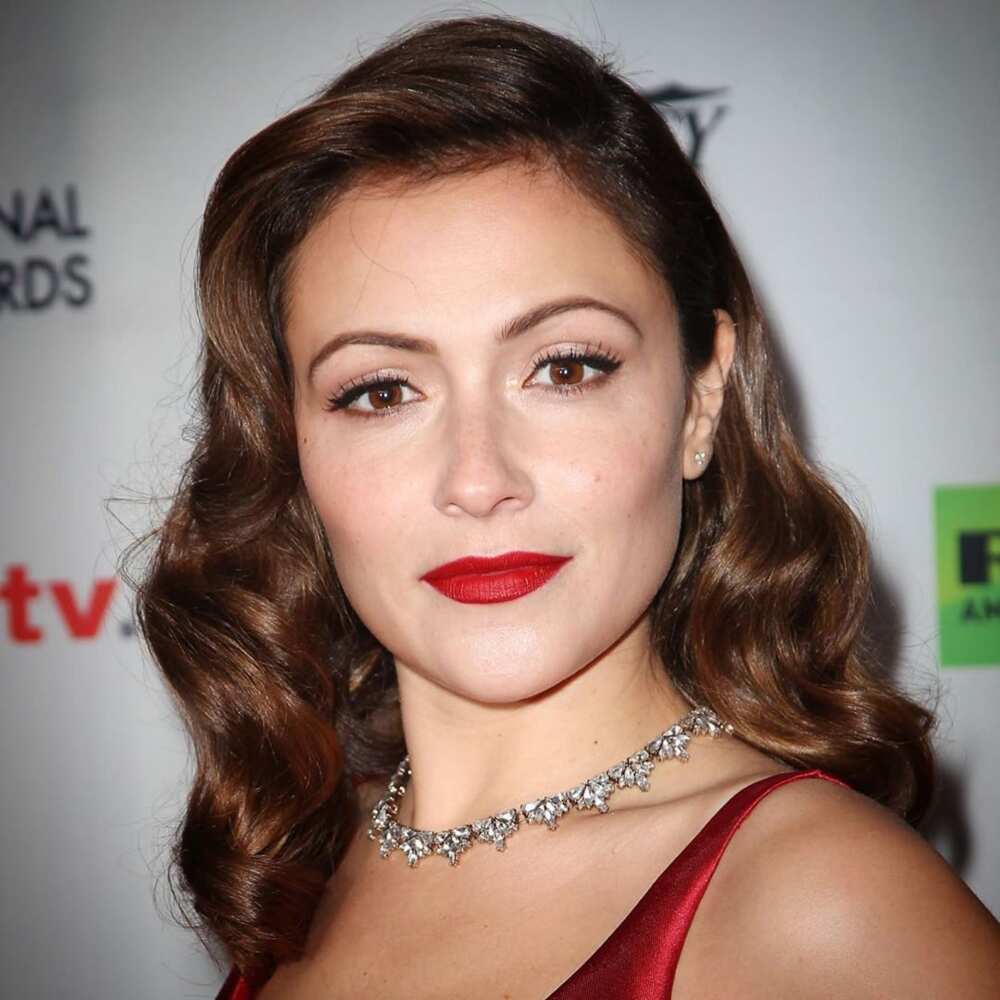 The beautiful, talented actress featured in Unnatural History, a Cartoon Network series, as Maggie Winnock. This is a series that won many hearts in Canada and in the United States of America. She has also played part in several movies such as Valediction, American Pie Presents: Beta House, Dean Slater: Resident Advisor, The Remaining, and Don Jon, among many others. In 2016, she starred in Designated Survivor, as Emily Rhodes.
Profile summary
Birth name: Stephanie Italia Ricci
Date of birth: October 29, 1986
Home town: Richmond Hill, Ontario, Canada
Age: 33 Years
Italia Ricci height: 5 feet 5 inches
Sun sign: Scorpio
Nationality: Canadian
Career: Actress
Instagram: italiaricci
Early life
The young actress was born on the 29th of October 1986, in Richmond Hill, Ontario, Canada. She is of Italian descent. Ricci has two handsome brothers, Vince Ricci and Mike Ricci, whom they have been raised together by their parents at her birthplace. She is a proud graduate of Queens University.
Career
Her career path came clear at a tender age. In 2007, the beautiful Italia made her main debut, in the movie American Pie: Beta house. Later, she featured in the film, Aaron Stone, Disney XD series. The talented celebrity was also part of the music video, Hate, by Plain White T's, and played the role of an ex-girlfriend. The star began appeared in many American films. She played several major and secondary roles in Greek, House, and How I Met Your Mother. In the same year, she got a recurring role as Sasha, in the famous series, Secret Girlfriend.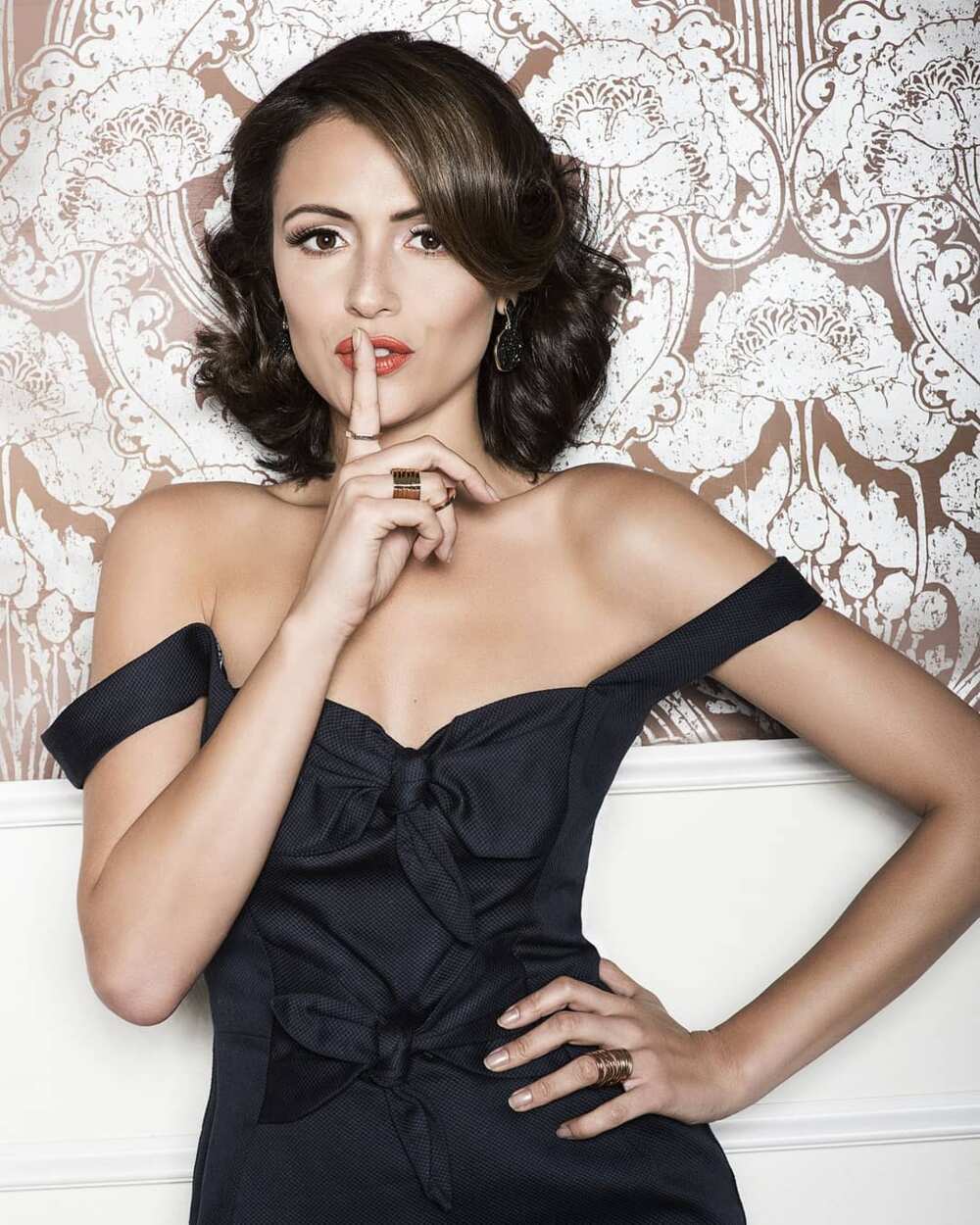 In the year 2010, the star played a significant role in Unnatural History, a live-action Cartoon Network series, as Maggie Winnock. The actress also appeared as herself in a film Clear and Clean commercial. Italia Ricci took part as Erica, in the film, Valediction. Back in 2013, she qualified to play a minor role in Don Jon, a Joseph Gordon-Levitt's directional film. In the same year, 2013, she got a chance to play the main role as April Carver in the series that famed in 2014, Chasing Life.
Italia Ricci movies and TV shows
The gorgeous actress has featured in a number of films and TV shows. Her acting capability has been giving her great opportunities to play various primary and secondary roles in different films. This has increased her fame in all corners of the world.
Movies
Listed below are all the movies that the beautiful Ricci has been part of:
2007-American Pie Presents: Beta House acted as Laura Johnson
2008- The Death of Indie Rock acted as Diane
2012-Valediction played as Erica
2013-Don Jon acted as Gina
2013-Dean Slater: Resident Advisor acted as Samantha Montaigne
2014-The Remaining acted as Allison
2015- Must Feed and Water as cast
2016-Late bloomer as cast
2020- Love in wonderland as cast
TV shows
The stunning actress has featured in various popular Television shows as shown below:
2009-Aaron Stone acted as Chase Ravenwood
2009- How I Met Your Mother as Hot Woman #1
2009-House acted as Immigration Officer #2
2009-Greek acted as Delia Episode
2009-Secret Girlfriend played as Sasha
2010-True Jackson, VP acted as Herself
2010-Unnatural History acted as Maggie Winnock
2012-CSI: Crime Scene Investigation acted as Vanessa Drake
2014–2015- Chasing Life acted as April Carver (lead role)
2015-Fatal Memories acted as Sutton Roberts
2016-Supergirl acted as Siobhan Smythe and Silver Banshee
2016-Designated Survivor played as Emily Rhodes
Awards
Italia's hard work and passion for acting have made her win the following awards:
Teen Choice Awards 2014
Golden Maple Awards 2015
Teen Choice Awards 2015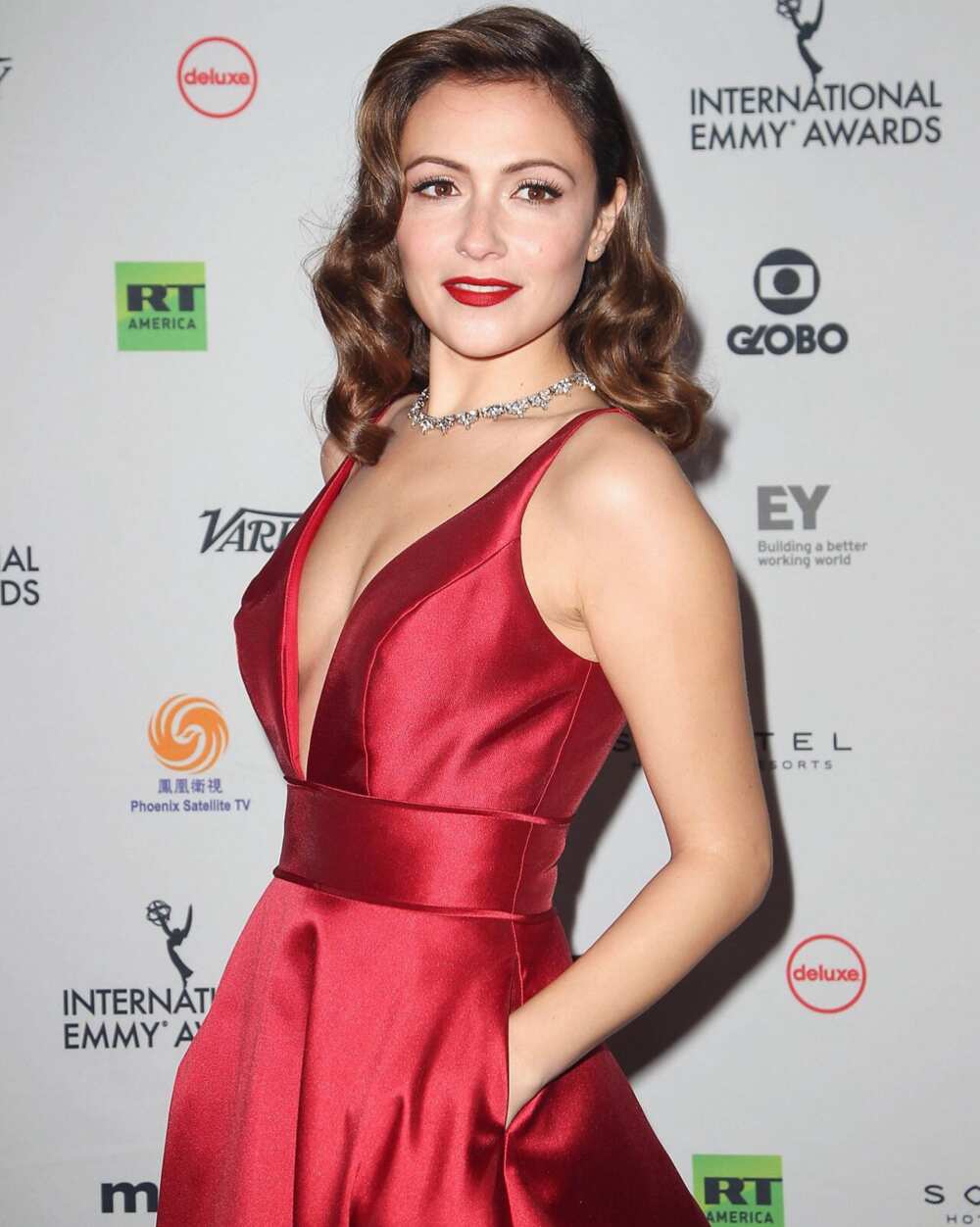 Italia Ricci measurements
Ricci has been perfecting her acting skills from time to time to be more successful in the film and entertainment industry. She has a unique physical appearance that makes her outstanding among many actresses. The beauty has been blessed with a very beautiful body, which she considered as her valuable asset. She does a lot of daily health workout, such as swimming, jogging, running, and cardio exercises to keep her body fit.
Below are her body measurements:
Weight: 50kg
Height: 5 feet 5 inches
Hair color: Brown
Eye color: Brown
Bust size: 32B
Bra size: 10B
Waist size: 61 cm
Hip size: 86 cm
Who is Italia Ricci married to?
The pretty Ricci started dating her partner Robert Patrick Amell back in July 2008. On August 19, 2014, the couple got engaged. Patrick is a popular actor in Canada who is professionally known as Robbie Amell. Her love, Robbie, shared the good news about their engagement on his Instagram handle saying:
She said yes!!!... I think. I can't really be sure. I'm going to marry my best friend. @italiaricci.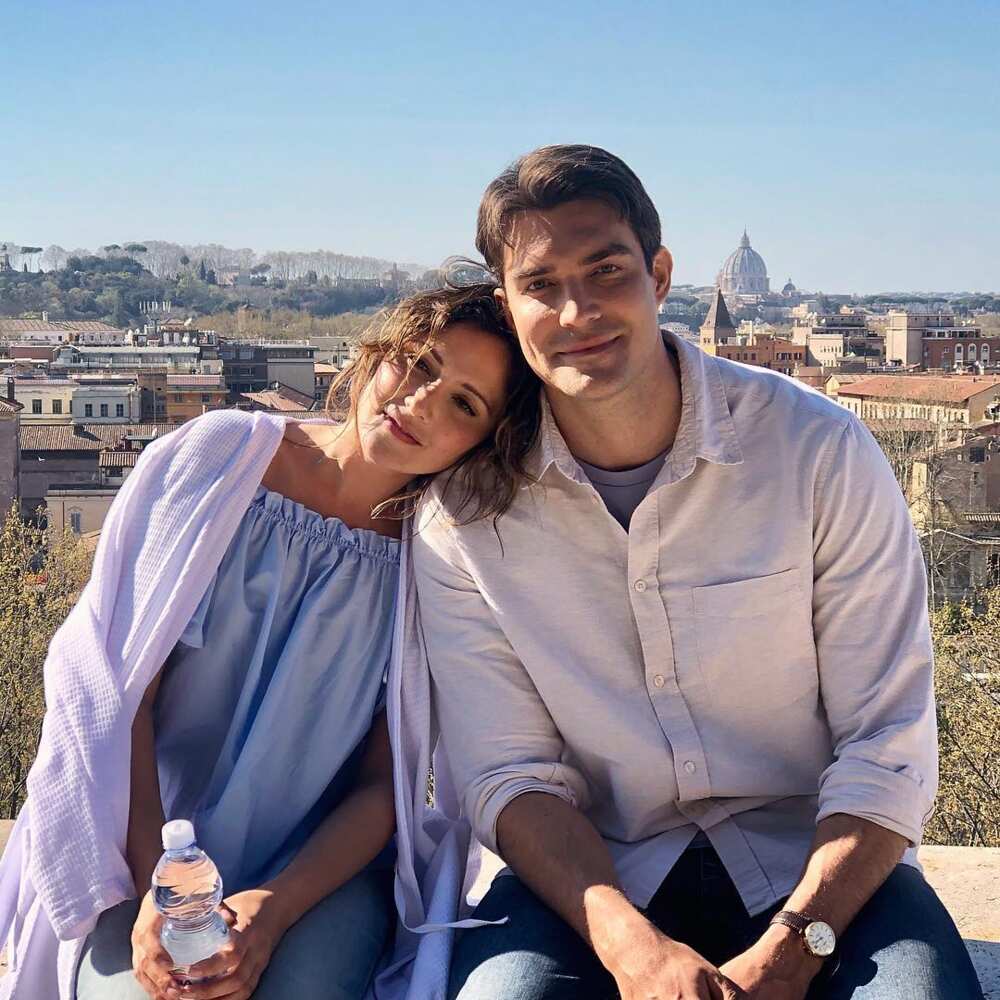 Eventually, they tied their nuptial knots on October 15, 2016, in Downtown, Los Angeles. The bride was in a beautiful James Clifford ball gown. Amell also looked more handsome in a Vera Wang tuxedo. The couple enjoyed their romantic marriage ceremony in presence of their close friends and family members. At that time, Italia Ricci age was 29 years.
Is Italia Ricci related to Christina Ricci?
The good-looking actress, Italia, is always mistaken to be a blood sister to the popular actress Christina Ricci. This is because they resemble each other, and their surname is similar. However, in 2016, Stephanie Italia clarified that they are not related at all. She is a Canadian, while Christina is an American.
Italia Ricci hot news
On Thursday, September 12, 2019, the lovely couple was blessed with their firstborn child. Holding their son in their arms was a great joy that the couple would not hide. The boy is named Robert Amell V. The Designated Survivor star posted the photo of their son's hand on her Instagram handle. She also quoted saying:
Today we welcome Robert Amell V into the world but also find out that being triple extra pregnant increases your odds of birthing Gollum.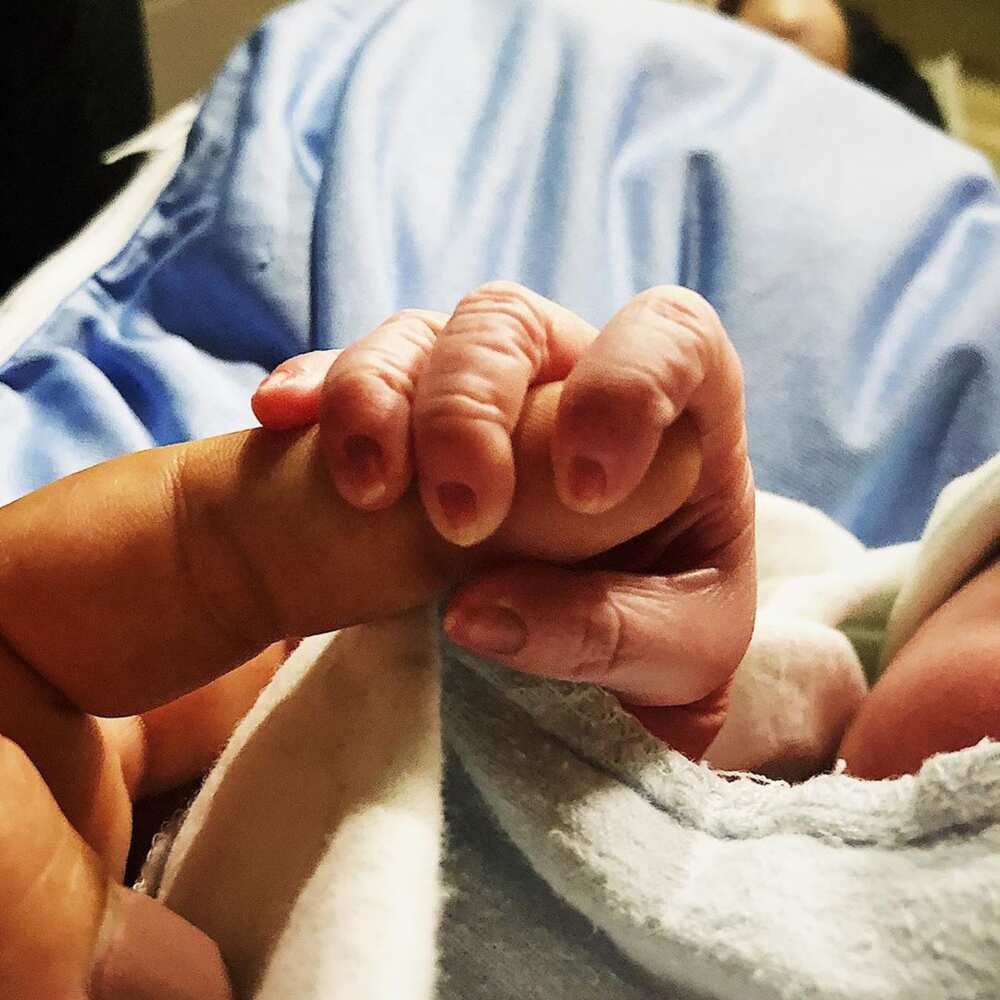 Facts about the celebrity
Below are some facts about the Supergirl star.
The pretty actress had enrolled to study law at the University of Toronto, but differed to give her acting dream a real trial.
She has supported One Heartland, a nonprofit making organization, which provides a good life to the children infected with HIV/AIDS.
The actress joined her friend in the film, American Pie Presents: The Naked Mile in 2006. Later, she was upgraded to cast in the movie, American Pie Presents: Beta House in 2007.
Net worth
The celebrity has accumulated a lot of wealth from her acting career over the years. Her hard work in the film and entertainment industry has produced successful results. She earns $83,333.33 dollars per month. Her net worth is estimated to be about 4 million dollars.
Italia Ricci, a popular actress, has been very ambitious throughout her acting career. The celebrity has been doing her best in all the films and TV shows she has been part of. This has made her more competitive against other actresses in the film and entertainment industry. The actress's passion for acting has positively impacted her life in a great way. Italia's ability to win many hearts has significantly increased her admirers. Her career path is much successful and worth emulating.
Source: Legit.ng