Bray Wyatt bio: age, wife, tattoos, net worth, brother, twitter
The superstar Bray Wyatt is an American professional wrestler who is widely known as The Fiend. He leaves his watchers in a state of surprise with his enthralling performance and astonishing character. Before he goes into the ring, the auditorium goes dark, and a multitude of supporters lift the lighters and shining cell phones. His entrance theme is Broken Out in Love/Live In Fear and The Deletion Anthem.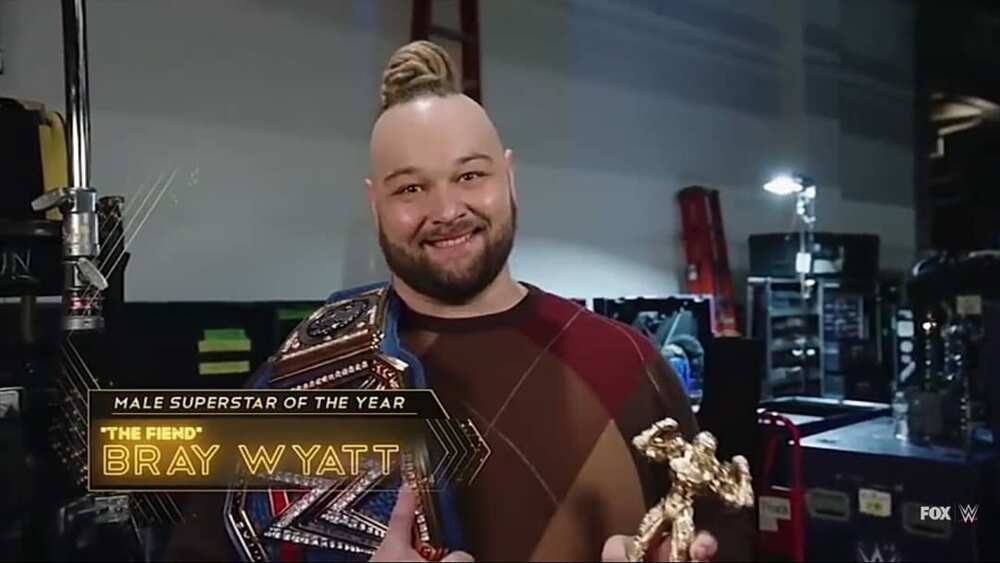 The Fiend was recently endorsed to WWE and served on the Raw brand. In 2019, he made a comeback to WWE with a section named the Firefly Fun House. The section imitates a children's show, but it is rather dangerous with its twisted imageries and symbols.
Wyatt profile summary
Birthname: Windham Lawrence Rotunda
Nickname: The Fiend
Date of birth: 23rd of May, 1987
Age: 32 years old
Children: 3
Place of birth: Brooksville, Florida, United States of America
Spouse: Samantha Rotunda (ex-wife)
Profession: Wrestler
Nationality: American
Debut: 2009
Coach: Barry Windham
Height: 6 feet and 3 inches
Weight: 129 kg
Championship held: WWE Championship and universal championship
Ring name(s): Alex Rotunda, Axel Mulligan, Duke Rotunda, and Husky Harris
Parents: Mike and Stephanie Rotunda
Grandfather: Blackjack Mulligan
Siblings: Taylor and Mika
Relatives: Barry and Kendall Windham (uncles)
Background information on Bray Wyatt
What is Bray Wyatt's real name? His real name is Windham Lawrence Rotunda. He was born in Brooksville, Florida, in the United States of America. The all-star wrestler is a third generational wrestler who is treading in the laid pattern and following in the footsteps of his granddad, Blackjaj Mulligan, his dad Mike Rotunda and two of his uncles Barry and Kendall Windham.
Bray Wyatt The Fiend carried the FCW Florida Tag Team Championship alongside his brother. He finished from Hernando High School. The school served as a training ground for him as it groomed him for his profession. At the high school, he won a state wrestling championship at 275 pounds in 2005. He passed out from the school that same year.
Furthermore, he chose a career in football for a while and played football as a defensive tackle and guard. He also played at the College of the Sequoias for a couple of seasons, and he attained second-team All America honours as the sophomore offensive guard. This availed him the privilege of a scholarship to Troy University, where he played collegiate football for two years.
However, he left Troy University while he was at the verge of earning a bachelor's degree and decided to start a wrestling career fully.
How old is Bray Wyatt?
The all-star wrestler is 32 years old. He was born on the 23rd of May, 1987. Bray Wyatt birthday is in a few months from now. So, he would be 33 years old by the 23rd of May, 2020.
Bray Wyatt career
The all-star wrestler is a one-time champion of WWE Championship, The Raw Tag Team Championship and the SmackDown Tag Team Championship. He has opted for several ring names between 2010 and 2013. The Fiend is the name he adopted for his masked alter-ego. He earned his professional debut in Florida Campus Wrestling, 2009. He did this under the name Alex Rotundo and later swapped to Duke Rotundo.
He earned his second NXT debut in a tag squad match with Cody Rhodes against Montel Porter and Percy Watson. However, he was removed from NXT in 2010. He came back to FCW after Randy Orton punted him. He debuted the character of Bray Wyatt in 2012 and underwent a torn pectoral muscle the same year.
Bray Wyatt contract with the Watt family ended after attacking one of the family members. He defeated Matty Hardy on the 28th of January and challenged The Undertaker for a contest at WrestleMania 31. Sadly, he was crushed by Undertaker. He came back to WWE in 2019 with a different hair, a shorter beard, and a leaner physique. The intro of The Fiend identity brought great fame to him, and fans could only imagine what Bray Wyatt 2020 big moves would be.
Who is Bray Wyatt married to?
The all-star wrestler got married to his high school lover Samantha in 2012, and they had two kids together, Cadyn and Kendyl. The relationship was all blissful until Bray Wyatt wife filed for divorce in March 2017 after finding out that her husband had an affair with WWE ring commentator JoJo Offerman.
However, the divorce only strengthened the relationship between Bray and JoJo Offerman, whose real name is Joseann Offerman. In September 2018, the star wrestler made his relationship with Offerman public, and he moved to Miami, Florida, the U.S.A. with her.
JoJo also declared openly on the 27th of March, 2019, on the Instagram platform that she was pregnant with Bray Wyatt baby. She said they were expecting a baby boy and he would be named Knash. In her words, she said:
This has been the most amazing experience of my life. I could not be happier!!! This truly has been the greatest blessing, and words cannot explain how ready and excited we are to meet you.
Bray and JoJo welcomed their baby on the 18th of May, 2019. Bray Wyatt WWE Champion seems to have started building his son's alliance with WWE, having carried Knash to the Raw Reunion Show so he could meet everyone in the rooster.
Are Bray Wyatt and Bo Dallas brothers?
Bo Dallas, whose real name is Taylor Michael Rotunda, is Bray's younger brother and an American professional wrestler. He is also signed to the World Wrestling Entertainment, Inc. He uses the ring name Bo Dallas to perform on the SmackDown brand.
Interestingly, he was FCW Florida Heavyweight Champion three times while he was in the developmental territories of WWE. Apart from that, he has also emerged as FCW Florida Tag Team Champion two times alongside his brother Bray Wyatt. Then, he once held the NXT Championship.
What is the significance of Bray Wyatt net tattoos?
Aside from the all-star wrestler's captivating character, ring names and unique wrestling styles, he has also got over ten tattoos on his body, and every tattoo has its significance and meaning. Recently, he got a skull tattoo on his hand with black and red colors.
On Bray Wyatt Twitter account, he uploaded the picture and explained the meaning of the tattoo, which implies "let's go to war." Other tattoos on his body range from the combination of animal tattoo to aggressive wolf tattoo, unidentified pattern tattoo, and two skulls tattoo.
How much is Bray Wyatt net worth?
Bray Wyatt has not declared his net worth openly. However, it is assumed that he has an estimated net worth of over $850,000. He earned $1 million as an annual income in 2018 from his wrestling career. Apart from his salary, the all-star wrestler also makes extra cash from the main event income share.
Bray Watt Twitter
It would interest you to know that the professional wrestler has made a significant impact on his social media account, and he is loved and observed by many. With over 1.3 million followers on her twitter page alone, you would concede to the fact that he has etched his name in the heart of many. His Twitter handle is @WWEBrayWyatt.
The third-era wrestler Bray Wyatt is climbing the ladder of success daily with his captivating character, persistence, and doggedness. He is a few steps closer to his milestone. His success story is a motivation for many youngsters who hope to start a career in the industry.
Source: Legit.ng