Unique baby gender reveal ideas for family
Finding out whether you are having a baby boy or girl is a wonderful thing. How you disclose this news to those close to you is important. You need to get the most interesting gender reveal ideas for your big announcement. Here is a quick summary of five unique ways to reveal this news to friends and family.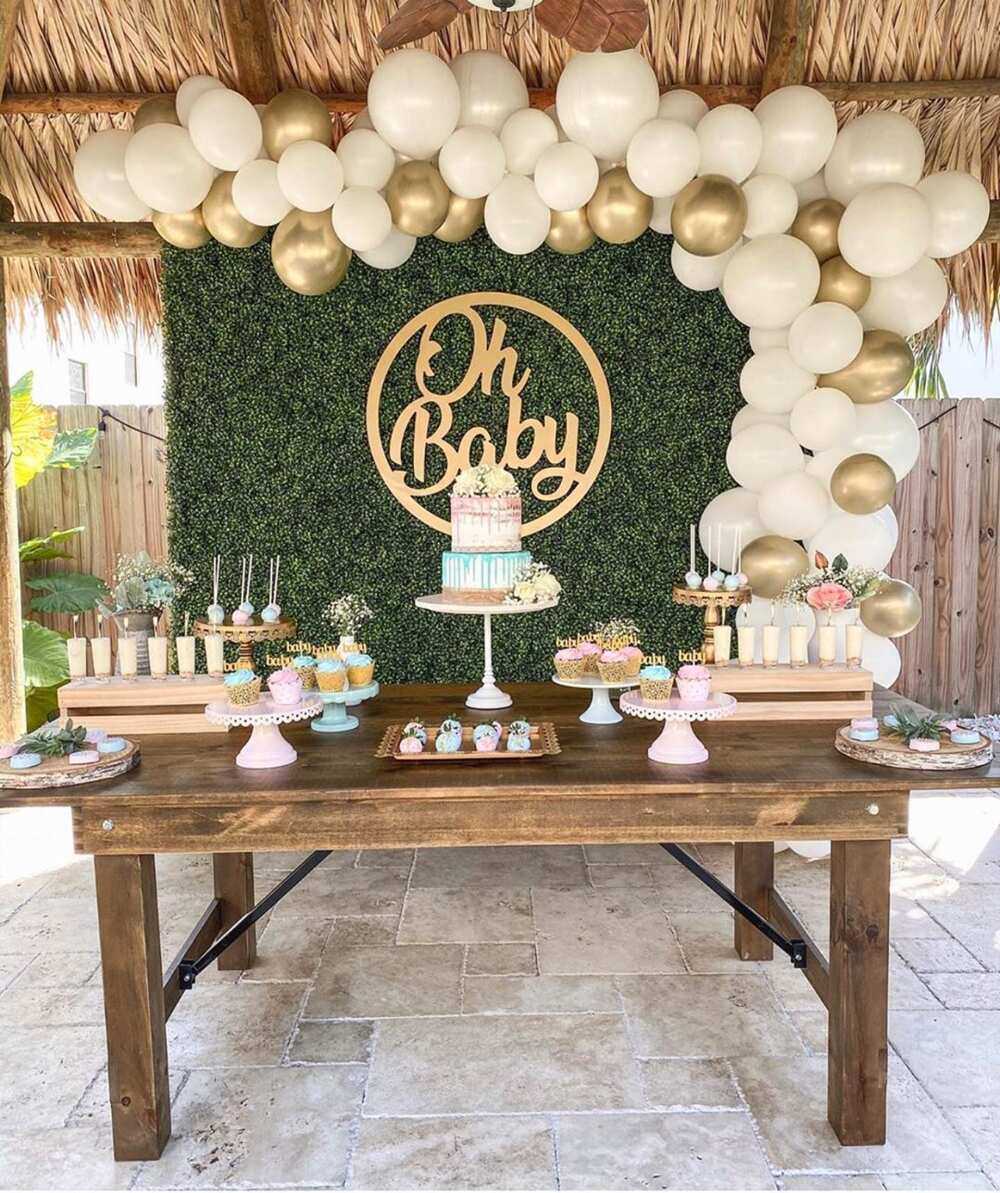 There are plenty of unique gender party reveal ideas you can choose from. Whether it is a baby boy or a girl, there are a number of creative ways to make the announcement.
In this article, we give you the most exclusive ideas that will turn your baby's gender reveal party into a memorable event. We also answer frequently asked questions like "how do gender reveals work?"
What is a gender reveal party?
With the advancement of technology, most parents to be are able to find out their baby's gender many months before birth. To announce this news to friends and family, a reveal party is held.
So, when should you have a gender reveal party? The best time to have this celebration is any time after 20 weeks of pregnancy. This is because at 20 weeks, a sonographer should be able to accurately identify the child's gender.
Note that this party is only meant to let friends and family know what you are expecting. Those gracing the occasion are not expected to carry any gifts for the unborn baby or parents-to-be. However, guests may bring along gifts if they wish to.
Gender reveal themes can be chosen based on the couple's preferences. For example, one can have a bee theme with the tag line "boy or girl, who will it bee?" or a kitchen themed party with the tag line "there is a bun in the oven".
Gender reveal ideas
At the party, you must have an elaborate surprise that lets your loved ones know whether you are having a boy or a girl. Here are five unique baby gender reveal ideas you can borrow:
1. Cloud of powder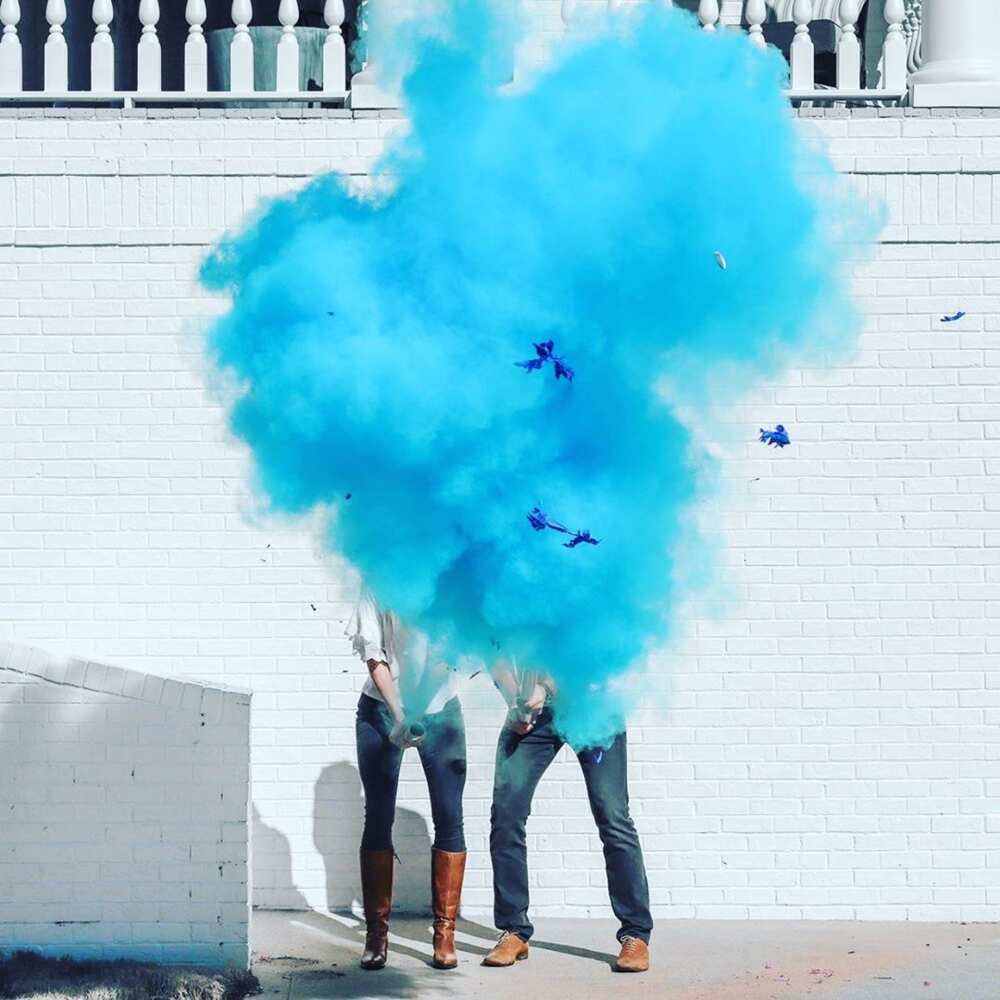 Traditionally, Hindus are known for their practice of using coloured powder during their popular Holi spring celebration. Nowadays, this powder is considered one of the best ways of revealing if it is a boy or girl.
So, how do you go about this? Begin by planning an outdoor event where you can enjoy and celebrate. Ensure that your cameras are well set.
Have a powder-filled baseball or golf ball that you will use. Throw the ball, and let your spouse hit it with a bat. Then, you will have an explosion of colour that shows the baby's gender.
2. Fireworks
Fireworks will, without a doubt, add dramatic flair to your gender reveal ideas for family. The colours you use will depend on whether the child you are expecting is male or female. You can decide to use purple for a girl and black for a boy instead of the conventional pink and blue.
However, since you do not want your fireworks party to end up in flames, you must be extremely careful. Involving a specialist in this process will save you a great deal of trouble. Hosting a party is a great idea, but safety is paramount.
3. Coloured cake
Cake cutting is one of the simplest baby reveal ideas to consider. You can have one big cake or several cupcakes with a hidden blue or pink colour inside. As people have a bite of the cake, they will find out whether you are expecting a girl or a boy.
During the party, make sure that cameras are well set to capture the surprise. Gender reveal cake ideas are cost-effective because guests will get to eat the cake afterwards.
4. Balloon archery
If you want to get a little messy for the big announcement, paint splatter gender reveal party games are exactly what you need. Fill a balloon with non-toxic paint and have your guests try to pop each until they find the one with a unique colour. If you are having a baby girl, only one balloon should be filled with pink paint and vice versa.
If the paint is too messy for you to handle, you can fill your balloons with confetti. Be ready with a cleanup crew because this is one of the gender reveal games that cause quite a ruckus and leave lots of tidying up to be done.
5. Boxed surprise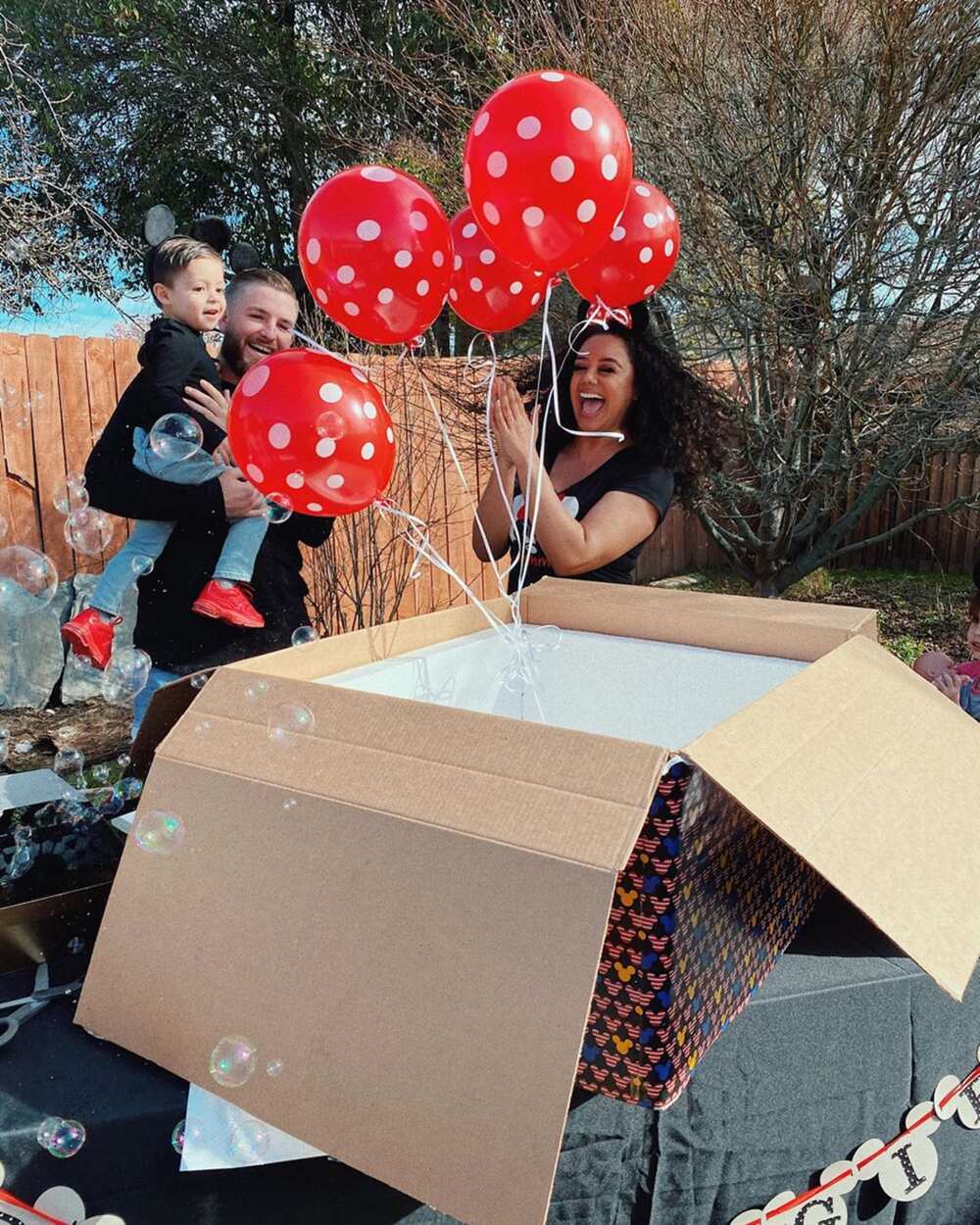 Are you too busy to plan an elaborate party? Having a boxed surprise is one of the easiest ideas. Fill a large box with balloons that have your chosen colour. When you are ready to tell your loved ones whether you are having a boy or girl, simply open the box and let the balloons float out.
Remember to catch the balloons before they float too far. It is irresponsible to litter your neighbourhood with balloons because they can be a choking hazard to kids and pets.
Although we have only listed five, there are hundreds of gender reveal party ideas. You can also come up with something creative that is yet to be done by other parents to be. Others worth trying are piñata play, scratch cards, smoke bombs, makeup, and confetti cannons.
Gender reveal ideas are made more interesting if you find out your baby's gender at the same time as your guests. Give your party planner the results of your ultrasound scan, and request for one of these party ideas.
Source: Legit.ng