Christmas card messages, wishes and quotes
We use Christmas card messages, wishes, sayings and quotes to tell our loved ones how much we have appreciated their love and support throughout and the year. The search for Christmas card ideas is very high during this time as everyone is looking for the best way to give gifts and the accompanying messages.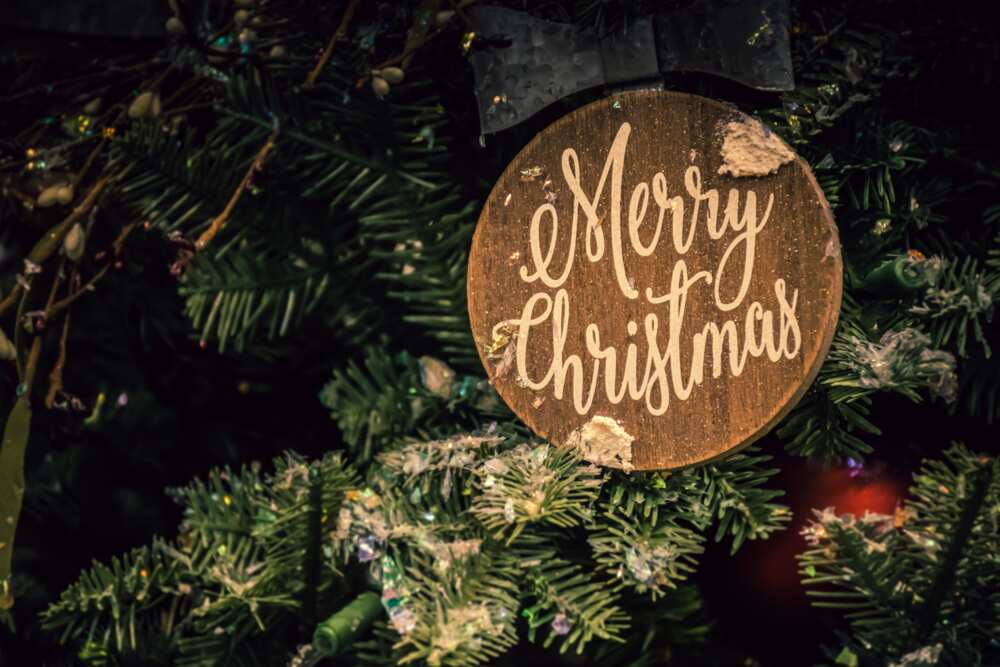 If you are confused or at a loss on what to write in a Christmas card, here are some ideas on merry Christmas quotes, sayings, wishes and more to help you wow your family and friends this festive season.
Christmas quotes
"Dear Lord, with the quietness of the mind, teach us to be patient and kind"
"Christmas is the perfect time to celebrate the love of God and family. A time to create memories that will last forever" - Joel Osteen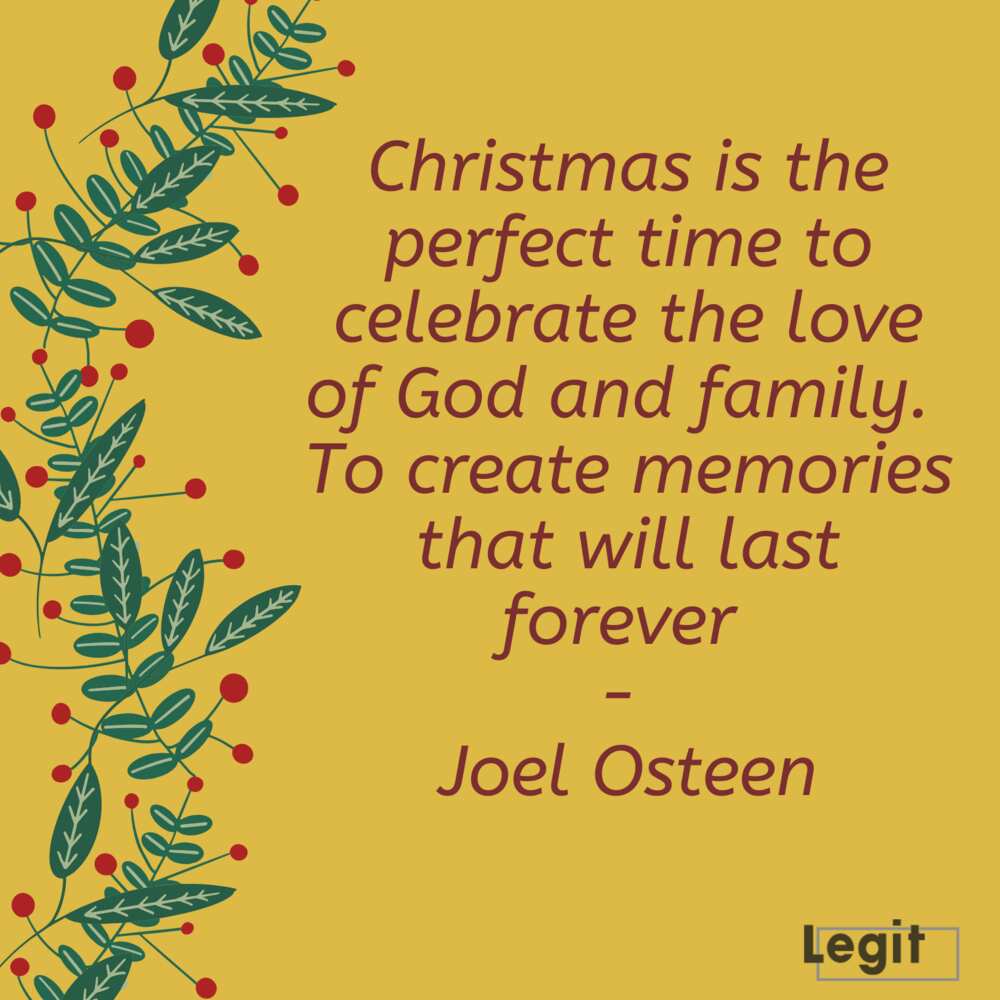 "Maybe Christmas," the Grinch thought, "does not come from a store" - Dr Seuss
We spend the bulk of December wondering what the best thing to buy for those around us is and fantasizing about what they might buy for us. However, Dr Seuss, through this quote, reminds us that gifts and things that can be purchased are not what the season is about. It is, instead, about the love shared between neighbors.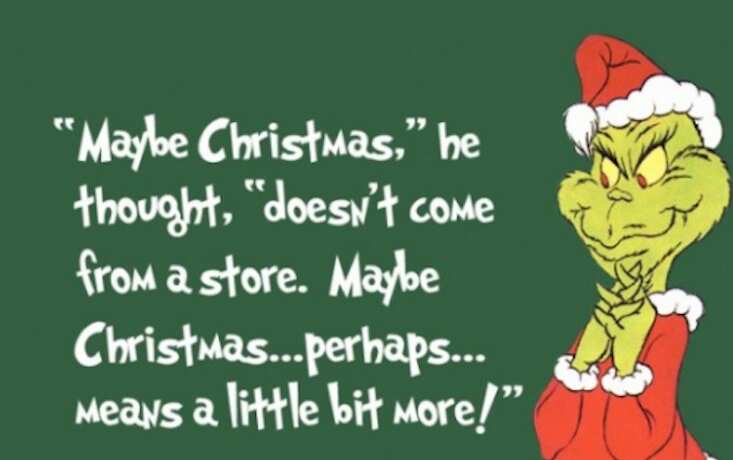 "It is not a time nor a season. It is a state of mind. To be plenteous in mercy. It give us the chance to cherish peace and goodwill" - Calvin Coolidge
"Some tree ornaments do more than glitter and glow, they represent a gift of love given a long time ago." - Tom Baker
This season celebrates the birth of Jesus and marks the beginning of his life anew as he goes through his life until when he dies for the sins of humankind. This is the love that this saying talks about.
"Santa Claus is anyone who loves another and seeks to make them happy; who gives himself by thought or word or deed in every gift that he bestows." - Edwin Osgood Grover
Like Cupid on Valentine's Day or Leprechauns on St. Patrick's Day, Santa is the season's mascot. This quote tells us that we do not have to ride around on reindeers and fall through chimneys to emulate him. All we have to do is be kind and giving to those around us.
"Let us have music… Sound the trumpet of joy and rebirth. Let each of us try, with a song in our hearts to bring peace to men on earth" - Mildred L. Jarrell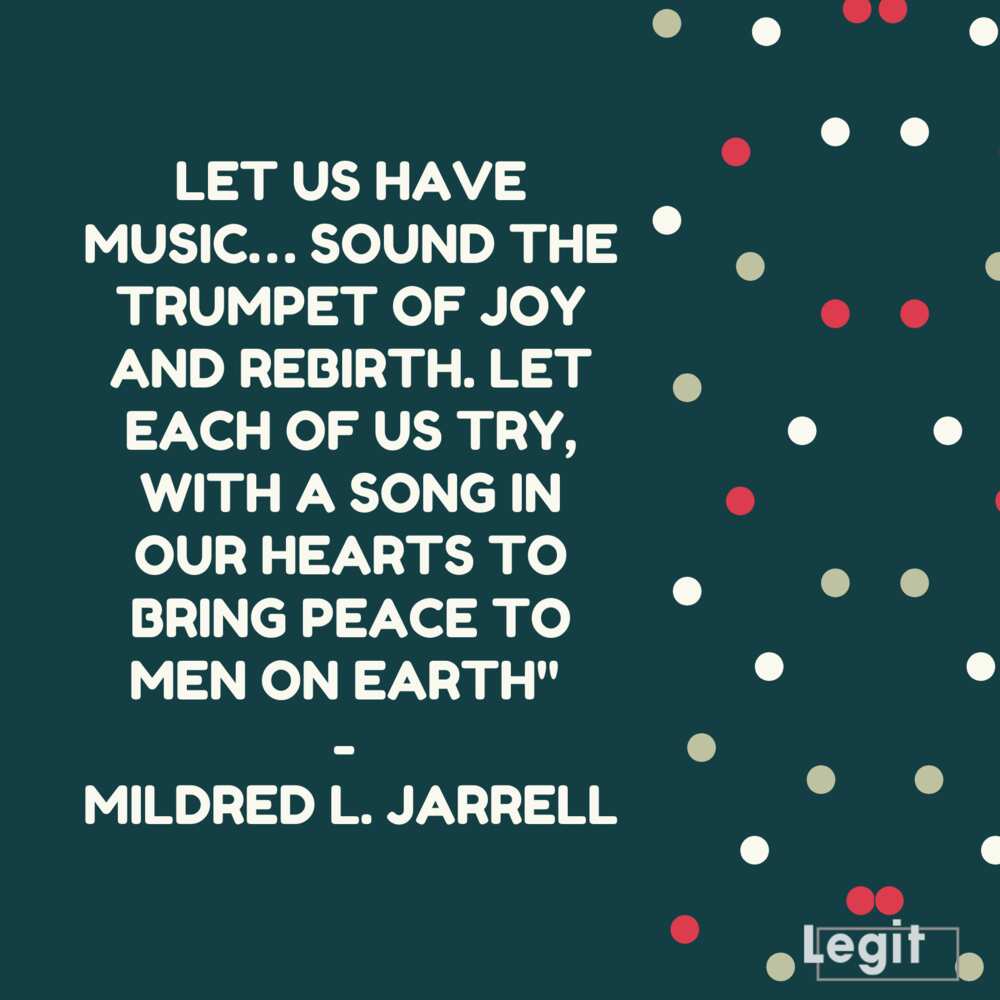 "God goes to those who have time to hear him—and so on this cloudless night, he went to simple shepherds." - Max Lucado
During this time, most of us are busy celebrating, buying gifts, traveling and filling our days with as many fun activities as we can. This quote reminds us to take a minute to talk to the Lord. Maybe once we do this, we can hear him and the plans he has for us.
Merry Christmas funny cards
While this festive season is generally a great time all around, not everyone is usually in a position to have a happy Christmas. This could be due to sickness where they are stuck in the hospital or due to particular misfortunes such as death or loss of property. If you know anyone in such a situation, then funny Christmas cards with great merry wishes would be an excellent gift for them. It will help take away their minds from heir sorrows, at least for a while.
Dreaming of a white Christmas. But if the white runs out, I'll drink the red.
Be naughty. Save Santa the trip.
It is time to feel the Christmas spirit... Gin, Tequila, Whiskey.... All the spirits
This year, I am going to lay under the tree to remind my family that I am the gift
While I love you all, let us all agree that the best part of this holiday is the cookies
Do you know those commercials where the present is a brand new car with a big red bow? Yeah, we're not doing that.
Don't forget your buddies during this happy time. It is always bros before ho ho ho's.
When shared among old friends, this card sayings can also be dirty.
Christmas (noun). The only time of the year where one can sit in front of a dead tree and eat candy out of socks.
Merry Christmas! Staying on the 'Nice List' I trust?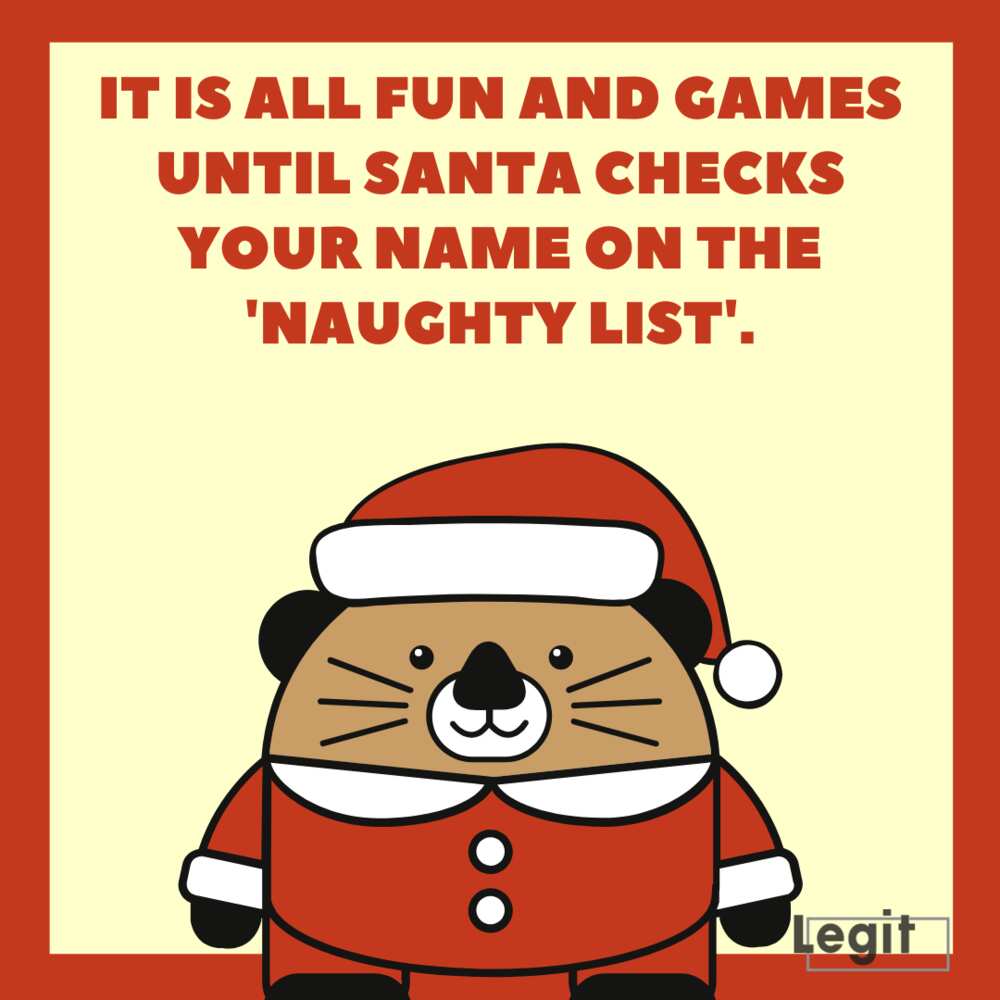 It is all fun and games until Santa checks your name on the 'Naughty List'.
These two can be sent in a card to both grownups and children.
What's the difference between a snowman and a snowwoman? Snowballs!
Why does Santa always pick the last sleigh in his garage to take out on Christmas Eve? Because he insists on having the final sleigh!
Why did Santa order a performance of The Nutcracker at the North Pole? He wanted to see some Pole dancing!
What do you call an elf that runs away from Santa's workshop? A rebel without a Claus!
Please note: Christmas is cancelled! Apparently, YOU told Santa that you have been GOOD this year... he died laughing!
Christmas sayings
These can be used as Christmas card sayings. They reflect the spirit and heart of the season while spreading love, cheer and good vibes to whomever we wish to wish good tidings during this festive time.
"It's not how much we give but how much love we put into giving." - Mother Theresa
She was known for her charity work. She emphasized the importance of helping and giving to the less fortunate. This is the perfect saying that can help us embody her teachings during this season.
"Christmas is not a story of hope. It is hope." - Craig D. Lounsbrough
Not only does this festive period mark the birth of our Lord and Savior and the new beginnings in every believer's life, but it also marks the year coming to an end. If this year has not been good and kind to you, do not fret as it is ending and the chance for a fresh beginning is coming.
As long as we know in our hearts what Christmas ought to be, Christmas is." - Eric Sevareid
It's Christmas in the heart that puts it in the air
On this lovely and blessed night, remember to follow a star. It just might bring you to the light of the world.
As we celebrate this incredible season together, I wish that there was a way to capture and bottle this season's spirit so we may open it every month
What is Christmas to you my darlings? To me, it is tenderness for the past, courage for the present and bright hope for the future.
Merry Christmas greetings
A happy festival time to you and yours.
May you never be too old to look up on Christmas Eve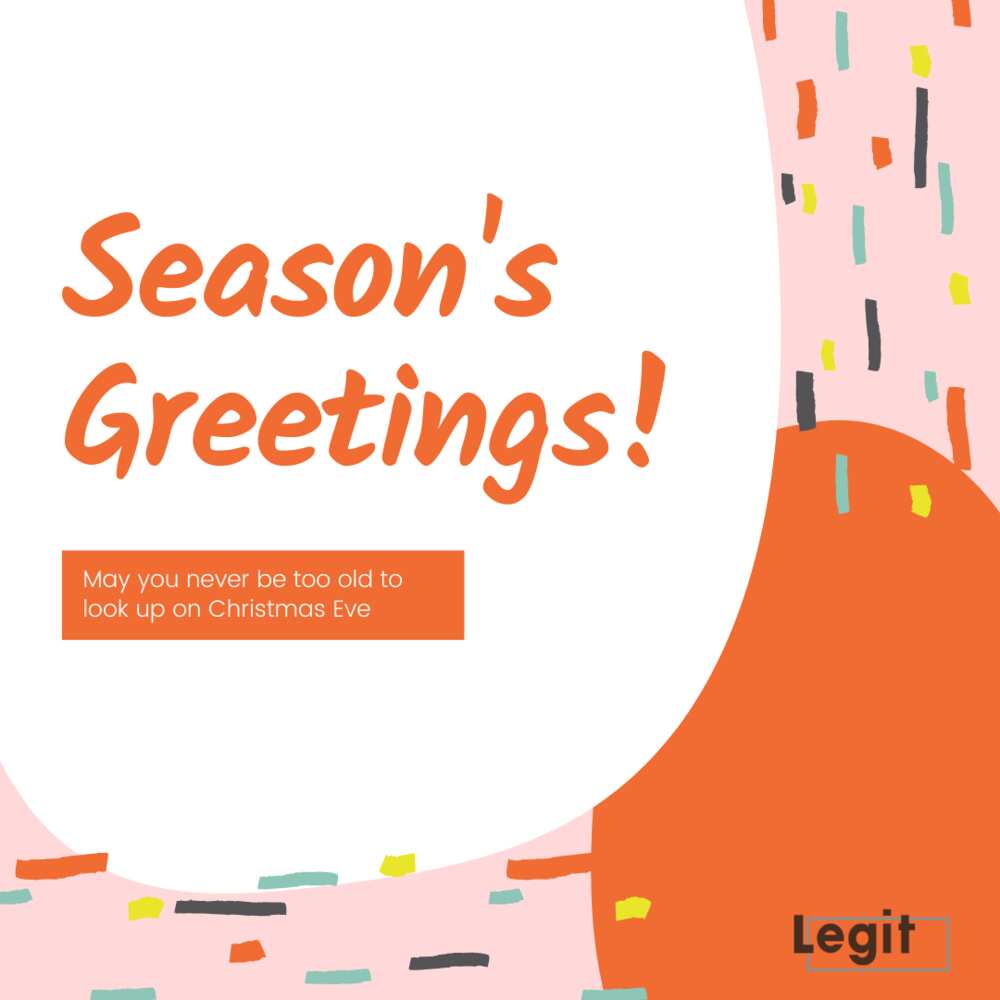 Merry Christmas wishes to you and a Happy New Year!
They say that 'old is gold' and this can be proven with the above wish. While it has been around forever, it remains perfect due to its simplicity. It is a perfect one to send to people you are not that close to, for example, your boss and co-workers.
Wishing you love peace and happiness during this particular season.
May everything on your wishlist come true. Happy Holidays!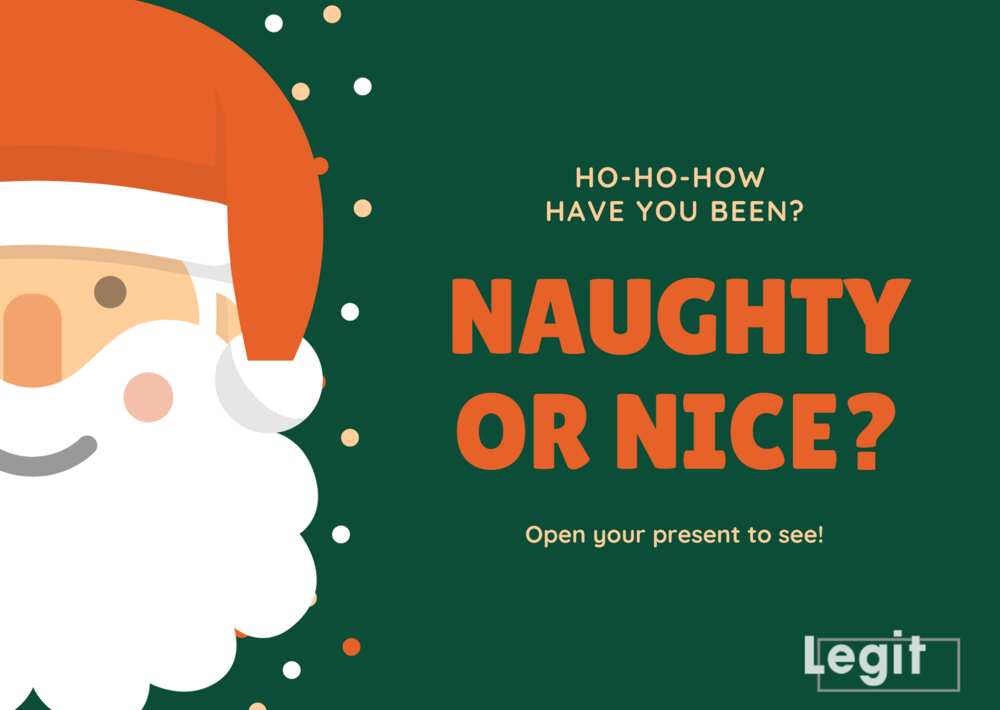 If I could personally talk to Santa this special season, I would ask him to bring you happiness and peace.
We may not be together this Christmas but my heart beats with yours. I am sending you love hugs and the warmest greetings.
We love and appreciate receiving Christmas card messages from loved ones and friends. This festive season, be sure to send some of these messages and sayings to those around you so you may make this day feel even more special.
Source: Legit.ng