Burna Boy - Another Story ft M.anifest: audio, lyrics, reactions
You will appreciate the music by the currently trending African singer in the new banger by Burna Boy - Another Story. In his usual fantastic style, the star does not disappoint. As he informs and educates, the song has everything you need in a great hit.
Burna Boy is an excellent artist whose music style keeps fans hooked. His 'Another Story' hit is a perfect description of how great lyrics and beats are all you need to create a musical masterpiece. The results are epic.
Burna Boy - Another Story description
Released: July 25th, 2019
Format: mp3
Genre: Afrobeat
Length: 4:16 min
Label: Atlantic Records
From the narration to the beats and overall sound, the track comes together beautifully. It is easy to see why this catchy song will soon become a household banger. The track tells a story, a history that Nigerians can identify with. The fact that it is done through music is even more brilliant.
Burna Boy - Another Story reviews and comments
With such a huge following, Burna Boy attracts a lot of new and die-hard fans. Check out what people have had to say about the song so far. Most of the YouTube comments are positive, owing to the fact that it is impossible to ignore good quality music. You can only give a thumbs up for work well done.
ZECC TV: This man is channeling fela kuti's spirit! Hé is the definition of authenticity in afrobeat... Just like manifest in Ghana hip hop...Peace from Senegal
Airuero Adrian Aibangbee: Burna Boy is channeling something even bigger than himself, Burna leads a movement to usher in a period of true african supremacy. The oils and resources of Africa has fuelled the industrialisation of the world the same way the percussions of our culture has formed the background of every true sound of the earth.This is more than just music, it is about the awakening of civilisation to the realisation of Africa's true position in global schematics - Africa Arise. God bless you Damini Ogulu for this sound.
GREATEST SaWes: Nigeria, Ghana, Kenya, Tanzania, Namibia, Southern Cameroon, Uganda, etc. Same oyibo, same yawa...
Vibes With Bristotle: #godMc M.anifest killed it as usual. M.anifest is a great talent
Enoch Tettey: Herrrh Burnaboy. Oluwa. This is what I'm talking about. Real music. Manifest too dope wow.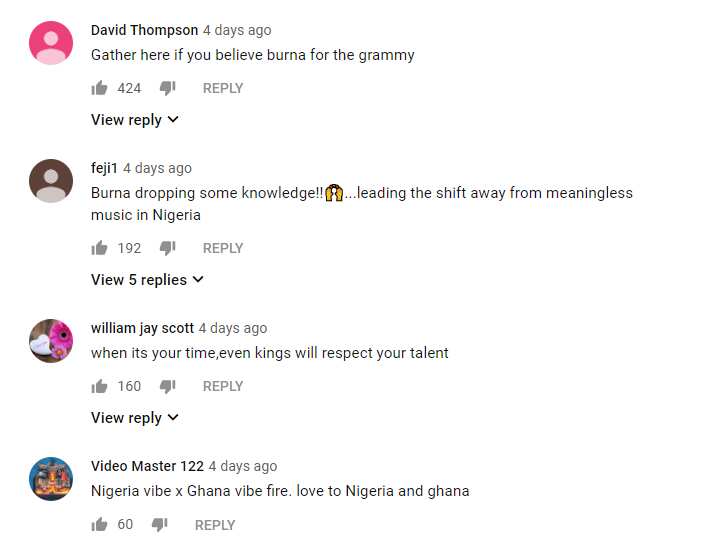 Fans seem to love the fact that Burna is telling a story that they can identify with.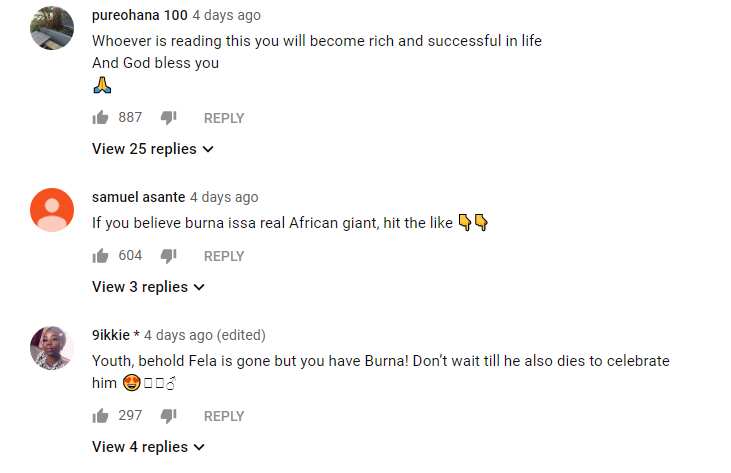 The giant is an excellent musician, and everyone agrees with this.
READ ALSO: Tshego - No Ties ft. King Monada audio, lyrics, reactions
Burna Boy - Another Story lyrics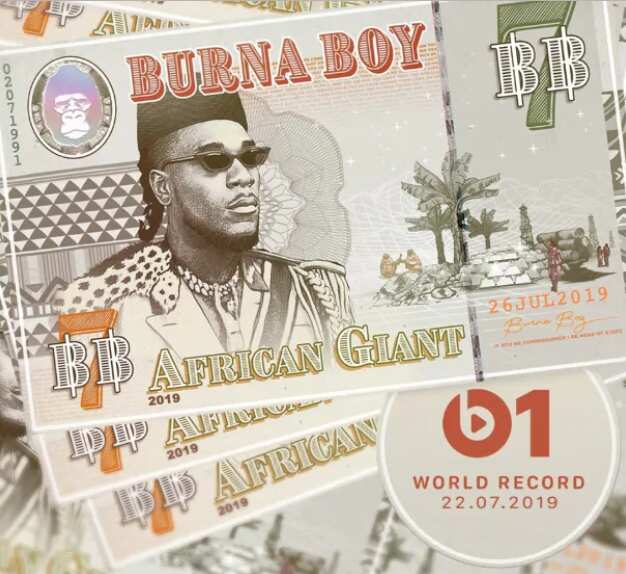 When a song is this good, you will want to sing along. Check out the lyrics below.
[Intro: Jide Olanrewaju]
To understand Nigeria, you need to appreciate where it came from
In 1900, Britain officially assumed responsibility for the administration of the whole of what we now know as Nigeria from the Niger Company
And then, gradually over the years, British protectorates were established throughout the territory
In 1914, the protectorates were amalgamated into one Nigeria
Actually, there's one additional detail that bears mentioning. In order to take over the territories from the Niger Company, the British Government paid 865,000 pounds. A huge amount in 1900. So let's establish a simple truth, the British didn't travel halfway across the world just to spread democracy
Nigeria started off as a business deal for them, between a company and a government. Incidentally, the Niger Company is still around today. Only it is known by a different name, Unilever
But that's another story
(It's Kel-P vibes)
[Hook: Burna Boy]
Ay!
They wanna tell you o, tell you o, tell you o
Another story o, story o, story o
Since 1960 them dey play us, why o
Shey we go dey cry forever more o
E dey pain me, ga-ga o (Ahh)
E dey pain me, ga-ga o (Ay)
E dey pain me, ga-ga o (Ahh)
E dey pain you, ga-ga o (Well, well)
E dey pain me, ga-ga o (Ahh)
E dey pain me, ga-ga o (Ay)
E dey pain you, ga-ga o (Ahh)
E dey pain me, ga-ga o, ay ga-ga o
[Verse 1: Burna Boy]
They want make we all enter one corner, shebi o
'Cause e be lie them dey tell me since I was a baby o
All the times them go promise and fail o
We don dey, we dey slim them dey shade o
[Hook: Burna Boy]
[Verse 2: M.anifest]
Which kind country be this? chale I conf
Sometimes I for dey move away, maybe a month
More or less, more yawa
Less people power
Same sh*it, Ghana - Naija, man tire
Stuck in traffic I dey hate delay
Big man get the motorcade, big Benz and the Escalade
Hustle just dey escalate
But March 6, we go celebrate (Shh!)
Every year be the same co*ck and bull
Propaganda you dey push no dey go
E dey pain, people tire for this matter
Everyday for thief man, one day for master
"Efie ne fie", me ntumi 'nfrimu
Ɔman no sɛi aa, yɛn nyinaa yɛ ti mu
Ashi me aa, ashi me aa, ashi me aa
'Nso me ntumi 'nfrimu
[Hook: Burna Boy]
Burna Boy - Another Story download
If you love the track and would like to have it in your playlist, then you need to download it from the following reliable sites:
Burna Boy - Another Story download on Google Play
Burna Boy - Another Story download on iTunes
Burna Boy - Another Story download on Apple Music
Burna Boy - Another Story download on Spotify
What do you think about Burna Boy - Another Story? Is this a tune that you would recommend to your friends or not? Let us know in the comments section below.
READ ALSO:
Sean Kingston - Peace of Mind Remix ft. Stefflon Don, Trey Songz, Davido: audio, lyrics, reactions
Burna Boy - Spiritual: audio, lyrics, reactions
Burna Boy - Show & Tell ft Future: audio, lyrics, reactions
Source: Legit.ng