Fantana - Girls Hate On Girls: video, lyrics, reactions
The upcoming Ghanaian studio princess, Fantana, has dropped a brand new hit single. The Fantana - Girls Hate On Girls video has been making headlines since its publication last week with many people showering it with praises. Could it be the hit you have been waiting to add on your playlist?
After her first single 'So What' that was released a while ago, RuffTown Records artist Fantana has solidified her foundation in the Ghanaian music industry by releasing another song. Have you watched the video of her new song? How about you get to know more about the song first?
Fantana - Girls Hate On Girls description
Release date: September 18th, 2019
Format: Video
Genre: Afrobeat
Length: 3 minutes 6 seconds
Producer: Mog Beatz
Director: Yaw Skyface
Label: RuffTown Records/Midas Touch Inc.
This song by the RuffTown princess is perhaps a wake-up call to all women. It comes to empower women to come together and unite. The visuals and lyrics in this particular song take the artist to a whole new level.
Fantana - Girls Hate On Girls reviews and comments
The video has received a considerable share of both negative and positive criticism. So what are people saying about the song?
Asonaba Kwabrafoso Obuasi: Who just love all the songs from RuffTown Records? Fantana is going to give the male musicians a run of their money.
Abena Adoma Moda: Nice song but not lovely, like seriously video is on point but don't love the song.
Wuver Godsway: Am the second person to watch. I just love this artist, much love and credit to Wendy Shay and Bullet.
Nightingale Emy: She is very accurate...the message in the song is right. But who else notices Fantana looks like Nikki Minaj?
Patricia Eboru: I love Fantana, but this is a big NO for me. It is not good at all. The video, on the other hand, is of excellent quality.
Ophilia Serwaa: It's nice, but I like the first song, 'So what' more than this.
Aurelia Asuma: Fantana will soon be a superstar like Wendy.
Coach Sel. Fitness: The message is the song is cool, but the song wasn't able to tell the story very well.
Evanie E: I would love to hear the live version of this without the auto-tune… Fantana I really loved 'So what.' This one dear, I'm not sure
Bruce Louisa Lynx Nuella: Fantana, forget everybody and keep going, queen. Big up!
Kweku Lytle: Such a beautiful video deserved a better song. This song didn't do the video justice
Bright Yeboah: Beautiful video keep it up!
king Oheneba Bofour: Congratulations, queen mother we love you more, keep moving million dollar woman.
ohemaa Ama: Video on point… You are getting there but the lyrics not... Autotune too much. Please work on that #fanty.
Vivian Mensah: Bullet number one manager in Ghana. Excellent work and big up to you. Vivian from Italy.
Swanzy City Africa: Rufftown records have made it again. Fantana to the world
Fantana - Girls Hate On Girls lyrics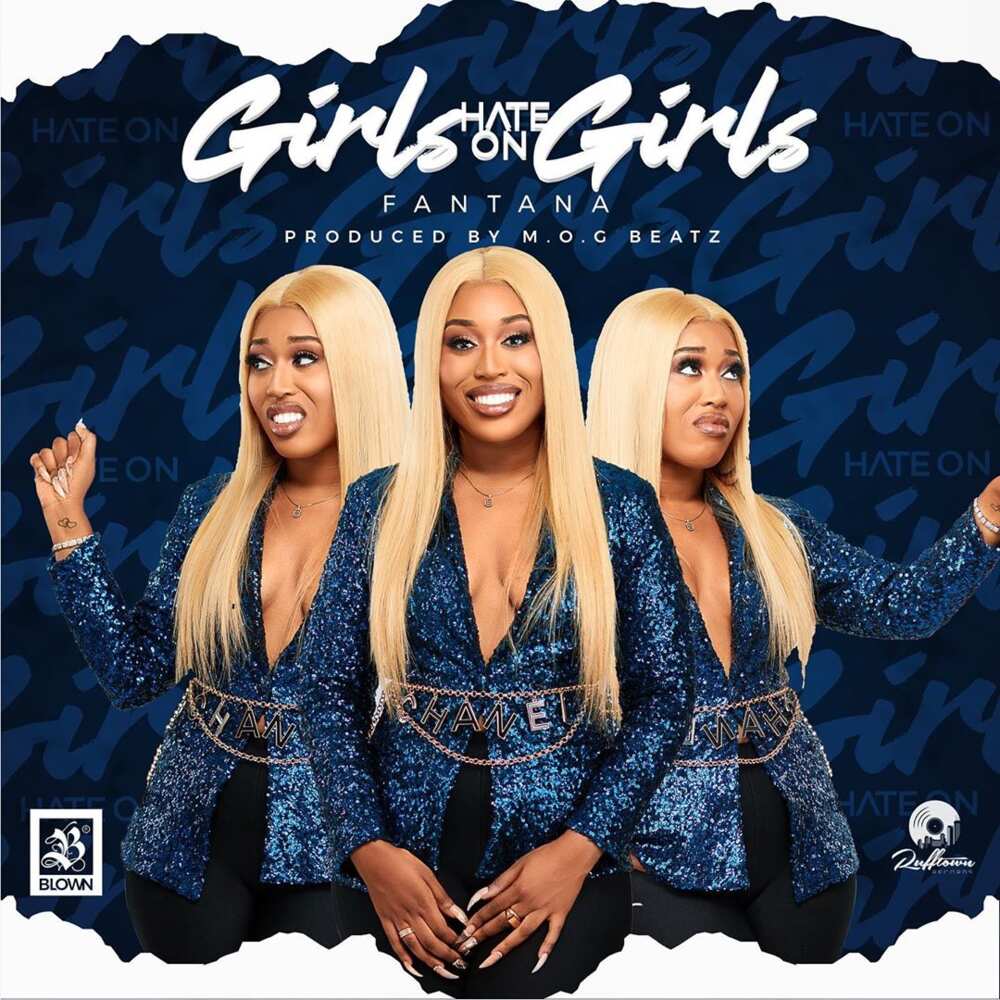 [Introduction]
A me dat
Fantana
(Girls hate on girls girls) X 2
(Girls hate on) X 2
Girls hate on girls girls
[Verse 1]
When God dey bless you, each and every day!
That be why them talk about you
Ebi jealousy, all be Jealousy
Cause what you have, dem not get am!
[Chorus X 2]
(Girls hate on girls girls)X2
(Girls hate on)X2
Girls hate on girls girls
[Hook]
Fantana me say (A me dat)
Rich girl me I say (A me dat)
Hot girl me I say (A me dat)
Rude girl me I say (A me dat)
[Verse 2]
You supposed to be happy
Cox our system made it
But you hate say I make successful
As you dey count my blessings, don't forget my hustling
Oh Lord I feel so grateful
See I'm not and you are not
Not be my fault, that you are not
See your bad thoughts, Bad energy get of my way!
[Chorus]
[Verse 3]
I got money in the bank
Someday in my trunk
Got a Rollie on my wrist
Ferrari on Monday
Bentley on Tuesday
I be changing cars this day
Holla me if you wanna
My name is Fantana
And I come from Ghana
Anything you want na.
[?] See I'm not, and you are not
No be my fault that you are not
See your bad thoughts, bad energy get of my way
[Chorus X 2]
[Hook]
Fantana - Girls Hate On Girls download
You can download the song from SoundCloud and listen to it at your convenience.
Did you enjoy this brand new song by Fantana - Girls Hate On Girls? Share your views in the comment section below. Remember to share it with your friends as well.
Source: Legit.ng