Bill Skarsgård bio: age, height, family, girlfriend, movies and TV shows
Bill Skarsgård is among the highly successful producers and male actors who have appeared in many TV shows and movies. He has acquired his experience gradually over time, making him among the best actors in the world today. With his father as his mentor, he had no option but to become the best in the field.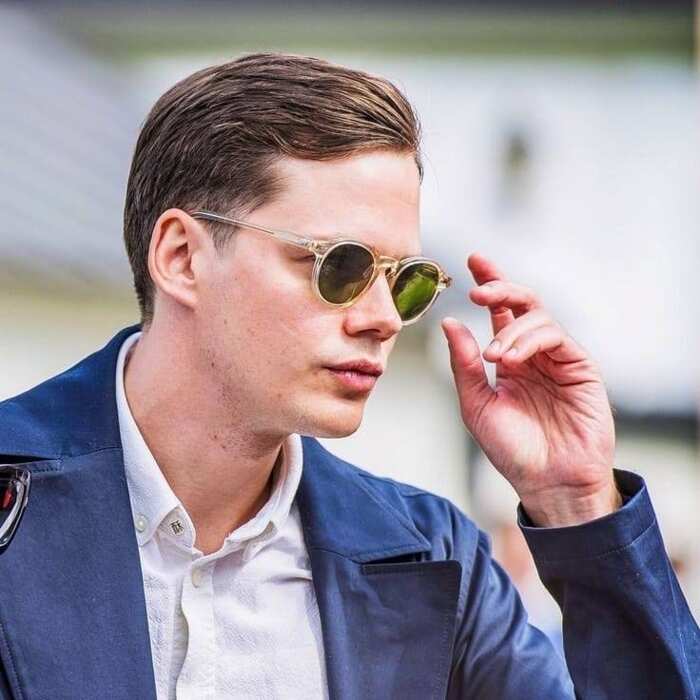 Bill Skarsgård came from a showbiz family with a rich heritage in acting. He was mentored and nurtured by his father, Stellan Skarsgård. Bill followed his dad to varied shooting sets outside and within the city.
Bill Skarsgård profile summary
Birth Name: Bill Istvan Günther Skarsgård
Nickname: Billie
Date of Birth: August 9, 1990
Place of Birth: Vällingby, Sweden
Age: 29 years old
Zodiac Sign: Leo
Profession: Actor, producer and model
Nationality: Swedish
Ethnicity: Swedish
Height: 6 feet 4 inches
Weight: 85 kg
Body Build: Athletic
Body Measurements: Chest - 40 inches, biceps - 14 inches, and waist- 32 inches
Eye Color: Green
Hair Color: Light brown
Distinctive Features: Towering height, green eyes
Bill Skarsgård family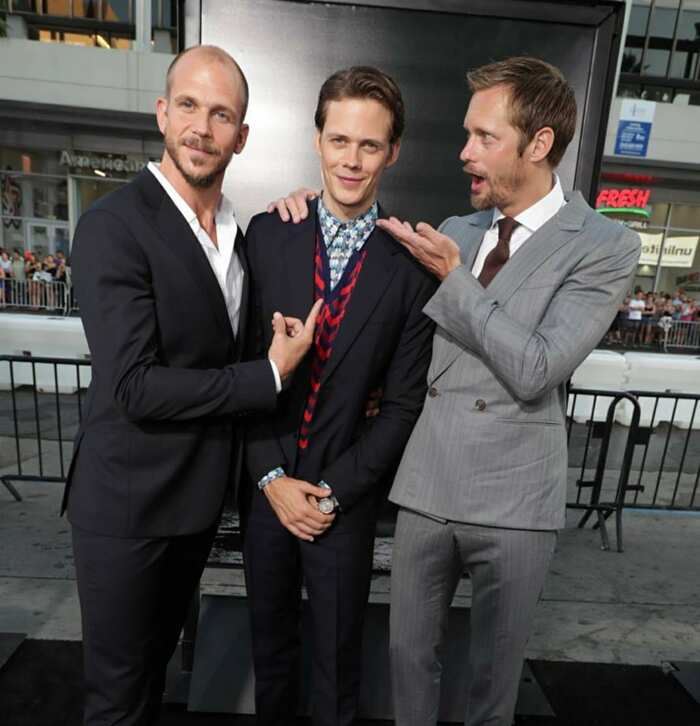 Bill Skarsgard was born with acting genes in the family of an actor Stellan Skarsgård and My Sonja Marie Agnes, a physician, on 9th August 1990. Bill Skarsgård age is currently 29 years. At birth, he was named Bill Istvan Günther Skarsgård and his birthplace was in Vällingby, Stockholm, Sweden.
Bill Skarsgård dad had several kids from the two marriages he had been in. Thus, Bill Skarsgård siblings are seven, as well as half-siblings. He has three elder brothers Valter, Gustaf, and Alexander and they are in the acting profession. His other biological siblings are Eija Skarsgård (sister) and Sam. His half-siblings from his father's second marriage with Megan Everett (stepmother) are Kolbjörn and Ossian. Stellan has appeared in quite a few Marvel movies including The Avengers, Thor, Avengers: Age of Ultron and Thor: The Dark World.
Even though there is nothing known regarding his education life except the fact that he majored in science, at a tender age, Bill regularly traveled with his dad as they went from one set to the other during his prime acting career. He has resided in Mexico, Cambodia, and the interactions he has had with different cultures has broadened his views regarding life and has sharpened his mind to understand human interactions and relations better.
Other than the above, going to various filming sets with his dad helped the star in two ways. Firstly, it made him familiar with big guns in the field that aided in the jump-starting of his acting career. Secondly, it gave him exposure and familiarized him with a world that would become his own.
Three of the Skarsgard brothers also ventured into the world of acting just like their father and are celebrated actors in their different roles. Some of the roles Alexander is renowned for include The Legend of Tarzan, True Blood, and Zoolander. Gustaf started acting at the tender age of nine years and is known for such roles in television series called Vikings and the 2010 film known as The Way Back.
READ ALSO: Camila Cabello bio - age, height, boyfriend, net worth, songs
Bill Skarsgård movies and TV shows
Here is the list of films and television series where you can enjoy the charming actor's performances:
IT: Chapter Two ( 2019)
Assassination Nation ( 2018)
Castle Rock (since 2018)
Deadpool 2 (2018)
Pappa Polis (2002)
IT ( 2017)
Atomic Blonde( 2017)
Battlecreek (2017)
Moomins and the Winter Wonderland (2017)
Alternation (2017)
Hamlock Groove (2013-2015)
The Divergent Series : Allegiant (2016)
Emperor (2016)
Victoria ( 2013)
Anna Karenina (2012)
The Crown Jewel (2011)
Simon and the Oaks (2011)
Simple Simon (2010)
Behind Blue Skies (2010)
Am ( since 2010)
Kenny Begins (2009)
Livet I Fagervick (2008-2009)
Pigan Brinner (2008)
Arn- The Kingdom at Road's End (2008)
Spending the Night (2007)
White Water Fury (2000)
Pennywise Bill Skarsgård
Pennywise Bill Skarsgard is a sadistic clown in the Stephen King movie, IT. In a Bill Skarsgård interview, he revealed that he developed the Pennywise smile at the tender age of 10 years. He further explained that his elder brother Gustaf would point his lip in a very strange way and he copied him, just like siblings copy each other. He would then make a weird face, pull a t-shirt over his head and terrify his younger brother. The Bill Skarsgård Pennywise smile was thus not developed when shooting the movie but was something that he had practiced way before he began his acting career. Bill Skarsgård smile is very freaky and scary though in a thrilling way.
Bill Skarsgård girlfriend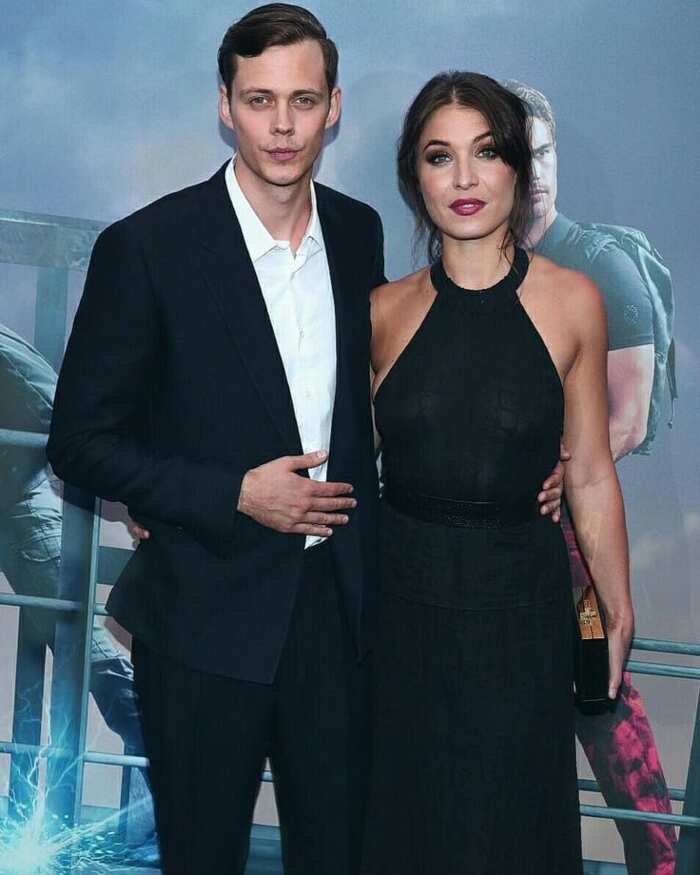 Bill Skarsgård started dating his Swedish actress girlfriend, Alida Morberg from 2016. She is older than Bill by five years. Alida is Per Morberg's daughter, a Swedish film director and actor. Morberg has also had film roles like Isabell in Black Lake (2018) and Stockhom Stories (2013) as Colethos Flickvän. Alida is renowned for the roles she played in the movies Sensoria (2015) and Insane (2010).
Since the summer of 2016, the love birds have been seen in the public setting together though they rarely speak of their relationship. There are, however, many photos of the pair on social media platforms.
In a meeting between Skarsgård and Nöjesbladet in July 2018, he attested to the fact that he was about to become a dad, but remained aloof about the whole story by stating that it was very private. In late August of the same year, Alida, Bill Skarsgard girlfriend, made an appearance looking expectant in the Nent/MTG's press conference of Svartsjön, the new season of a thriller series by TV3. On 1st October, their baby girl was born. The pair does not talk about their personal lives publicly and have managed to keep the media far away. Even the name of their daughter is not yet known to the public.
READ ALSO: Whitney Cummings bio: age, height, boyfriend, net worth
How tall is Bill Skarsgård?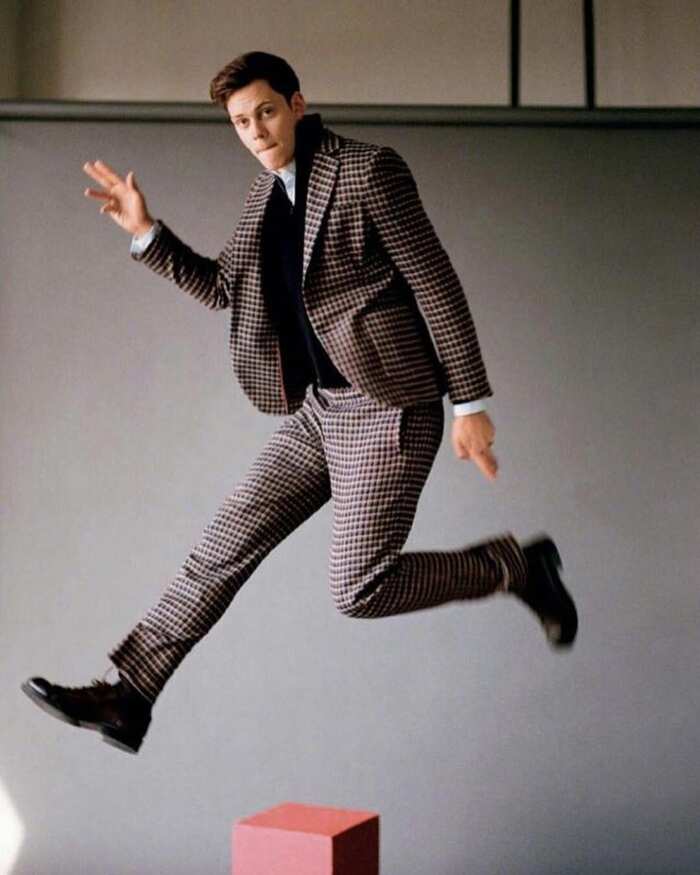 Bill Skarsgård is a good looking young man with an athletic build. Bill Skarsgård height is 6 feet, and 4 inches (1.95 m) and his body weight is 85 kgs. His hair is light brown. Bill Skarsgard height places him in the list of the tallest successful actors; coming from a family of tall people, he is the shortest among the brothers. Bill Skarsgård eyes are green in color; one of his distinct features.
Bill Skarsgård net worth
Over the years, Bill has accumulated an approximate of $5 million from his acting career. Some of the best movies that collected good cash for this actor at the box office include:
IT- $700.4 million
Atomic Blonde-$95 million
The Divergent Series: Allegiant: $113 million
At his tender age, Bill Skarsgård continues making huge steps in his acting profession. Owed to his past success, we expect nothing but a thriving career in his future days. Above are some of the things you should know about this top actor.
READ ALSO: The life and death of David Berman
Source: Legit.ng News