Premier League results: everything you need to know about week one results
With the Premier League already started, fans are already hooked to their screens as they follow and note the progress. With only one week gone, it is interesting to know how different teams have performed so far. It is a great time to celebrate and enjoy the Premier League results. Check them out below.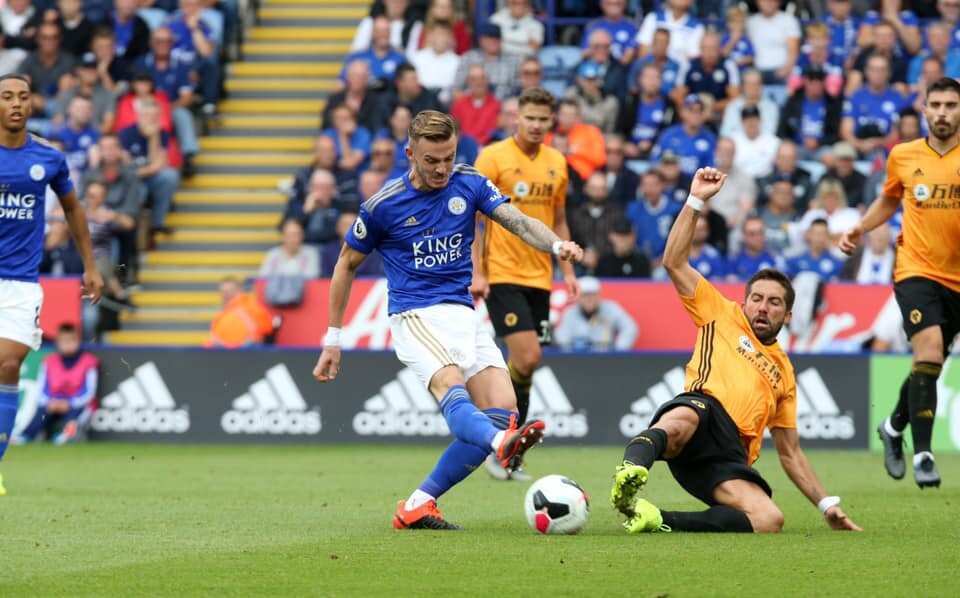 One of the most notable wins this period has been the Manchester United win against Chelsea. Carrying the day for Manchester were Marcus Rashford and Anthony Martial who helped the team win 4 - 0.
The winners and losers in the first week of Premier League
The choice to have Romelu Lukaku sold to Inter Milan and instead have the Frenchman as the centre-forward is a move that seems to have paid off early as scored the team's second goal at Old Trafford. Taking advantage of Kurt Zouma's clumsy foul, Rashford scored the first goal for Manchester through a penalty, putting his team on an early lead.
Things were hard for Chelsea as their defence seemed weak with some of their defending champions David Luiz and Gary Cahill having left for their rival teams.
Arsenal also had a good run. Even with credible summer signings Nicolas Pepe, Luiz, Dani Ceballos, and Gabriel Martinelli benched, Arsenal was able to do what was needed to outshine Newcastle United.
Pierre-Emerick Aubameyang's goal set apart the young Gunners, as teenagers Reiss Nelson and Joe Willock featured among the best first X1. This was both a rare win not to mention the rarer clean record for the team, vindicating coach Unai Emery's bold selections.
In other news, Leicester City and Wolverhampton Wanderers ended up in a draw at the King Power Stadium. The dismal show of performance and results was due to the lack of attack power.
Sunday Premier League results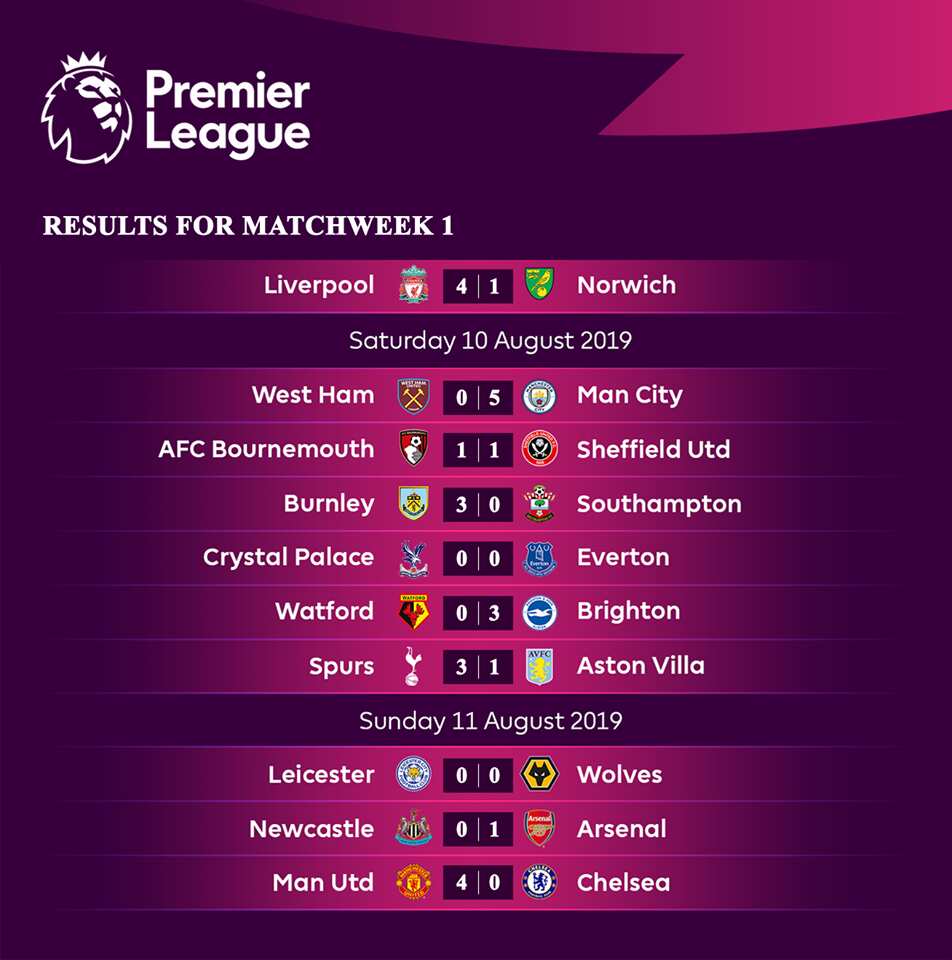 Newcastle United 0-1 Arsenal
Leicester City 0-0 Wolverhampton Wanderers
Manchester United 4-0 Chelsea
READ ALSO: FIFA women's U20 World Cup 2020 in Nigeria: all we know about it
Who were the winners this past week?
The one-week result puts Anthony Martial as the overall winner. It is therefore not surprising that Manchester United easily passed on the No. 9 shirt to Martial after easily letting Lukaku go. Seeing as this was no small challenge, the Frenchman was prompted to reveal his true potential and become United's lead line. As the game proceeded, he proved a menace for Zouma as Chelsea fans watched in bewilderment, much to the thrill of Manchester fans. The 23-year-old footballer was just too fast for anyone to keep up with his movement.
He was able to unsettle even the most stable Cesar Azpilicueta, Zouma, and Andreas Christensen, at least once as they all lost track at some point. Azpilicueta was responsible for the chance Martial got to ghost in and complete a swift counter at the 65th minute marking the classic instinctive finish.
With such a great start, it is only reasonable to raise our expectations. The chances are that the former Monaco star will try his best to keep the winning streak a regular.
Unai Emery is the second winner when all is said and done. Arsenal seemed to be on the losing end as defence and lack of star power in the attack area ranked as some of the major issues they would face. His decision to rotate ranks and to name a skeleton crew for his starting XI that featured youth academy graduates and accomplished player Pepe seemed to pay off.
Even with a defence missing some of the players that would have been considered key such as the likes of the injured full-backs Kieran Tierney, Luiz who is a Chelsea defector, and Hector Bellerin did not cause any harm to their defence against New Castle as Arsenal sailed through successfully.
The Magpies were strong in their forwards because of their new acquisitions such as Miguel Almiron and Joelinton. They, however, had to contend with a tough defence as Arsenal's back four did not give them an easy time. Their middle was also rather soft. This was an easy clean sheet for Arsenal even as they opened the season victoriously.
What was first thought to be a weak defence on Arsenal's side turned out to be a great combo, thanks to the coach who knows what he is doing. It is not surprising that Emery was comfortable with his string defence that he could afford to give his key signings Ceballos, Pepe, and Martinelli minutes. As things turned out, Emery could not have hoped for more than he got.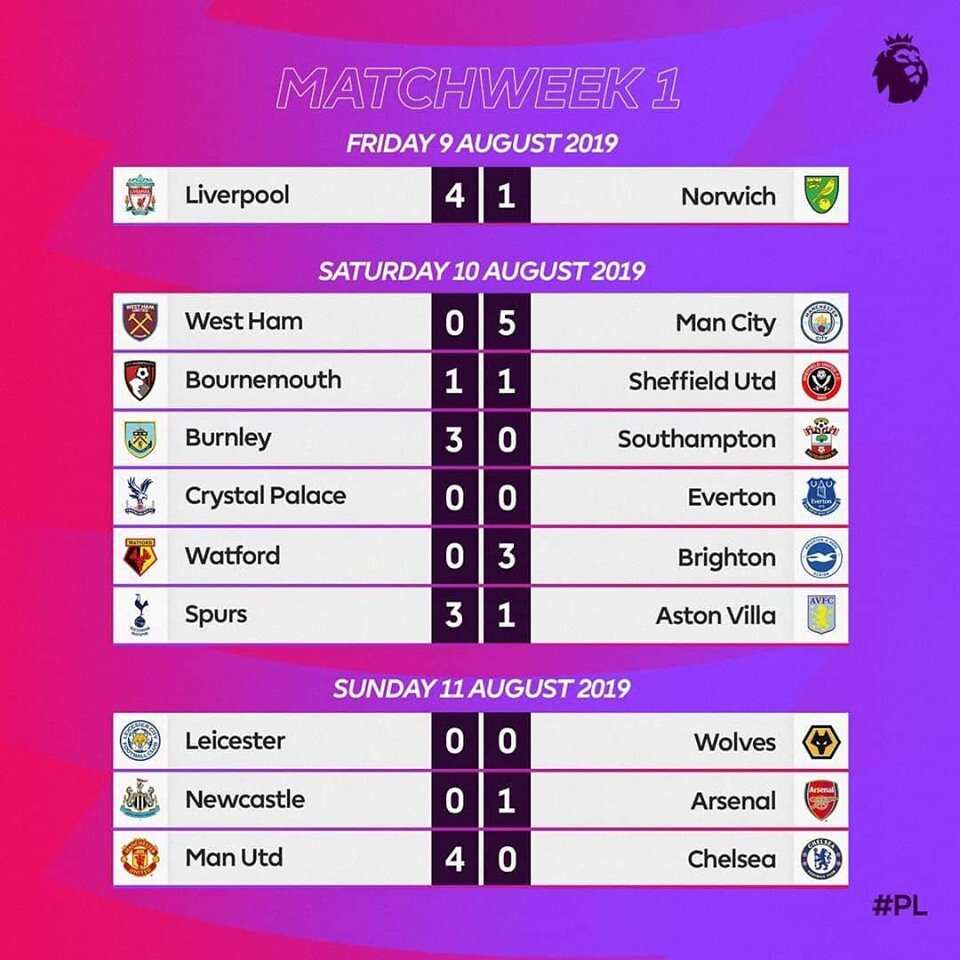 What about the losers?
The results were not only a good indicator for winners, but they also pointed out the losers. The first player on the losing end was Frenchman Kurt Zouma. With Antonio Rudiger's nursing an injury, Cahill moving to Crystal Palace and Luiz shifting to Arsenal, this was Kurt's chance to shine and prove his defensive skills. Zouma lost big time as he lost focus and ended up making mistakes that resulted in his dismal and unexpected performance.
From poor timing, rushed decision and generally being unaware, all these cost him the spotlight he had earned on a silver platter. As a result of several wrong tackles, he ended up committing two fouls, causing a penalty to be conceded not to mention the fact that he got a yellow card. Indeed, the Sunday game was not one of his best as he lost it early in the first half.
This was an important start of the season for the player who still needs to work on proving himself as injuries and loan spells continue to stunt his career at Chelsea.
Another loser was Henrikh Mkhitaryan. Even though Arsenal carried the day, fans still wonder how he is even allowed to play. Henrikh Mkhitaryan was the easiest route for Newcastle's team to possess the ball. It was frightening as the Armenian player who is normally credited for vision and being tactful gave the ball away so many times. It was difficult to know whether the former Borussia Dortmund star had confidence issues or if it was a performance gauge communicating his inability to adjust to English top-flight standards and style. The team has gotten very little from him so far.
This was his chance to remind the coach just what he is made of considering that Mesut Ozil had been left out for security reasons. With Pepe and Ceballos also benched, and with Nelson and Willock being action-pressed, Mkhitaryan should have seized the moment to prove his qualities. Unfortunately, this is not how things turned out.
With the Premier League results for the first week already out, fans are charged and geared up for the next games. The season has already started on a high note, and it will be interesting to see how things playout for the winners. Will they maintain the streak? Will the losers jolt back to reality and redeem themselves? The answers to these concerns can only come as time goes by.
READ ALSO:
Joao Cancelo to Manchester City: everything you need to know
David Luiz to Arsenal: Everything you need to know
Lukaku to Inter Milan: Everything you need to know
Source: Legit.ng