Zlatan Ibile - 4 Nights In Ekohtiebo: audio, lyrics, reactions
Riding the wave of the latest buzz about his arrest by EFCC, the Nigerian rapper releases yet another track. Zlatan Ibile - 4 Nights In Ekohtiebo is the singer's reflection on the whole situation with EFCC. Through this song, the artist shares his thoughts and feelings about the accusations and the four nights he spent in custody.
The first half of 2019 has been immensely productive for the Nigerian musician with over 20 tracks released already. 4 Nights In Ekohtiebo may or may not become the best of them; however, it is surely one of the most sincere songs by the rapper.
Zlatan Ibile - 4 Nights In Ekohtiebo description
Released: 18th May 2019
Format: mp3
Genre: Rap
Length: 2:23 min
Label: Zlatan
Producer(s): Rexxie
READ ALSO: Wendy Shay - Stevie Wonder ft. Shatta Wale: audio, lyrics, reactions
On 18th May, the Nigerian rapper released his brand-new track called 4 Nights In Ekohtiebo. The song is based on the man's experience of being arrested and detained for days by EFCC. The record also mentions the artist's colleague Naira Marley who is still held in custody. With its deep and meaningful lyrics, addictive tune, and unparalleled beats, the song reaches the very hearts of people. Moreover, taking into account the story behind the track, it may become a true banger very quickly.
Zlatan Ibile - 4 Nights In Ekohtiebo song reviews and comments
Considering the circumstances under which 4 Nights In Ekohtiebo was released, the track has received reactions of two kinds. There are people expressing their support for the rapper and Naira Marley, and there are people commenting on the song itself. The latter reactions are positive and praising. Check out what people say about the track on the artist's Instagram:
God bless Zlatan. You are too much, brother. You are 1 of a kind. — @andrew.daniel.9484
Keep winning — @tugbaskiromeo
Grace for Naira Marley — @casandranyc
Freedom is most – wizzy3850
I never loved @zlatan_ibile before, but this jam makes him my favorite — @ika_nla
Deep — @thatblackirishfitgirl
Goosebumps all over my body — @oloriola9932
Zlatan Ibile - 4 Nights In Ekohtiebo lyrics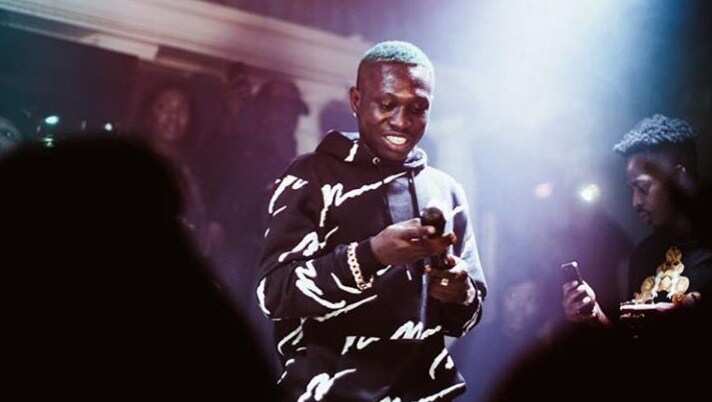 [Intro]
Kapaichumarichupaco
Jiomo
[Verse]
Padi mi shebi eni to ku
(Ko wa eni to ma sunkun e)
She be ni to broke
(Ko re ni to ma je ojue)
O wo epo laraye banila
(To ba je tere gbogbo wan ma gbe ja)
Mo mawon temi awon temi de momi
Egba gbe pen won funmi
Loruko ti o se temi
Omo ologo malemi omale
Tetori iru temi
Esu ti pofo eba mi sofun
Kolo she mi (WO)
Oroburuku bi erin so iwo no
Lesoro bayi ade majon renrin
Ade tun jomaje, ade tun jomamu
Irue ni Chelsea ma lose toma sare
Di man u (Ah)
4 days and uno fit hide am
All the bad belle wey u get
You put am outside
Se na like this he yo de dey
Won fe kin pada de
Dey wan give me bitterleaf
Use am collect my sugarcane
Nobody holy so,
Don't be quick to judge
Eni to de lari, amo eni to sin bo
Oma yawon lenu bi ori
Sheman komiyo torie loshe
Femo orisha ti Zlatan bo
Poverty to deyin leyin mi,
Deyin leyin ota mi
Koye binu ogomi ileri
Oluwani enima jeyin ninu
Apata oma lagun on fresh
Won binu won mo iba to
Tabiti baboon
[Chorus]
Moni igba to gbami
Lowo moni otito
Niba timo de woni
Bawo loseje
Egba mi eni tomo mi
Shalon shemi
[Verse]
Album shi majade,
Naira Marley shi majade
Kosi be shele soroburuku,
Enu yin shi majade
Ti al aba gbe ni sole,
Kekere ajo zanku lorie
Bi alfa to fe kirun
Gbogbo yin shi ma foriyin bale
This life you got to think twice
Aeroplane go dey for floor
Before e go feel fly
Ayi si le ology ni, ile dile ekute
Naira ma worry,
Ma gba front fune kotode
Oro e loso ni gboro,
Naira Marley oti cast
Arugbo, teenager ati
Omo primary five
Wo, oti blow, Naira oti duro
Odun mi gan nisin
Oda binpe ogun gan lonlo
Ibile, my guy is fyn
I shutdown, me am also fyn
Obe eja ni ko sero
Orire kofe ero (Ah)
[Outro]
Kapaichumarichupaco (Ai)
No go dey reason too much o
Na dey four night wey
I spend for Ekohtiebo
Ekohtiebo make u no dey
Reason too much ibile
God bless Naija
God bless everybody
God bless everybody wey want
Make him second ma make am (Ai)
Zlatan Ibile - 4 Nights In Ekohtiebo song download
If this track has touched your heart, you can download it easily using the links provided below:
Zlatan Ibile - 4 Nights In Ekohtiebo is a deep song based on the personal experience of the rapper, on his emotions and feelings. Given the high quality of the song and its background, it can easily become the next banger. Keep tuned to get the freshest music news.
READ ALSO: Ichaba - Olotu ft. Dremo: video, lyrics, reactions
Source: Legit.ng