How to style short natural hair at home
We have prepared several hairstyles that can be easily done at home by every lady without any struggle for you. All you need is your properly prepared beautiful hair and a couple of minutes. So, let's get started with how to style short natural hair.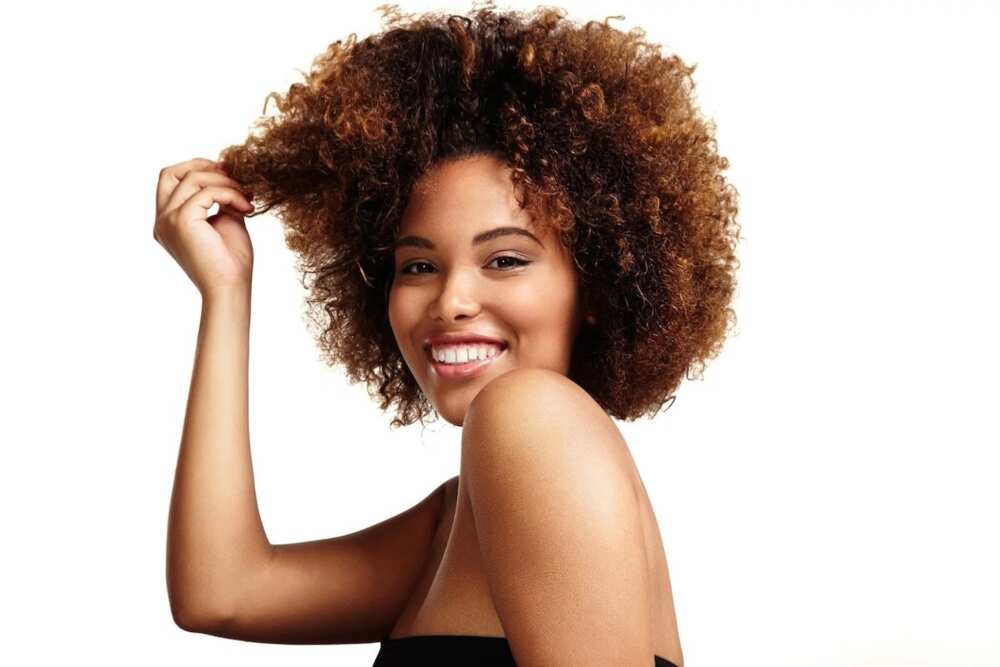 How to style natural African hair: Tips and hairdos
Use the right "tool." Never use fine-tooth brushes combs for styling African hair. For combing and styling African hair, use only coarse-toothed combs.
The most suitable condition for combing and styling African-type hair is when it is wet or damp. When the hair is damp, it tangles less, the friction between the strands of hair decreases, and its elasticity increases, there is less damage for hair, and the comb does not get stuck in the hair. Based on this, there are three options: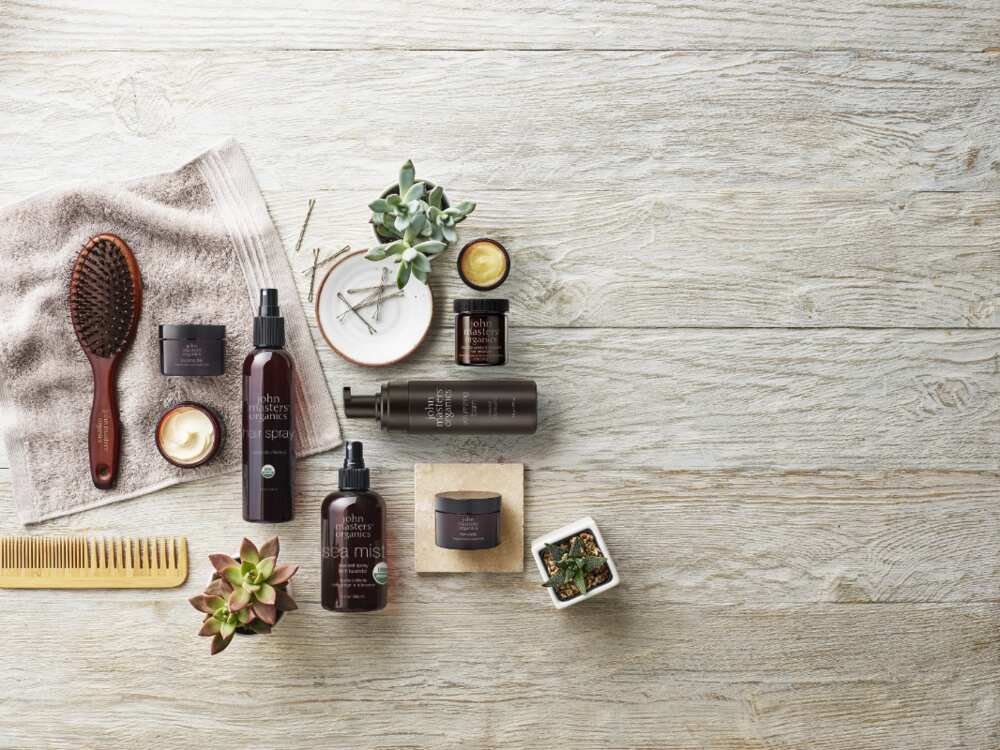 Before styling short natural hair, it can be moistened with water, and then it will be easier to comb. This method has its own minus, because chlorine, which is contained in tap water, can make your hair dry.
Some manufacturers of products for African hair care produce the so-called detanglers - solutions that facilitate combing. These products are usually available in the form of a spray, and they make hair more elastic and easy to style.
Apply moisturizing lotion to hair before styling. It will moisturize your hair and make it softer, more elastic and pliable to comb. All lotions contain oils that will reduce the friction of the comb on the hair. In addition to all of the above, the lotion gives the hair shine and has a relatively long-lasting effect.
One-sided flat twist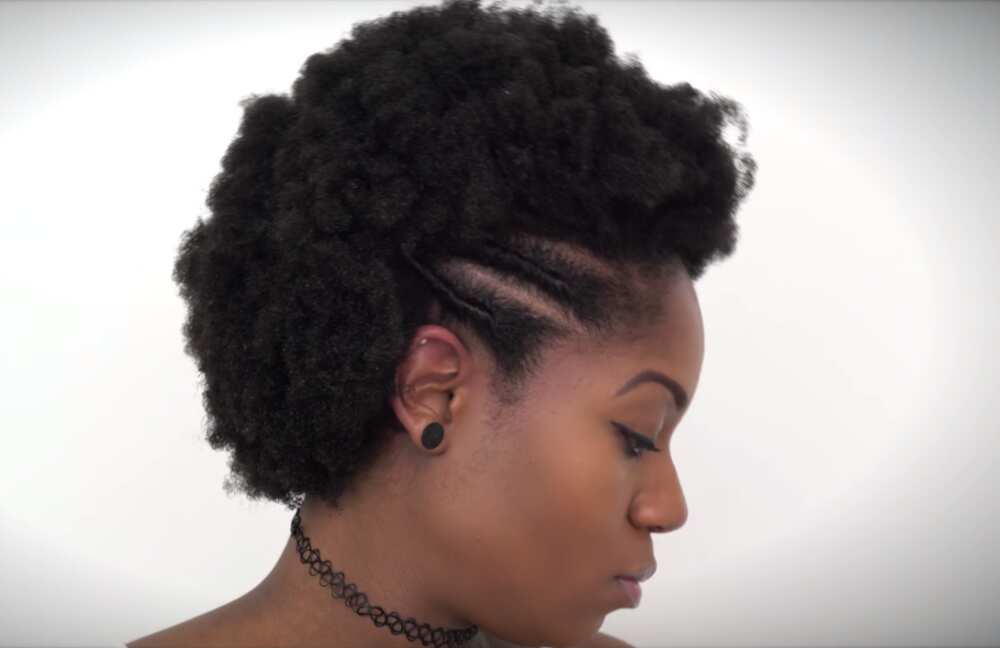 Although our first hairstyle is effortless to create, it looks absolutely gorgeous and charming. To do it, follow these easy steps. First of all, separate a little section of hair with a small comb on the side of your head accurately near the ear.
Then, make a twisted braid from the temple moving to the back, and then fix it with a clip. Now make the same sized section a bit higher and create the same twisted braid. And voila! Your hairdo do is done and you are ready to amaze everyone around with your stylish look.
There is also an option to make a double-sided variant of this hairstyle. All you need to do, is to make the same twists on the other side.
Half-up with bangs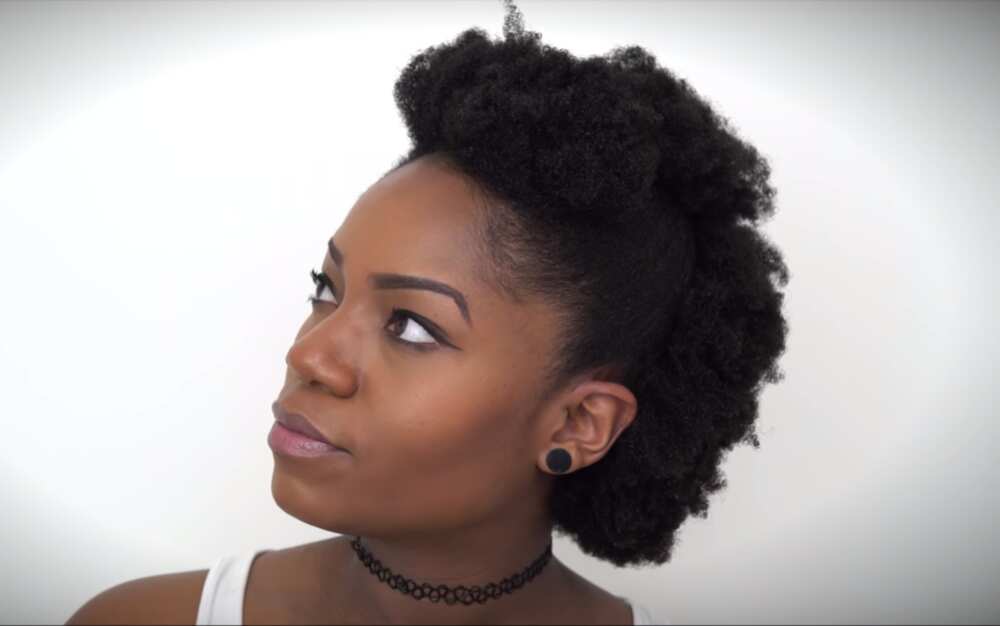 READ ALSO: Natural hairstyles in Nigeria for every day and solemn events
Next hairstyle for short natural hair also looks great and beautiful, giving you a fantastic flow of charm. To style your hair into it, we will need a bit of styling gel. Apply a necessary amount of the product on the sides of your head starting near the temples, so that it would be enough to slick your hair back. Next, make a somewhat ponytail, fixing the hair with an elastic hair tie. Leave a little section of the hair near the forehead to create some bangs. And that is it. Your hair is ready.
Natural mohawk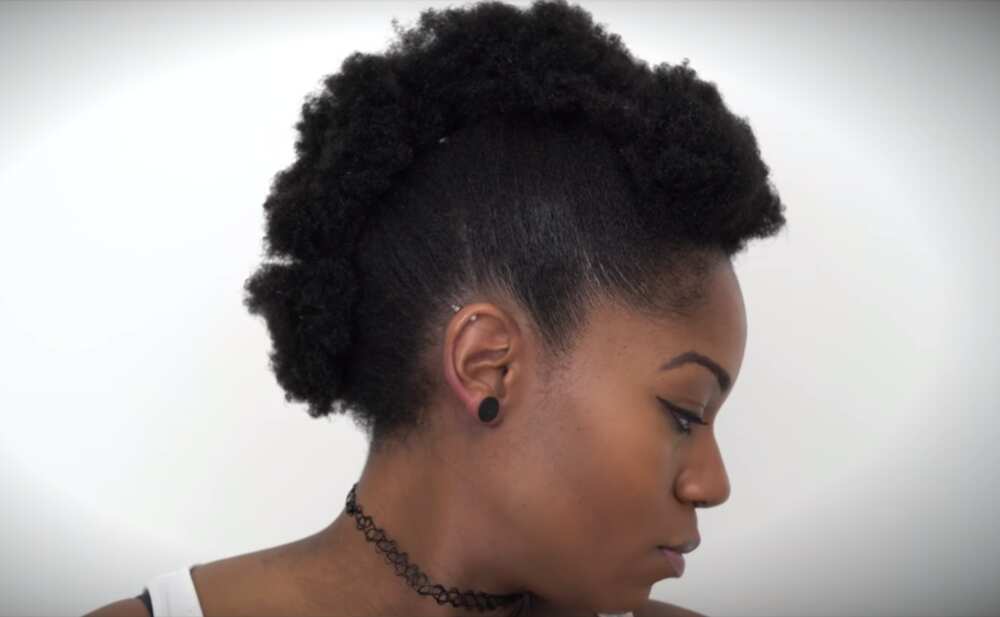 This hairstyle is a kind of modification from the previous one. To create this fancy hairdo, make two more ponytails from the rest of your hair. Just divide it into two equal sections and fix with elastic hair ties. Then, attach the sides of these ponytails with some clips, simultaneously setting them together in a single row. That's all. Your cute natural mohawk is ready.
Hight puff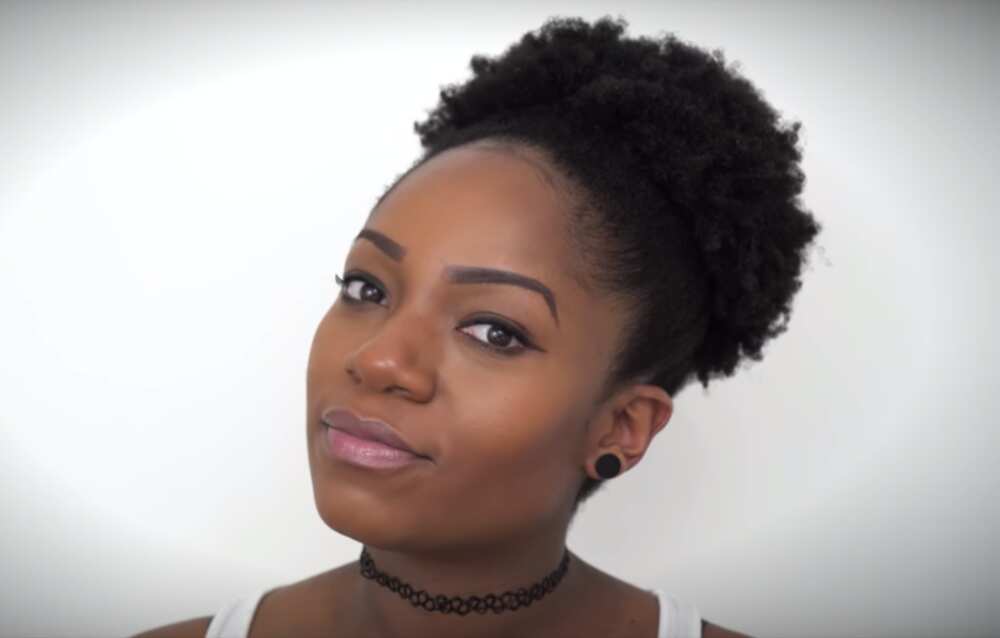 READ ALSO: How to pack natural hair: best styles in 2018
For this particular hairstyle, you will need a hair band or some elastic ribbon. Take your item and wrap it tightly around your head. Next, lift the band or the ribbon up, creating a puff on the top of your head. When you are satisfied with a look of the hair, take a little bit of a styling gel and apply it on the hair to slick the hair that is sticking out. Also, you can fix the hair band with some clips to make sure it will be attached safely to your hair and will not move.
Two puffs with a half-down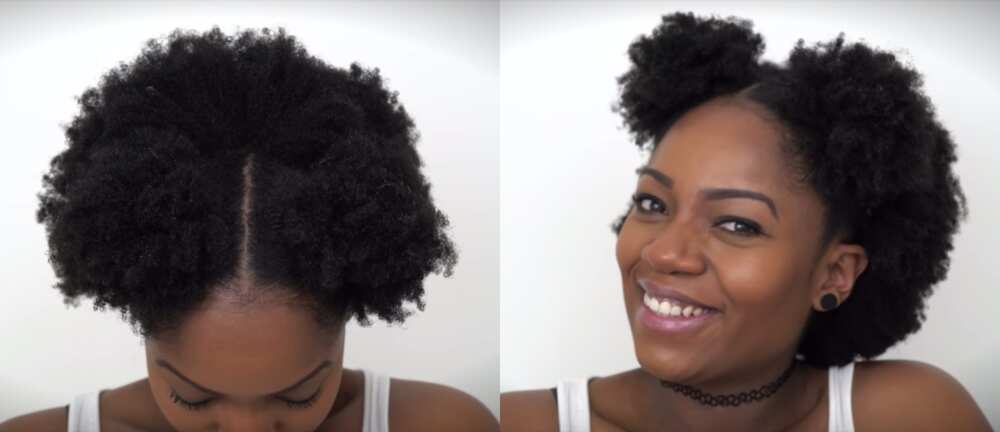 To create this beautiful hairstyle, make a hair part in the very front of your head. Then, you will need to make two triangle sections. Comb these sections up and fix them with elastic hair ties into small ponytail apart from the rest of your hair. When you have set the ponytails, apply a bit of styling gel to make hair smooth and slick.
You can also customize this hairdo into two puffs. For this, you will need to make a middle throughout hair part, and fix your hair into to ponytails as well with elastic hair bands. Then also apply a bit of styling gel to make you hair look flawless.
So, these were our top five easy hairdos that, we hope, have answered your question on how to style short natural hair at home. As you can see they all are extremely easy but through it all very beautiful and fantastic. We hope you will find them in this way as well as we are, and will definitely try them out.
READ ALSO: 10 Advice For Nigerians On Natural Hair Care
Source: Legit.ng