Top 35 goddess braids ideas for 2019
Such a hairstyle as goddess braids with Kanekalon creates an extraordinary and memorable look that will help you to stand out from the crowd. They look so natural that it is almost impossible to distinguish Kanekalon or faux extensions from real hair.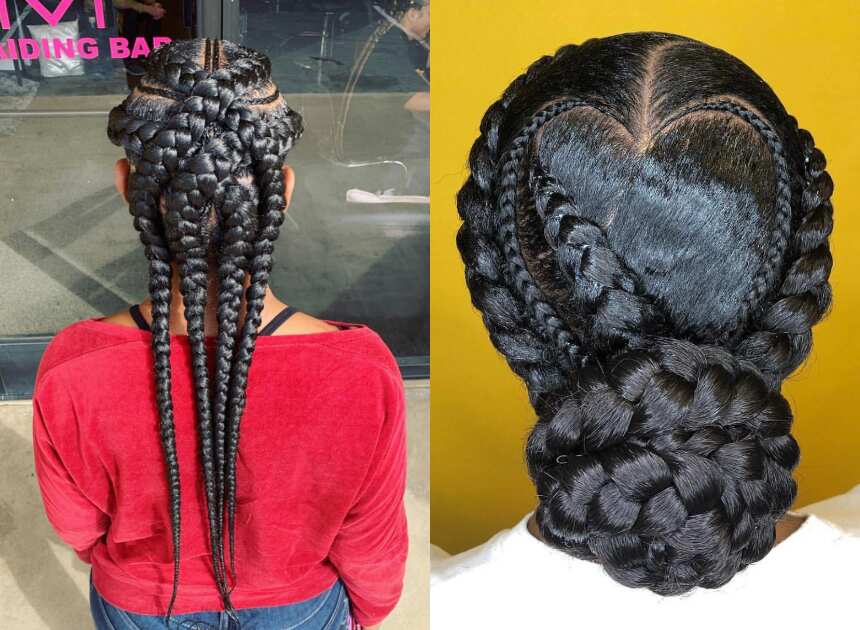 There is a diverse range of hairstyles with goddess braids. So there is no surprise that it is challenging to choose one that will suit you the best.
Amazing goddess braids for every lady
Goddess braids are an excellent choice for women who want to express their individuality and create an exclusive look. You can weave these large afro bunches, which create voluminous hairstyles, on hair, the length of which starts from 6 cm. This option has several advantages, which include the following:
The ability to significantly lengthen short hair by building;
There is no need to do daily styling;
The ability to give hair a break from using a hair dryers
You can change hair colour without dyeing it;
You can choose strands of different colours – ones that are close to the natural hair colour and of bright and contrast colours.
1. Beautiful goddess braids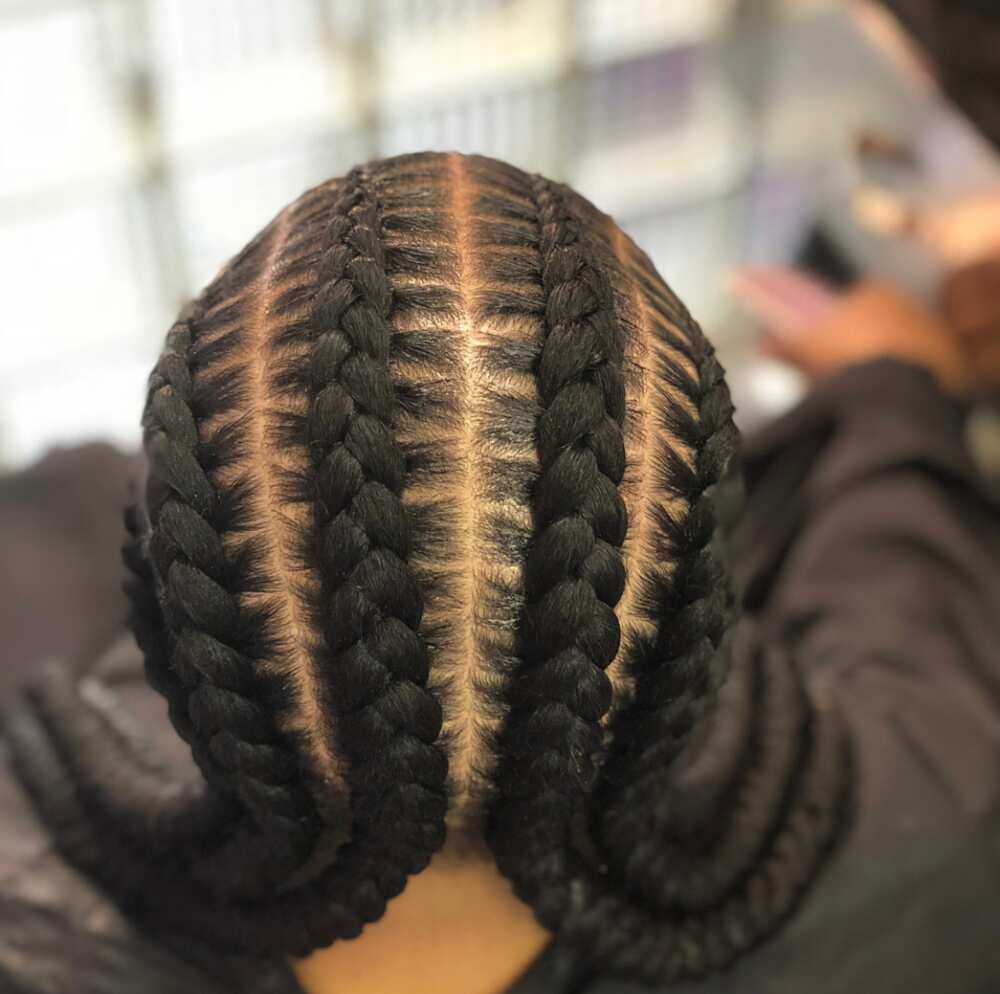 These beautiful bunches of natural colour seem simple, but still, they are able to make you look like a queen and shine.
2. Two goddess braids with tails
Two parallel bunches with low wavy ponytails look so sweet and cute. The additional smaller plaits on the sides make this hairdo even more beautiful.
3. A sleek ponytail
Lovers of sleek ponytails should definitely try these goddess locks style. This hairstyle has a really royal look.
4. Golden and red locks
A combination of golden and red colours always look wonderful, especially on hair. Try these fantastic jumbo cornrows with curly ponytails, and feel like a real beauty.
5. A braided crown
Beautiful goddess cornrows combined with smaller plaits create an original and amazing look. The biggest locks knotted in the back form a crown and make it a central element of the hairstyle.
6. Blonde plaits
You can play with colour and go for extremely blonde locks. Do not be afraid to look extraordinary as you will definitely be a neck-snapping lady.
7. Red-topped cornrows
If you do not want to dye your hair and roots, try some colour extensions or Kanekalon strands.
8. Blue-topped locks
This variant is even cooler like the deep blue sea.
READ ALSO: New braid hairstyles you should try in 2019
9. Bunches with zigzag parting
Here are classic goddess bunches with an extraordinary parting, which will make you look more gorgeous and stunning.
10. 2 goddess braids with buns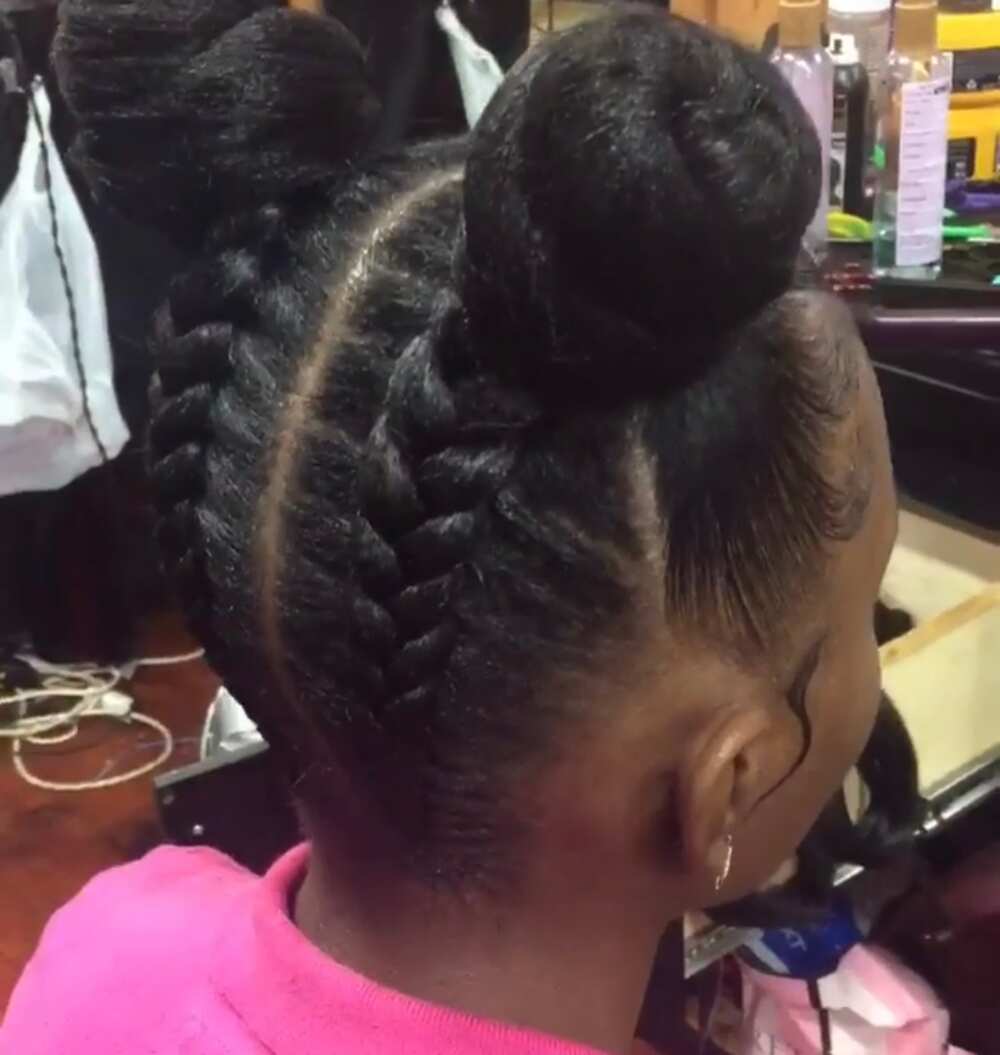 These two locks at the back of the head look both classic and fancy. They are combined with cute buns, which makes them look so lovely
11. Real goddess bunches
With these royal looking lavish locks, which create a beautiful crown, you will look like a real queen. In this variant, side plaits are braided into one jumbo braid to the one side.
12. A colourful crown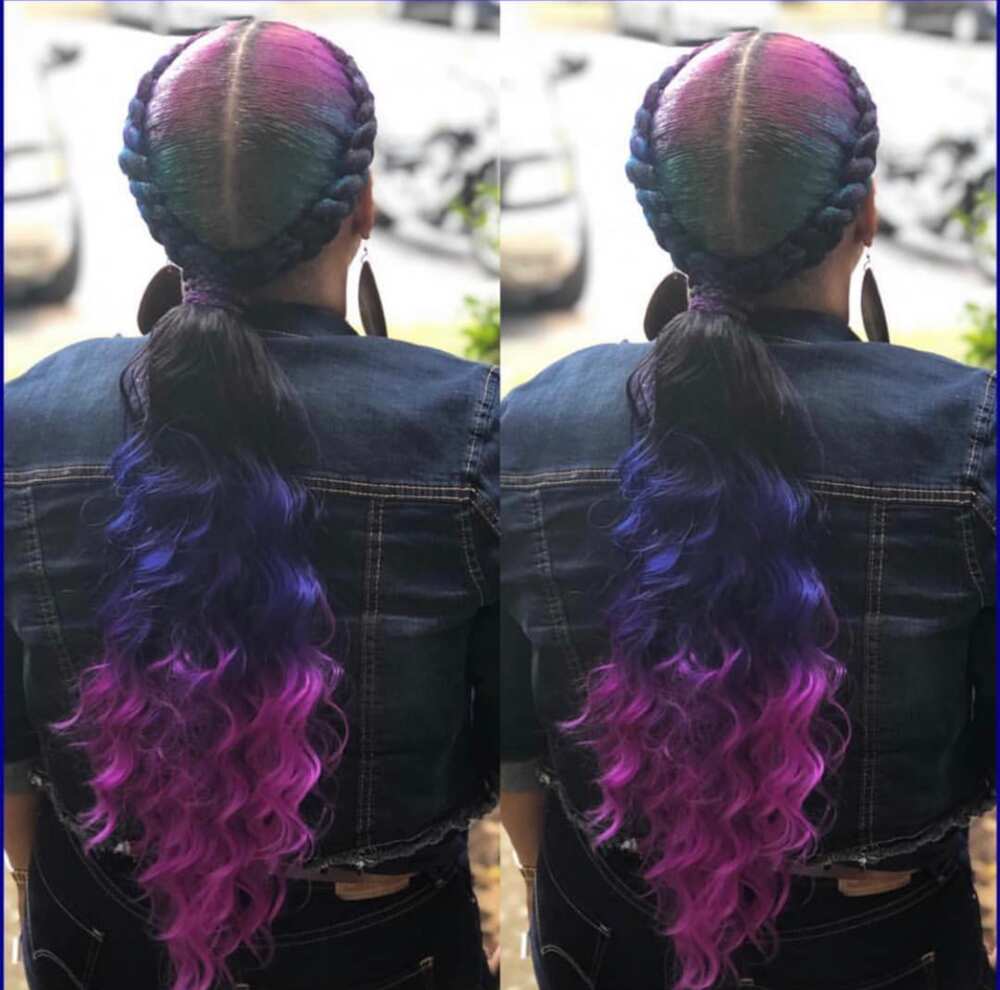 This amazing rainbow crown made of two bunches will make you look like a fairy. No one will be able to resist looking at you. A low wavy ponytail of matching colours decorated with smaller plaits perfectly completes the look.
13. An updo with goddess braids
If you do not like your hair flowing behind you, you can try different options of updos with goddess braids. As an alternative, you can go for this burgundy hairstyle with a bun on top of your head.
14. A low bun with a heart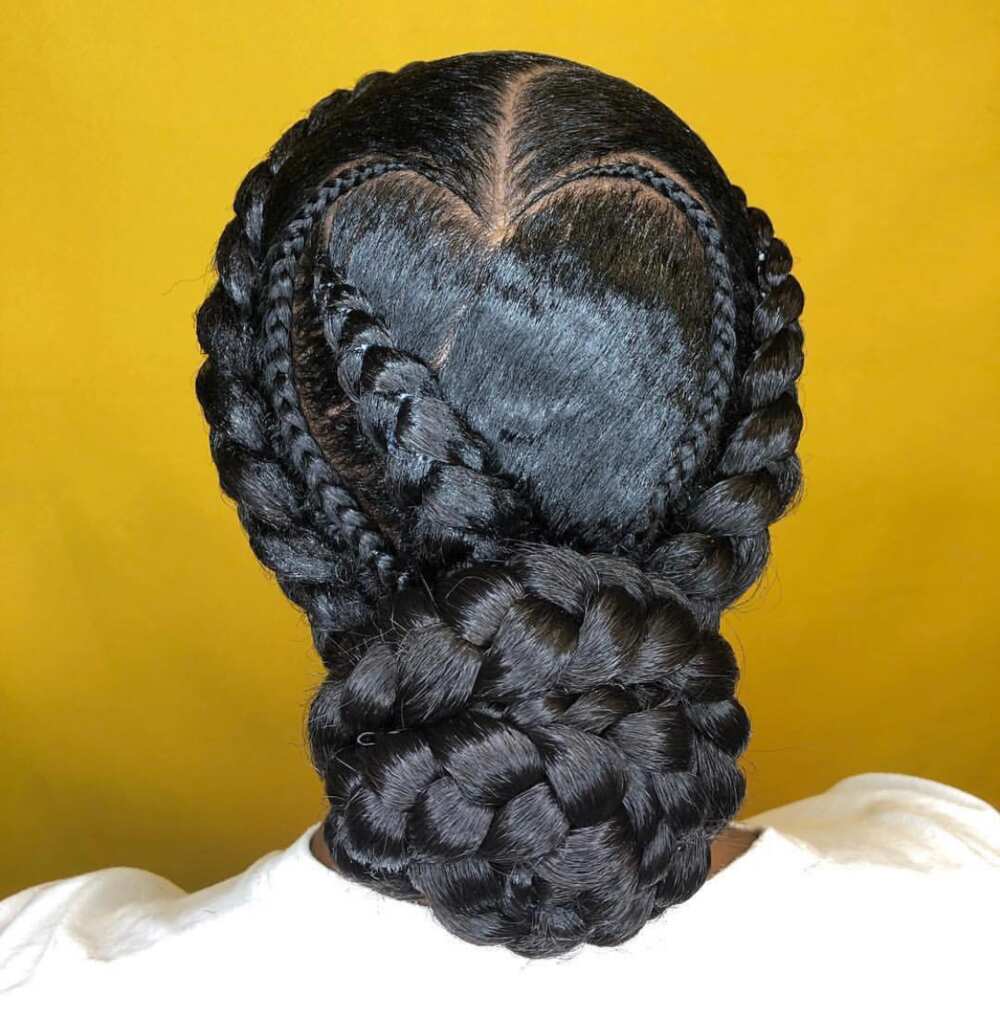 Here is a creative hairstyle with beautiful little plaits shaped like a heart.
15. Locks with purple highlights
If you love more colour in your bunches, try to add some purple.
16. Natural colour goddess box braids
If you want to look natural and gorgeous at the same time, this option of braided hairstyle is just what you need. Silver decorations like threads, beads and rings will o]complete your hairdo in the best way.
17. Ombre locks
Ombre hair has been a big trend for several years. Combining it with trendy goddess braids would be a good idea.
18. A maroon half-updo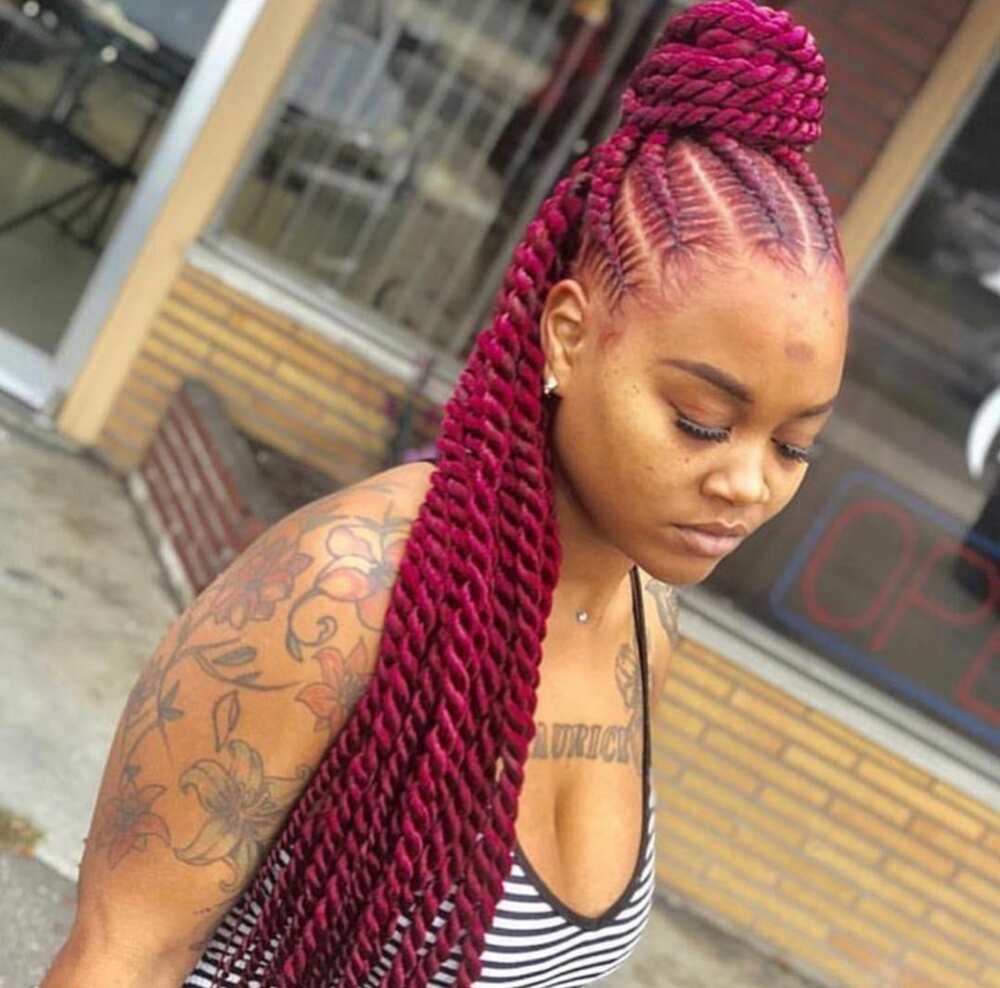 When you want to look as bright and gorgeous as you have never looked before, your choice should be this hairdo. Combine it with a trendy half-updo and get ready to attract every single glance.
19. Two goddess braids with golden decoration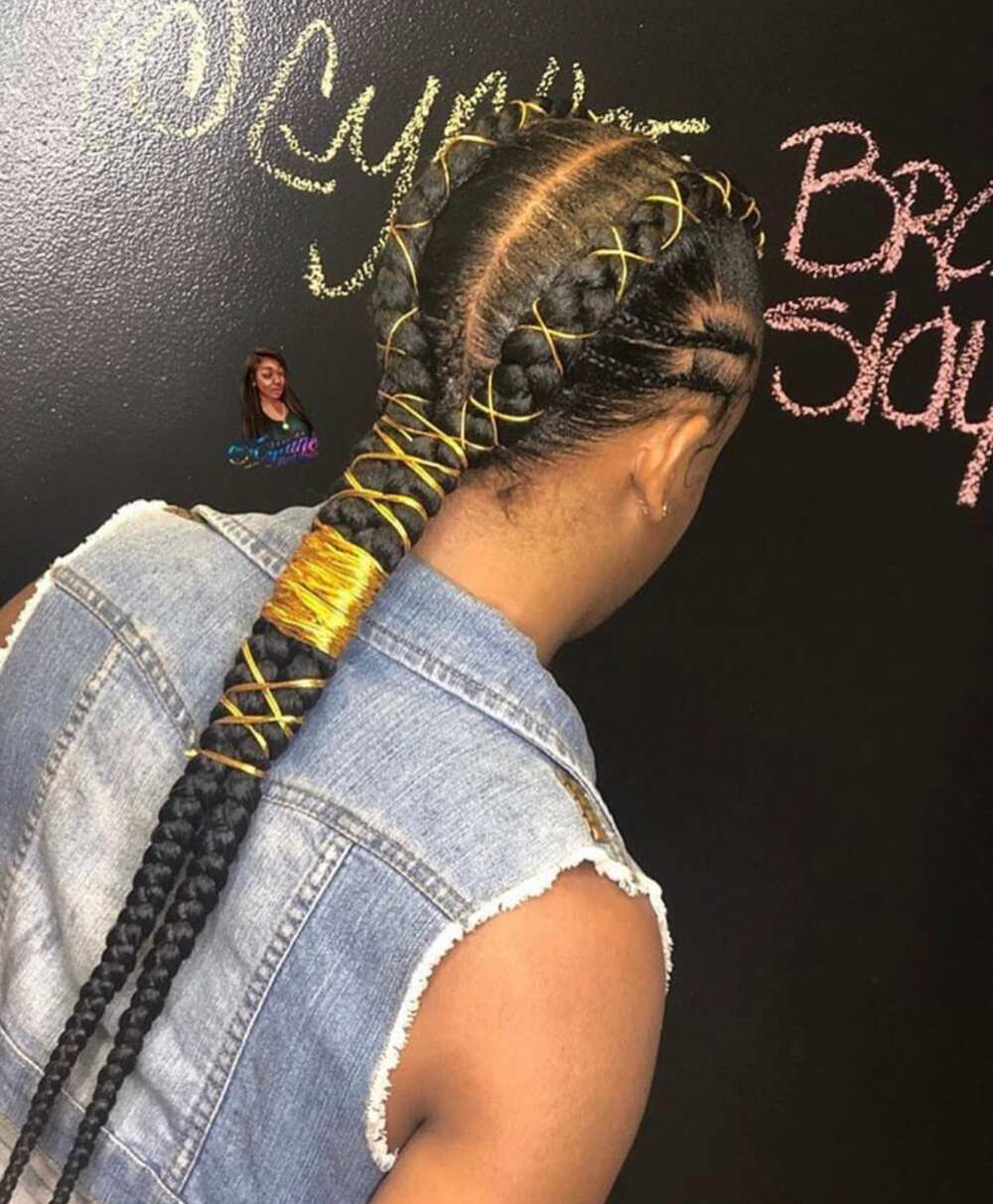 With this hairstyle, you will look so neat and gorgeous.
20. Fire-red locks
Here is another bright decision for those ladies who are not afraid of experiments with hair. Dye your hair fire-red, braid these goddess bunches with smaller plaits and voila, your stunning hairstyle is ready.
21. Two braided buns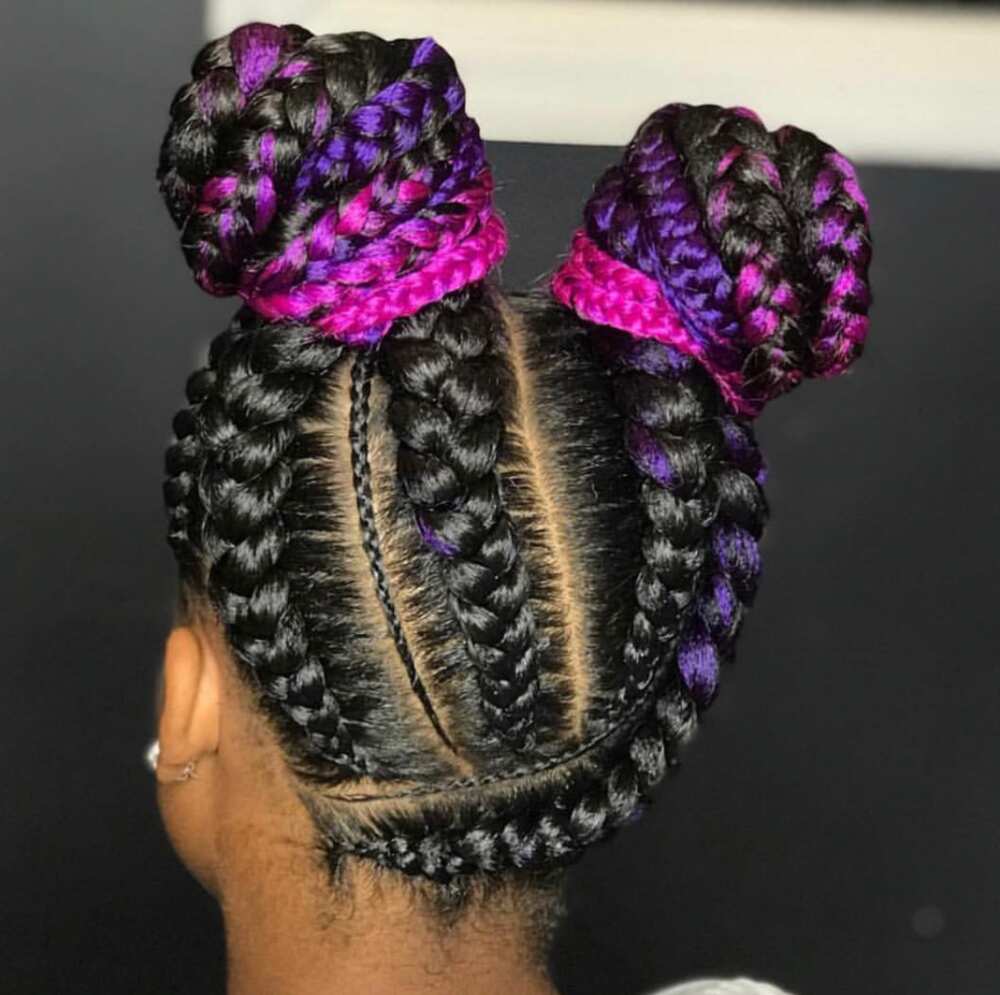 Nothing can look cuter than two buns up on the head. Goddess bunches with braided-in purple-pink gradient strands make the hairstyle even more lovely, vivid and unusual.
22. A heart in your hair
One goddess braid can be enough when it is completed with smaller ones, and a beautiful heart-shaped braiding at the sides.
23. Crisscross goddess bunches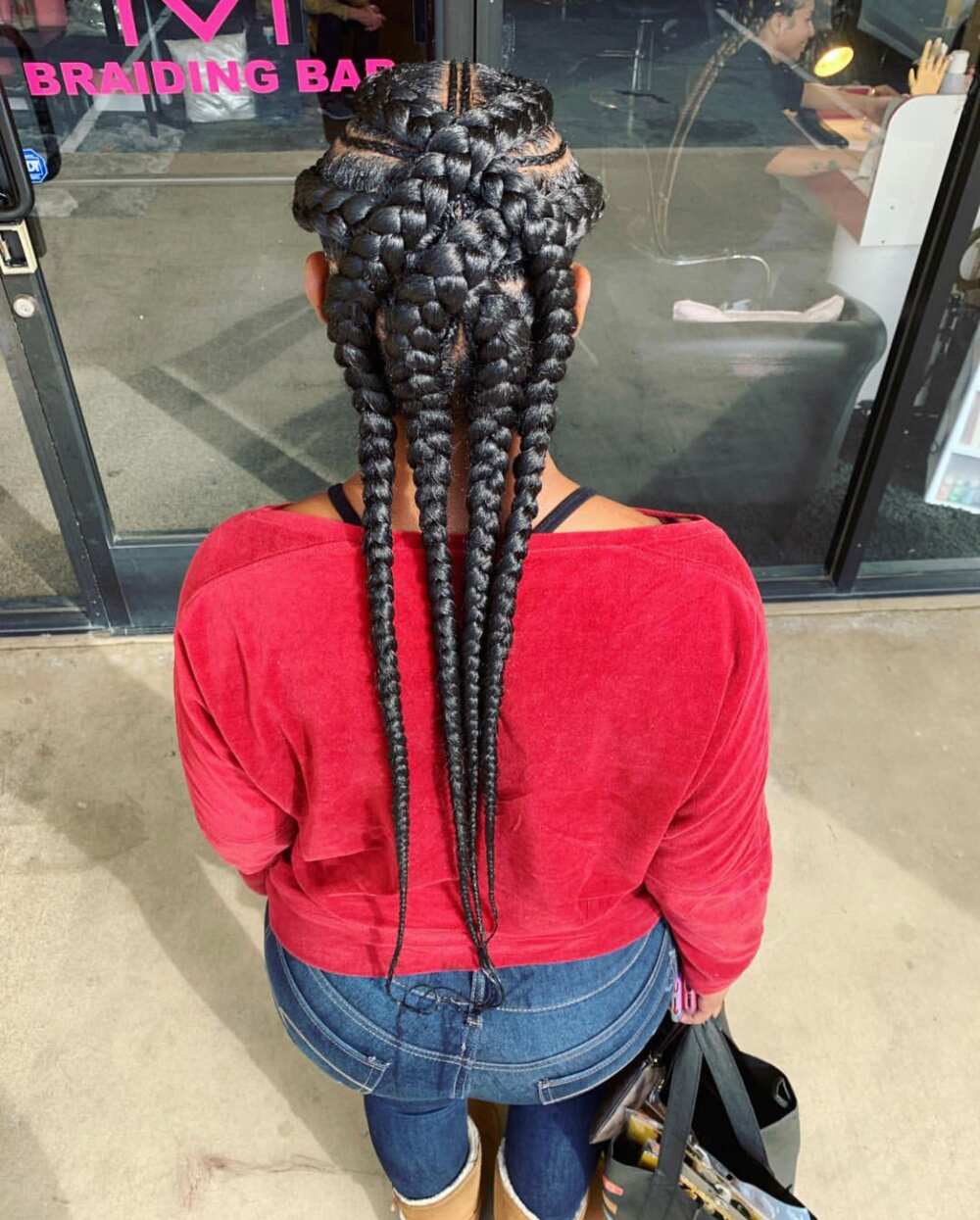 .In this example, we can see wonderful criss-cross braiding.The four locks create the illusion of multiple plaits on the head.
24. Unique cornrows
Check out the amazing design on these braids.
25. A high ponytail with beads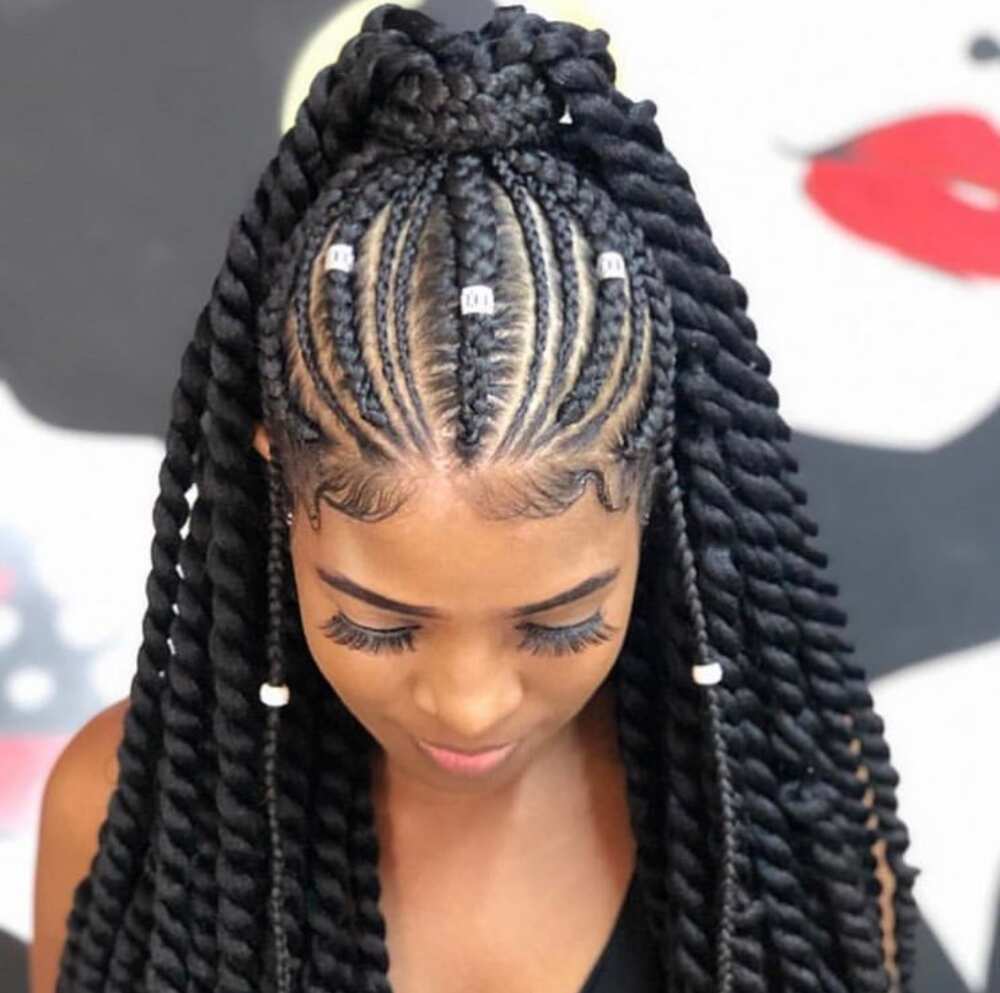 Classic ponytails can be modified into something really unusual with bunches. Beautiful braids decorated with beads and jumbo locks looks stunning. Try it, and you will fall in love with this hairdo.
26. Three cornrows
Three simple bunches have never looked more beautiful than this hairstyle. Soft wavy parting, tiny plaits and thick bunches are a perfect combination for a stunning neat look.
READ ALSO: Toddler braided hairstyles with beads for girls
27. Goddess locks with backward braiding
Just look at how amazing this hairstyle looks. Two backward braiding details on both sides of the head make it very unusual and fascinating.
28. A purple ponytail
Purple is such a trendy colour today. So do not miss the fashion trend and try out this hairstyle with a high ponytail and cornrows.
29. Two double-cornrows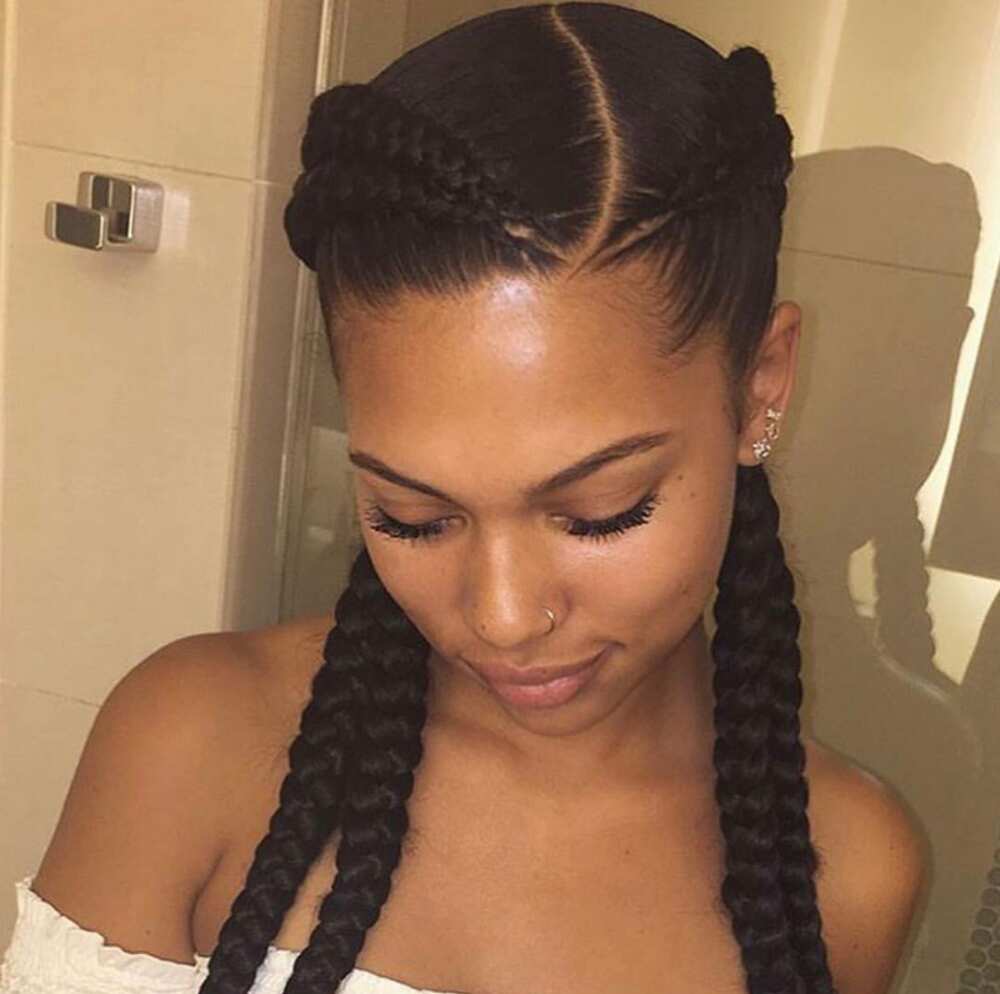 If you are tired of ordinary goddess cornrows, here is a perfect option for you. Try this braided hairdo with double cornrows. They look very neat and original.
30. An updo with natural blonde highlights and beads
The high braided bun is a comfortable and beautiful hairdo. You can make it look even more attractive by adding some natural blonde highlights and decorating with golden beads for a royal shine.
31. Half up, half down goddess braids
Such a half-updo hairstyle looks different from the others because of the goddess braiding at the back of your head.
32. Blonde ombre goddess bunches
Shiny blonde cornrows with sleek sides will make you look stunning and luxurious. Try them out for a sophisticated hairstyle.
33. A high bun with double plaits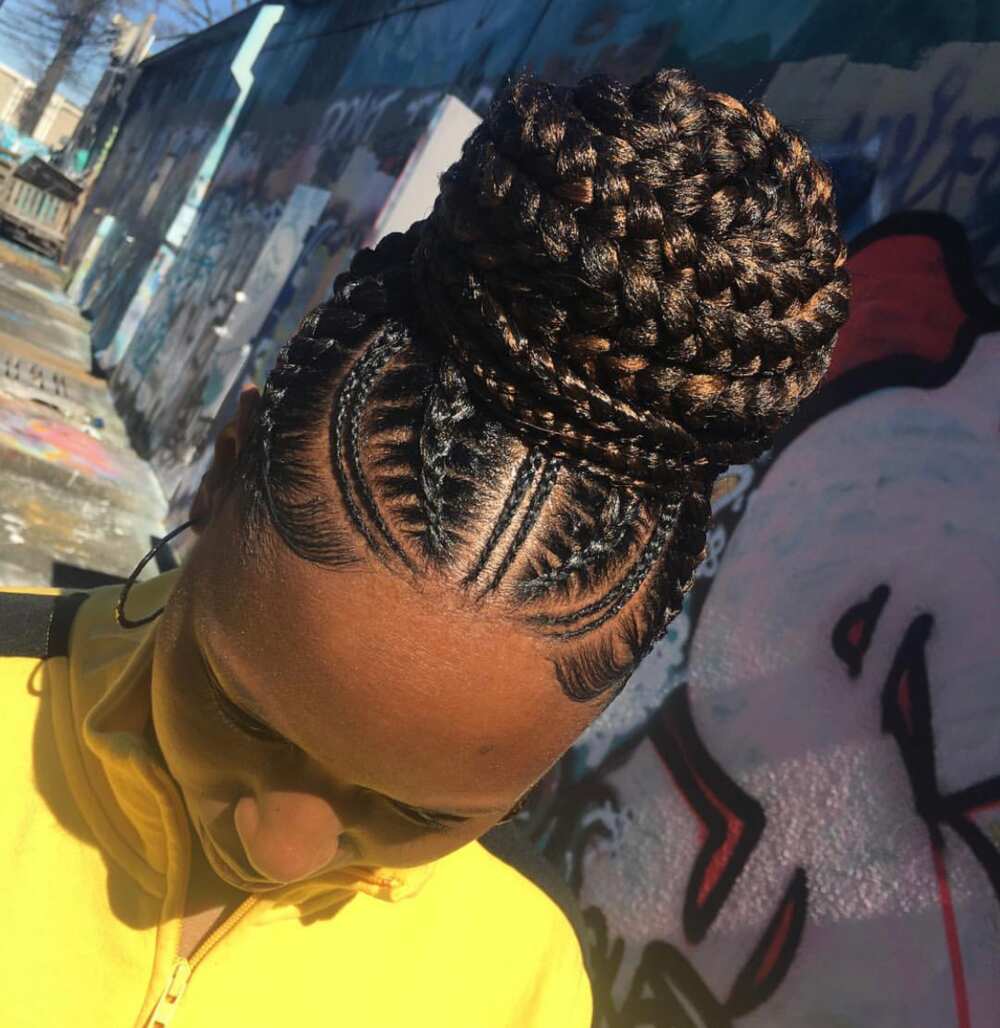 Even a simple high bun can look totally different with just one small detail. Just add some tiny double plaits between your goddess bunches and stand out in the crowd.
34. The more, the better
Try out this amazing hairstyle braided with multiple little plaits. They make the look complete and chic.
35. Multiple cornrows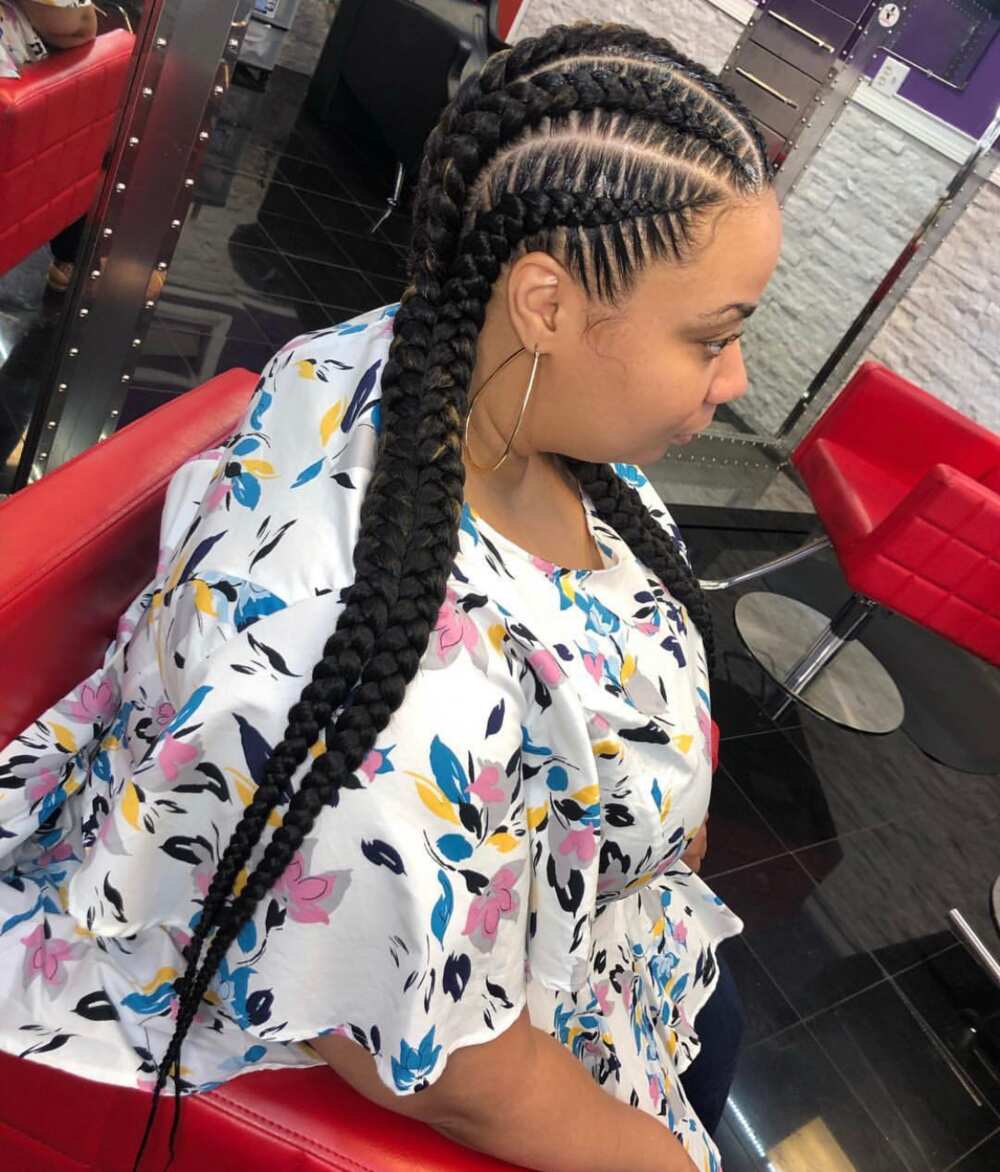 The last but not least look for today is this hairstyle with multiple cornrows.
As we can see, even the same hairstyle with goddess braids can look totally different and unique when you add a small detail to it. Experiments with colours and decoration will allow you to stand out in a crowd.
READ ALSO: Long braids hairstyles trendy in 2019
Source: Legit.ng