Tristin Mays bio: ethnicity, measurements, husband
When you look at Tristin Mays, you see a beautiful woman. She is a woman whose face regularly emerges on the TV and cinema screens all around the world. However, first of all, she is a personality with her own life story. If you want to know this lady better, go on reading!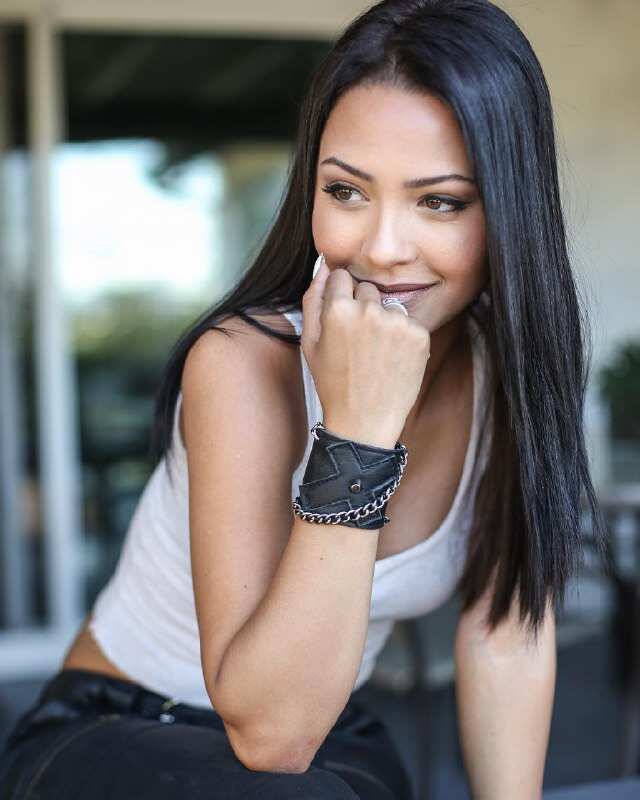 You may be surprised by three facts about this woman: her age, her appearance and her family status. So do not fail to read the article till the end so you may not to miss anything!
Who is Tristin Mays?
This young lady is an actress, and you can see her in such popular films as Supergirl (2015), Big Time Rush (2010), MacGyver series (2016), The Vampire Diaries series (2015 – 2016), Switched at Birth series (2017) and many others. However, acting is not her only talent.
When she was younger, she worked as a model for the Ford Modeling Agency. The girl was one of the best child models in the country. She appeared in commercials for Kraft Cheese, Sunkist, ROSS, Play Skool Kool-Aid, McDonald's and Hershey's. Even though today she is a movie and series star, Tristin Mays measurements are close to those of a real model:
She is 5.5 feet (about 168 cm) high;
Her weight is 116 pounds (53 kg);
Her shoe size is 8 (US);
Her bra size is 34 C;
She wears dresses of the 6th size (US system);
Her body measurements are 35-24-35 in inches or 90-61-90 in cm.
Although modelling does not bring her central part of income, this hardworking lady at only 28 years of age manages to earn enough money for a decent living. Now, Tristin Mays net worth is believed to be $1 million. The actress goes on filming and therefore multiplies her experience and income.
READ ALSO: Top Nigerian American actors and actresses in Hollywood
Top facts from Tristin Mays bio
The young actress was born in June 10, 1990, in New Orleans, Louisiana, US. Her parents are Viveca and Michael Mays. Currently, she is 28 years old, but she may look much younger. Tristin Mays nationality is not so clear from her birthplace. Although she was born in America, she has mixed roots. The actress specified under one of her photos on her Instagram that she is African American-French-Indian. Such an unusual mixture makes her a gorgeous woman with a peculiar eye cut and marvellous tanned skin.
As it has already been said, Tristin was introduced into show business as a child and debuted as a model. Then she tried becoming a singer. She sang in a band named Jane3. Their single Screensaver was released by Marques Houston and T-Pain.
In life, she is believed to be not only a talented actress but also an animal lover. As a celebrity who has a significant impact on social media, she gave her opinion cncerning China's dog meat trade. She wrote:
"Before everyone starts arguing, this includes the fur industry, INHUMANE KILLING OF FARM ANIMALS, and all other forms of animal abuse. No animal deserves to be abused. This post, in particular, is to bring awareness to the animal cruelty many people have no clue about. In China, they believe the more pain and fear the dogs have before killing them makes the meat taste better. No this is not a tradition. This trend started in 2010. Not to mention 80% of the dogs are stolen/kidnapped out of peoples yards and properties. Thank you to @helpbanyulin and the other rescues in China for your tireless efforts in rescuing so many dogs per day. Please visit her page and donate so she can continue to run her overflowing rescue shelter. Spread the word and help stop animal abuse WORLDWIDE. Thanks for reading."
The post also consisted of real videos that may be considered too cruel by some readers. So those who want to know more about her protest may visit her Instagram account.
Tristin Mays private life
The question about Tristin Mays boyfriend stays a mystery. In 2015, the first pieces of evidence of her romantic connection with the famous footballer DeAndre Yedlin appeared.
Mays posted many similar photos, and they even appeared on several public events together. The actress even said that Yedlin was her favourite footballer. She also made a shoot with his portrait and captioned it:
"He made my day so special all the way from Mexico. Thank you."
So for those who follow the public lives of these two lovers, everything was quite evident. However, they have not been seen together for a long time, and this fact has made fans conclude that they are no longer together.
It is surprising, but currently, the actress is officially single, but she has a security guard – a dog Sergeant who follows her anywhere. Most probably, the dog is happy to live with such an animal lover and defender.
However, Tristin eventually craves simple women happiness, love, affection and tenderness. Recently she posted the following video on her Instagram account.
If you happen to know someone good enough for the position of Miss Mays husband, let him think about it.
Tristin Mays is a creative personality. She has a decent artistic heritage at 28 and a pretty interesting Instagram account where she mostly posts videos that prove how freely she feels while being filmed. It is better to watch her acting once than to read about it multiple times. So do not fail to google her movies or series and enjoy them.
READ ALSO: Nigerian actress Uche Jombo's biography and movies
Source: Legit.ng