Latest Burna Boy songs you should add to your playlist ASAP
Whether you want to download or listen to Burna Boy songs on YouTube, you can be sure that these are some of the best in Nigeria and all around Africa. The artist sings songs that will get you on your feet, dancing and relieving all tension and stress. This article looks at some of Burna Boy latest songs. You will not be disappointed.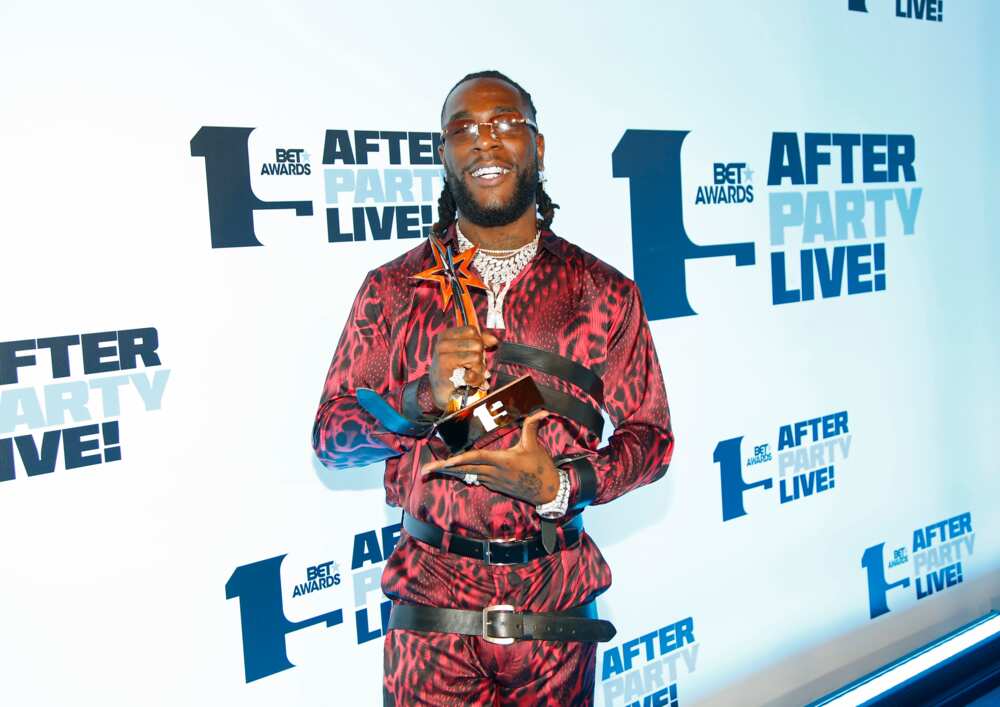 Burna Boy, whose birth name is Damini Ebunoluwa Ogulu, was born on July 2, 1991, as the first child of Mr and Mrs Ogulu in Ahaoda, Rivers State, Nigeria.
He is a Nigerian Afro-fusion singer, songwriter and the CEO of Spaceship Entertainment record label and enjoys both international and local popularity.
Latest Burna Boy songs
If you search the internet for Burna Boy best songs, chances are that you will come across his latest releases.
This artist indeed gets better with each release, meaning that his latest tunes are among his best. Check out Burna Boy new songs that will melt your heart.
Onyeka
Released: February 12, 2021
Onyeka is a beautiful song to dedicate to your sweetheart. The song expresses deep emotions and feelings towards your lover.
Hey Boy
Released: January 14, 2021
Hey Boy is an animated video song by Burna Boy featuring Sia. This beautiful song has great capturing lyrics that anyone would love to listen to.
It is one of the songs that will hit great in a club or a party. With the highest number of views of over ten million, it is surely the best of Burna Boy songs in 2021.
Ginger
Released: January 8, 2021
If you understand street language, then you will immediately identify with this inspiring hit. Burna and Wizkid outdid themselves in this jam.
This deep hit will also get you moving and dancing to the tune involuntarily.
Way Too Big
Released: December 15, 2020
The artist continues to sing and entertain fans with his soothing voice. In the song, he says that it is not easy to fall into traps when you are big and smart.
He talks more about how his life used to be before people started pointing fingers at him. As it appears, he will continue to release bomb hits even in 2021.
20 10 20
Released: October 30, 2020
This is one of the songs that prove how caring the artist is for his fellow countrymen. In the song, he criticizes the government for poor ruling and for making its people suffer.
Burna proves how bad the government has turned by making graduates suffer due to lack of jobs and high living expenses. The artist has not yet released an official video, but he can still afford many views.
Jerusalema Remix
Released: October 23, 2020
Burna Boy was also among the team who collaborated in the Jerusalem remix. Jerusalema was one of the best songs in the year 2020, with over 346 million views.
The song was played all over, with everyone trying to do their own remix videos and covers.
Real Life
Released: October 2, 2020
Stormzy does a fabulous collaboration with Burna Boy, which hits over 14 million views in just four months. Have a look at this great video.
Monsters You Made
Released: August 27, 2020
Burna Boy still complains more about the government in this song. He says that the government has refused to develop the interior regions and it continues the marginalization and injustice.
Burna Boy is one of those great artists that take a keen note of what happens to society, and through his voice, he speaks out about the suffering lives of other human beings.
23
Released: August 14, 2020
In this beautiful audio, he explains how music makes him feel. From his great hits, you can tell how the artist enjoys singing.
His numerous hits are a great illustration of how deep his passion for music is.
Level Up
Released: August 14, 2020
In this audio, the artist encourages everyone to level up in everything. He says that he doesn't feel comfortable with everything but instead try to level up every day and be a great person.
Naughty by Nature
Released: August 14, 2020
From one song to the other, the singer keeps surprising us with unique content that is always moving. His spirit on music is always on another level. He is absolutely great.
Time Flies
Released: August 14, 2020
Burna is an indeed talented artist who knows how to play around with his lyrics. He collaborates with Sauti Sol to release an amazing hit on how time flies so fast.
The official video is not yet out, but this audio has reached 2 million views since its release.
Bank On It
Released: August 14, 2020
In the song, Burna Boy sings how sweet life is and how we all try to live it to our best. It has slow-moving beats that will indeed move you.
Bebo
Released: August 14, 2020
The artist continues to showcase his exceptional talent in music through various hits. It is fascinating how deep he has captured many of his fans from his unforgettable songs.
Alarm Clock
Released: August 14, 2020
In this audio, the artist tries to explain how important each one of us is. He says that we are all magical beings, and it is very important how you value yourself and others around you. He calls it black love.
Wetin Dey Sup
Released: August 14, 2020
If you believe that one day life will come to an end, then listen to this hit. The artist says that everybody will die and get buried six feet under coal tar in one way or the other.
No Fit Vex
Released: August 14, 2020
According to Burna Boy, life is so easy when you find your way through, but again it can become tough when trying to find a way.
My Oasis
This hit has attracted over 20 million views so far, even after being released six months ago. This great jam is a perfect club banger that will drag you back to the dance floor when you try to leave.
The beats will have you moving from side to side as you respond to the powerful rhythm.
Wonderful
This tune has over seven million views from when it was released in July 2020. Burna brings depth in a manner that is so rare in today's music.
This is one of the aspects that makes the song beautiful. The traditional dance crew in the video makes it more exciting to watch.
Odogwu
Burna Boy is talented in singing alone and can also shake his shoulders and dance well. He is proud of his culture, and this is evident from a number of his videos where most of his dancers are dressed in traditional attires.
List of Burna Boy songs
Below is Burna Boy songs list for the year 2020-2021
Onyeka
Hey Boy
Ginger
Way Too Big
20 10 20
Jerusalema Remix
Real Life
Monsters You Made
23
Level Up
Naughty by Nature
Time Flies
Back On It
Bebo
Alarm Clock
Wetin Dey Sup
No Fit Vex
My Oasis
Wonderful
Odogwu
Indeed Burna Boy continues to win many hearts with his fantastic music hits. Which of the above Burna Boy songs was your favorite?
READ ALSO: Top 10 richest Yahoo boys in Nigeria: how wealthy are they?
Legit.ng recently published an article about the top richest Yahoo boys in Nigeria everyone should know about. Nigeria and other West African countries are homes of many Yahoo boys in Africa. These are well-known people who are fondly referred to as Big Boys.
They have no real sources of income, but their wealth baskets keep ballooning. Some of them go to the extent of doing giveaways, and as a result, they have attracted a massive following.
Source: Legit Nigeria