What to do before you kiss a girl you like
Do you feel embarrassment before you kiss a beautiful girl? Are you not sure if she is interested and has a mutual desire? Or perhaps you do not know what to do before you kiss a girl you like? We have decided to help you and have gathered very useful tips for guys.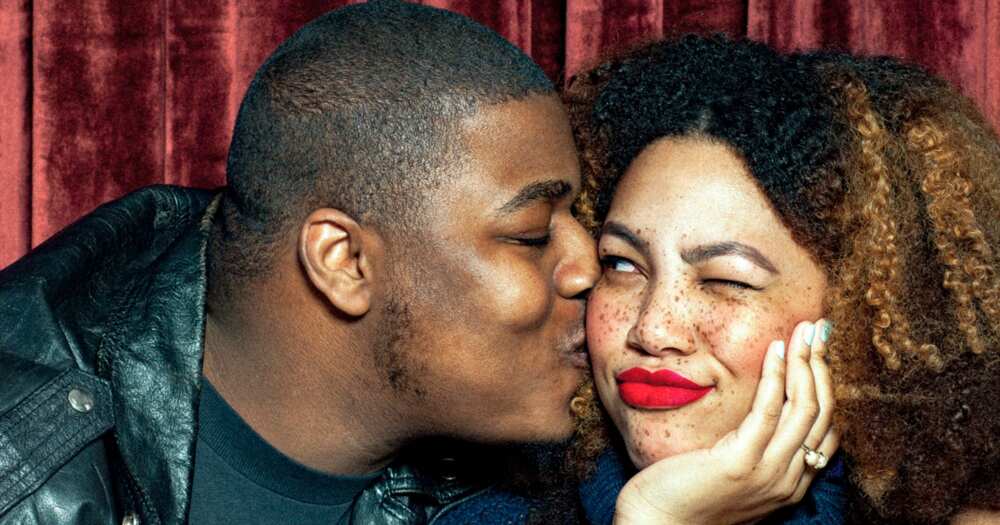 Photo from s3.r29static.com
What to do before you kiss a girl
Below you will find handy tips that will help you to kiss a girl at the right moment and to do the right things that can make your kiss sweet and full of romance. After such the kiss every girl will be dreaming about the next kisses.
1. Stay alone with the girl you like
Perhaps this is something without which the kiss will not be romantic. If you try to kiss a girl in the presence of your friends, she will decide that you want to make her your trophy. Catch the moment when you stay alone. You can invite a girl to a quiet place in one of the following ways:
Take her hand, follow her and look into her eyes.
If there are people around you, ask her to chat with you in private — girls like when all attention is directed only to them.
Even if there are a lot of people around, try to touch her arm or shoulder. It will show your intentions.
If you study together, offer her to have a walk. Autumn and summer nature screams about romance.
Ask if you can take the girl home (from school, from work, from a party, etc.).
If all of the above methods were ineffective, invite a girl for a date. There you will surely be alone.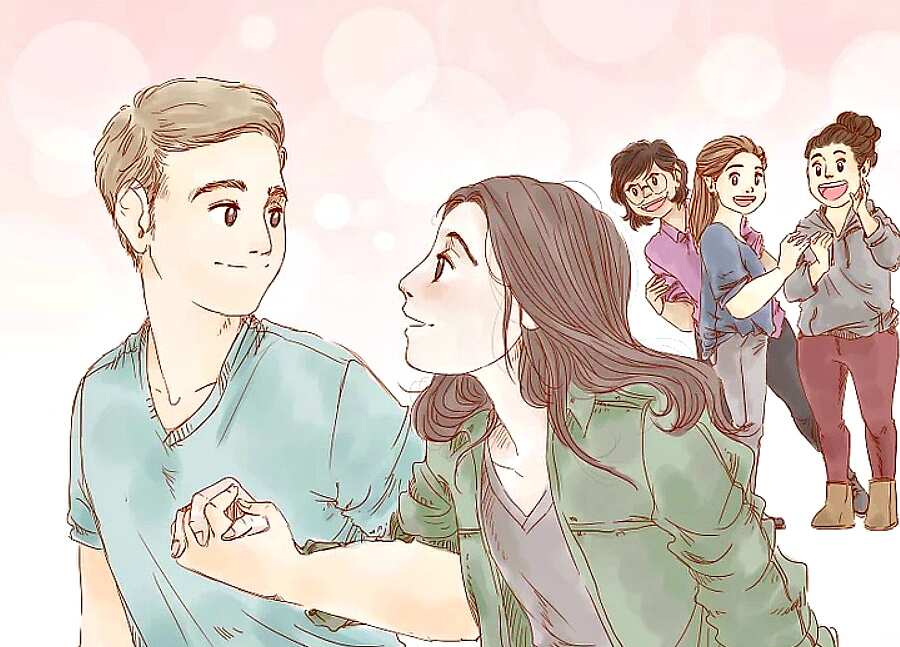 Picture from wikihow.com
READ ALSO: Cute things to text your girlfriend to make her smile
2. Create a mood
The environment should be soaked with romance - it will help you a lot. The desire to create a cozy atmosphere will talk about your feelings, and this will make you more attractive in the eyes of the girl. You should choose a place with soft lighting. Of course, you can make an impression of romance in bright daylight, but it is more difficult. Find a place where lighting will promote intimacy. Here are a few options:
Sunset is very romantic, especially if you have a place with a good view.
There is a lot of light on the full moon so that you can see each other perfectly.
Take cover under the entrance roof overhang or in the car on a rainy day. The light breaking through the rain will be soft and trembling.
If you are hiking and sitting by the fire, the flickering of flame will help you!
Light some candles to create romance indoors.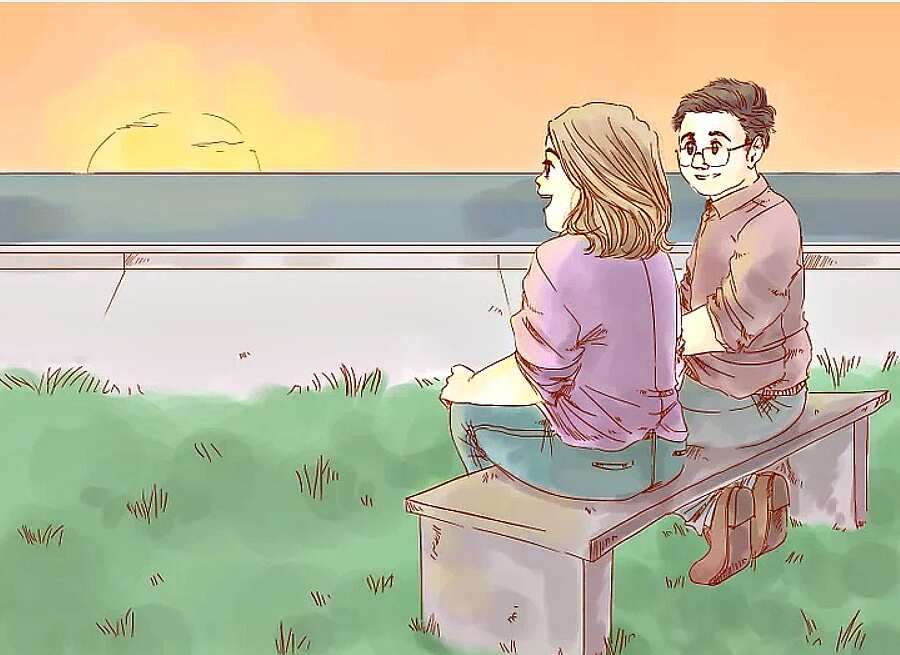 Source of photo: wikihow.com
3. Talk about her
If you want to kiss her, avoid topics that may seem unpleasant or offensive to her. Below we will tell you what to do.
Do not speak about:
how beautiful you think other girls are. Forget about it at all.
difficulties in your life. There is nothing attractive about complaints.
topics that you have discussed with male friends.
the functions of the body.
Speak about:
how beautiful she is.
her interests and beliefs. If you don't know what to talk about, ask what she thinks about this or that question, or just tell her what you like about her hairstyle.
common interests such as similar experiences and common hobbies.
a variety of things: movies, music, sports, wine, cooking, hobbies, games, relatives, crazy ideas, random things, etc. If you run out of topics, try to talk about the place where you are now. Discuss the restaurant, beach, funny advertising on the banner, which you saw along the way.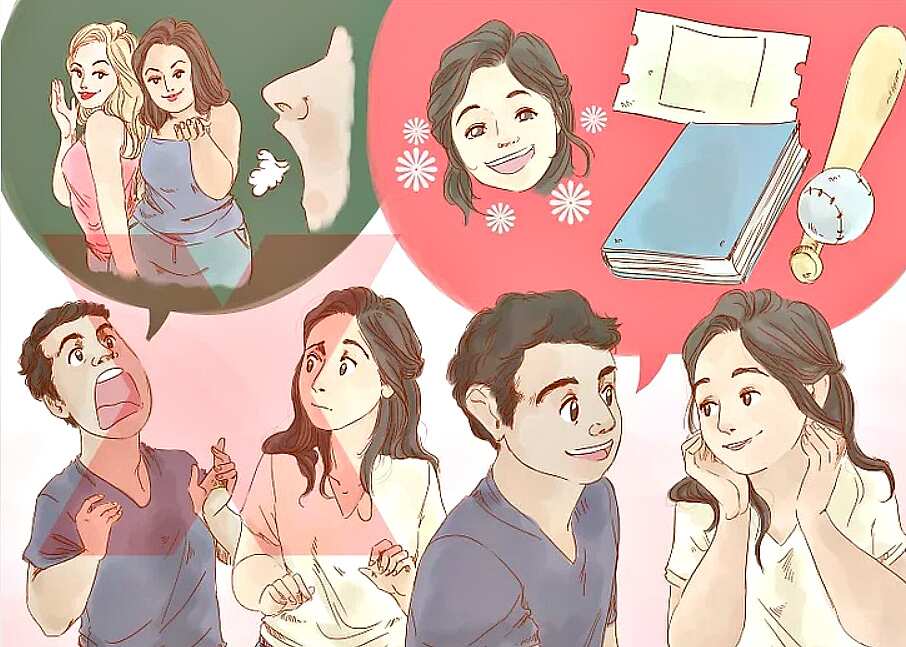 Picture from wikihow.com
4. Give her a nice compliment
Everyone likes compliments, and girls are no exception. A compliment is a perfect way to give her a sign that you want to kiss her, making her feel beautiful and desirable. Check out the following tips:
Praise what you really like about this girl. Try to mention something special that other people don't have. A sincere compliment is always better than something made up, so choose your words carefully.
Do not emphasize in the compliment her physical features: butty, figure, weight, and so on. If you want to make a compliment to her appearance, talk about eyes, hair, and smile. Do not touch anything else at this stage.
Think about what you say. You can say "You have a beautiful smile," but these words will not be remembered. It is necessary to formulate a compliment so that it remains in memory since once it made smile. Here are some examples:
You just have incredible eyes.
I could watch you smile forever.
I have not seen anything more beautiful than your hair.
Give a compliment in a romantic way. It is very important because even the most beautiful words will lose their appeal if you say them too quickly or stumble. Try this:
Lower your voice slightly. It will give you the desired shade.
Bend over to the girl. In this case, you can even speak quieter. It will also make the compliment more personal.
If you feel strong, you can whisper a compliment in her ear. This technique will allow you to understand whether a girl is comfortable being so close to you. If her reaction is good, do not be afraid to kiss her.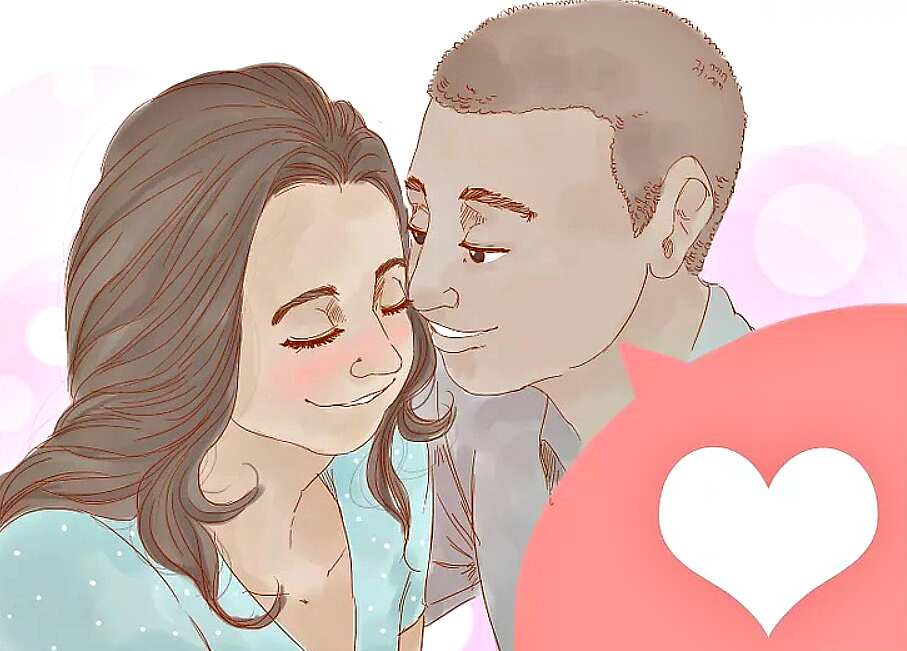 Photo from wikihow.com
Kissing tips
The tips below can help you to kiss a girl you like.
1. Prepare a girl for a kiss
If it seems to you that a kiss may scare her, try first to touch her lips lightly.
Slowly hold her hand over your lips and kiss the hand very lightly. It is a very long tradition, and many girls find this gesture very sweet.
Kiss her cheek. Do not be embarrassed or kiss her as if it were a relative. Lightly touch her cheek with your lips. The bravest can try to kiss her near the lips or ear.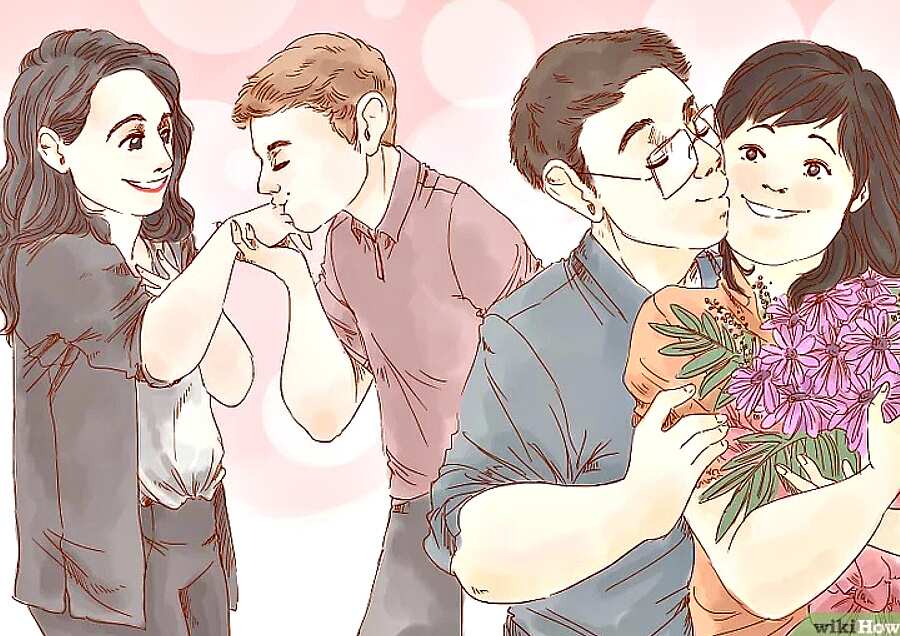 Source of the picture: wikihow.com
2. Look in her eyes
Before you kiss a girl, look into her eyes. It will make her understand what you intend to do. If she turns away or changes the subject of conversation, put off the kiss. If she likes it — go ahead.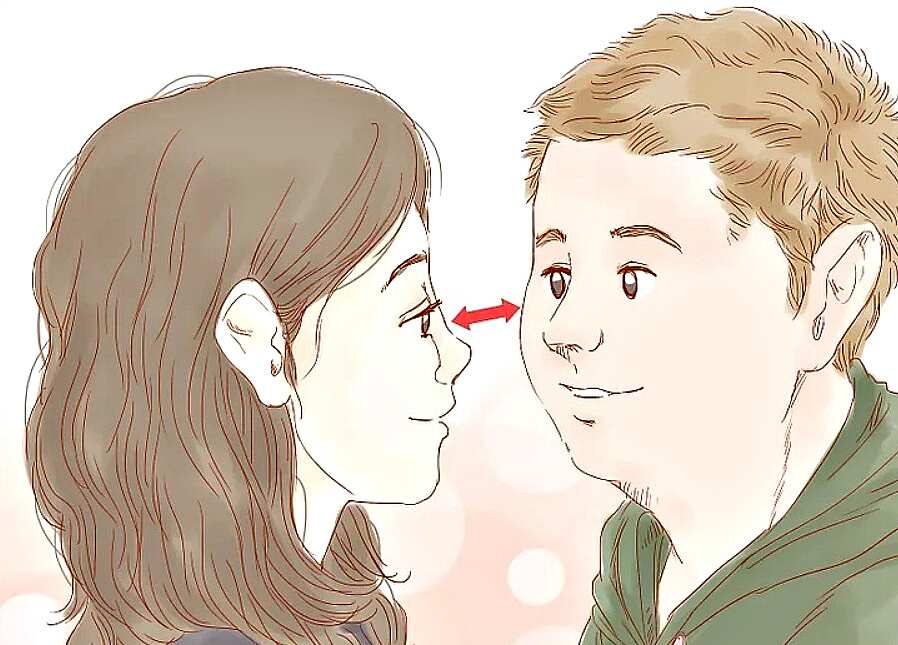 Photo from wikihow.com
3. Lean forward to her and wait for a couple of seconds
Slowly lean forward to her face so that she has the opportunity to turn away. Your noses should not collide. Stop by her lips.
If she pulls away or starts talking, it will mean that she does not want to kiss you. Do not be discouraged and try to kiss her another time.
If she does not move, kiss her. It is possible that she will be the first who lean and kiss.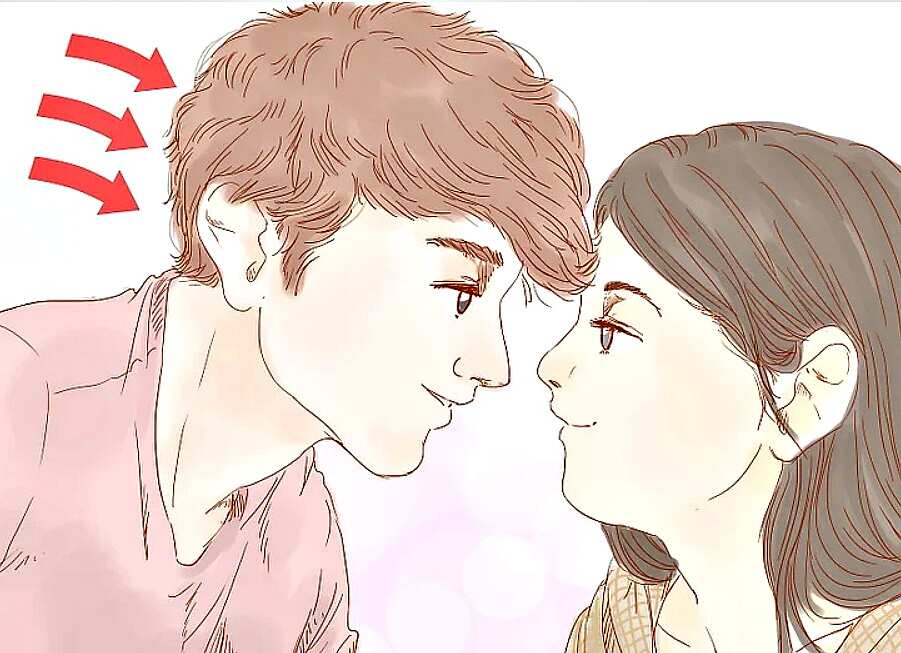 Picture from wikihow.com
4. At the very beginning, kisses should be gentle
It is especially important if this is your first kiss with this girl. Do you want to seem aggressive or inept? Of course, you do not. Cover her lips with yours, trying to make the kiss as gentle as possible. After that, start kissing her lower lip so that it is between your lips. Try not to make any sounds — it will distract you.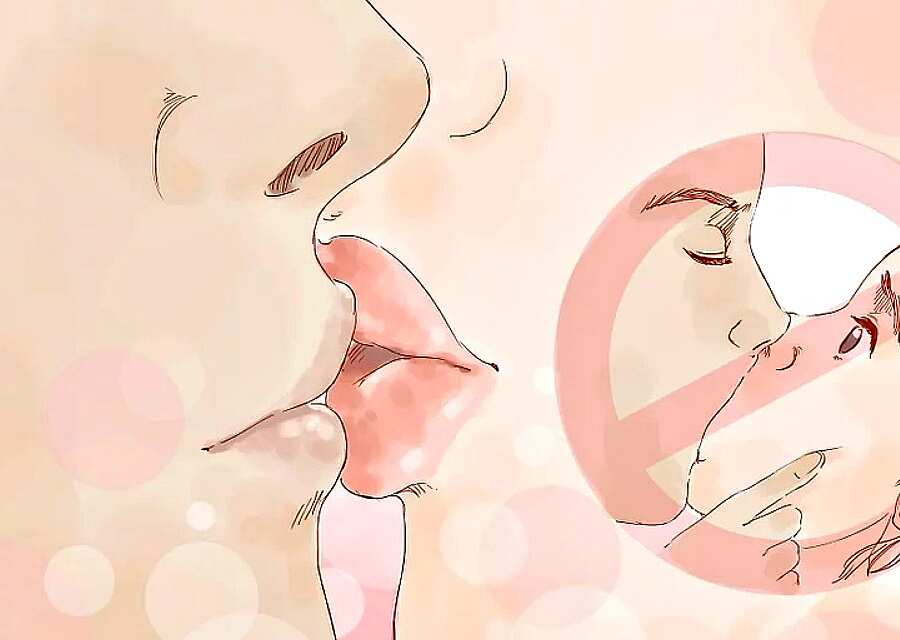 Source of photo: wikihow.com
5. Take the right position for your hands
Do not sit, taking arms at side, because your hands can help to make the kiss even more pleasant. Try this:
Put your hands around her face so that your thumbs are on her cheeks.
Gently touch the girl's hair.
Put your hands on her shoulders.
Hug her waist.
If she wants to kiss you, but she is timid and shy, take her hands and put them on your shoulders. It will help her to be closer to you, and you will look as if you are risking and are afraid of failure (and the awkwardness associated with it), and not she is.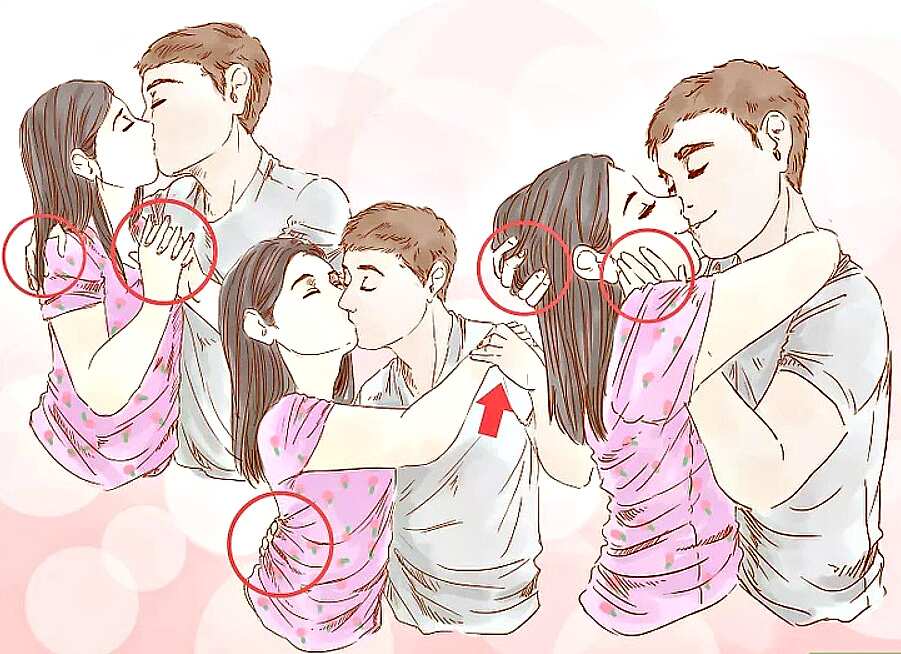 Picture from wikihow.com
6. Choose a French kiss
Try kissing in this way only if she feels comfortable. To make the kiss more passionate, touch her lower lip several times by your tip of the tongue. She will understand what you want to do, and if she is ready for it, she will open her mouth wider.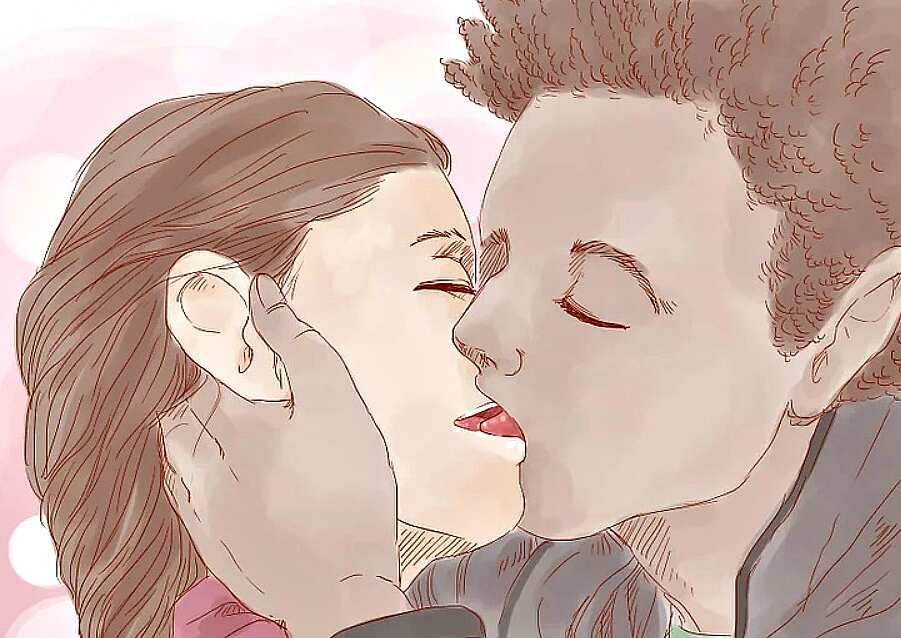 Photo from wikihow.com
7. Take a break, but do it romantically
At some point, you probably will want to stop kissing. Do not abruptly interrupt the kiss - there are more successful ways to do it:
Pull yourself apart and press your forehead against her forehead. Stay in this position for a few seconds.
Cuddle up to her cheek so that your lips are near. (If you want to give her another compliment, this is the right moment!)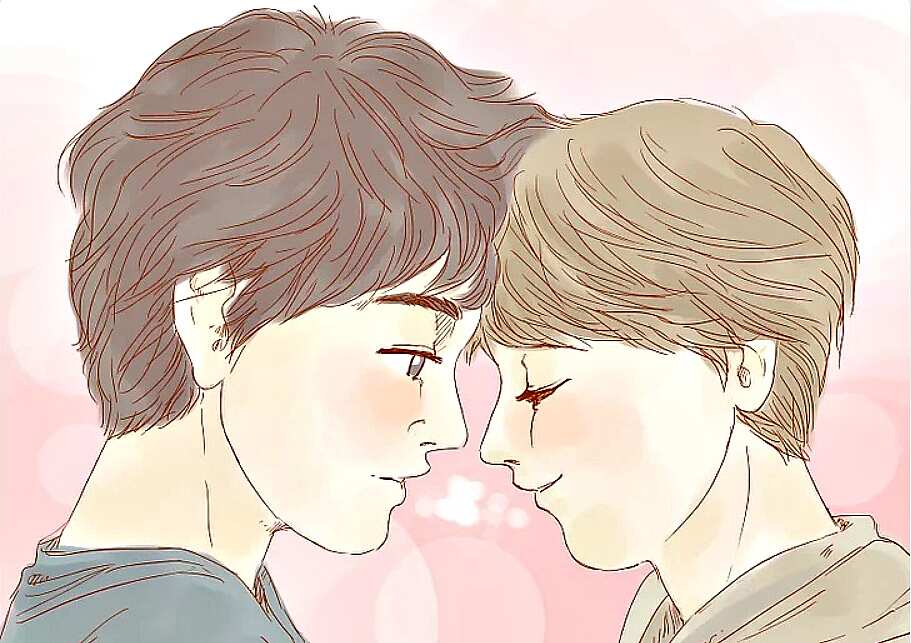 Source of the picture: wikihow.com
8. Finish the kiss lovely
If you decide to finish the kiss, then gently hug her. Run your fingers through her hair. These are small things, but thanks to them the kiss will be more pleasant, and she will want to repeat it in the future. Do not hurry! Girls do not like it.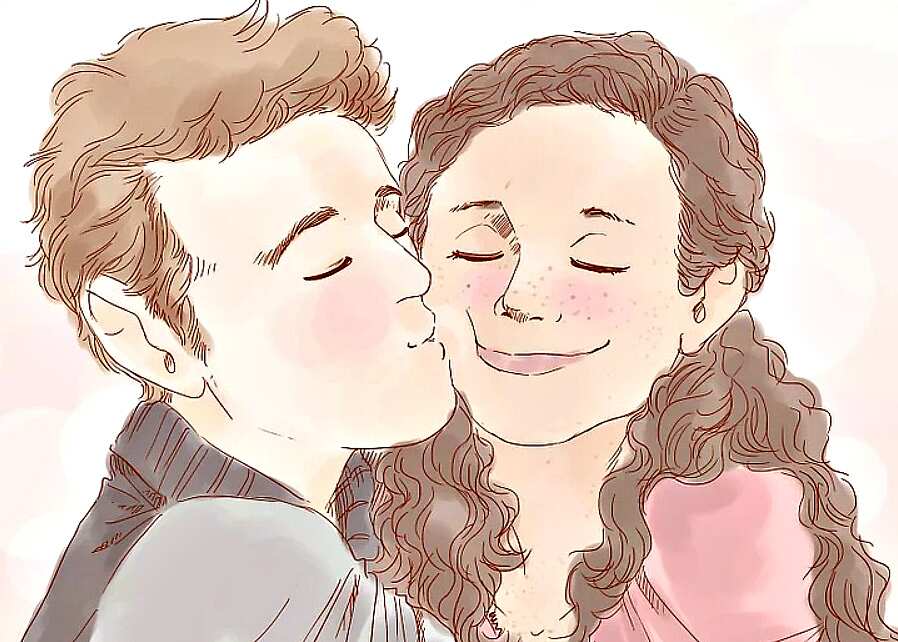 Photo from wikihow.com
Other useful tips
If it is cold outside, this can be an excellent opportunity for you, because you will have an excuse to hug her. When you do it, turn to face to face with her and talk.
Get ready. Brush your teeth, use dental floss and mouth rinse before meeting with the girl. Keep mints at hand whenever you go. Taking a shower, shaving, and wearing good perfume are also of great importance. If you wear braces, make sure they are clean.
Another way to make your breath fresh is to swallow the cinnamon or ginger capsules. Usually, they can be bought in the same place as the vitamins.
Do not immediately try to use French kiss. It may scare her or make feel pressure from your side. Besides, she may not like such kisses at all.
If she pulls away or wants to stop, do not start again, just wait. Take the hint. Recognize that you have not obtained consent, and accept the refusal.
Do not be afraid. She may be as nervous as you are, so a girl may try to shut herself away from you (for example, she will fold her arms or look elsewhere), but all of this can be just stress. Be respectful, gentle and attentive and act slowly. If a girl likes you, sooner or later it will become clear. But if she rejects, do not insist.
Some girls like to be gently pressed against the wall. If you think that she will like it, try it!
If you think everything is going well, try putting your hands below her waist. However, if this is your first kiss, it is better to postpone it until the next time.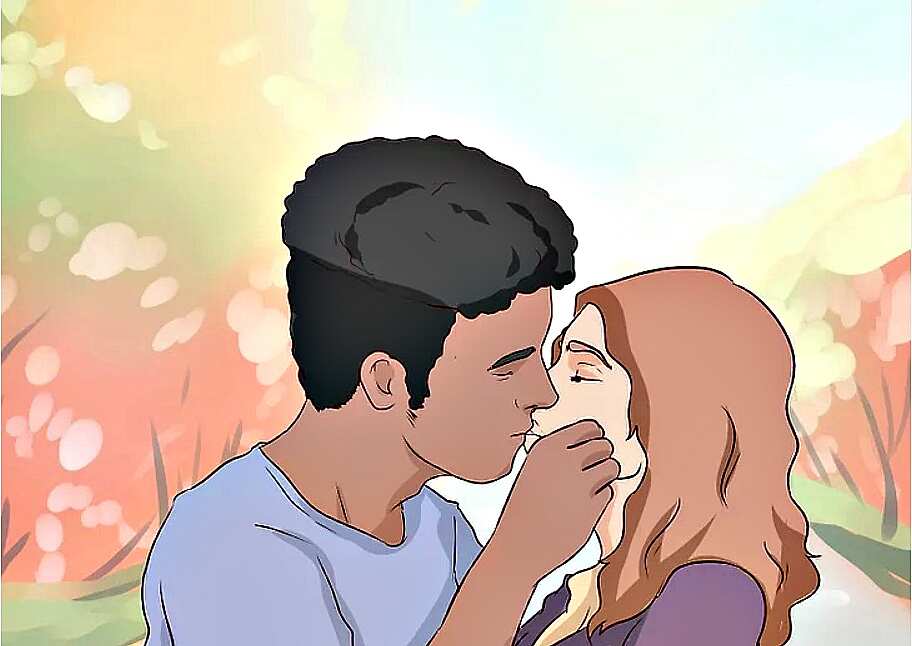 Picture from wikihow.com
When to kiss her
Sometimes a kiss happens absolutely freely, carried away by emotions. But sometimes you have to choose the right moment. Below we will tell you the most common situations when you can kiss a girl and she will like it. Your task is not to miss the right moment.
When you walk, holding hands - this is one of the ideal moments. For example, you stop and admire some beautiful scenery. You can hug a girl. You will feel that she ready for a kiss. At first, you can touch her cheek, then kiss the girl in the corner of her lips. If she slightly opened her lips, continue further. Sometimes it happens that you walk around the city, and the lights are turned off. If this happens during your walk, use this moment to kiss, or unexpectedly take the girl to a more romantic and peaceful place.
If you have invited a girl to the cinema and finally decided to kiss her, choose the so-called places for kisses. These are the last rows of the movie hall. Do not take tickets to the new or top-rated movies, which comes to a lot of viewers. Choose a romantic film. When the main characters will kiss, you can kiss your girl.
If you go on a picnic in the woods or on the shore of the lake/river/ocean, be sure that the romantic atmosphere of these places urge to kiss. It is better to choose the moment when you sit together near a fire, on a fallen tree in the forest or under a starry sky on the beach.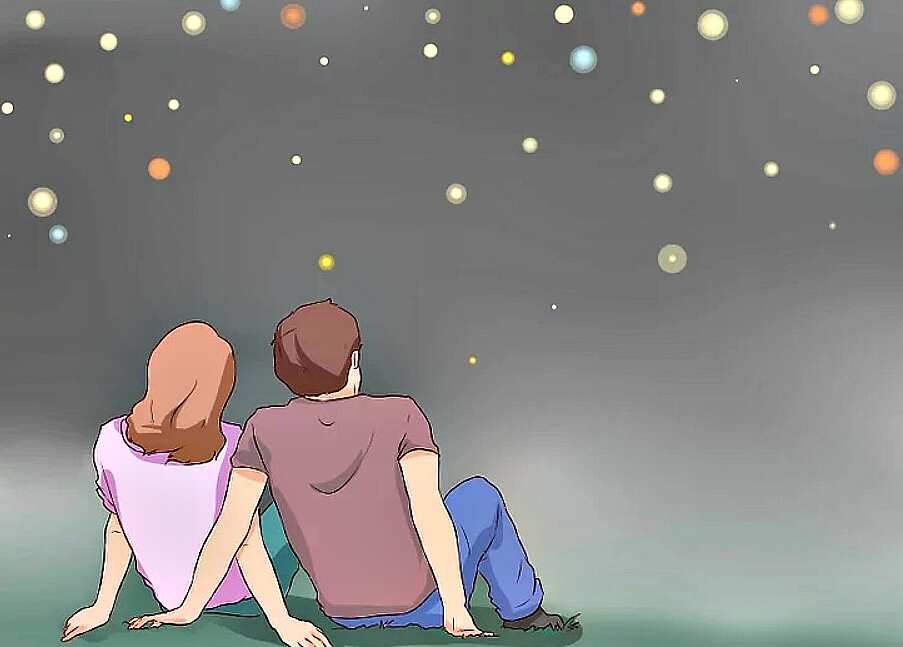 Photo from wikihow.com
If a girl gently touches your face, bites her lower lip or fix her eyes on your lips, then this is a signal to action. You should kiss the girl quickly after this or at the least expected moment. It will be wholly unexpected and pleasant for her. If you did not notice the signals or are not sure that you have understood them correctly, then you should start kissing when there is a pause, and you will look into each other's eyes.
The sign that the right moment has already come is a monotonous conversation. When a girl is thinking "When will he finally kiss me?" then she purposely makes long pauses in the conversation. Thus, she shows you that it is time to kiss. Do not lose this moment.
If you do not know which moment is suitable for a kiss, it is better to leave a kiss for the end of your date. It will be the logical end of the evening for both of you. If a girl waited for a kiss for a whole date, then, in the end, she will make you understand she is ready: she will look for reasons to stay together, a girl will try to come closer to you, she will accidentally stumble and fall on you. When you are near her house and the happiness of spending time together overwhelms both of you, act unexpectedly. Finish a date no less romantically, kiss her.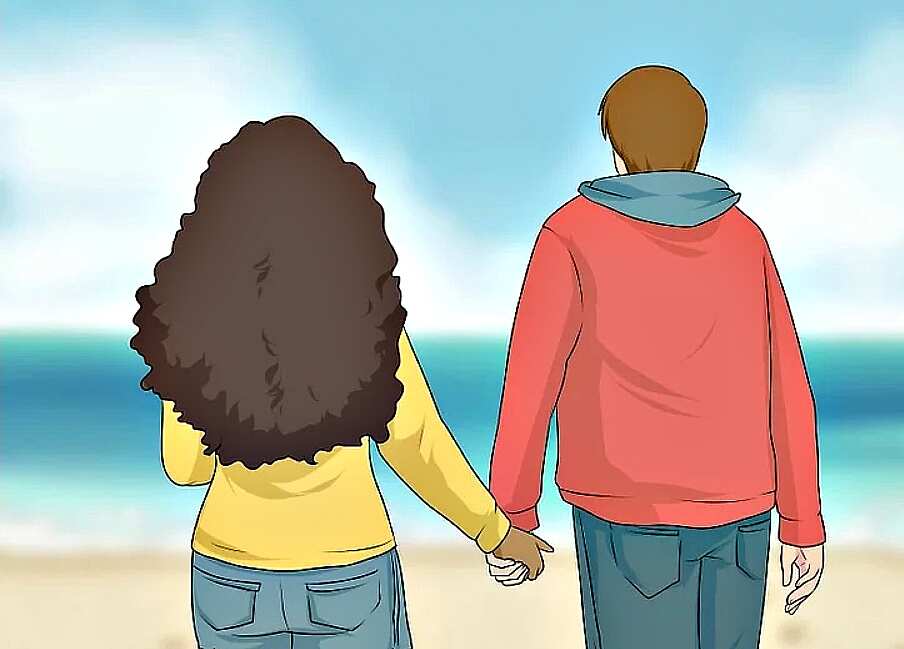 Source of the picture: wikihow.com
If a lady is not ready for a kiss, do not consider this a personal offense. It is her choice, and it is not a reflection of your value. Sometimes there is simply no spark, and sometimes it may seem like a big step for a lady. Some ladies deeply believe that they will be more appreciated if the first kiss is not on the first or even the second date. Be patient, attentive and respect her wishes.
READ ALSO: Questions to ask a girl you just met online
Source: Legit.ng