30 mens high fade hairstyle ideas to try in 2019
Almost every man has gone to the barber and said: "I do not know what to do with my hair." In worse case scenarios, you will find that you have been getting the same haircut for years such that the barber knows you by that cut. This year you can take action and change things a bit by trying any of the listed high fade haircuts for guys.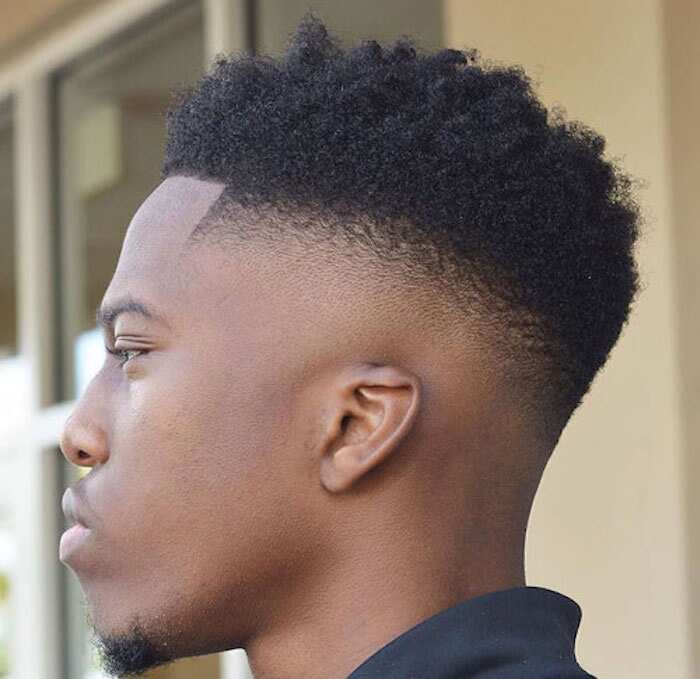 With so many haircuts available to date, it is common for a guy to ask what is the best fade haircut. A high fade is one of the best hairstyles for men, and you can get it by opting for a shave that starts near the top of the head.
Best high fade hairstyles to try in 2019
What is great about the high fade is that it is ideal for a black man as it combines with different hairstyles such as waves, afro, sponge twists and dreadlocks. Furthermore, the back hair is cut short on the sides which means that you can choose to add any design that gives your look an edge. Need inspiration, check out the following trendy haircuts for men.
1. High bald fade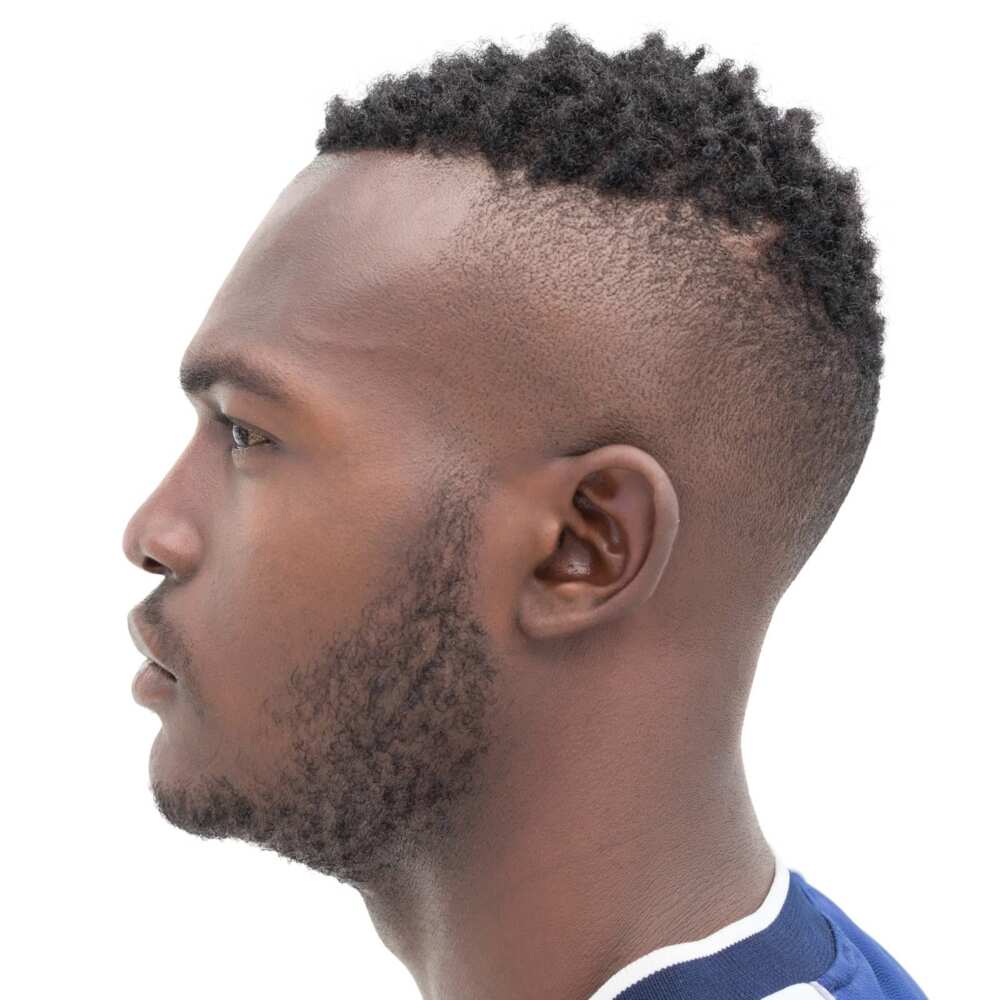 The style is popular with guys of all ages because it allows the hair on top to be cut in a variety of lengths. It works well with a faux hawk, man bun, top knot or slick back. You can also include a comb-over or quaff.
2. High taper fade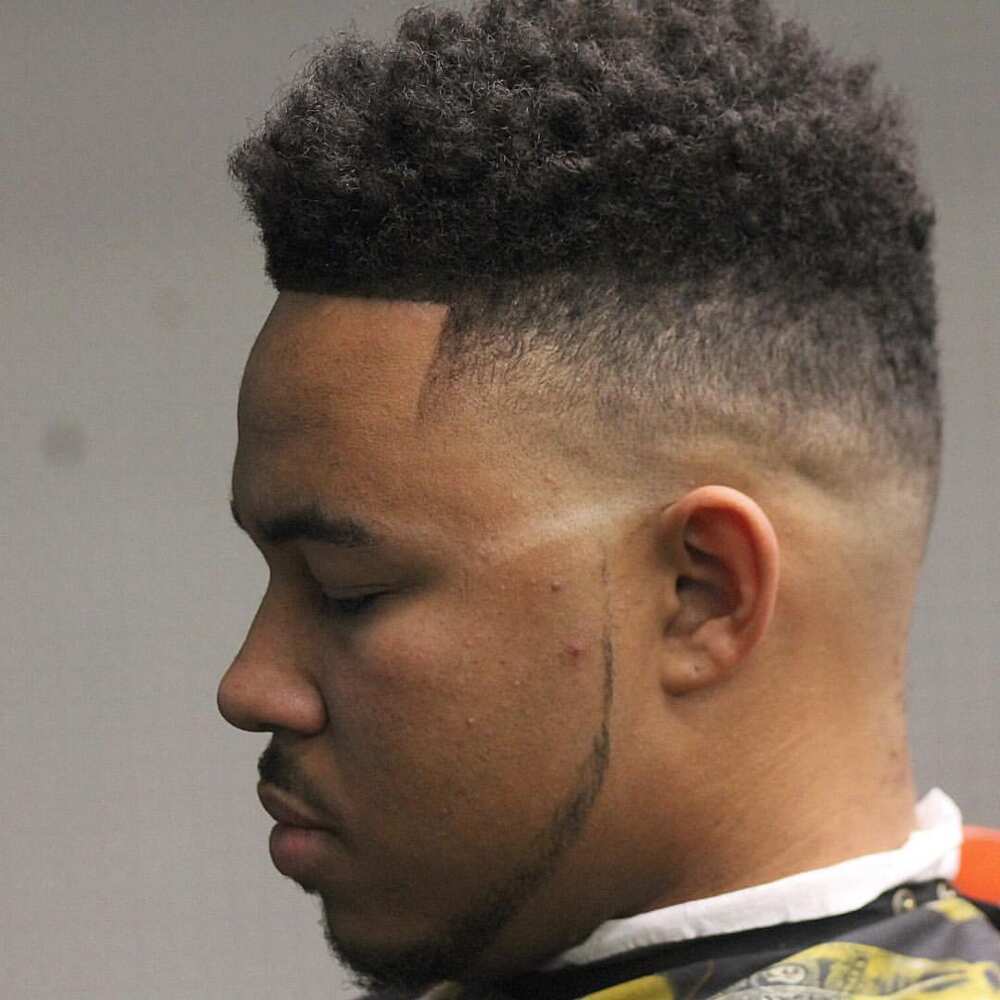 Do you want to be known for your stylish haircuts? Then go for a high taper fade which is modern, trendy and professional. When getting this style, ensure that your barber does not cut down to the skin; instead, they should level off at very short hair to create a classy and clean cut that many would admire.
3. High skin fade
If you are looking for a haircut for men that shaves the hair on the sides and back to short levels, then go for this style. The clean-cut to the skin creates contrast and accentuates the hairstyle on top.
4. Classic haircut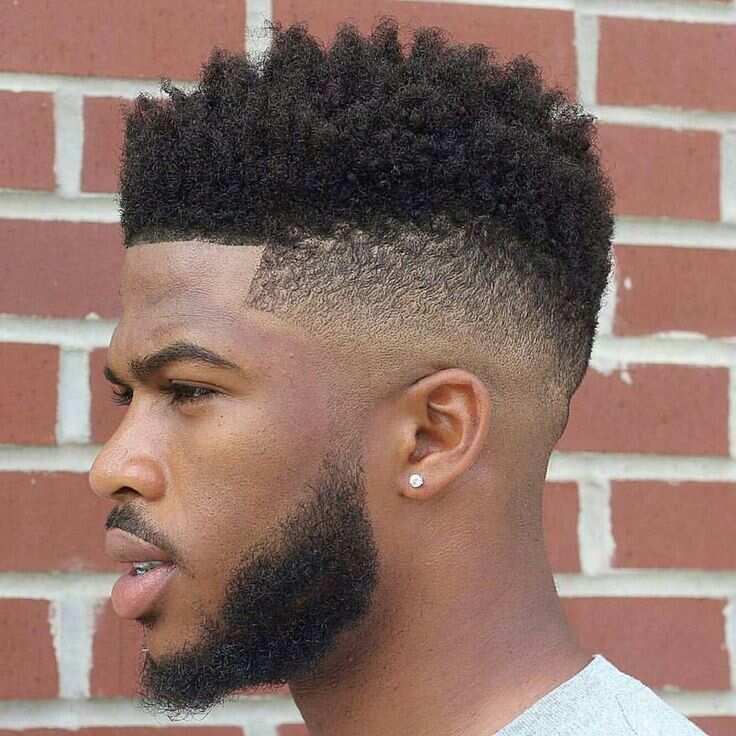 Once reserved for millennials, this classic style is an incredibly flattering style for mature men. For a professional look, opt to keep the hair on top short or medium in length while for a trendy hipster look you can style long hair into a Mohawk or man bun. Either way, this cut will emphasize your masculine features.
5. Comb over haircut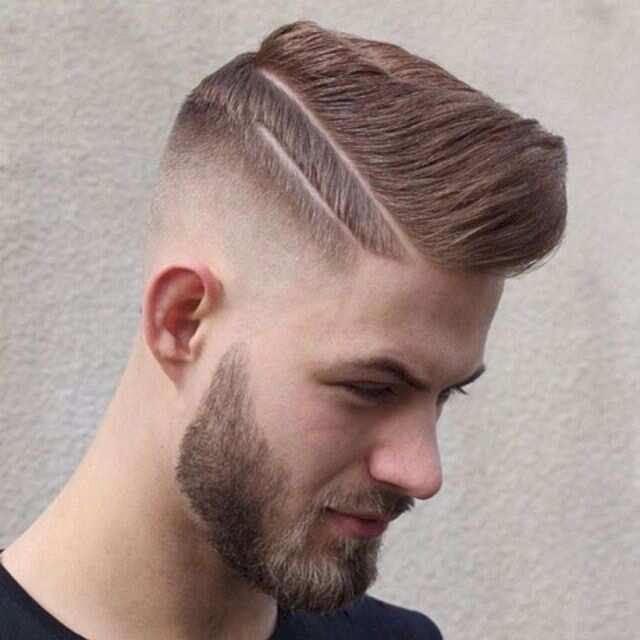 If you love less dramatic hairstyles, then long comb-over is ideal for you. This haircut allows you to maintain the hair length and a conservative look. Men with thin hair should blow dry it to add volume.
6. High fade side part
The good thing with opting for a part is that you can go for a classic simple or modern side part to create a classic look that is suitable for all men. For guys who want to use their hair to make a statement then a simple deep side part will do the trick.
READ ALSO: 25 Ivy League haircut style ideas for men
7. Textured haircut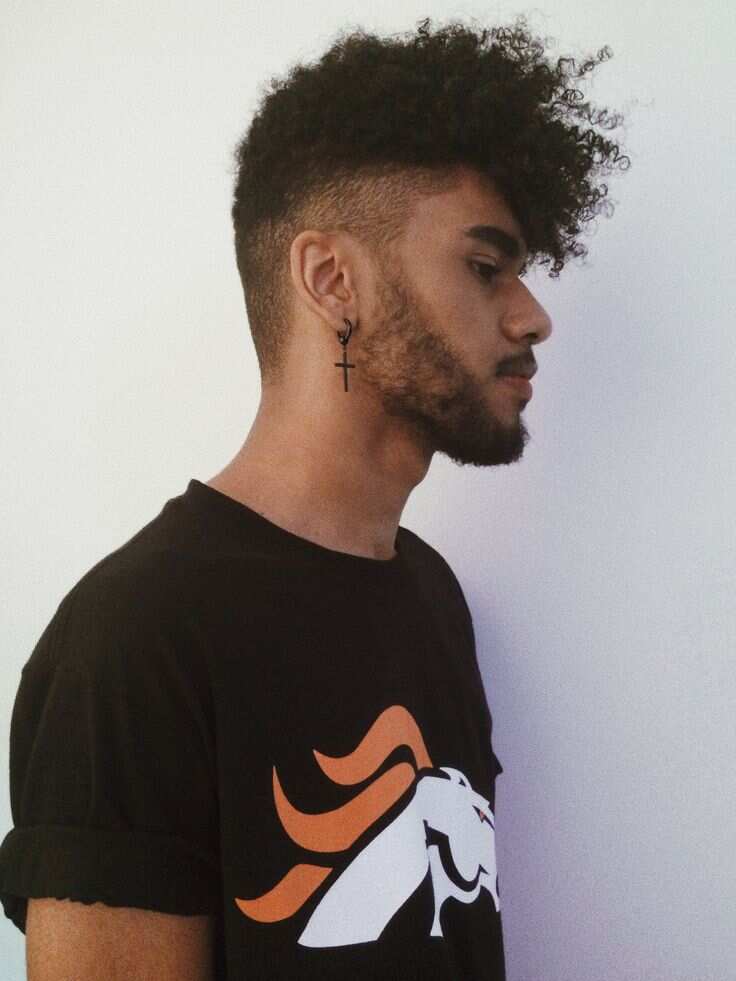 Men who love to experiment with different haircuts should try this style. It is classy and helps to bring out your facial features. Besides, it creates a shift in hair lengths which is perfect for those who want a dramatic haircut.
8. High fade with beard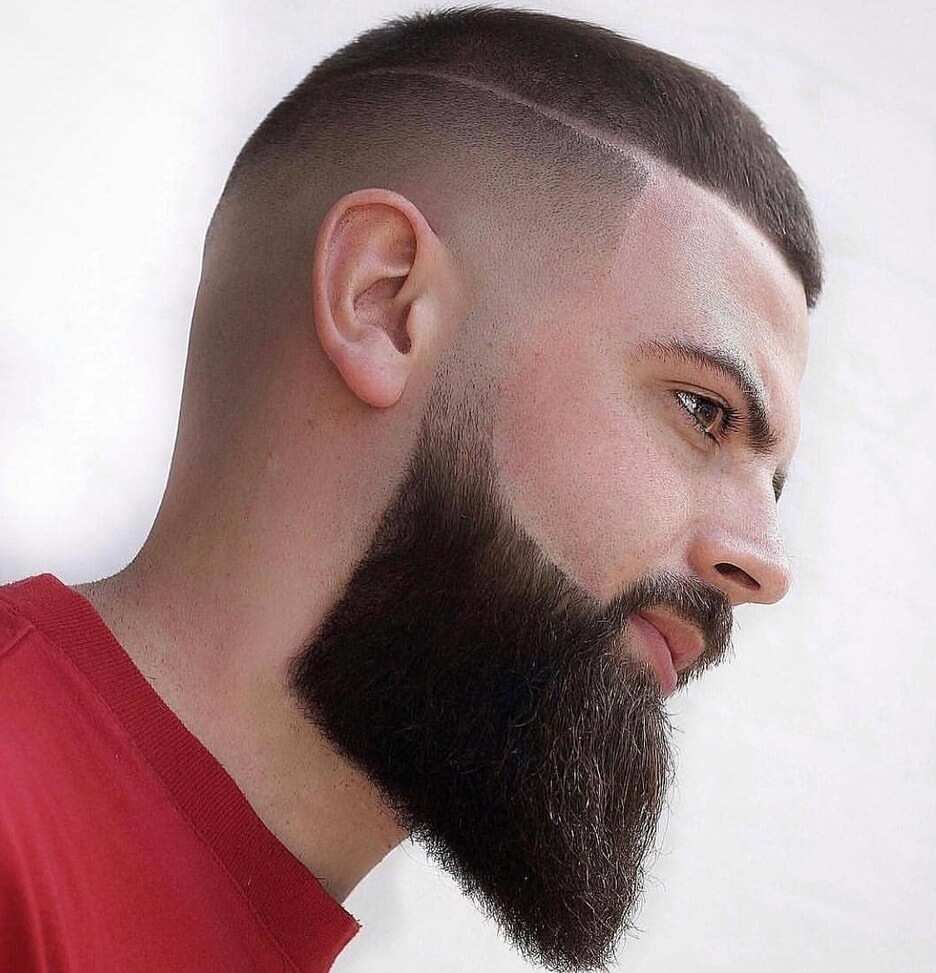 One way to complement a high fade is with a well-trimmed beard. This cut allows any man to maintain their masculine look without sacrificing professional style.
9. Spiky haircut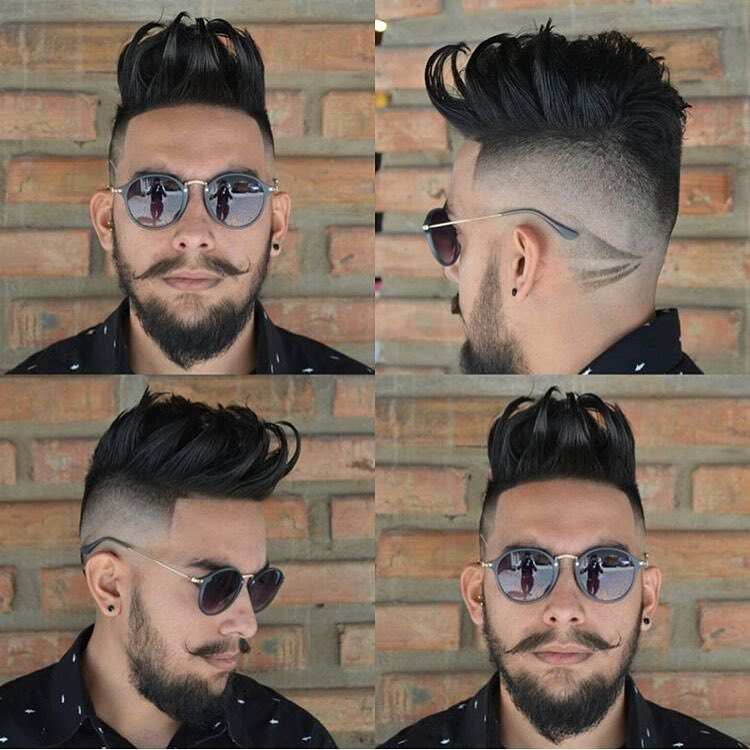 High fades are considered one of the hottest trend of the season as they complement all hair types. Whether you have kinky, curly, or straight hair, this style will suit you. The trick is to give your barber clear instructions. For men who love long hair then keep a few inches long to make sure it can be combed back to create an eye-catching design.
10. Afro nappy hairstyle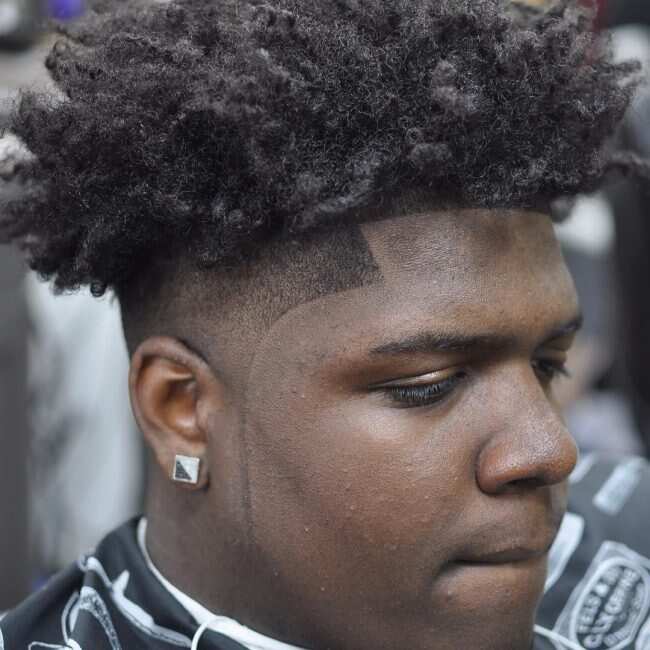 This afro cut is popular among black men as it features short sides and full top hair. The style is ideal for guys with round faces as the long top hair creates an illusion of a longer and slimmer face.
11. Cute high fade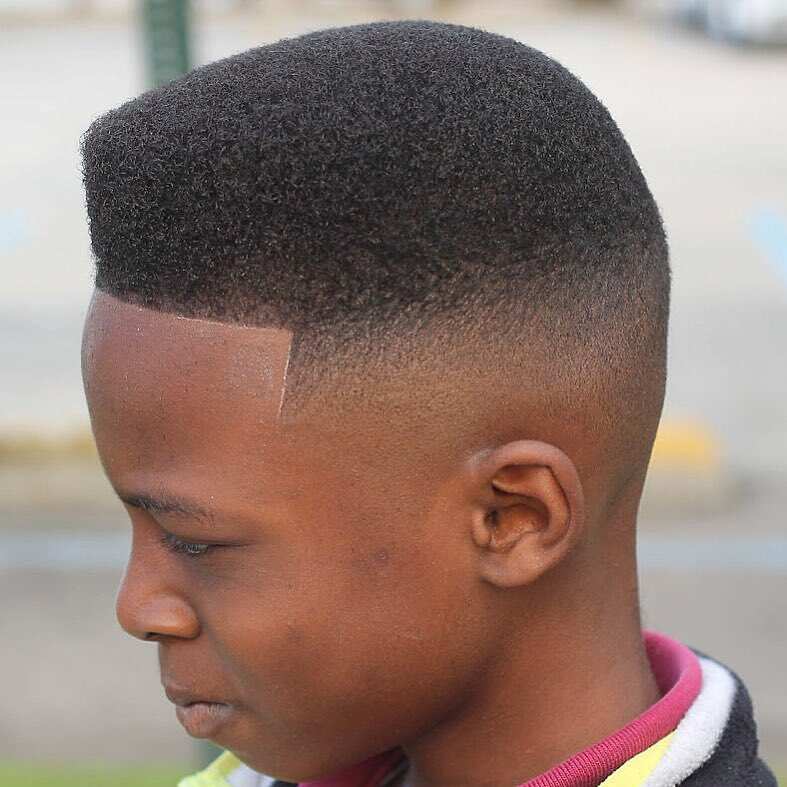 For kids, you want to go for a hairstyle that is low maintenance, and this hairstyle is perfect for that. It helps your kids showcase their natural hair and frames the facial features.
12. Curly hairstyle with shaved sides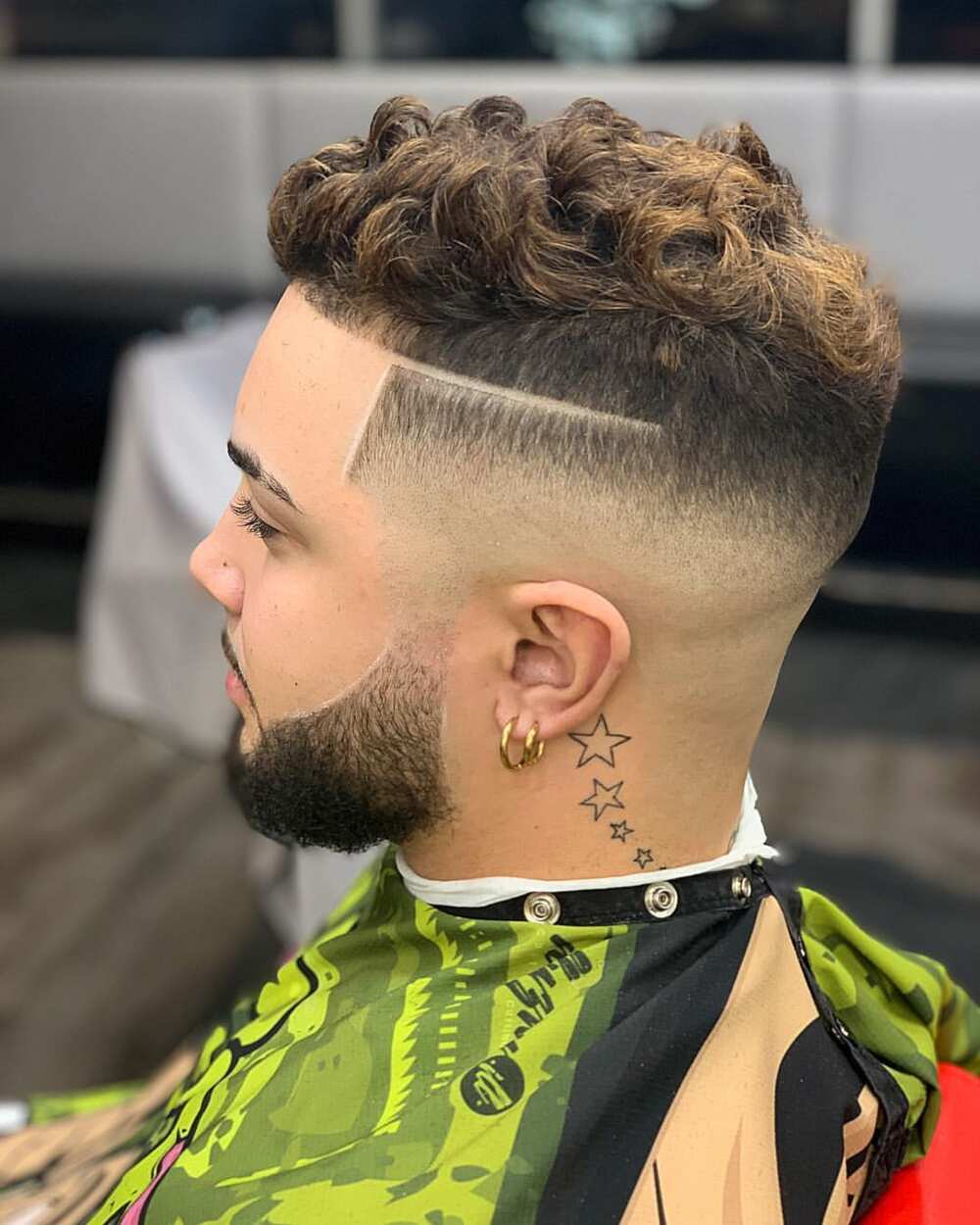 Do you have long curly hair and want a high fade black hairstyle that is modern yet simple to achieve? Then go for this curly design. Men with curly hair are not limited to just one style. Buzzing the sides and allowing your natural curls to hang freely is one of the best ways to use hair to make a statement.
13. High fade pompadour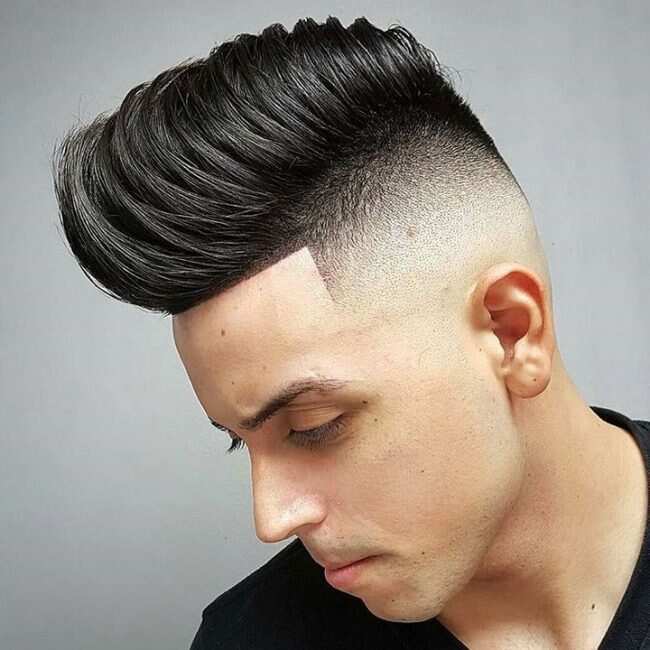 A pompadour is one of the trendy hairstyles. While you might need to use hair products to create the pompadour effect, the shaved sides allow the hairstyle to stand out.
14. Flat top with reduced sides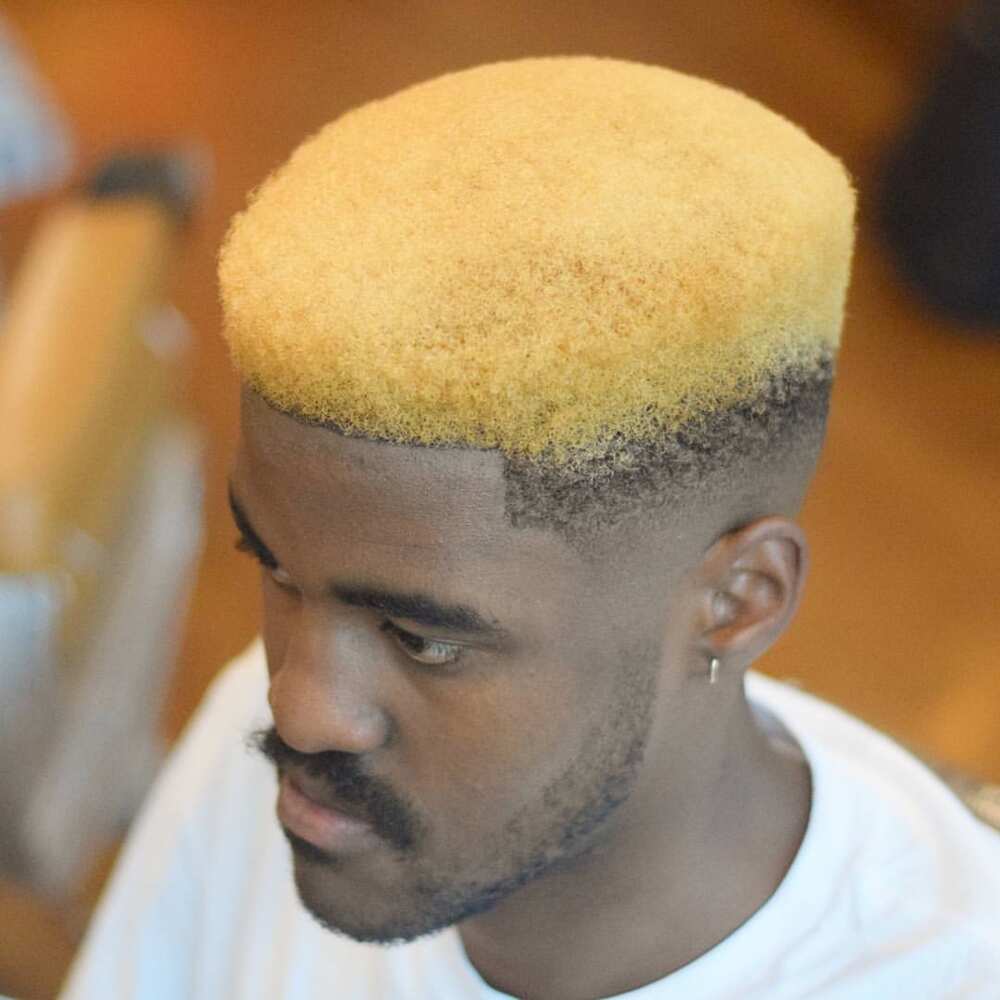 The flat top is a popular 80s hairstyle that is making a comeback. This haircut is particularly perfect for those who love afro hair. The flat top is emphasized by the shaved sides which further give your hair a unique look.
READ ALSO: Top 20 men's low fade haircut ideas
15. Messy afro haircut with a beard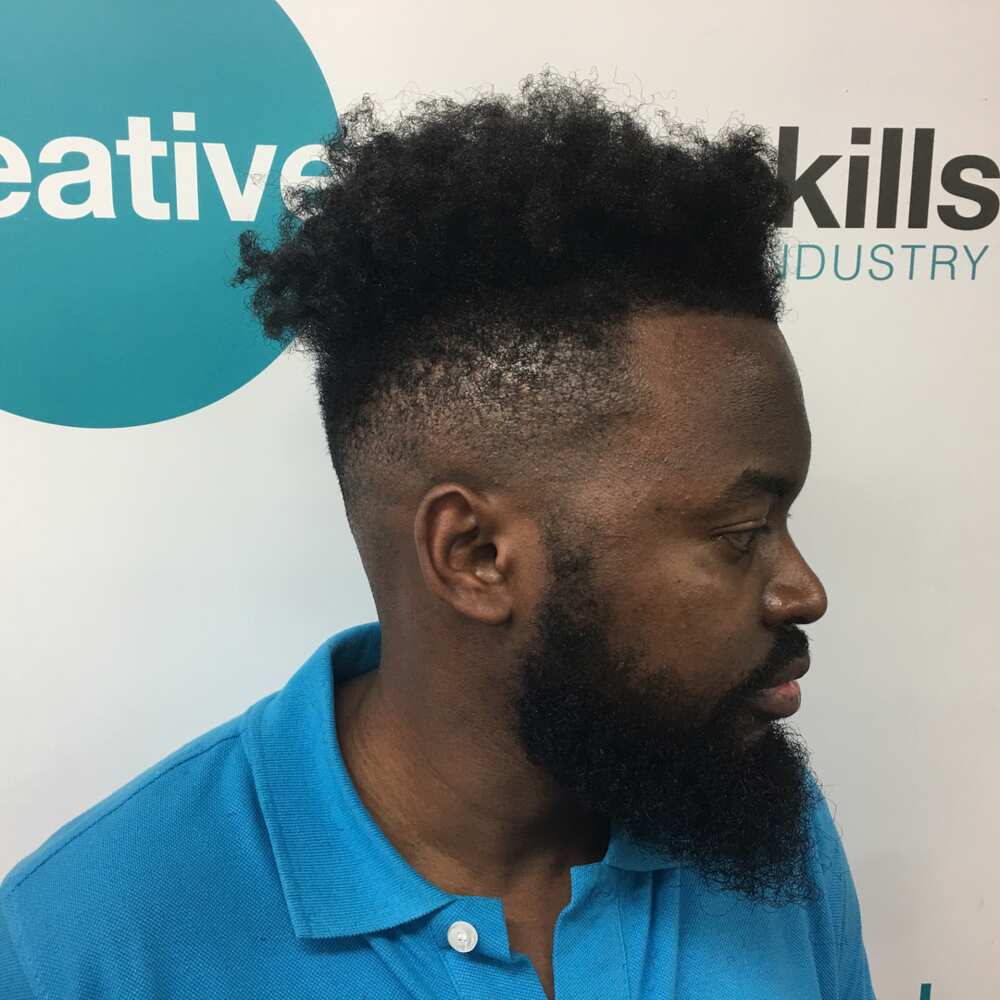 This style will emphasize the fullness of your hair. Sweeping hair into a messy design works to give your look an edge.
16. Military cut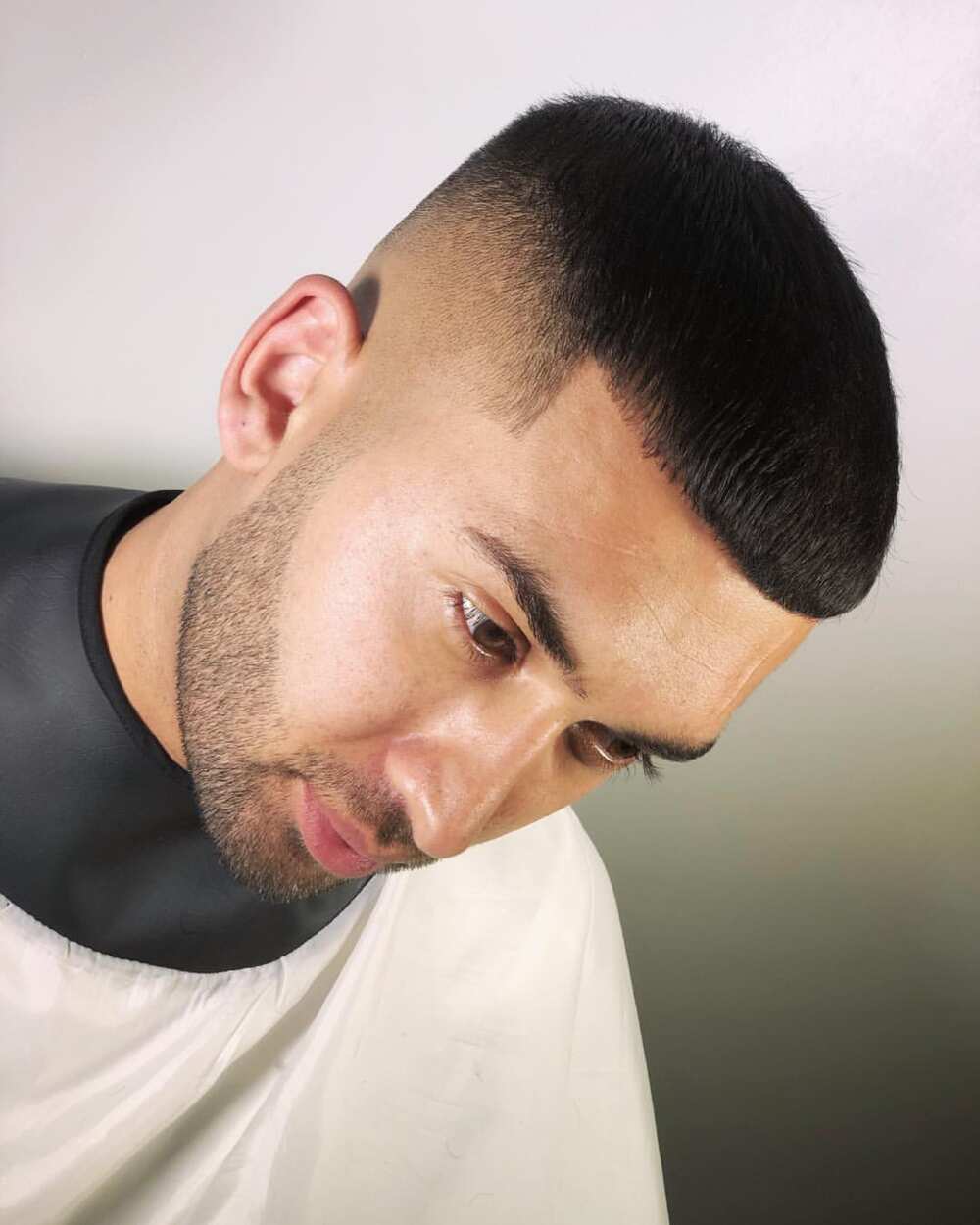 The military cut is popular in the most conservative work environment. By combining with shaved sides, you are taking the hairstyle to a whole different level, and you are more likely to grab attention.
17. High drop fade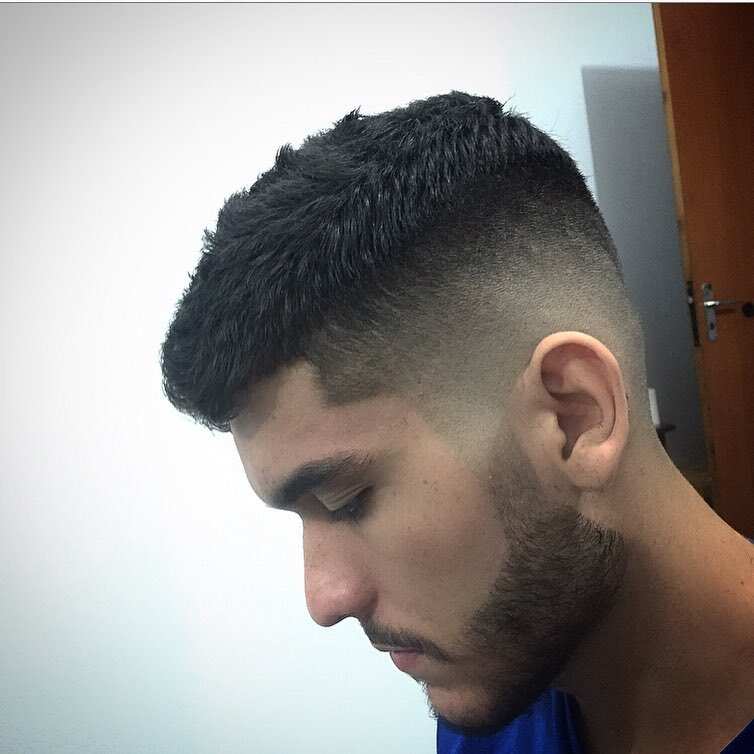 This haircut is flattering for guys with long faces as the lack of hair length on top works to prevent the face from appearing slimmer. You can also go for cuts that include a fringe or those that fall over the forehand.
18. Fade with colours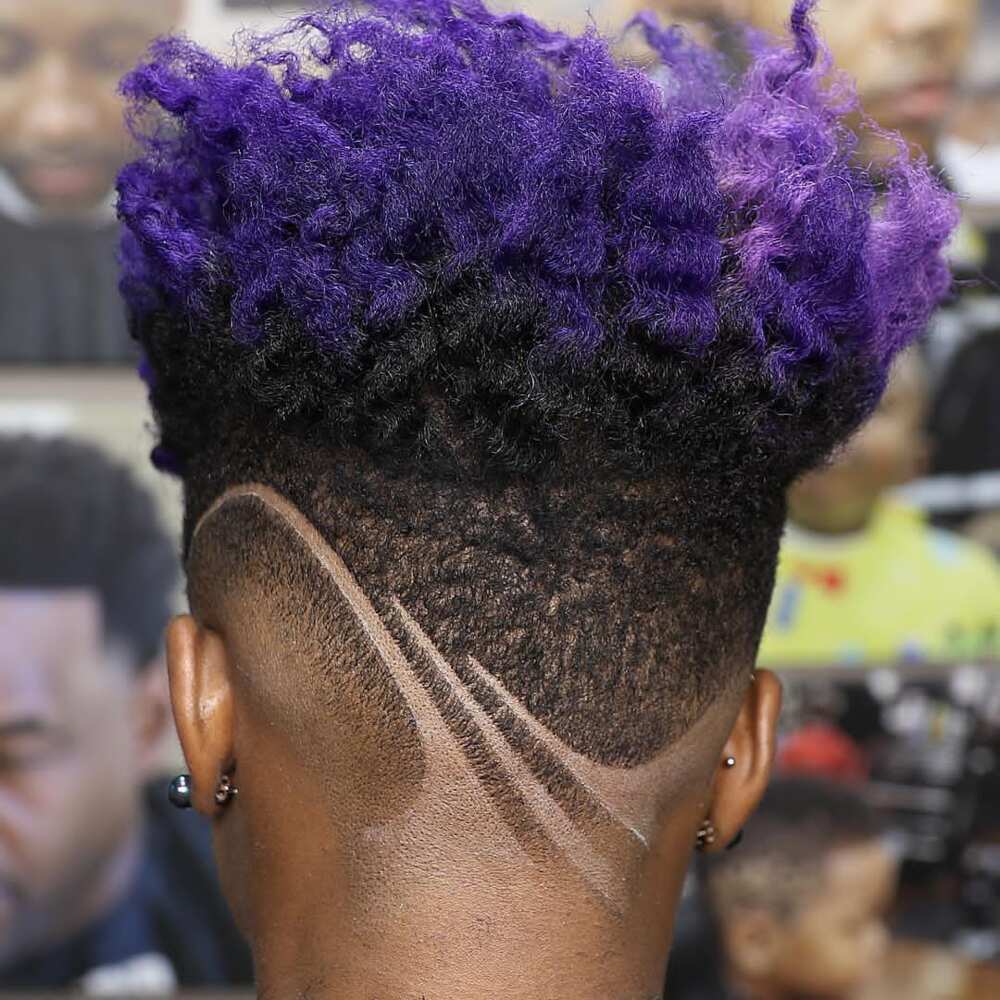 Whether you prefer temporary or permanent dyes, you can use hair colour to get a dramatic change. The reduced sides will help emphasize the top hair and make it easier for the colour to pop-out.
19. Shaved sides with patterns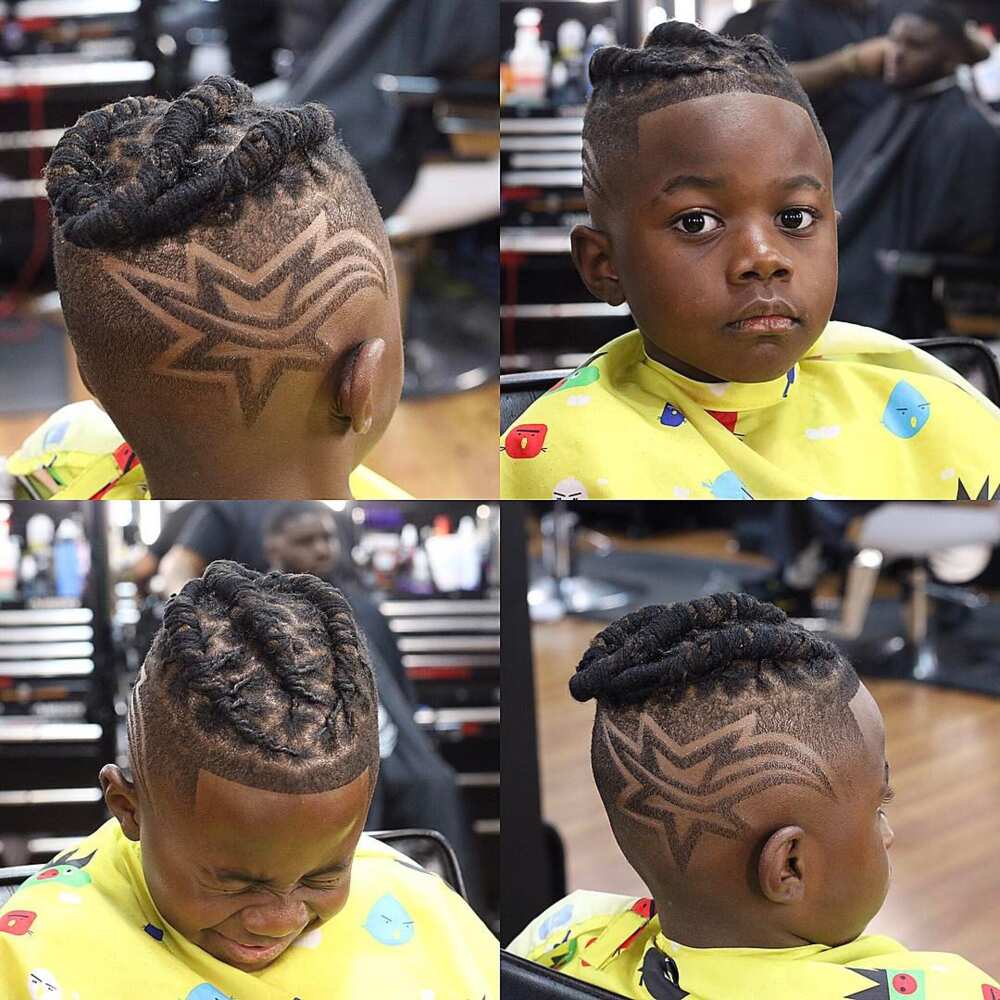 Whether you have dreads, braids or man bun you can make your hairstyle stand out by adding a design on the shaved sides. The choice of what pattern to add will depend on what you prefer at that time or your personal style. Either way with a unique design you are likely to stand out.
20. Fancy dreadlocks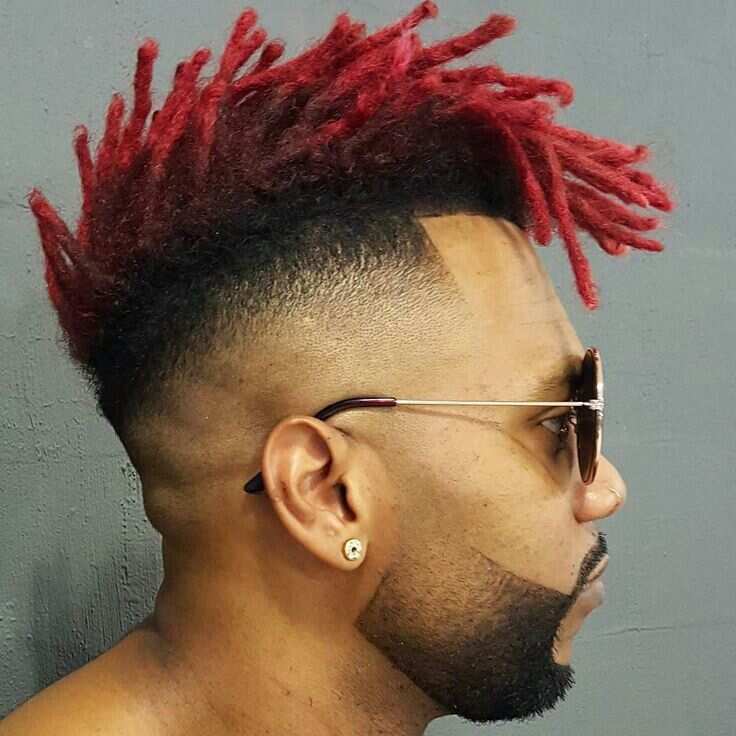 Coloured dreads will make your hairstyle stand out. The choice of what colour to add will depend on what you prefer at that time or your personal style. Either way with a unique shade you are likely to stand out
21. Black hair with sponge twists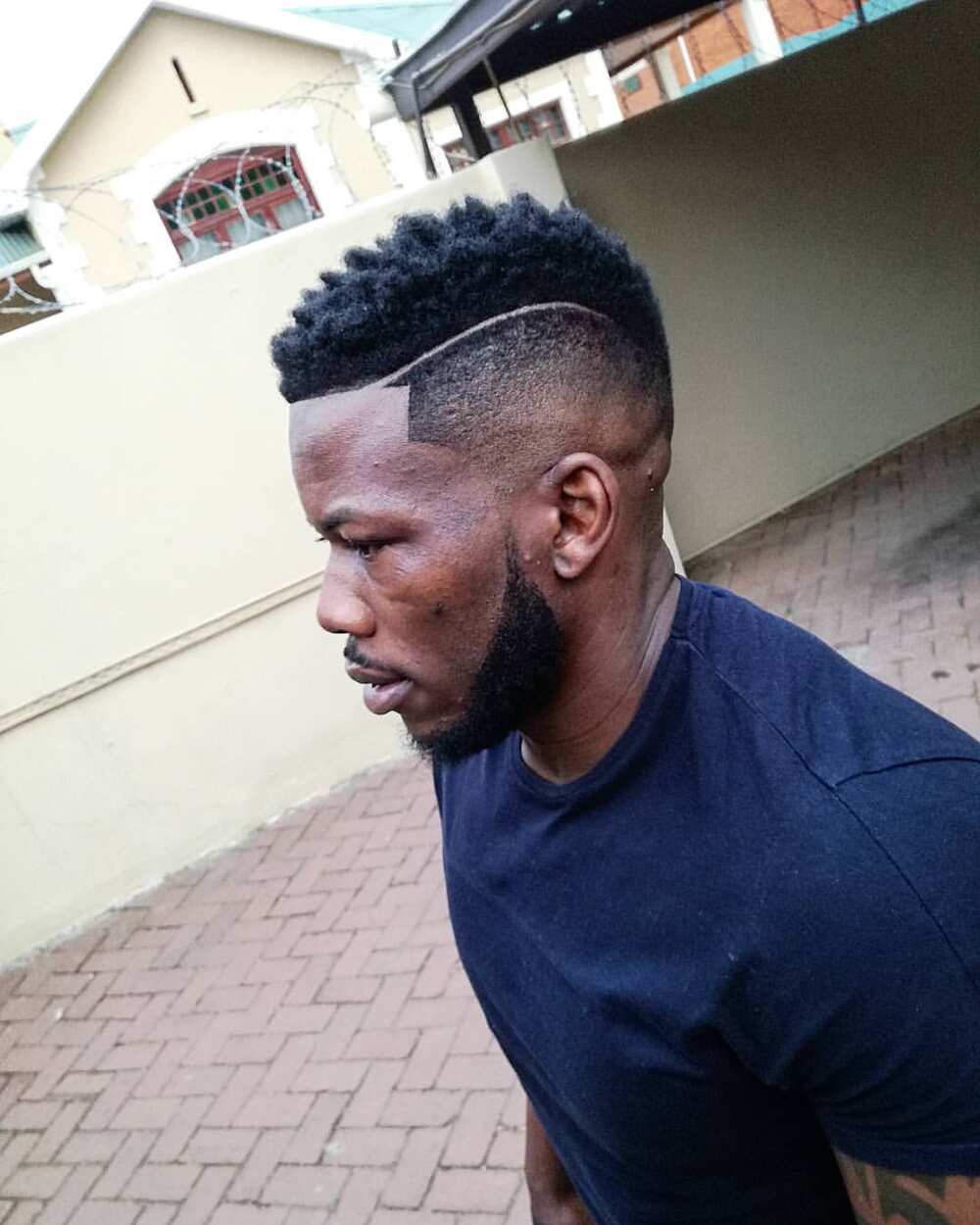 Men are known to be creative when styling their hair. They often use a particular cut to showcase their preference. For an edgy yet modern style, this is the way to go.
22. High fade with an undercut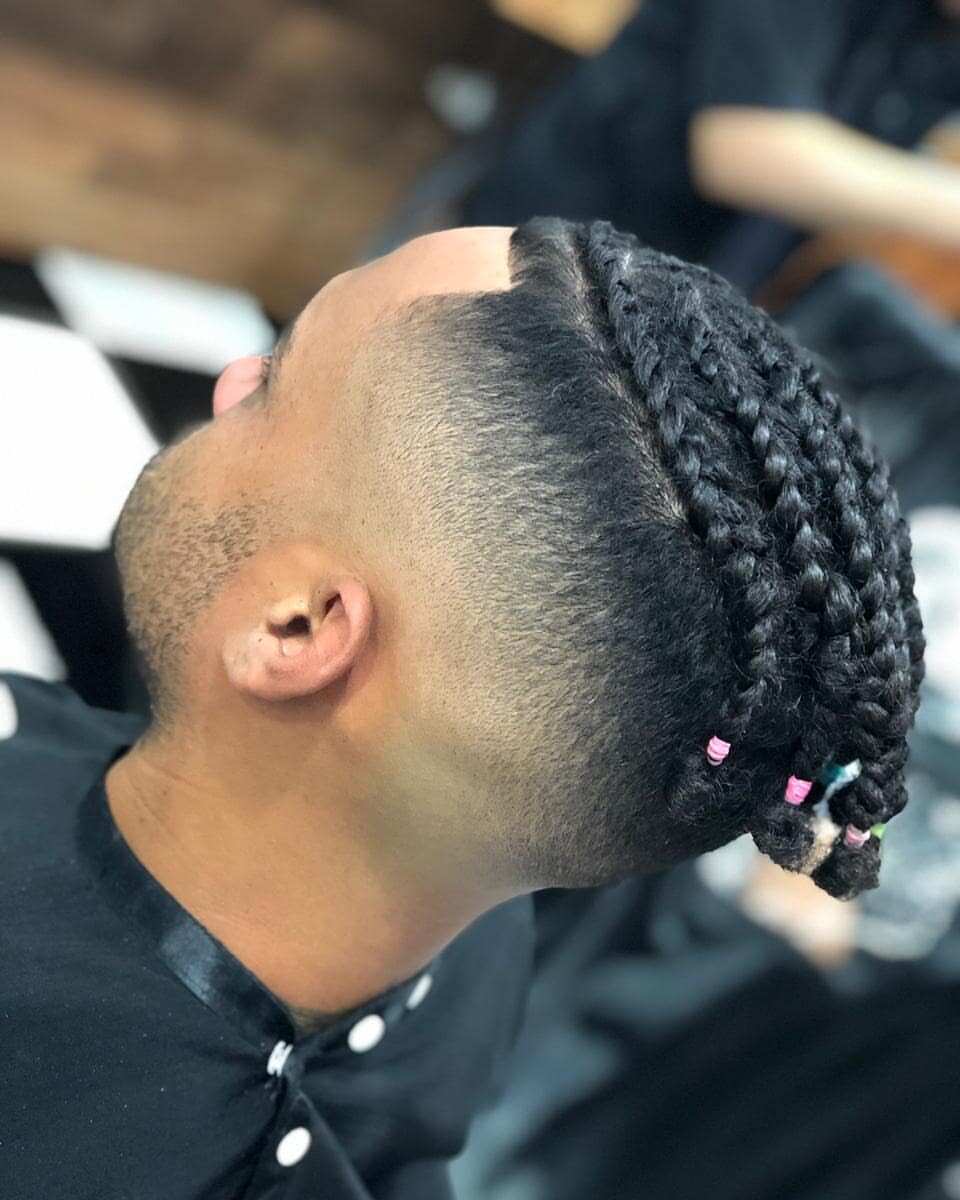 Do you want to rock a hairstyle with short sides and a long top? Then go for this undercut. This style is cool, trendy and suitable for guys of all ages.
23. Modern hairstyle for professional men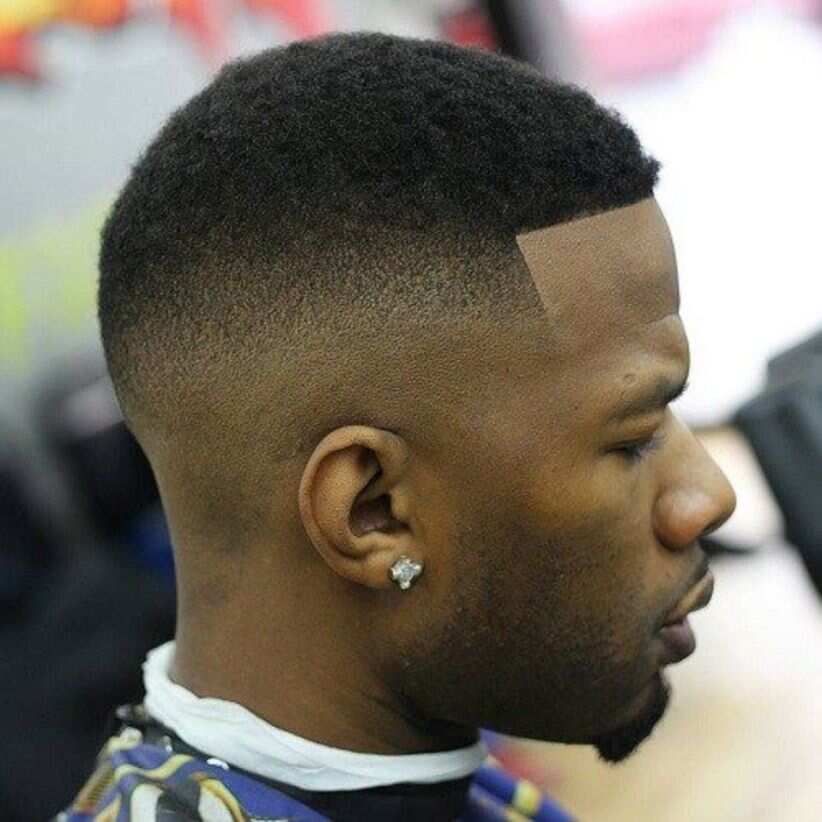 Take your look to the next level with a classic haircut. It is low maintenance and suitable for a conservative work environment. This haircut is ideal for men who prefer to look smart yet want a less dramatic haircut.
24. Shaved sides with smooth waves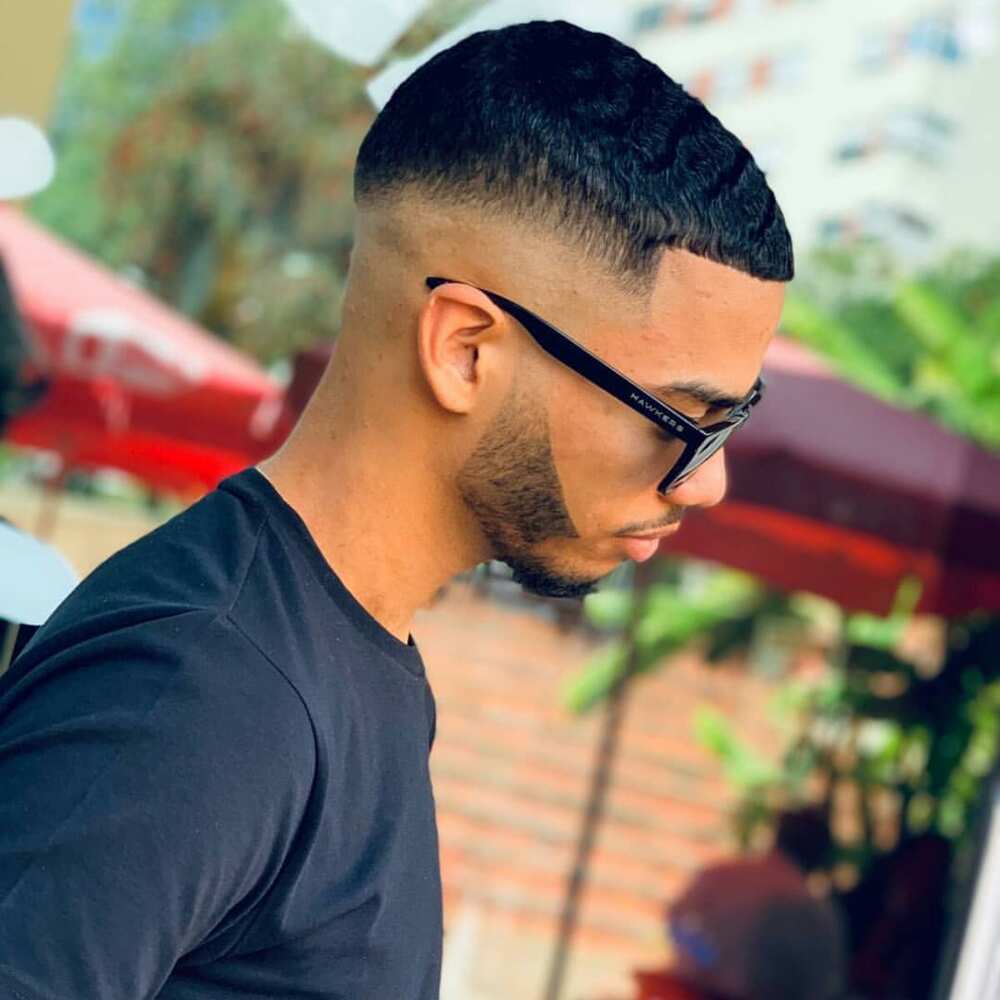 It is one of the simplest ways to give your hair an edge. The style will help any man make a statement without sacrificing the masculine features. To add contrast, apply black dye on the top hair.
25. High fade with curvy lines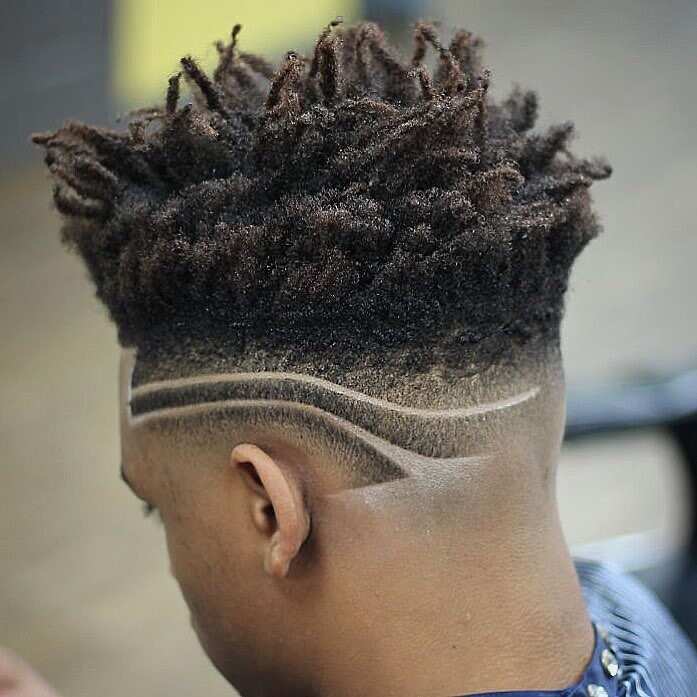 What better way to make your hair stand out than by adding curvy lines. The lines are simple yet work wonders to transform what can easily appear as an ordinary hairstyle.
26. Blonde with diminishing sides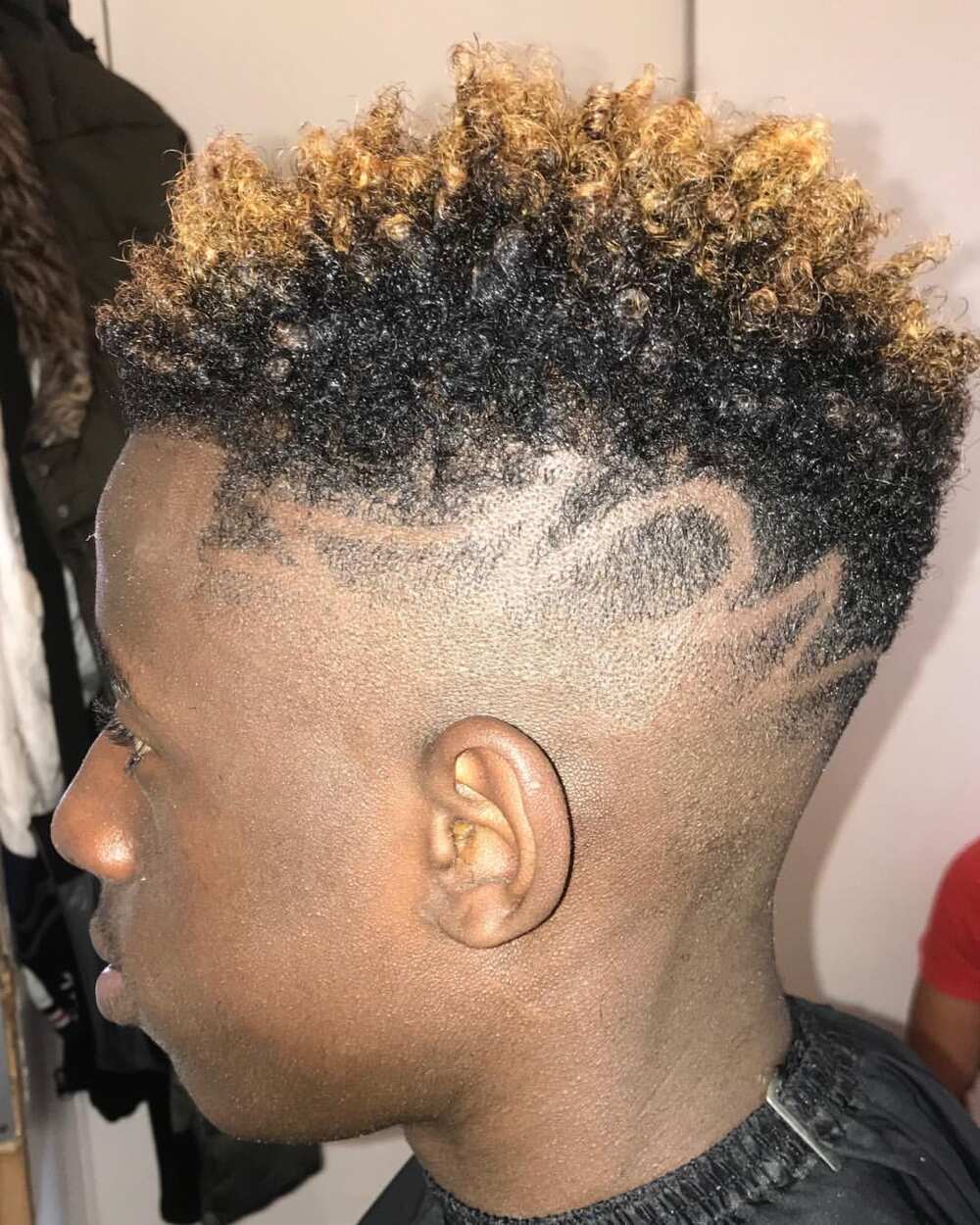 A blonde dye is popular with both young and mature men especially those who use their hair to make a fashion statement. If you tend to wear neutral colours most of the time, then you can add blonde dye to your top hair to give it an edge.
27. Long Mohawk haircut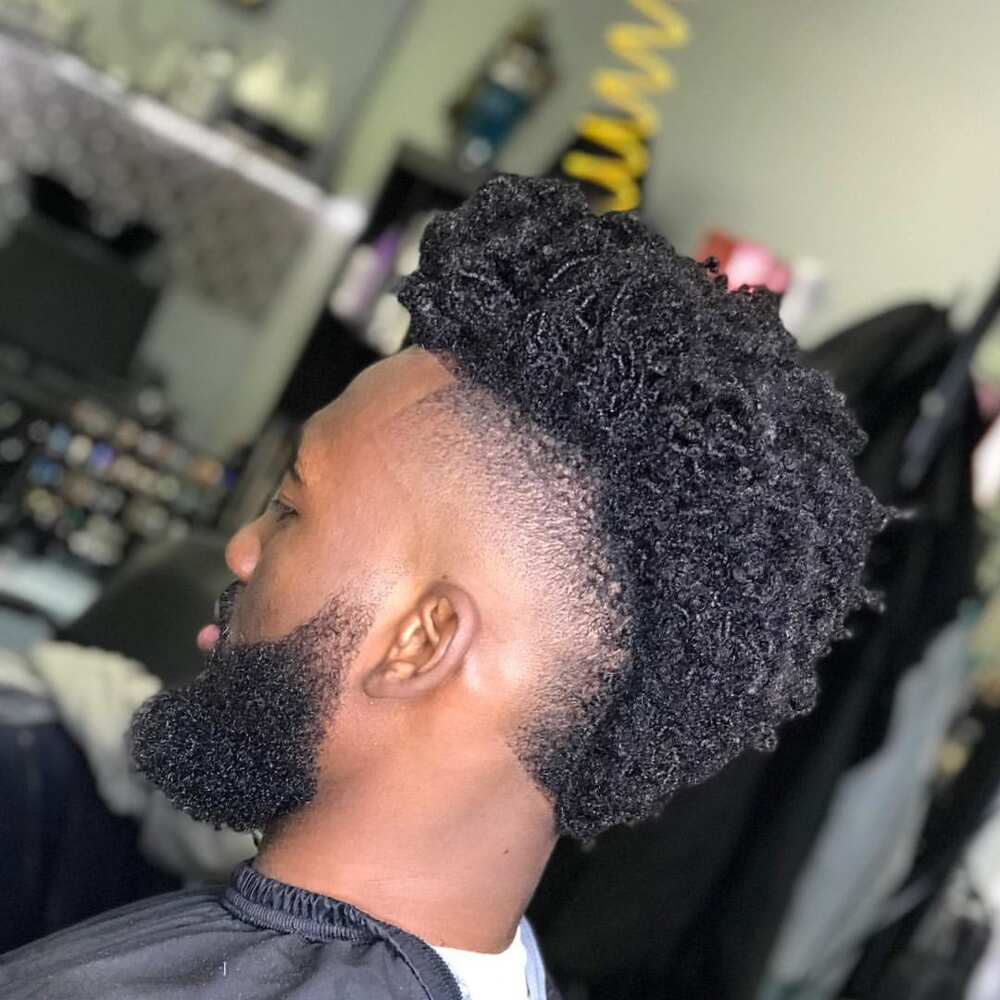 Give your long natural hair the attention it deserves by styling it into a Mohawk. This style is ideal for kids as well as adults.
28. Cornrows with shaved sides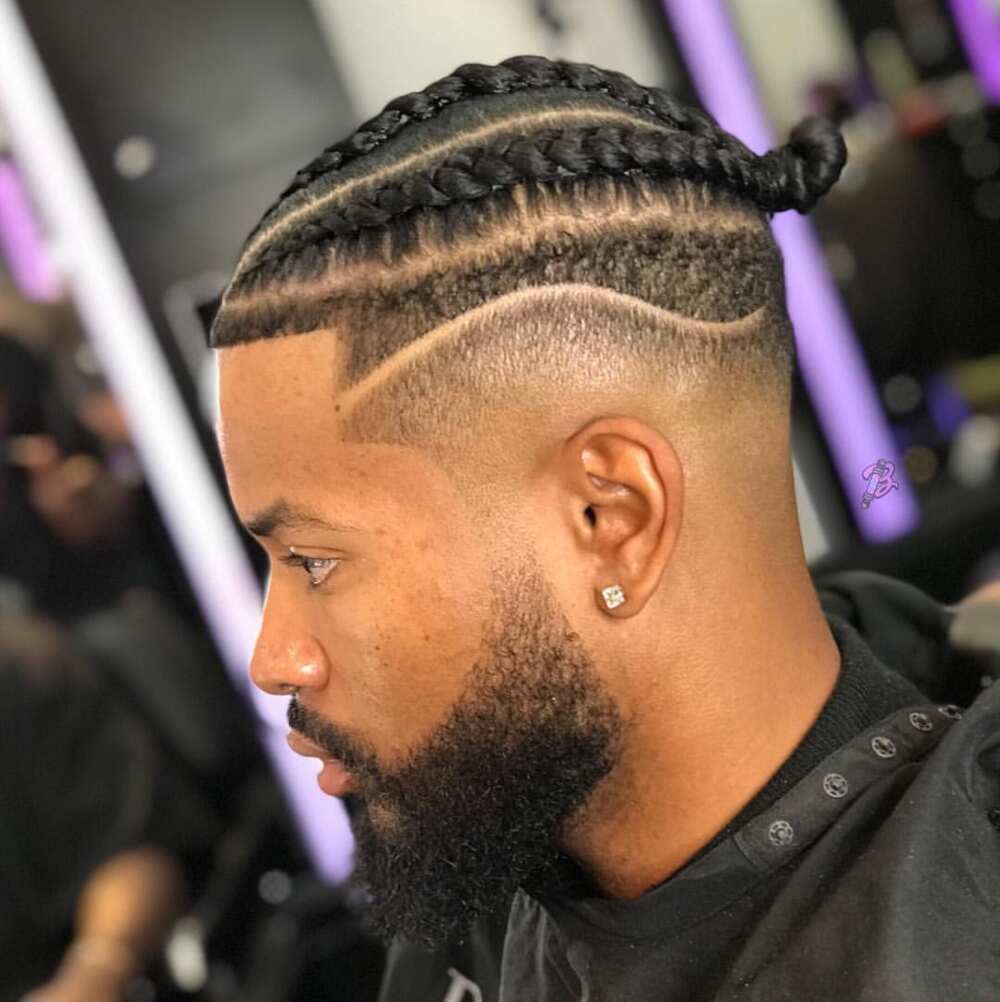 Cornrows are often used by men to get a striking look. For guys who want to adorn this hairstyle yet have short hair, they can use extensions to create the look they want. If you tend to get your cornrows in a straight line, then this haircut is one of the best ways to give your hair a new look as the hair is braided into interesting geometric and curved patterns. What makes this hairstyle ideal for black men is that afro hair lends well to braiding and since the bulk of the hair is on top of the head it suits all face shapes.
29. Fauxhawk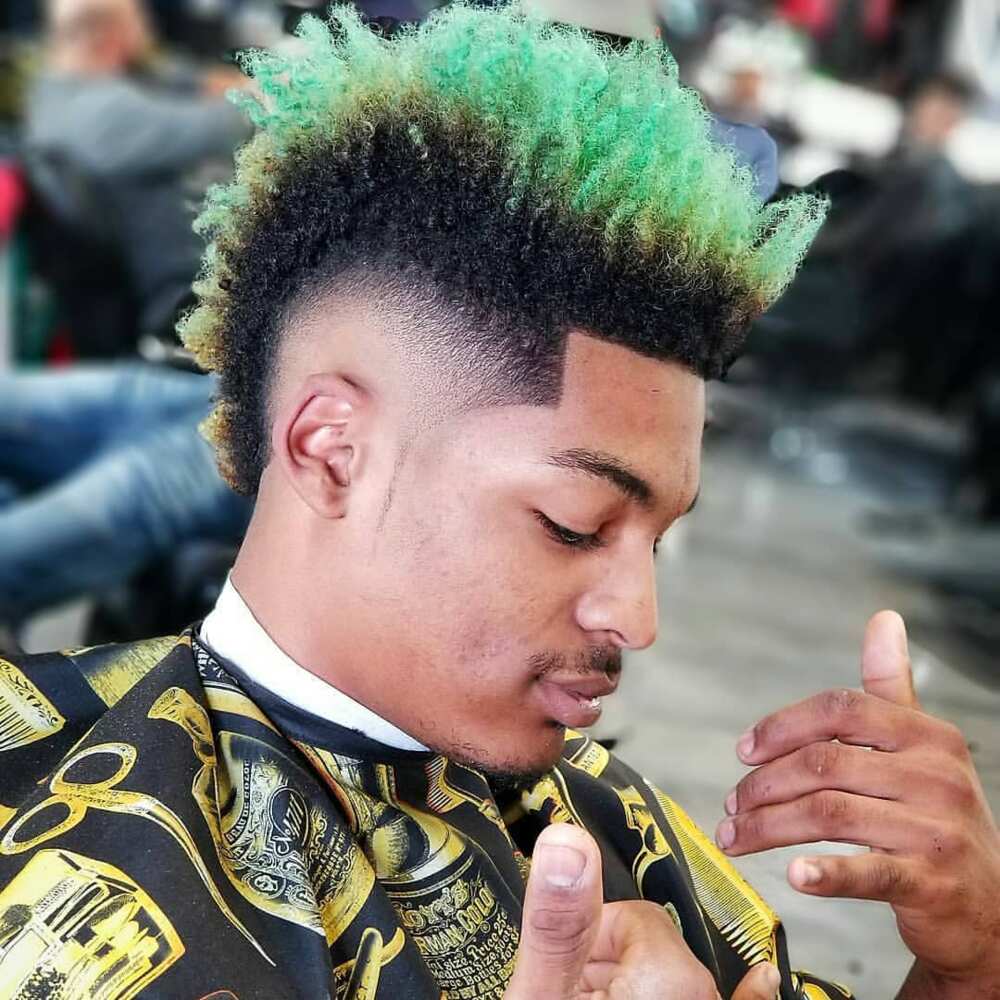 While a Mohawk is famous for its dramatic centre strip and shaved sides, a faux hawk is less dramatic. For added volume, you can blow dry your hair and apply hair products or hairspray to get the desired hold. What makes this haircut perfect for men of all ages is that you can opt for a short faux hawk which is more conservative or a long faux hawk which is ideal when you have a lot of long hair to work with.
30. Cute braid bun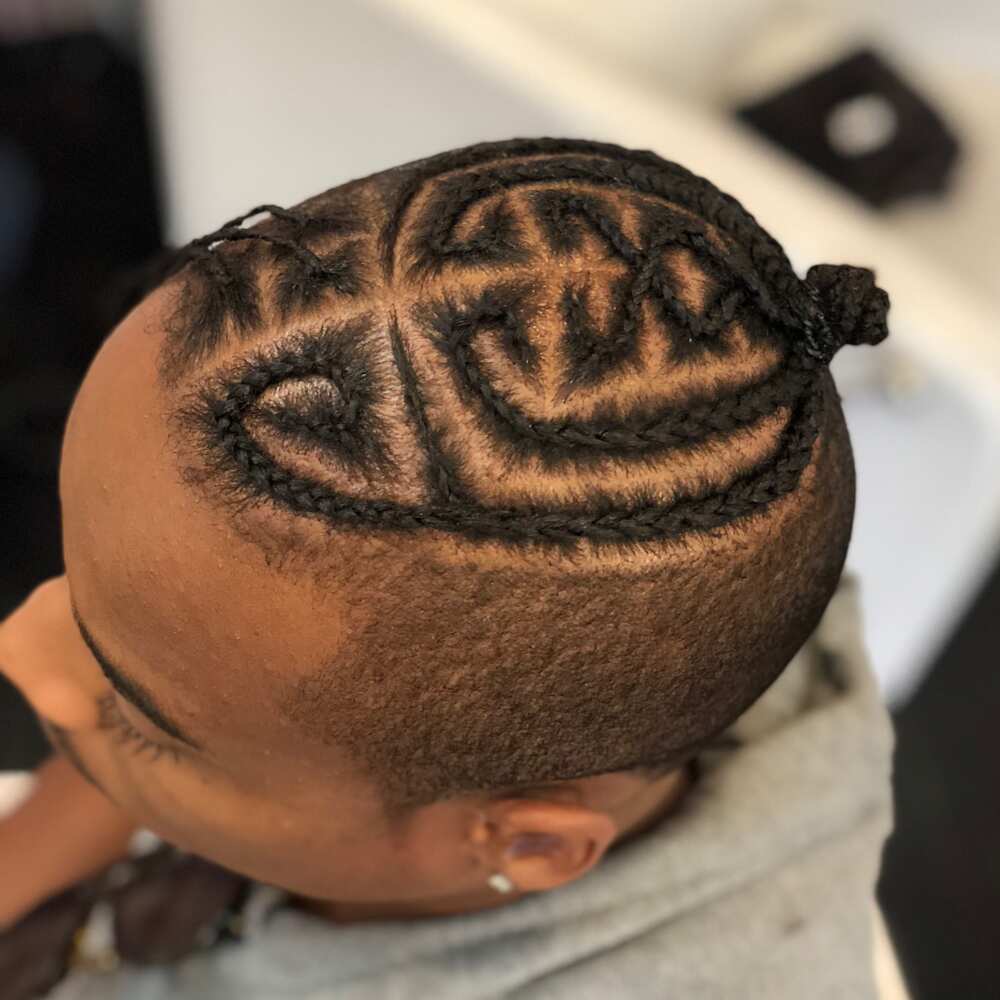 Men's high fade is more popular than ever thanks to its ability to add dimension to one's style and personality. When you combine the shaved sides with a black man-bun, you are exuding a cool and casual vibe that many millennials can relate to. The trick to making the man bun stand out is to combine it with high skin fade haircuts or to add a bright dye. Including a high fade undercut is also another great way to make your man bun to pop.
High fade remains a popular hair trend for men of all ages and from across the world. It suits all hair types and can be done professionally to suit a conservative work environment. It is also so versatile such that the hair on top of the head can be styled in so many different ways. So the next time you visit your barber and do not know which haircut to get, try any of the listed above styles.
READ ALSO: 15 mohawk fade haircut ideas for men
Source: Legit.ng