25 Ivy League haircut style ideas for men
The Ivy League haircut is a type of male hairstyle that got its name from the group of the most prestigious American universities. It was the students of these institutions who began to cut their hair in this manner in the last century. The style of the Ivy League cut remains relevant today.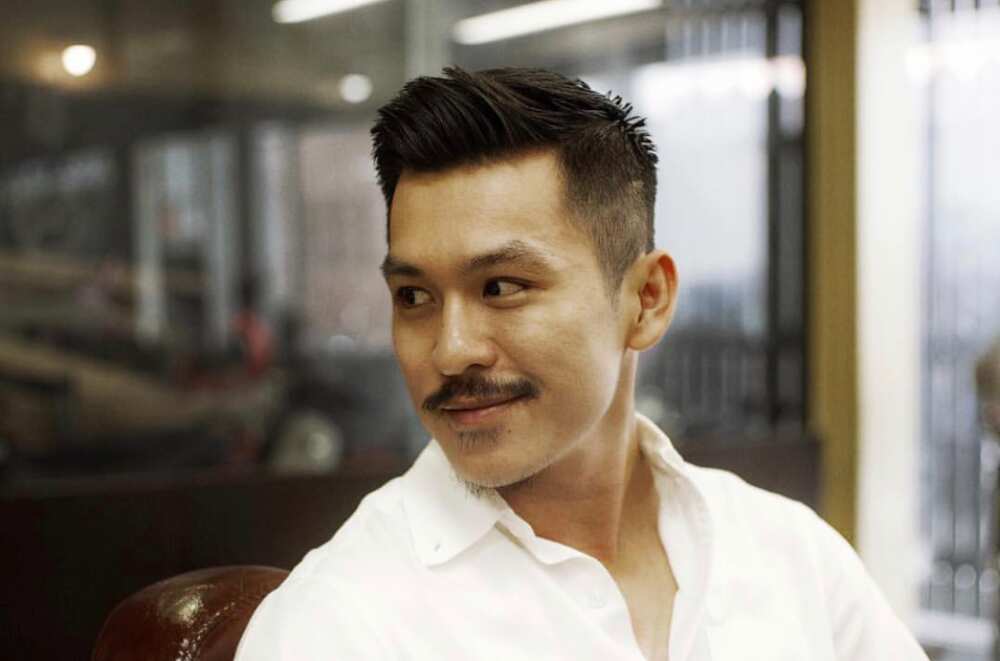 Do you want to change your style to look more attractive, but do not know what to start with? Start with your hair! There are many beautiful and stylish options, and Ivy League haircut is one of the trendiest today. It does not require much care and creates a very representative appearance.
Trending Ivy League haircut styles
Ivy League haircuts are popular even among celebrities. They are quite versatile so a classic Ivy League hairstyle can be easily complemented with modern techniques. One can combine it with a layered hairstyle or combine it with a beard.
Its main peculiarities are a short-cut back and temples, a neat parting, and an asymmetrical fringe. Today, the fringe can also be with a straight edge.
1. A long Ivy League haircut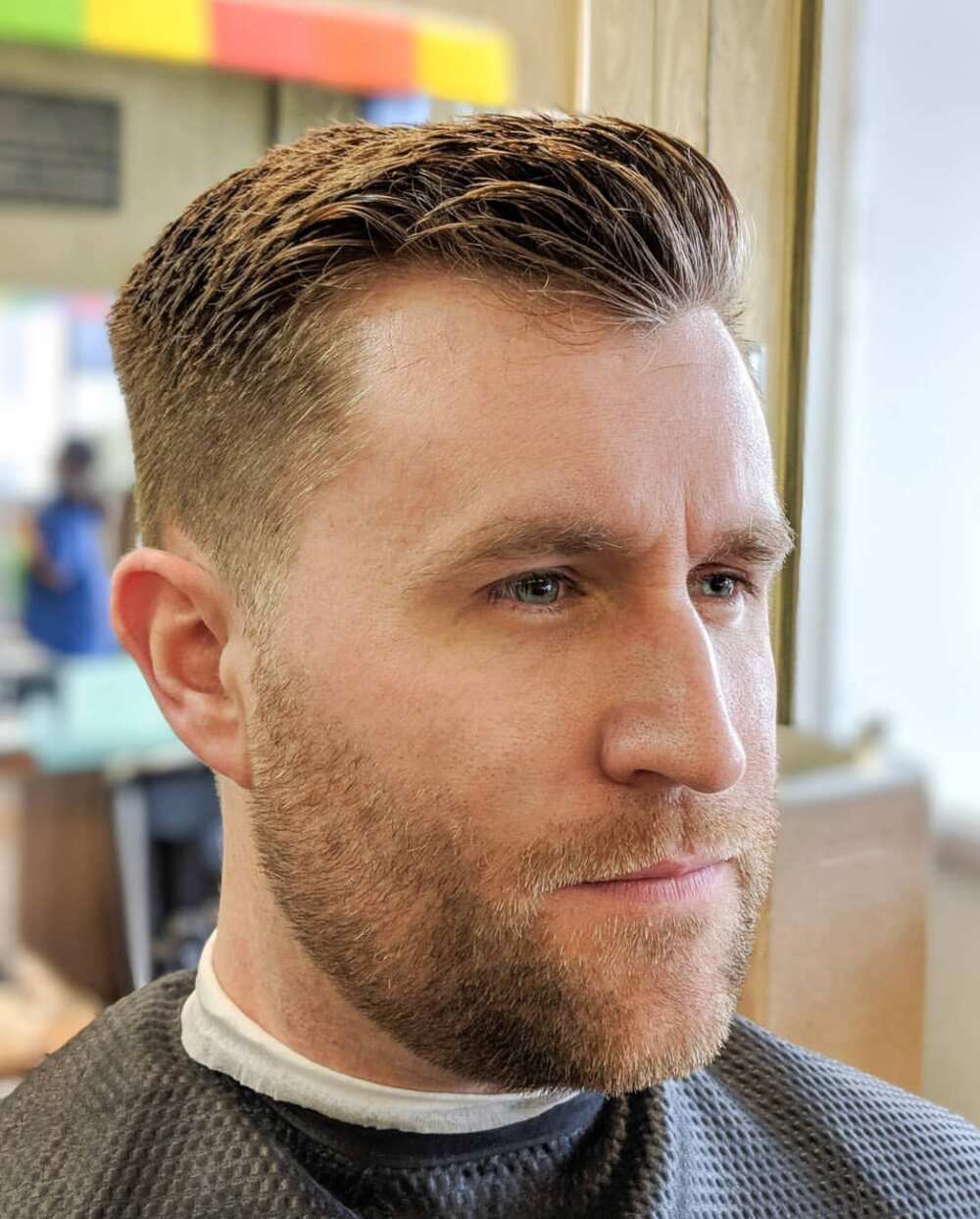 It is a classic version of this haircut. It looks most attractive if the length of your hair will vary from half a centimetre on the sides and up to 7-10 centimetres in the parietal part.
2. A Princeton haircut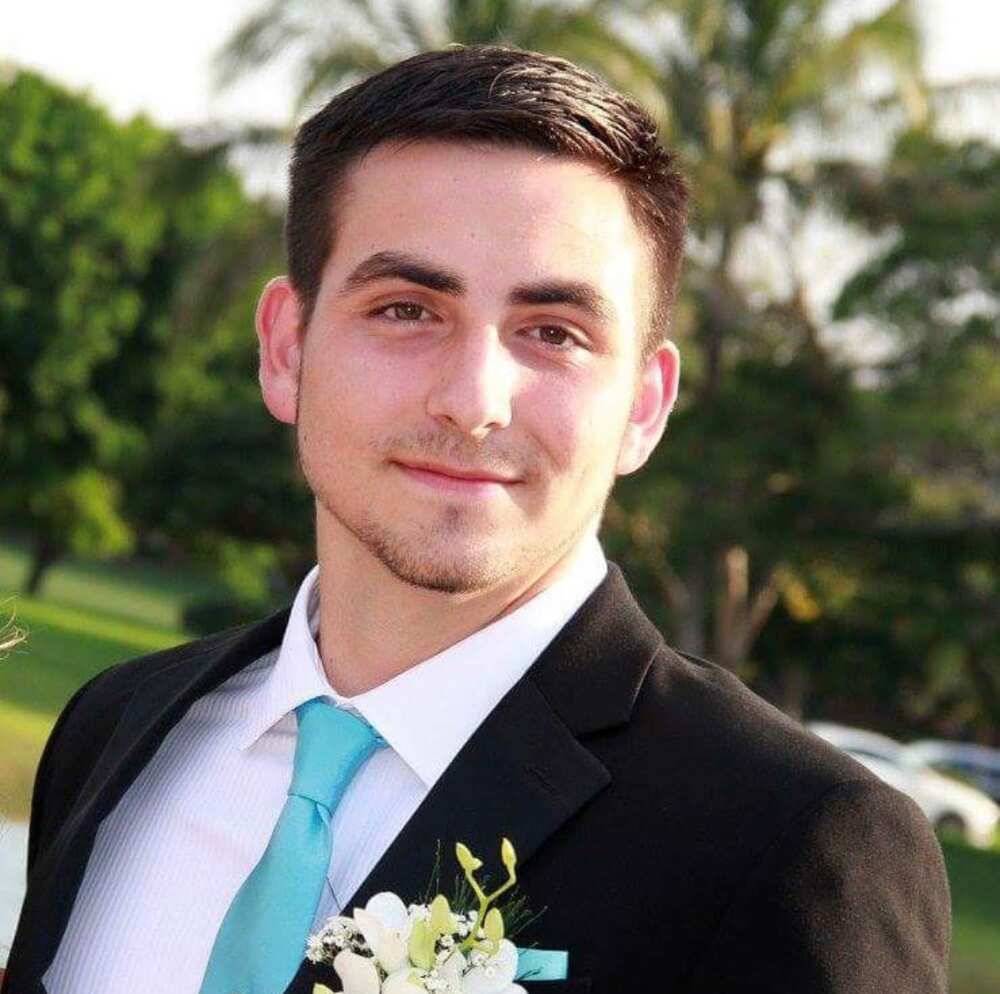 A little length difference between the sides and a top of the head and a styled fringe are typical for this option. When you highlight the fringe, a volume is created visually. This is one of the modern variants.
3. A short Oxford haircut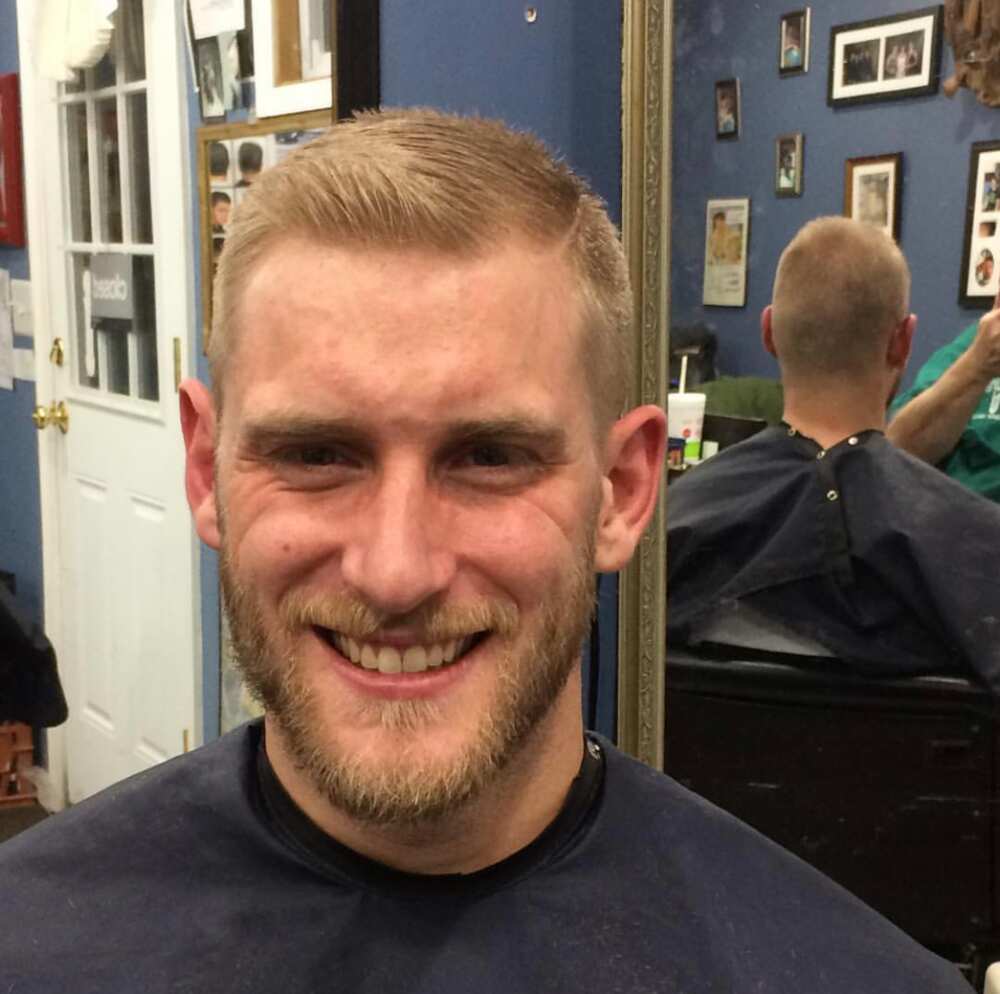 This trimming does not require special care and at the same time looks quite stylish.
4. An Ivy League cut with a side part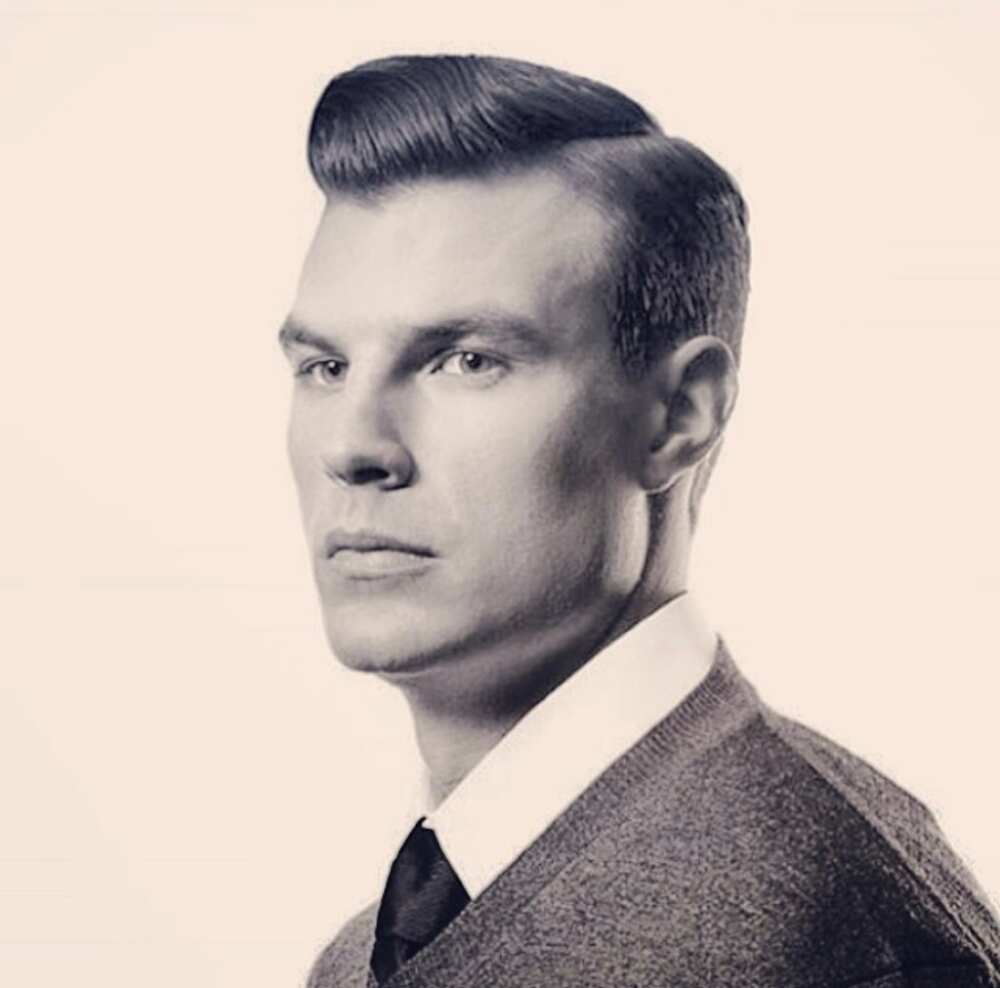 This option can be considered a classic one since hair is combed to the side.
5. A classic sleek version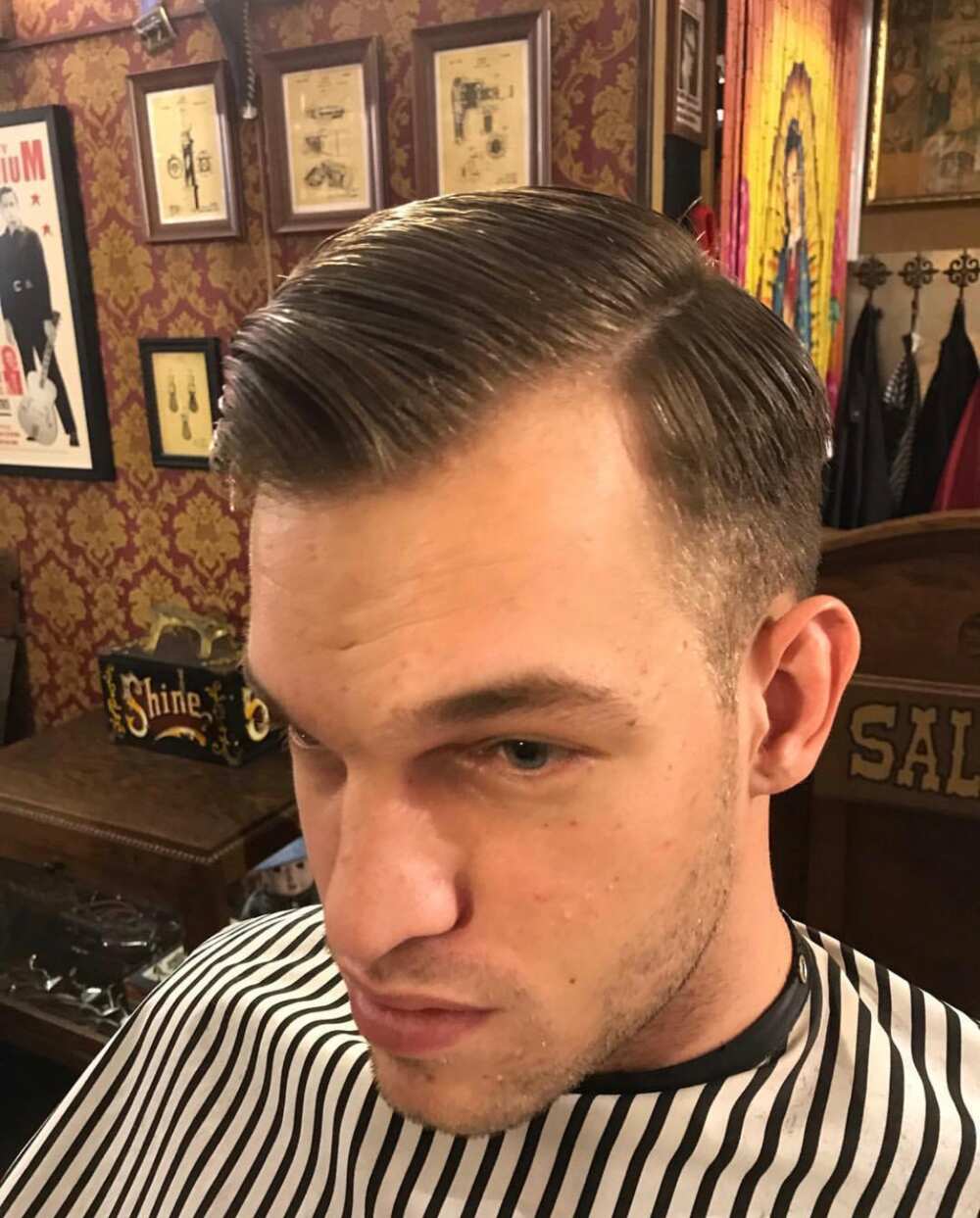 This option has the main element, which is some volume in the front. This effect is easy to maintain on a daily basis.
6. Combed forehead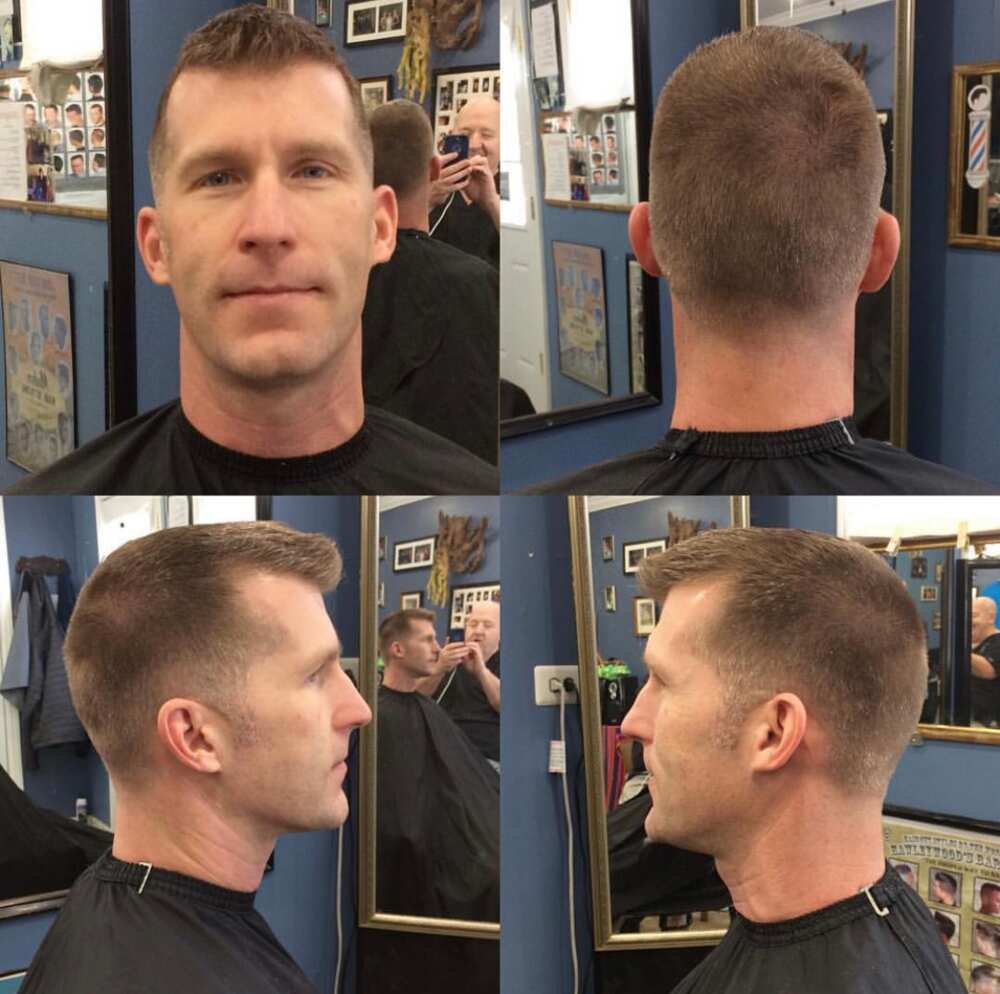 This option was popular in the nineties, but now it is back thanks to its versatility and playfulness.
7. A spiky style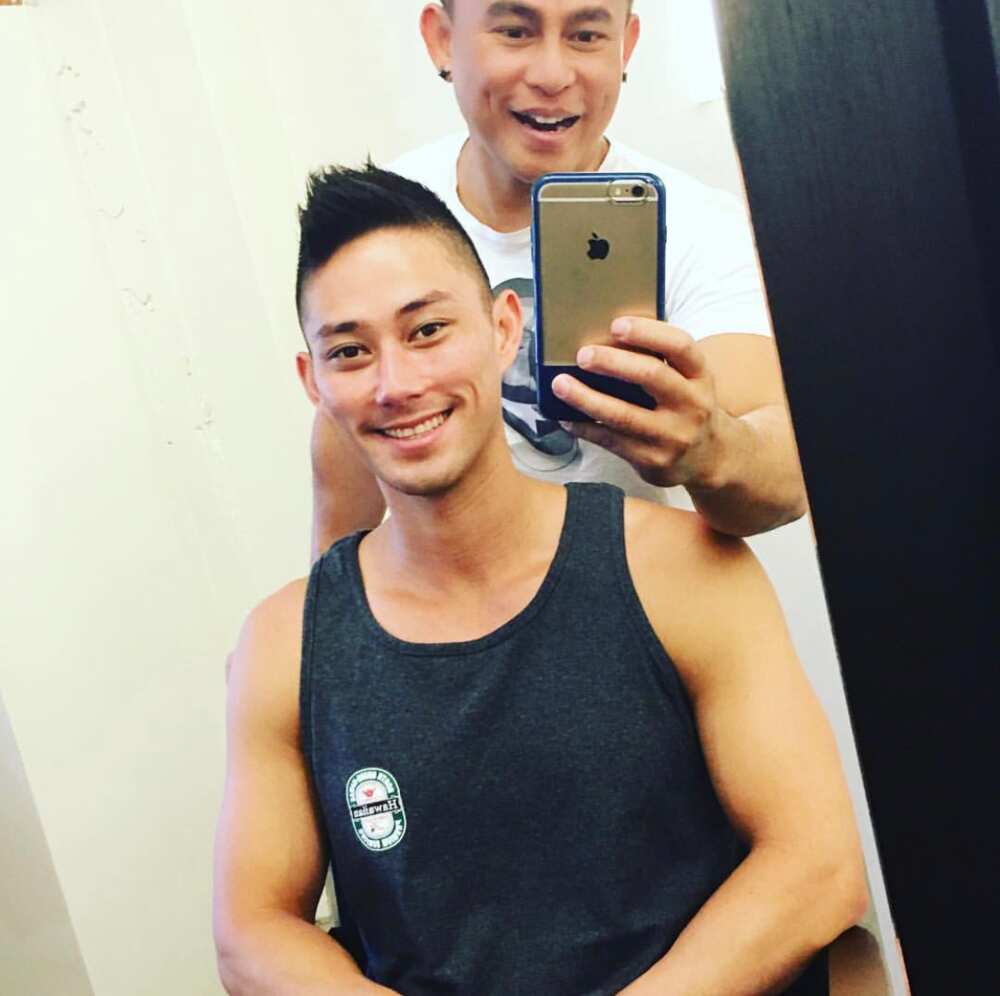 This hairstyle looks most advantageous on thick and dark hair. In this variation, it is essential to achieve a balance between a neat and a loose look.
8. A high Ivy League haircut with a layered hairstyle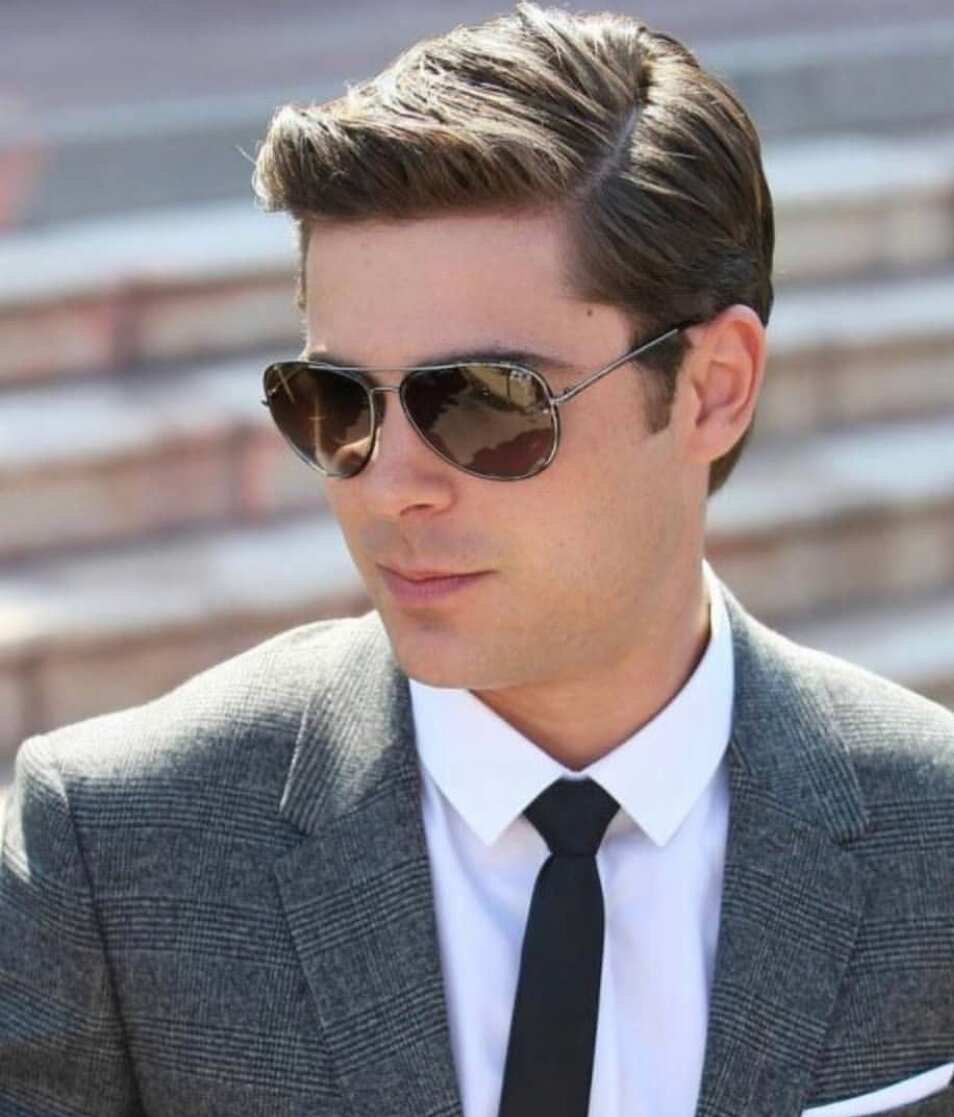 This version looks great on wavy hair, but it is also suitable for straight hair. Since the wavy hair has a natural volume, such a hairstyle can be worn without using any means for styling.
9. An Ivy League crew cut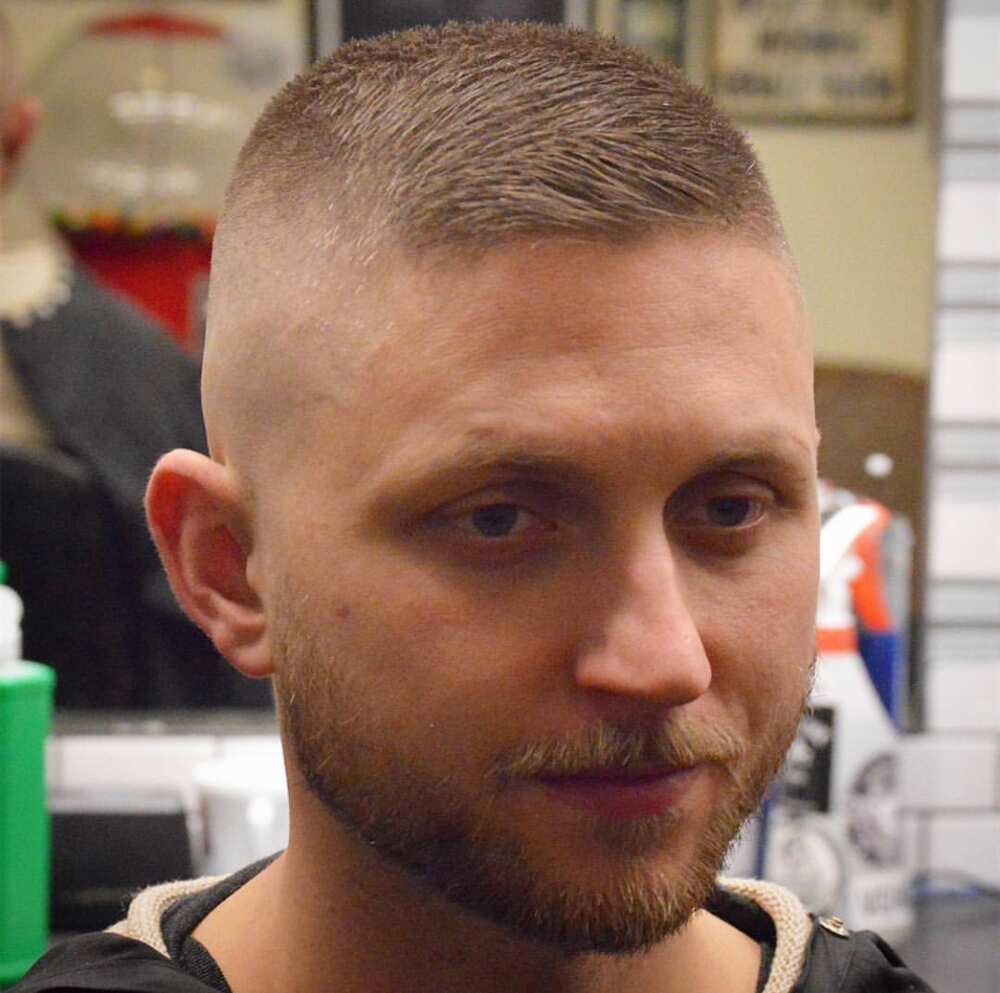 In this type of a haircut, the upper part of the hair has a length of fewer than three centimetres which gives its wearer a more sporty look. It is a universal version of the haircut. It looks good with any type of hair.
10. An Oxford haircut with an up fringe
Here is an example of a classic Oxford cut with a little distinguishing detail. It will take a little time in the morning to style the fringe upwards.
11. A classic Oxford cut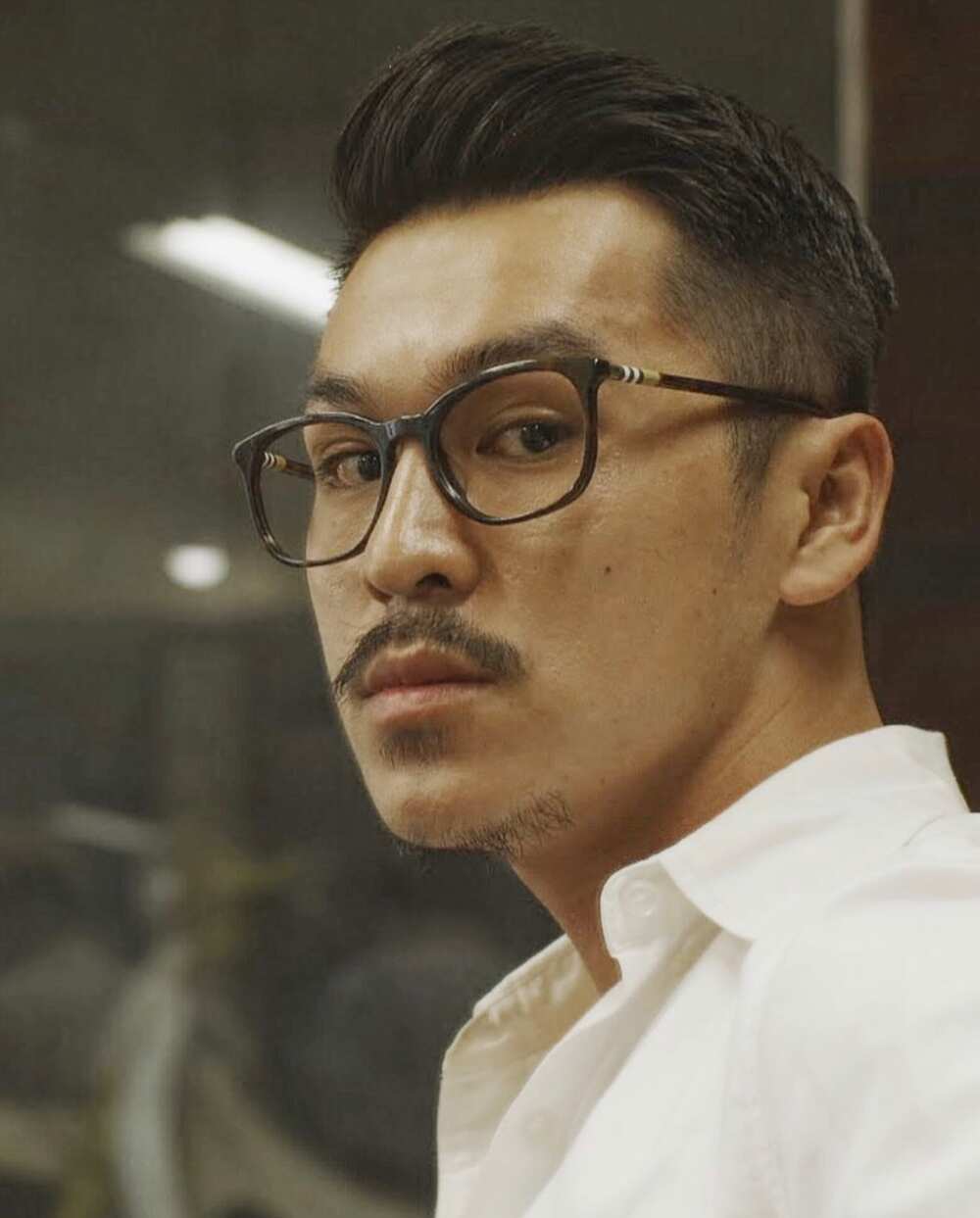 It is a classic Oxford cut. You need to style your bangs on the side to have an exact look.
READ ALSO: Trendy Afro hairstyles for men in 2018
12. A curly Ivy League haircut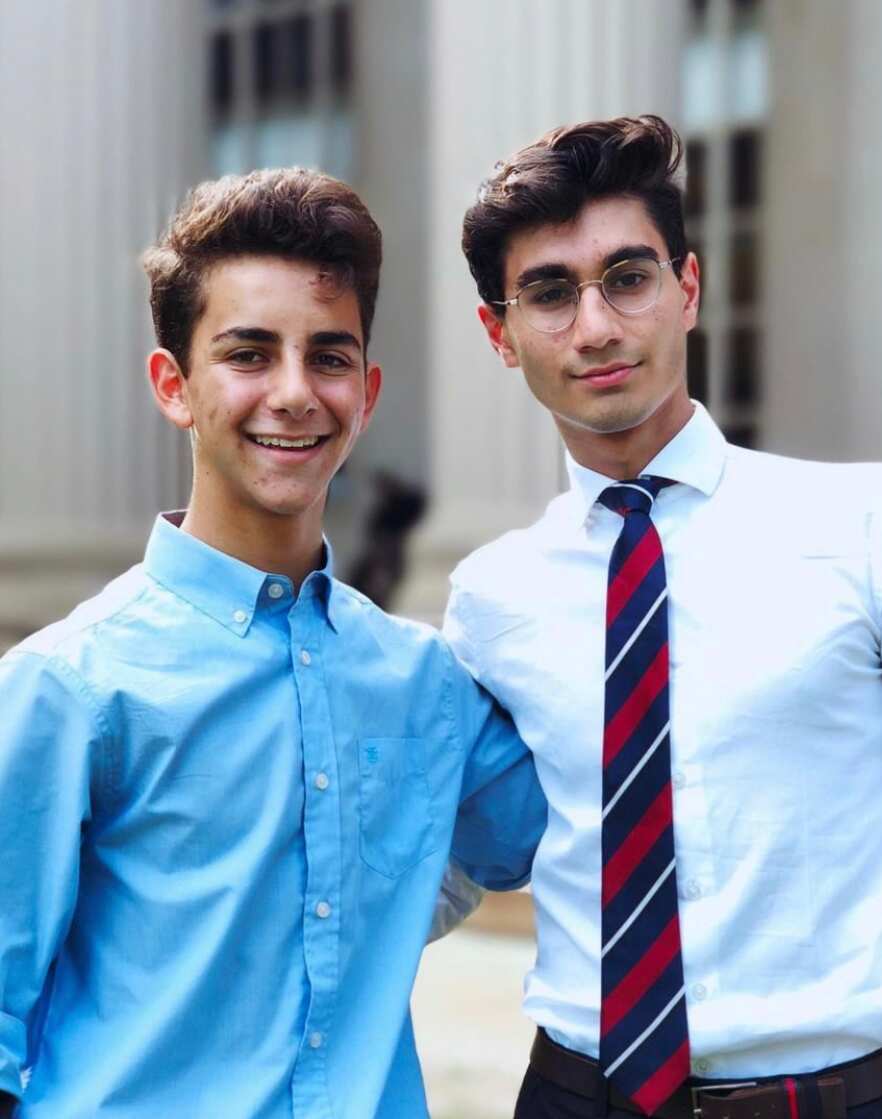 Owners of curly or wavy hair will be greatly satisfied with a natural volume. They will not have to spend time on styling to get it as a hair structure makes all the job itself.
13. Textured trimming
Any classic trimming can be performed with detail which will change your look and make it even better. For example, such textured styling can be a good opportunity to refresh your trimming.
14. High trimming with a simple design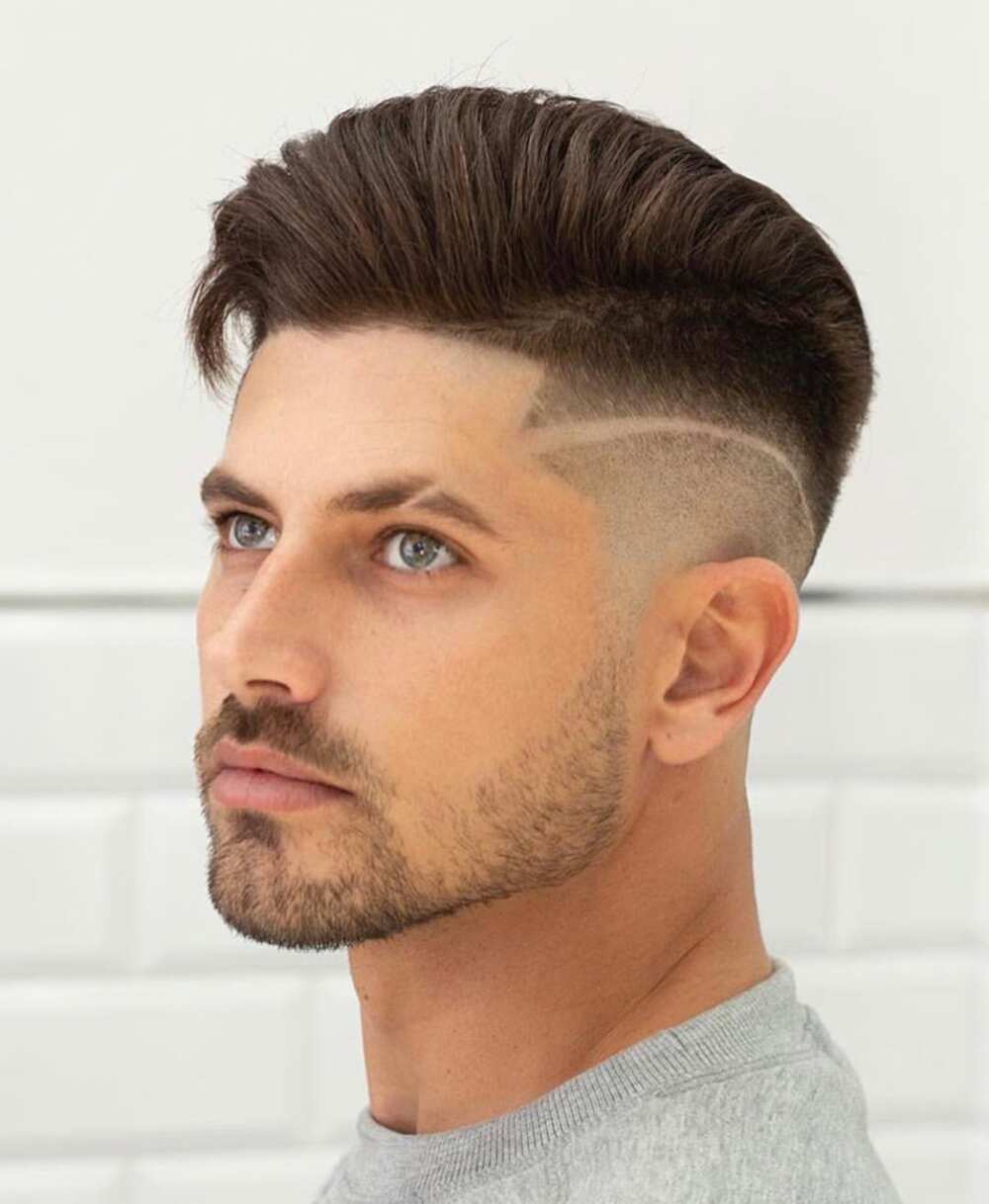 Here is a wonderful example of trimming with simple line design. Any razored pattern on the head always creates a different stylish look.
15. A straight fringe
This variation is also very popular and stylish. Instead of a usual one side styling, the hair is styled to the forehead. A straight fringe, being different from a regular one, gives you a special charm.
16. Sleek backward trimming
Styling means can allow you to make different variations of a classic haircut for every day. As an example, you can use this style with your hair styled backwards.
17. A high styled fringe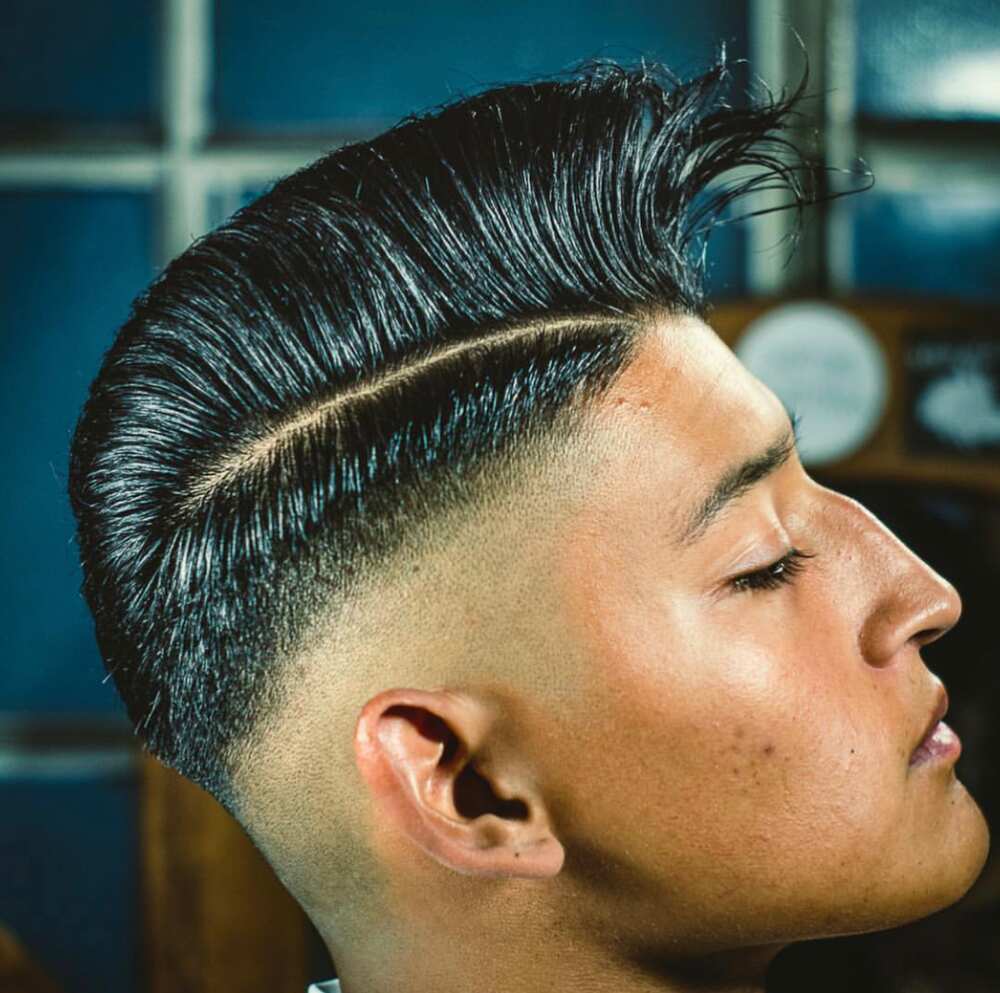 When you feel tired of usual styling ideas, you can try this one. It is entirely fancy and original.
18. Coloured trimming
If your style allows you to add some colour to trimming, this option can become your perfect match. Thanks to a beautiful styling as an addition, you will look amazing.
19. Trimming with a razored part
Having had your part razored, it will be much easier for you to style your hair. You can go for this option if your chevelure is a wayward one.
20. A bleached Ivy League haircut
This kind of bleaching when you leave your hair root in a natural dark hair allows creating some additional visual volume to your trimming. Of course, if you style it correctly.
21. A perfect blurry fade
These perfect blurry fade and elegant styling will make a real neat gentleman out of you. With such trimming, ladies will not be able to pass by you.
22. A balanced look
A combination of an Ivy League haircut and a perfectly trimmed beard can help you create a neat balanced look. With it, you will be an extremely handsome and attractive man.
23. Curly trimming with a designed fade
Thanks to modern tendencies for classic trimming, men can have their hair done in many ways. Guys with curls should definitely consider this option.
24. An Ivy League cut in Hollywood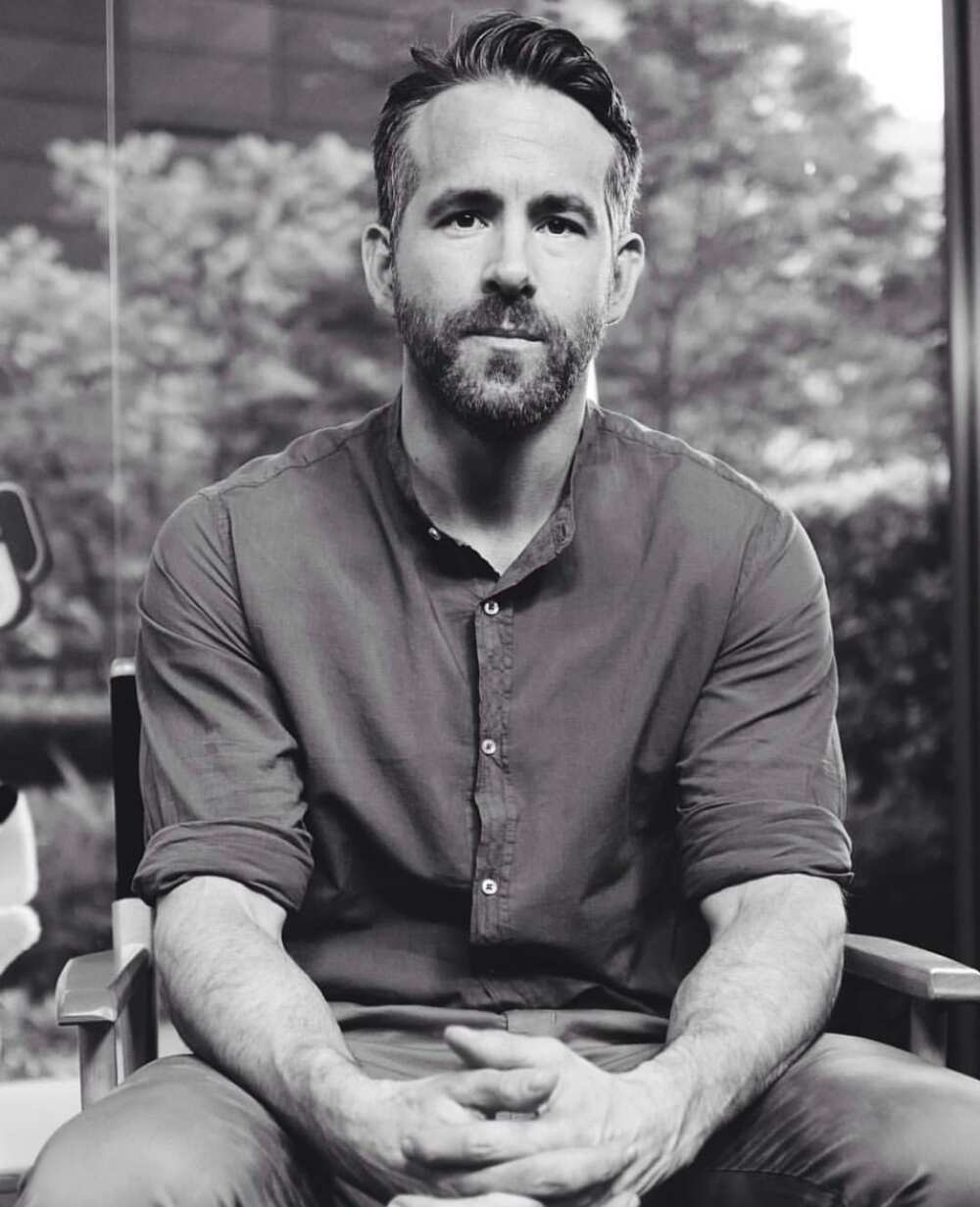 An American actor Ryan Reynolds is a hardcore fan of this trimming style. So, if you are his fan, you have an amazing opportunity to have something in common with the star by simply changing your haircut.
25. An Ivy League hairstyle on celebrities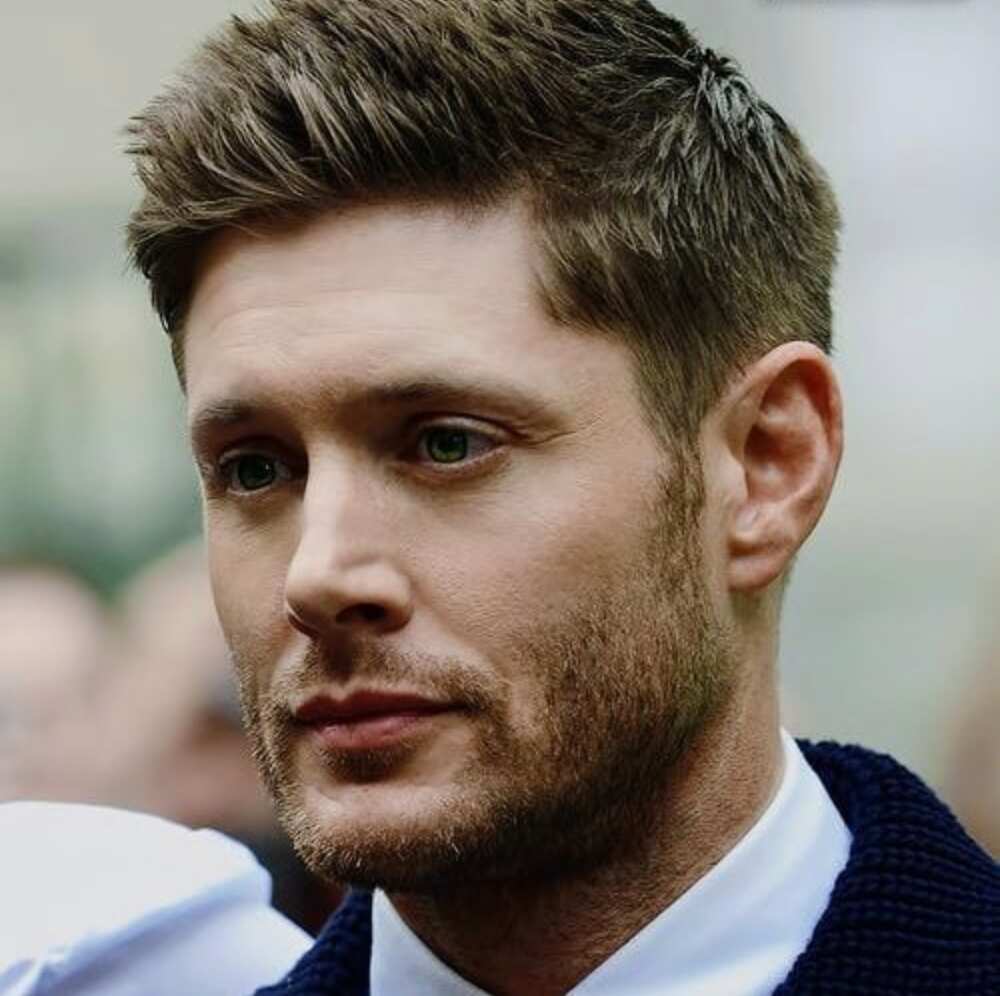 This smart trimming is extremely wide-spread among actors and many other celebrities. Thanks to the fact, that TV-screen stars appear a lot with this haircut, it became so popular all around the world.
A classic Ivy League haircut will never be outdated. Adherence to established hairstyles is not an indicator that its owner is boring. A classic neat style of men's hair is always in fashion like an expensive watch or a good men's suit. Which option did you like the most? You can pick any style and look gorgeous and handsome anyway.
READ ALSO: 15 mohawk fade haircut ideas for men
Source: Legit.ng