Powergas awarded Best CNG Company for the Year 2018
Powergas Nigeria, Africa's largest Compressed Natural Gas (CNG) producer and distributor, received the prestigious "Best CNG Company" for the year 2018 from Institute of Oil & Gas Research and Hydrocarbon Studies (IOGRHS) - a non-profit multilateral research Educational Institute operating in over 50 countries.
L-R: 3rd Vice Chairman of Council, Institute of Oil & Gas Research and Hydrocarbon Studies (IOGRHS), Professor Anjaiah Devineni presenting the "Best CNG Company" for the year 2018 award to Powergas Nigeria Business Development Manager, Mr Kenneth Ediru in Abuja
Following an intensive selection process, the award is bestowed to an internationally recognised CNG producer and distributor organization that is performance driven, innovative and contributes positively to the economic growth and prosperity of Nigeria.
The IOGRHS recognised Powergas as the pioneer in the "Gas on Wheels" (virtual gas pipeline model) distribution network in Nigeria, with both gas compression and distribution capabilities and their continued investment in the industry. Powergas is not only the largest but also the fastest growing CNG supplier in Nigeria, having doubled its production capacity in the past year.
This is Powergas' third high notch award of this kind in the last three years. In 2016, Powergas received the Best Compressed and Liquefied Natural Gas Production Company of the Year Award from The Institute for Government Research Leadership Technology (IGRLT). Also in 2017, Powergas was awarded the Best Compressed Natural Gas Company in West Africa by the Governing Board of Nigeria Pension Award in association with Africa Finance Award and International Brand Award Nominee (IBAN).
Deepak Khilnani, Chairman of Powergas, said "we are very excited that IOGRHS has recognized our ingenuity, passion and professionalism in working alongside all the stakeholders to produce and distribute high quality CNG through Innovative Technologies. This award reinforce our strength in the Nigerian market and congratulations to the Powergas team for continued hard work. We have an exciting phase of growth over the next two years with plans to add additional plants to our current portfolio 4 CNG operational plants across the country.
"Natural Gas is cost effective compared to diesel and with the introduction of the Clean and Environmentally Sustainable Transportation (CEST) program to provide Gas Engines for vehicles with CNG Solutions, Nigerian end-users will benefit significantly through the reduction of CO2 emissions on Nigerian roads, along with saving millions of Naira."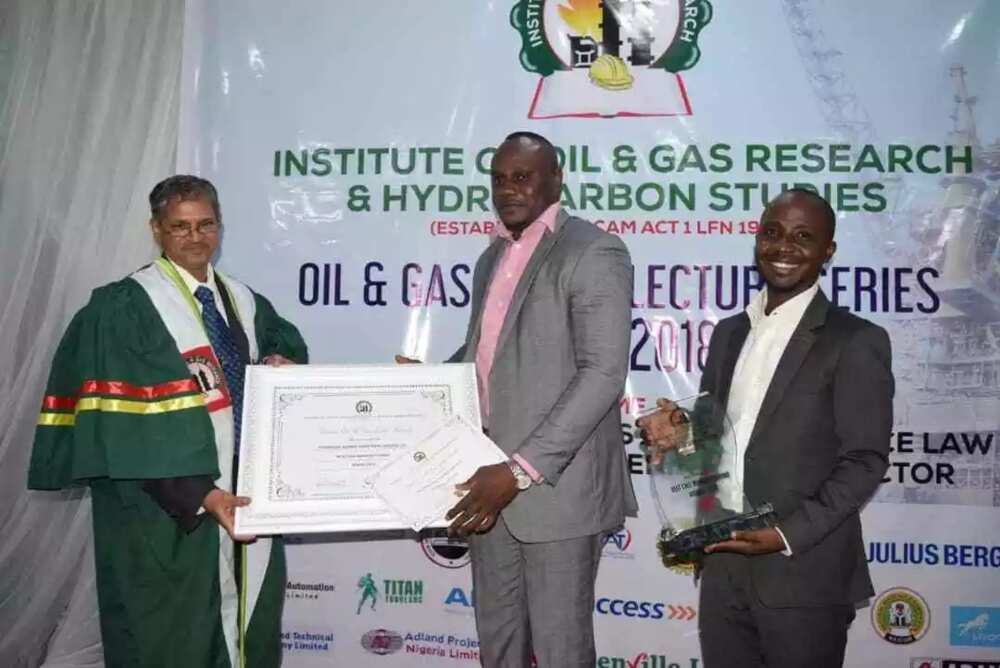 Presenting the award to Powergas in Abuja with influencers from the Oil, Gas & Power Industry in attendance, 3rd Vice Chairman of Council, IOGRHS, Professor Anjaiah Devineni said, "This award provides recognition for Powergas' notable, significant and unique achievements and its major contributions to the industry. The [IOGRHS] selection committee was extremely impressed by the nomination. Powergas' achievements in the production and distribution of Compressed Natural Gas (CNG) are world-class. The industry has learned a lot from the innovative and technologies shown by the company. We are all benefiting from your success."
Powergas was originally formed to address the severe energy and electricity challenges in Nigeria. Plagued with a limited gas pipeline infrastructure, unreliable grid connected power and expensive, environmentally polluting diesel standby power generation, Powergas' clean and competitive (virtual pipeline) offering provides natural gas to clients who are not connected to the pipeline.
Powergas operates four compression plants in four different states around Nigeria, delivering clean and cost effective energy tosix states both in the South-West and South-Eastern regions of the nation. An additional compression station is planned for 2018, spreading Powergas' reach in over 13 states and more than 27 major cities across Nigeria, as well as capacity expansion at existing CNG to meet demand for Natural Gas.
In the past 8 years of operations Powergas has proudly had a 100% positive safety record while conducting over 70,000 CNG deliveries.
[Sponsored]
Source: Legit.ng