2019: Kebbi PDP endorses Tanimu Turaki for president
- The race for the 2019 presidential election is gaining momentum as the days go by
- One of the aspirants of the Peoples Democratic Party (PDP), Kabiru Tanimu Turaki (SAN), is making inroads in the political space
- Turaki, also known as KTT, has been endorsed by the Kebbi state chapter of the party
The Kebbi state chapter of the PDP on Saturday, May 12, endorsed Alh Kabiru Tanimu Turaki (SAN) as their presidential aspirant at an event held at the Party secretariat in Birnin Kebbi.
The endorsement came after Turaki officially came back home to consult with his people before making his political decision declaring his ambition to contest for the office of the president of come 2019.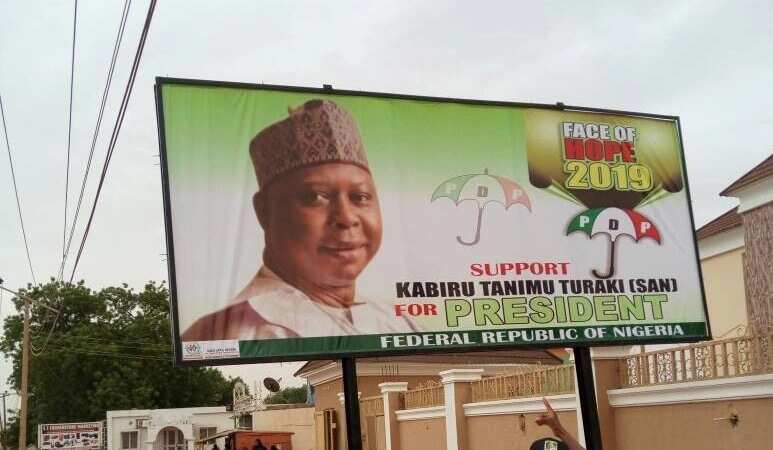 READ ALSO: PDP, ADC, 36 other parties in alliance to remove President Buhari in 2019
The party state chairman, Alhaji Haruna Saidu made it clear to Turaki that they have been holding meetings, discussing on where to place their support.
"Since Danmasanin Gwandu is the first sole candidate from the state to consult us, we therefore give our full endorsement," he said.
Present at the meeting were the PDP State Excos, local governments and their respective ward chairmen across the entire Kebbi State (225 wards).
According to a PDP stakeholder, all Kebbians are solidly behind Turaki every step of the way in his quest to rule Nigeria as he is the first from the state to declare his intention.
His words: "Alhaji Turaki have represented the state well in his profession and national assignments. He defines the true meaning of integrity and competence.
"Our son has no baggage, meaning his candidacy will not weigh the party down but reinforce PDP as a credible rule of law party. Kebbians are solidly behind KTT and will work to ensure their son is the next president of Nigeria."
READ ALSO: 2019 election: 17 parties form alliance, to adopt one presidential candidate
Meanwhile, the national financial secretary of the PDP, Abdullahi MaiBasira has expressed optimism that his party will have a successful outing in the 2019 general elections. He stated this during an interactive session with select journalists in his office in Abuja.
The immediate past national youth leader of the party, used the opportunity to advise whoever emerges the PDP's presidential candidate in 2019 to hit the ground running immediately.
PDP's Magnificent 7 for 2019 on Legit.ng TV
Source: Legit.ng