Hold Ajimobi responsible if I'm killed, House of Rep member raises alarm
- There seems to be trouble within the Oyo state chapter of the All Progressives Congress (APC)
- The party has been polarised due to the ward congresses held in the state and beyond on Saturday, May 5
- Honourable Abiodun Olasupo, a member of the House of Representatives, says his life is under threat
Honourable Abiodun Olasupo, a member of the House of Representatives representing Iseyin/Itesiwaju/Kajola/Iwajowa federal constituency in Oyo state, have alleged that Governor Abiola Ajimobi is after his life.
Olasupo made the allegation in Facebook on Sunday, May 6, which read: If You Hear that I'm dead, killed, assassinated or disappeared.....HOLD GOVERNOR ISIAKA ABIOLA AJIMOBI RESPONSIBLE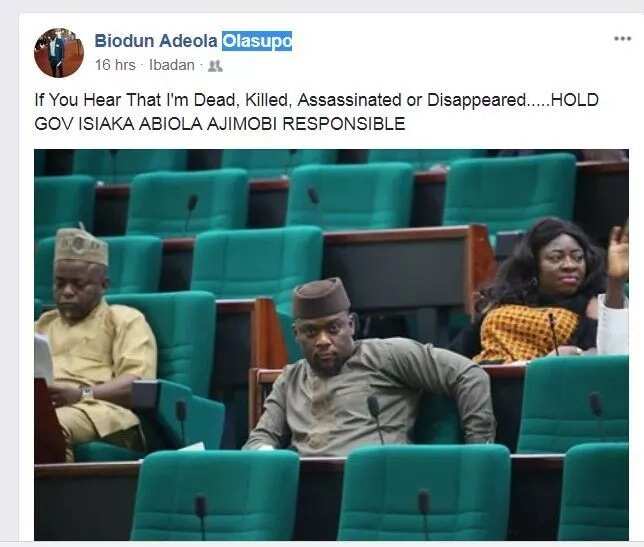 READ ALSO: Thugs allegedly hijack materials meant for Enugu APC ward congress
When Premium Times contacted the lawmaker, he confirmed the development and said he, alongside some of his colleagues and members of the APC were hiding due to the threat to their lives.
He said the trouble started on Saturday, May 5 at the APC party secretariat in Ibadan where they were billed to hold a stakeholders meeting ahead of the ward congress.
He alleged that his colleague, a member of the House of Representatives, Akinade Fijabi together with his biological father who is also a member of the APC led thugs into the party secretariat, venue of the stakeholders meeting.
His words: "Honourable Fijabi and his father led some thugs who were carrying guns, sticks and machetes into the venue to attack us.
"Two of my colleagues, Dapo Adesina and Sunday Adepoju were nowhere to be found. Even the minister of communications had to run for cover in an office in the secretariat.
"Some observers from the national secretariat of the party were injured, while some broke their arms and legs."
He further alleged that the Oyo state commissioner of police watched while the attacks were going on.
"It took the grace of God and the security agents that followed us from Abuja to engage these thugs in a gun battle, otherwise we would have been dead by now," he added.
He said shortly after the venue was deserted, the governor came in with a group of people whom he alleged the governor was trying to impose at the congress.
He said all efforts by the governor to impose his loyalists on the party failed as they did not even buy forms to contest for elections.
"With the help of our security, we were able to regroup and storm the venue again.
"We frustrated the governor's effort and as I speak to you, he has ordered his thugs to find me and kill me," the lawmaker said.
When contacted, Honourable Fijabi confirmed that there was a mayhem at he party's secretariat, but however denied that he aided and abated it.
He said: "It is the handwork of those who are planing to leave the party. I drove myself to the venue, there is no way I would have brought in thugs."
On his part, the Oyo state commissioner of police, Abiodun Odude described the incident as a 'little misunderstanding.'
He also denied Honourable Olasupo's allegation that he watched as the thugs attacked the secretariat.
"It is not a mayhem but a little misunderstanding amongst members. I was not there," he said.
Oyo state APC have been polarised since 2015 with the party divided into two groups. One group is loyal to Governor Ajimobi, while the other group is being led by Adebayo Shittu, Buhari's communications minister who is hoping to succeeding Ajimobi in 2019.
READ ALSO: One killed as irate youths vandalise APC secretariat in Rivers
Meanwhile, the APC has acknowledged that there were some issues arising from the conduct of the ward congresses in some states.
"With this in view, the party had set up various appeal committees which will begin sitting from Monday, May 7, 2018.
"We therefore call on all party members to remain law abiding and where there are issues, they should seek redress through the appeal committees in their respective states," a statement by the APC national publicity secretary, Mallam Bolaji Abdulahi, said.
Nigeria is practicing Oligarchy (Nigerian Street Interview) on Legit.ng TV
Source: Legit.ng