Mompha comes for those blasting him for buying a house for his 6 year old son
Mompha is certainly not here for the people telling him how to raise his son and he's wasting no time in letting them know.
Earlier on, Legit.ng reported the news of how CEO of Mompha Bureau De Change Ismaila Mustapha popularly known as Mompha, had acquired a house for his little son in Dubai to honour his 6th birthday.
The news caused quite a stir on social media as many people felt it was a unnecessary to spend such amoutn on a child. People felt he should have invested the money in his education.
Well, the flamboyant socialite was not having any of the criticisms. Revealing that he he pays the sum of N1.2 million naira on a bi-monthly basis, he shared a screenshot of his son's school fees receipt and wrote:
READ ALSO: Gloria Bamiloye gives reasons why Christian women should not wear trousers, says it's not a sin if they do
"Some monkeys saying vie him best education, instead of buying him a house, mumu people. Bobo is having the best education in his life. The receipt I pose is just 2 months school fees for May and June, about 1.2 million naira. Weytin be una problem."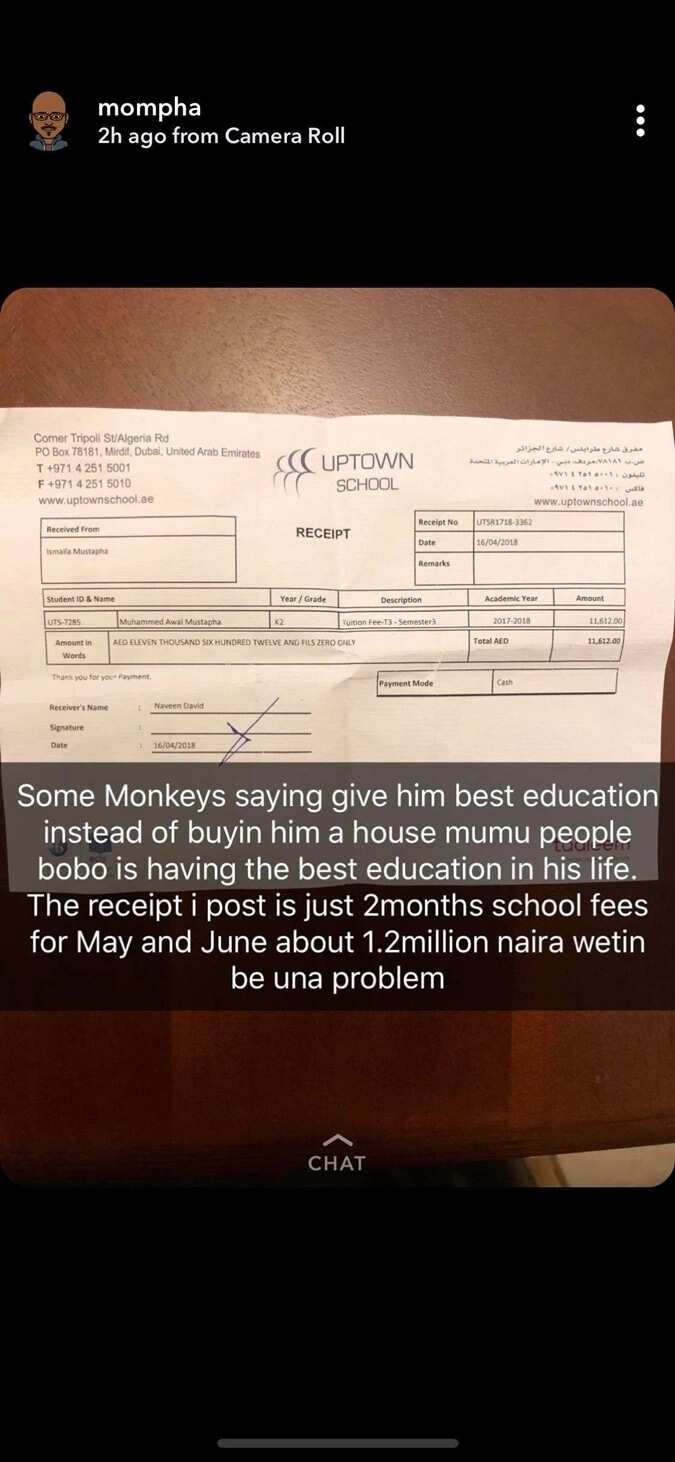 READ ALSO: Motivational speaker reveals how a lady lost a job before her interview due to how she communicated in a chat
The multimillionair is known for his extravagent lifestlye and thus, this is not the first time, he is spending so much on his don.
A while back he had taken to Snapchat to show shares photos and a clip of his son receiving the an iphone X which he had gotten for the little boy.
PAY ATTENTION: Get the Latest Nigerian News on Legit.ng News App
Who should a married man/woman make their next of kin? | Street Gist on Legit.ng TV:
Source: Legit.ng