Atiku gives insight on achieving his restructuring agenda
- Atiku Abubakar has called for the review of Nigeria's exclusive list
- The former vice president said if he becomes president in 2019, he would achieve the restructuring agenda in six month
- According to him, it's all about the willpower which he possesses in abundance
Former vice-president and presidential aspirant, Alhaji Atiku Abubakar, has described the current composition of the second schedule of Nigeria's constitution as not development driven.
Atiku made this declaration while speaking to journalists on the sidelines of the 10th anniversary symposium of Late Senator Abraham Adesanya held at the Muson Center, Lagos on Wednesday, May 2.
Shedding light on his advocacy for a proper restructuring of Nigeria, the former vice-president noted that his approach towards achieving the restructuring agenda will be to review the contents of the exclusive, concurrent and residual lists.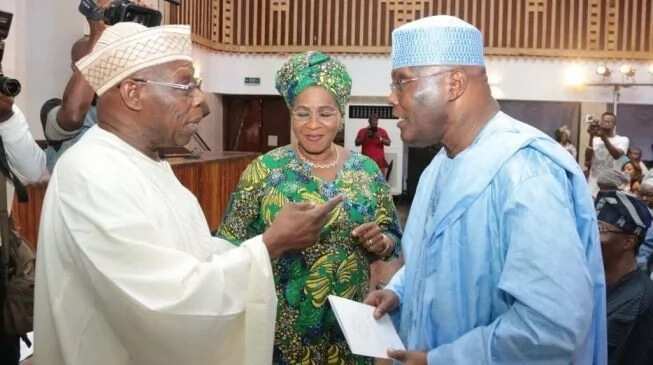 READ ALSO: Buhari 2019: We are not fazed by president's declaration - Atiku Group
His words: "I have had people come to me to ask how I intend to achieve the restructuring agenda in six months and my answer to them all is that the process is not a rocket science.
"A serious minded government that knows how to listen and build consensus can restructure Nigeria for the benefit of all and this I undertake to do when I become the president.
"Some politicians will tell you it is a daunting task but the reality is that they are not really sincere and committed to ensuring its actualization.
"They play lots of politics with it and when agitations box them to a corner, they setup smokescreen committees. It's all about the willpower which many will agree I possess in abundance.
"Indeed the federal government can voluntarily withdraw from most of the items listed in the exclusive lists of our constitution. I believe that the benefits accruing from these first steps will help us as we move towards the changes that require amendments to our constitution.
"The major task is recomposing the second schedule which does not encourage development and when you enjoy a cordial relationship with the National Assembly and see it as an independent partner in progress rather than as a competitor, you can achieve great things."
The anniversary was attended by former president, Olusegun Obasanjo; former head of state and chairman of the occasion, General Abdulsalami Abubakar; former governor of Ogun state, Otunba Gbenga Daniel; former secretary general of the commonwealth, Chief Emeka Anyaoku, amongst many other dignitaries.
PAY ATTENTION: Install our latest app for Android, read best news on Nigeria's #1 news app
Meanwhile, a former governor of Kano state, Malam Ibrahim Shekarau, has declared his interest in contesting for the presidency in the 2019 general elections under the platform of the Peoples Democratic Party (PDP).
Shekarau, 62, who is also the immediate past minister of education, said in an open letter, that his decision to seek for PDP's presidential ticket was informed by clarion calls from Nigerians and after wide consultations.
PDP's Magnificent 7 for 2019 on Legit.ng TV
Source: Legit.ng